Recipe For Asparagus, Cheese, and Potato Frittata
A Protein- and Veggie-Packed Frittata You're Going to Love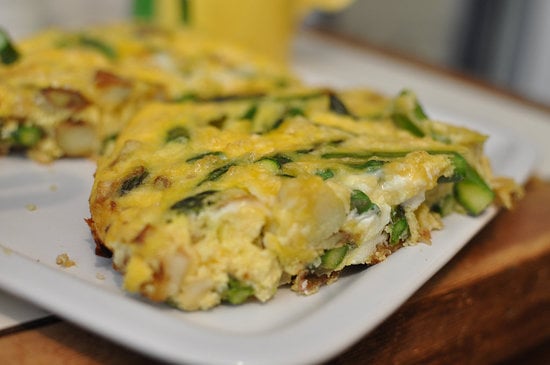 I love frittatas. Not only are they great for breakfast, but they make a great protein-packed lunch or dinner. They're also incredibly versatile. Regardless of the season, the dish works with whatever is springing up at the farmers market. I recently made this frittata with fresh asparagus and red potatoes, and despite cutting back half the cheese in the original recipe, it still had plenty of cheesy flavor. Add a salad on the side for a perfect meal!
Asparagus, Potato, and Cheddar Frittata
Adapted from Fine Cooking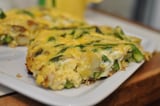 Ingredients
8 large eggs
1/4 cup grated Parmigiano Reggiano (about 1/2 ounce)
3 tablespoons chopped fresh flat-leaf parsley
Kosher salt and freshly ground black pepper
1/8 teaspoon cayenne
2 to 3 tablespoons extra-virgin olive oil
1 medium red potato (about 1/2 pound) scrubbed and cut into 1/2-inch dice (about 1 1/2 cups)
1 medium yellow onion, thinly sliced
1/2 pound medium-thick asparagus, trimmed and cut on the diagonal into 1-inch pieces
3 cloves garlic, minced
6 ounces shredded sharp cheddar (about 1 3/4 lightly packed cups)
Directions
In a medium bowl, whisk the eggs, Parmigiano, parsley, 1/2 teaspoon salt, 1/8 teaspoon pepper, and the cayenne.
Heat two tablespoons of the oil in a 10-inch ovenproof nonstick skillet over medium-high heat. Add the potato and 1/4 teaspoon salt and cook, stirring occasionally, until browned on several sides, 6 to 7 minutes. Transfer to a bowl with a slotted spoon.
Reduce the heat to medium. If the pan is dry, add the remaining 1 tablespoon of oil. Add the onion and cook, stirring frequently, until it softens and begins to brown, 4 to 5 minutes. Stir in the asparagus, garlic, 1/4 teaspoon salt, and 1/8 teaspoon pepper. Cook, stirring frequently, until the asparagus is bright green and crisp-tender, 3 to 4 minutes. Lower the heat to medium low and add the egg mixture and the potatoes, stirring until the ingredients are combined, 10 to 15 seconds. Add the cheddar and stir until well distributed. Cook without stirring until the eggs have almost set, 10 to 12 minutes. (The center may still be loose but should be bubbling a little; the sides should be set.)
Meanwhile, position an oven rack 6 inches from the broiler element and heat the broiler to high. Transfer the skillet to the oven and broil until the eggs have set completely and the top of the frittata is golden brown, 1 to 3 minutes. Let rest for 5 minutes. Transfer to a cutting board, cut into wedges, and serve.

Information
Category

Eggs, Breakfast/Brunch

Cuisine

North American

Yield

Serves 8
Nutrition
Calories per serving

250