Relieve Back Pain With Cat Cow Stretch
Stretch It: Cat and Cow
If you woke up with an achy back, have a stiff back from sitting for an extended period of time, or have tense shoulders and a tight neck from a day in the office — well then I have a simple cure for what pains you. The Cat and Cow stretch is an oldie but goodie that doubles as a great warmup for your spine before just about any activity.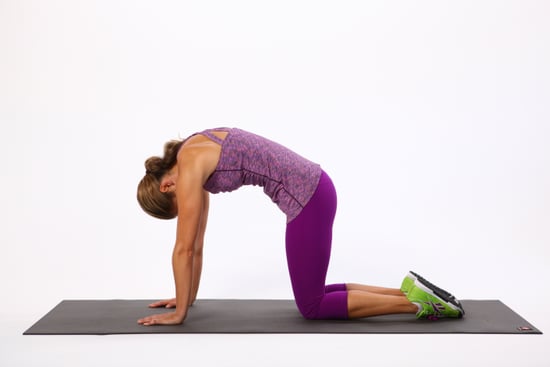 The photo above only shows half of this stretch, so to learn how to do the entire move, read more.
Begin with your hands and knees on the floor. Make sure your knees are under your hips, and your wrists are under your shoulders. Begin in a neutral spine position, with your back flat and your abs engaged.
As you inhale, let your belly soften, arch your back, and lift your head and tailbone. This part of the stretch is called cow.
With an exhale, round your spine up to the ceiling pulling your abs toward your spine, and simultaneously tuck your tailbone in (don't clench your tush) and tuck your chin toward your chest. This part is known as cat (think Halloween cat).
Continue flowing back and forth from cat to cow, breathing deeply so as not to rush each movement.
Repeat for a minute or so and then press your hips back toward your heels, coming into Child's Pose with your arms extended in front of you.
Source: POPSUGAR Studios