Review of Booby Trap Sports Bra by Brooks
I Leave Parties Early to Go Home and Wash This Sports Bra So I Can Wear It the Next Day
As POPSUGAR editors, we independently select and write about stuff we love and think you'll like too. POPSUGAR has affiliate and advertising partnerships so we get revenue from sharing this content and from your purchase.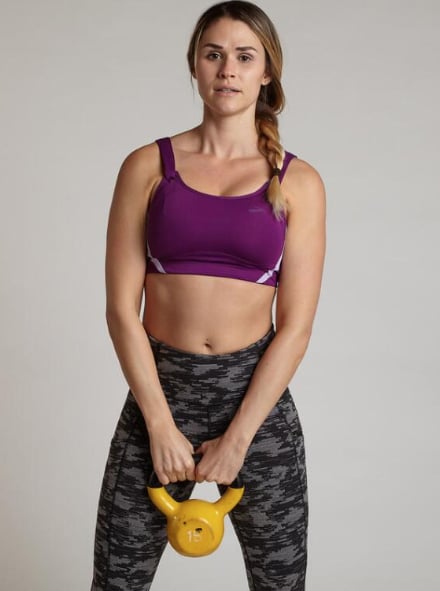 Boobs are always in flux. And not just monthly. Over the course of my life, my breast size has waxed and waned with weight loss, activity level, pregnancy, and breast feeding. Currently, they are on a growth cycle. At times it's nice to be a bit more voluptuous, but I can attest that doing a round of burpees is not one of those moments.
None of my sports bras, of which I have quite a collection, were providing the support I needed during plyo sessions or aggressive spin classes. So I went for a fitting at Title Nine (the popular online brand has brick and mortar stores, too). Yes, you can and should get fitted for sports bras — they have a distinct job to do and you want one that works.
After trying on a dozen different styles, I found my match — the Booby Trap ($39, originally $58) by Brooks. And I love it — name and all. You might be surprised that Brooks, which has a cult following with long-distance runners, would make such a good bra. But the running brand acquired Moving Comfort, a well-known bra company, a while back. So you know this bra is built upon years of studying boobs in motion and perfecting bras to support them.
The Booby Trap bra is both incredibly comfortable and incredibly supportive. It's honestly the first sports bra I've owned that I don't want to rip off the minute my workout is over. It has an adjustable back enclosure, with three hook and eyes, to provided stability. You can tighten and loosen the wide chest band as needed, which is important since the chest band helps create compression to tame the bounce. The internal structure of the bra has two cups, so each breast is supported rather than smooshed flat. Best of all, the bra has adjustable velcro straps so you can adjust the length on the fly. The adjustable straps really help truss my breasts, which hover right between being a C and D cup.
I wear this bra for my high-impact workouts, including dance cardio. Since I like to add cardio bursts to my strength training sessions, the Booby Trap has become my go-to bra. I have left events early to get home and wash this bra, dirtied from a workout earlier in the day, so it will be ready for my sweat session the next day. Priorities!