San Diego Rock 'n' Roll Half Marathon Review
Race Review: San Diego Rock 'n' Roll Half Marathon
To me, half marathons are the perfect race — long enough to challenge you but without the free-time-sabotaging training plan that marathons require. So when Suja, the sponsor of this year's San Diego Rock 'n' Roll Marathon, invited me to run the half, I ran for the chance.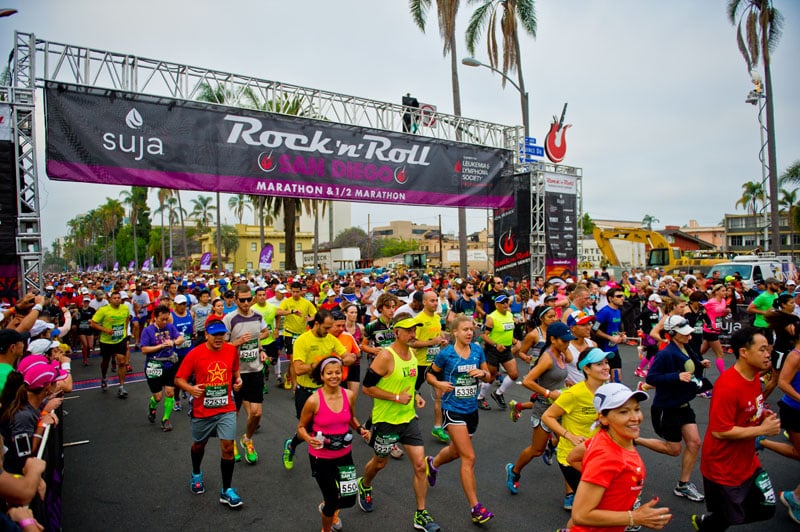 The Rock 'n' Roll marathon series has been around since 1998, but my first experience wasn't until this year, at the second annual San Francisco Rock 'n' Roll Half Marathon. While I had a lot of fun on that course, the smaller number of participants and lack of bands during several points of the race make for a different experience than the more popular Rock 'n' Roll race locations, which can see more than 25,000 runners participate and bands playing at every mile.
San Diego is one such race. Not only did the series begin with this location 16 years ago, but the promise of pristine weather conditions and a relaxing California weekend prompts thousands of runners to sign up for the race every year. Once you're on the course, it's easy to see why it's so popular: I was relieved to see that the San Diego half marathon course is more welcoming than San Francisco's characteristically hilly terrain; in fact, the San Diego course's rolling hills are smaller and much more manageable, with most of the course being downhill or flat, including a pretty sustained downhill section starting just before mile 11. I also enjoyed the twists and turns through city streets — just when you start to get tired of one leafy tree-lined lane or a stretch of businesses, the course turns onto a different street, with every neighborhood packed with spectators cheering you on. That, on top of the crowded field (strategically split into 26 corrals to prevent bottlenecks) and bands or other entertainment at every mile, made for an energizing atmosphere that contributes to the fun.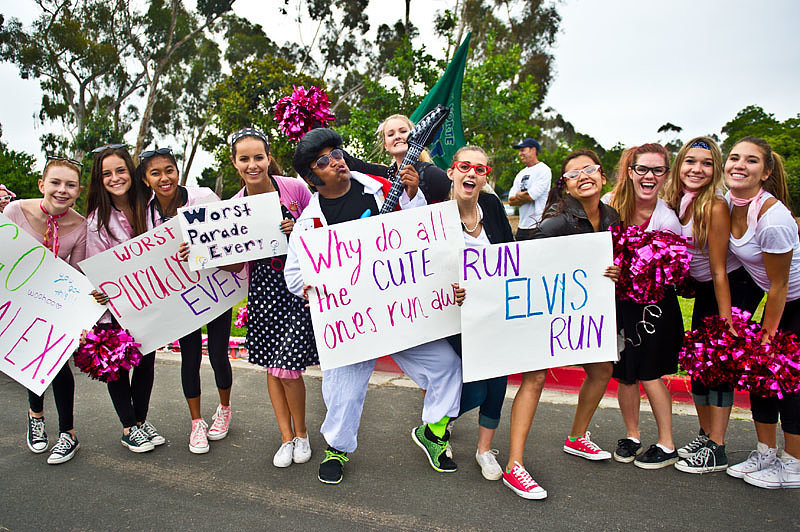 Another way you know that the organizers have the routine down: the 6:45 a.m. start time ensures that half marathoners spend much of their time on the road before the sun (and temperatures) rise. Even starting in a later corral, about 20 minutes after the first wave of half marathoners set out, I only had to deal with hot temperatures for the latter part of the race.
While overall I enjoyed my Rock 'n' Roll experience, there were a couple of issues that I felt needed improvement. For one, the starting-line bathroom situation. Since I got to the starting line well before my corral's start time (a breeze to do via a short taxi ride from my Gaslamp hotel), I decided to take one last bathroom break before — one of my must-dos for right before a race. Unfortunately, the ratio of Porta-Potties to runners meant there were long lines all around the starting-line park; in fact, by the time I got through the line, I had pretty much missed my corral's start time. Not a big deal, since there are dozens of corrals and your time doesn't start until you cross the starting line, but it would've been nice to have more bathrooms for the runners. In any case, be sure to get to the starting line early so you don't feel rushed once 6:45 a.m. rolls around.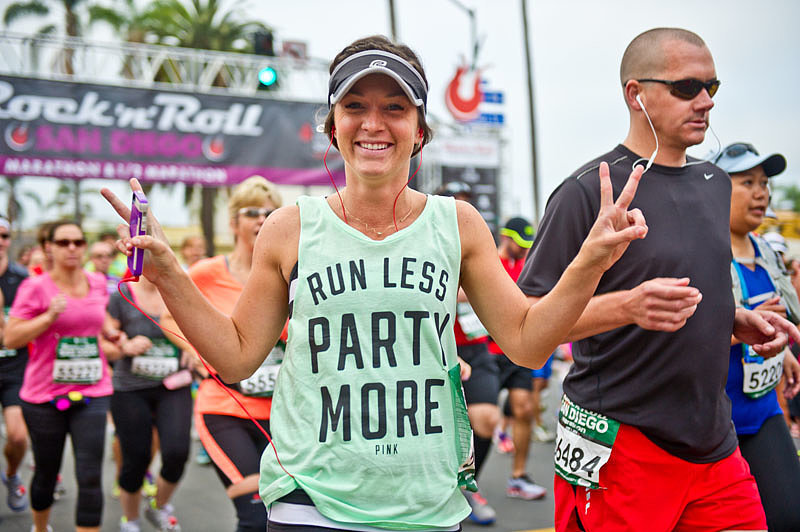 Another thing I could've used more of was sports drinks at the hydration stations. While much of the race was before the blazing sun was directly overhead, once it was up, it was hot. My sweaty self kept wishing for a Gatorade station at every mile, but instead, only a few of them had some. There were a few volunteers passing out salt packets during the latter part of the half marathon to help runners replenish lost electrolytes, but a mouthful of salt is far less palatable than drinking Gatorade! I suggest bringing a few gels or GU with you (I had forgotten mine) so you can stay safe and energized throughout the race, especially if it's a hot day.
Once you cross the finish line, the volunteers make things easy for you. Like most races, there's a station for every need once you're done, but the San Diego race is exceptionally well organized. Grab a medal, chug a cold beverage, and pick up some food to replenish all those burned calories. From there, the concert at Petco Park is a short jaunt across the street; the festive postrace atmosphere is definitely a welcome sight after your run. If you're looking for an established, well-organized race with a course that just might help you set a personal record, the San Diego Rock 'n' Roll Half just might be the one for you.
Source: Competitor