Sesame Ginger Kale and Quinoa Salad Recipe
A Kale, Quinoa, and Blueberry Superfood Salad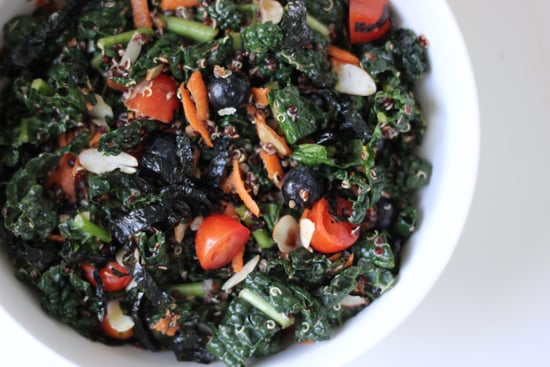 I'm a sucker for any salad that includes the powerhouse duo kale and quinoa. Both are jam-packed with nutrients like vitamins A, C, and K (kale) and healthy fats, protein, and fiber (quinoa), making the combination a healthy and filling lunch option.
One of my favorite ways to enjoy this superfood salad combination is from a local eatery by our San Francisco office, Urban Picnic. Its kale and quinoa salad gets an Asian twist with sesame soy ginger dressing and sliced nori. Blueberries, tomatoes, and carrots add a bit of sweetness, while sliced almonds give it a satisfying crunch. I love the salad so much I set about to re-create it at home; read on for the recipe to make your own!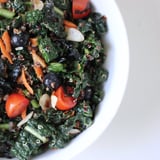 Ingredients
For salad
1 cup quinoa (I used Alter Eco Royal Black Quinoa)
1 bunch dino kale, washed and chopped (about 2 cups)
1 medium carrot, grated
1/2 cup sliced almonds
1 cup grape or cherry tomatoes, halved
1 cup blueberries, washed
Toasted seaweed, such as

nori

, sliced thinly (I used 5 sheets of Annie Chun's Sesame Seaweed Snacks)
For dressing
1/4 cup extra-virgin olive oil
1/8 cup balsamic vinegar
1 tablespoon low-sodium soy sauce
1 clove garlic, chopped
1 tablespoon honey or brown sugar
1 tablespoon peeled and minced ginger
1/2 teaspoon toasted sesame oil
1 tablespoon water
Directions
Prepare quinoa according to package instructions. Set aside to cool.
Meanwhile, make the dressing by combining all ingredients into a blender and processing until smooth. Pour into a small jar with lid and set aside.
Combine 1 tablespoon of dressing with the sliced kale in a large bowl, mix to coat leaves evenly, and set aside.
When quinoa is cool, add to kale along with blueberries, almonds, carrot, and tomatoes. Mix to combine, adding more dressing if desired. Top with sliced

nori

and serve. Save any remaining dressing for later. Makes three servings of salad and approximately 10 tablespoons of dressing.
Salad without dressing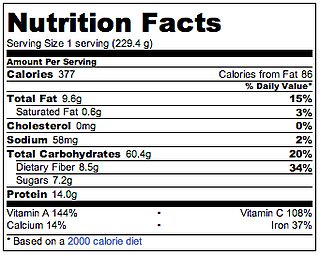 Salad dressing (per tablespoon)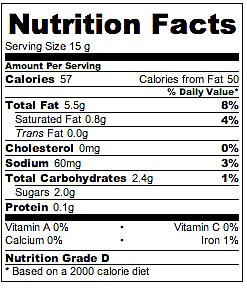 Information
Category

Salads, Main Dishes

Cuisine

North American