What Is a Cannabis Yoga Class Like?
I Tried a Cannabis-Infused Yoga Class, and It Was F*cking Amazing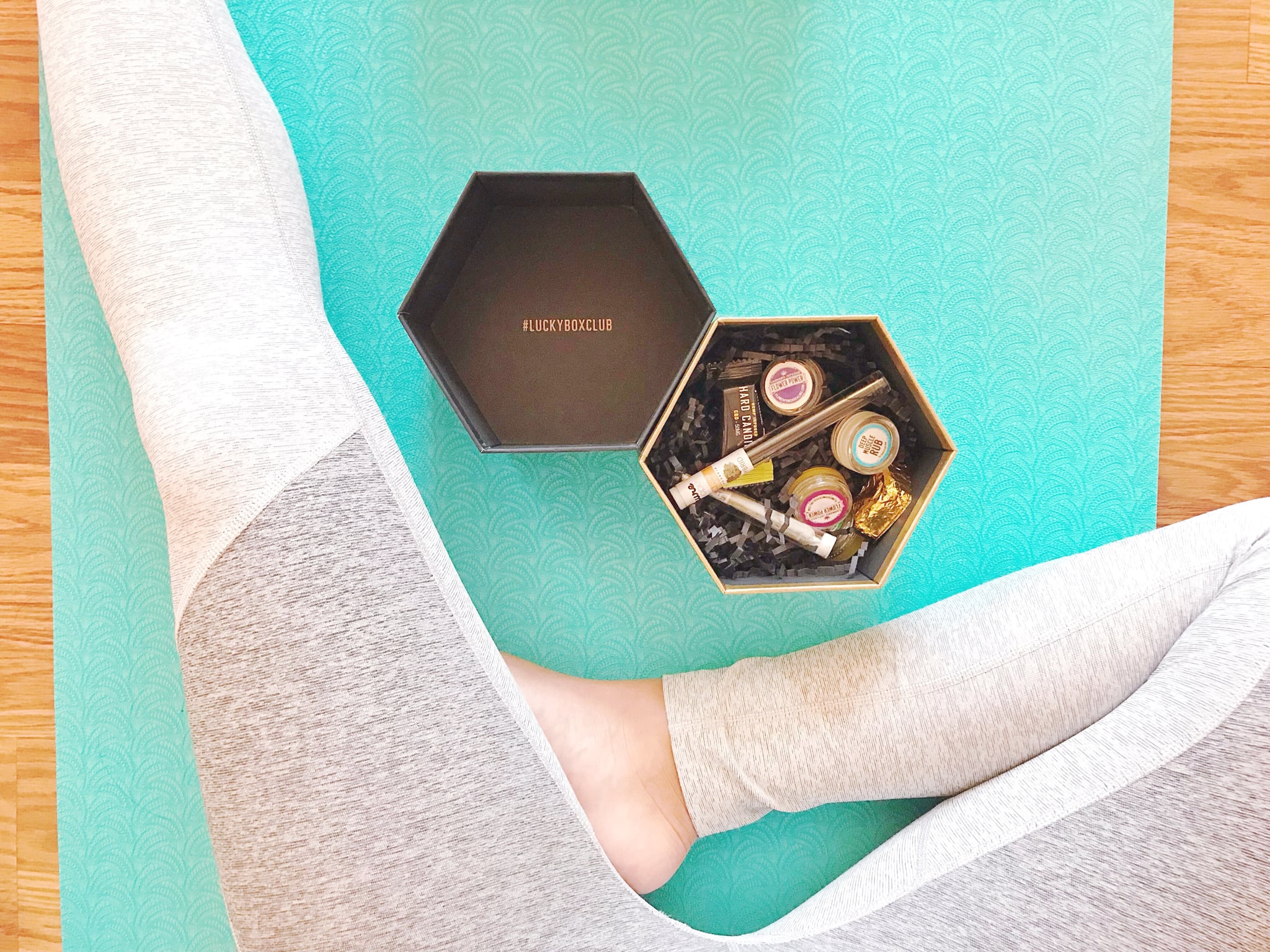 There are endless ways to incorporate cannabis into your wellness routine, and one area that may not naturally come to mind is yoga. But if you think about it, cannabis and yoga actually make the perfect pair. Relaxed, present, and happy are just some of the positive side effects of smoking weed, while yoga touches on physical, mental, emotional, and spiritual wellness. Once you pair them together, you get the ultimate practice. I recently had the pleasure of experiencing a cannabis-infused yoga class in San Francisco called Bend and Blaze, which was hosted by Lucky Box Club cofounder Eliza Maroney — and I don't think I'll ever go back to sober yoga again.
Eliza, who's been teaching yoga and various movement classes for the past three years, blended her two passions in our Saturday class. "Cannabis has been part of my day-to-day life, but I realized that sometimes my own aches and pains got in the way of enjoying my practice," Eliza told POPSUGAR. "I think that cannabis can help ease suffering - both mental and physical - so it can really add to a yoga or dance experience.
Before beginning our vinyasa and yin hybrid flow, each attendee received sample products from Lucky Box Club, Eliza's weed subscription box service. Inside was a Pure vape pen (easily my new favorite product), a pre-roll, a CBD hard candy, and several other topicals for muscle pain. Though we weren't allowed to smoke flower inside the studio, we were encouraged to vape before starting our practice.
One thing I really appreciated about our class was that Eliza took the time to explain each product as we unboxed them on our mat. For example, she warned anyone with anxiety not to smoke the Green Crack-strain joint as its high-sativa content could worsen symptoms. The Pure vape pen was a hybrid Girl Scout Cookies strain, which was a safe choice for a class full of different cannabis and yoga levels. Eliza also instructed everyone to suck on the CBD candy to offset symptoms in case we got too stoned at any point in our flow. The fact that she assumed everyone was new to cannabis ensured a safe and enjoyable experience. Lastly, she encouraged us all to stay hydrated and to microdose (a quarter to half of the puff you'd normally take) as needed throughout the class.
Why I Loved It
Although I accidentally got a little too high at the start (those Pure vapes are potent), I found that I was really able to focus on my practice. To be completely honest, I'm not a huge fan of yoga classes because I prefer a faster pace and loud music, but practicing in an elevated state helped me to stay present. The cannabis produced full-body relaxation, which allowed me to get even deeper into my stretches. By the end of class, I was noticeably less stiff and sore from my workout the day before, compared to how I was feeling when I first walked into class. Overall, I felt a sense of tranquility instead of feeling antsy as I normally do during yoga. The class ended with a sound meditation, which I don't think I would've appreciated as much if I wasn't high.
I've smoked before workouts in the past, but I often get self-conscious and assume everyone's staring at me because they know I'm high. This wasn't the case at all at Bend and Blaze, because we were all in it together. Some even burst into giggles (another side effect of cannabis) during our flow, which was completely acceptable. I also noticed how a third of the attendees were men; not a common sight in the yoga classes I've attended that have been heavily dominated by women. It was also a much more diverse turnout than what I was used to, which was amazing to see.
No one was pressured to smoke during class, either. "I want [my students] to connect with their bodies and know that just showing up is enough!" Eliza said. "The use of cannabis is by no means mandatory - and if used, I really encourage them to microdose; finding the least amount necessary for the desired effect. I want the yoga to be the thing they remembered - and the cannabis is just a bonus of the experience."
The effects of this elevated yoga experience were immediate. Both my coworker and I felt at ease, relaxed, clear-headed, and ready to take on our days. My first question to Eliza upon finishing was, "When's the next one?" Thankfully, she shared that this would be an ongoing series in San Francisco, and you better believe I'll be at the next one. For anyone who's hesitant to merge the worlds of yoga and cannabis, I encourage you to at least be open-minded about enhancing your practice. Who knows? You may find that weed is exactly what you need.
Image Source: POPSUGAR Photography / Nicole Yi