What Is a Heels Dance Class Like?
Taking a Sexy Stilettos Dance Class Gave Me the Confidence Boost I Seriously Needed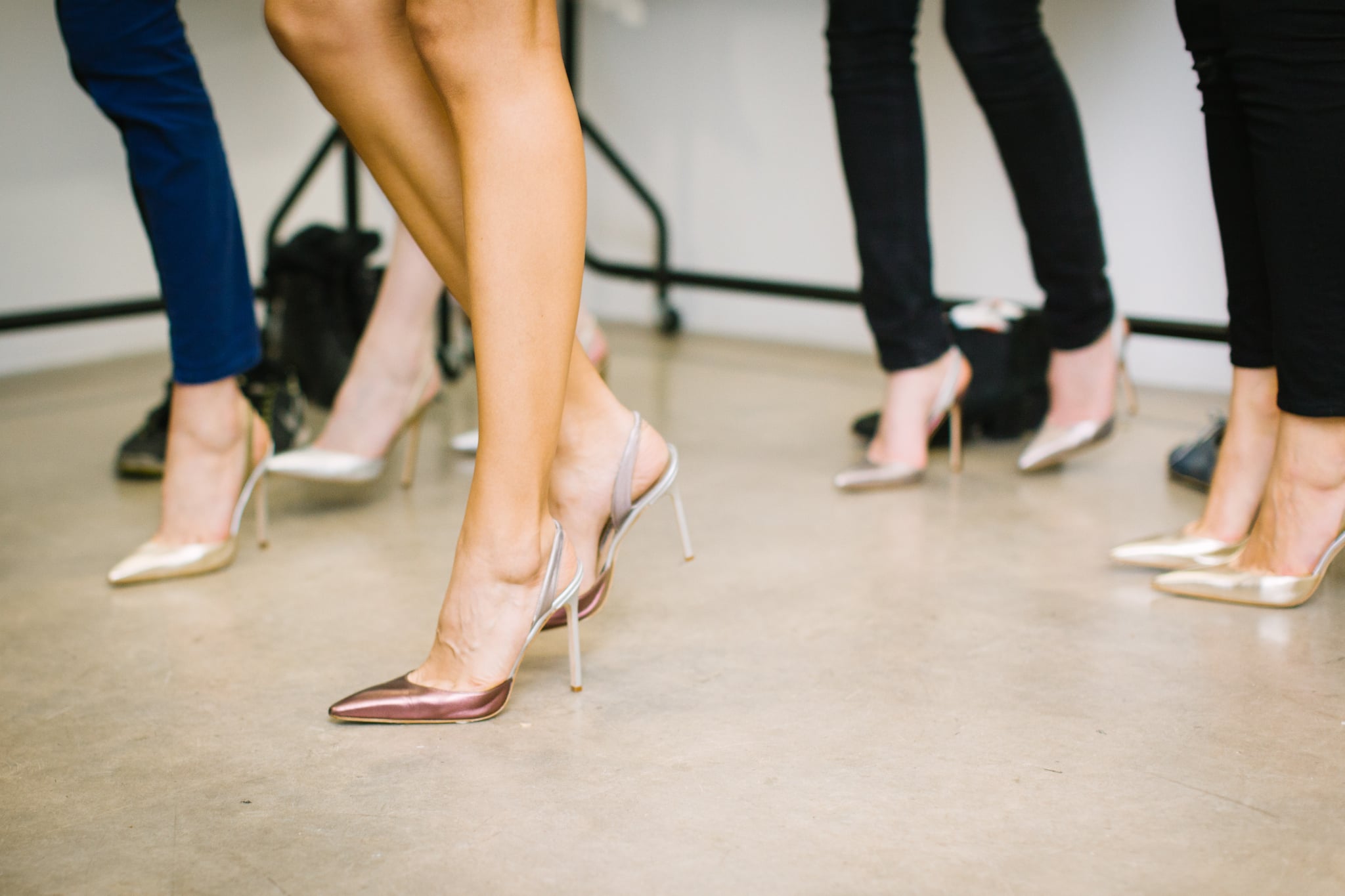 One of the first things I did at the start of 2019 was download ClassPass and agree to regularly attend a sexy stilettos dance class that I'd heard about through a friend. I did this for a lot of reasons, one of them being that I just needed to add something new to my daily routine and de-stress. I realize that learning choreography in high heels sounds like one of the most stressful activities one could ever agree to take part in, but it's actually helped me for the better.
To give you a bit of background information, I was a dancer between the ages of 14 and 22; I wasn't exactly a pro, but from my freshman year of high school until the Summer after I graduated college, it was one of the only things I did in my spare time. My teachers trained me in jazz, ballet, and contemporary, and I even competed on my university's competitive dance team for two years. I also took a few stilettos classes here and there while I was in college, though I never really stuck with it. I barely enjoyed wearing heels for fun, so having to dance in them after days spent sitting in lectures definitely wasn't my favorite thing to do.
After school, I unofficially retired from dance and started to focus more on my work and creating a life for myself in New York. For a while, I didn't think anything of it, but by the time I turned 24 last Summer, I stopped feeling like myself and began to feel like I had lost my mojo. I know, it's a strange thing for a healthy 20-something to say, but hear me out. After two years of living in the city, my social anxiety kicked into overdrive. I no longer felt good at my job, I convinced myself that no one ever wanted to be around me, and I just stopped feeling desirable. I became a ball of nervous energy, and I knew that staying active would be a good way for me to clear my head once every few days and get rid of all of the negative thoughts that plagued my mind. I needed a place where I could release all of that energy and come out feeling refreshed and 10 times more confident than I did before — that's where this class comes in.
I took my first stilettos class at SassClass NYC back in December, and I haven't looked back since. Here's why:
1. I Feel So Much More Confident After Every Class
They don't call it a sexy stilettos class for no reason. It's hard not to feel at least slightly empowered or more confident after spending an hour whipping your hair and getting in tune with the way your body moves while mood-boosting music blasts in the background. It almost feels like being on stage or in your own music video, if you ask me.
When I used to take classes as a teenager, I would stand at the back of the class, where I thought no one could see me, letting the more skilled people who I danced with stand front and center. I never wanted to draw too much attention to myself whenever I messed up. Since then, though, I've gotten in the habit of taking a spot closer to the front to remind myself that not only is making mistakes expected when learning something new, but also that I won't improve if I don't have the confidence to get out of my comfort zone.
2. It Eases My Mind
As I mentioned before, I signed up for a few classes as a way to de-stress, and so far it's been pretty helpful. I love having an activity to look forward to after work, but even more, I love being able to take my mind off of all the things that worry me throughout the day, even if it's only for an hour.
3. I'm Always Dancing With Supportive People
The idea of dancing in front of a room full of people you don't know very well can be pretty nerve-racking until you realize that open-level dance classes are actually very supportive environments. Dancers really like to cheer each other on during class, and I'm reminded of that at the end of every hour when we're instructed to break up into smaller groups and perform what we learned in front of the whole class.
Also, more often than not, your fellow dancers are just as nervous about being able to pick up the choreography as you are, and if someone's looking at you, they're probably just trying to get a sense of how the movements look on another body, not because they're enjoying watching you struggle.
4. The Instructors Are Always Helpful (and Friendly)
The instructors at SassClass aren't there to judge; they're there to help. Anytime I (or anyone else) need help or clarification about anything, they happily help me out without making me feel like I'm being difficult or disruptive. They also make a point to try to introduce themselves and learn everyone's names before the class starts, which is a little harder to come by at other studios.
5. Seeing Myself Improve Feels SO Rewarding
I'll admit that I felt a little rusty when I tried getting back into the swing of things, but sticking with it and seeing myself improve over the last few months has been SO satisfying. It's also only made me want to continue attending class more frequently, so there's that.
Image Source: Unsplash / Kris Atomic