Winter Running Tips
Take That, Snow! 4 Ways to Get Past Winter Running Fears
Although nothing beats running on a sunny day, the cold weather may be keeping you from the outdoor runs you love so much. Don't let these fears keep you from burning it up in the cold.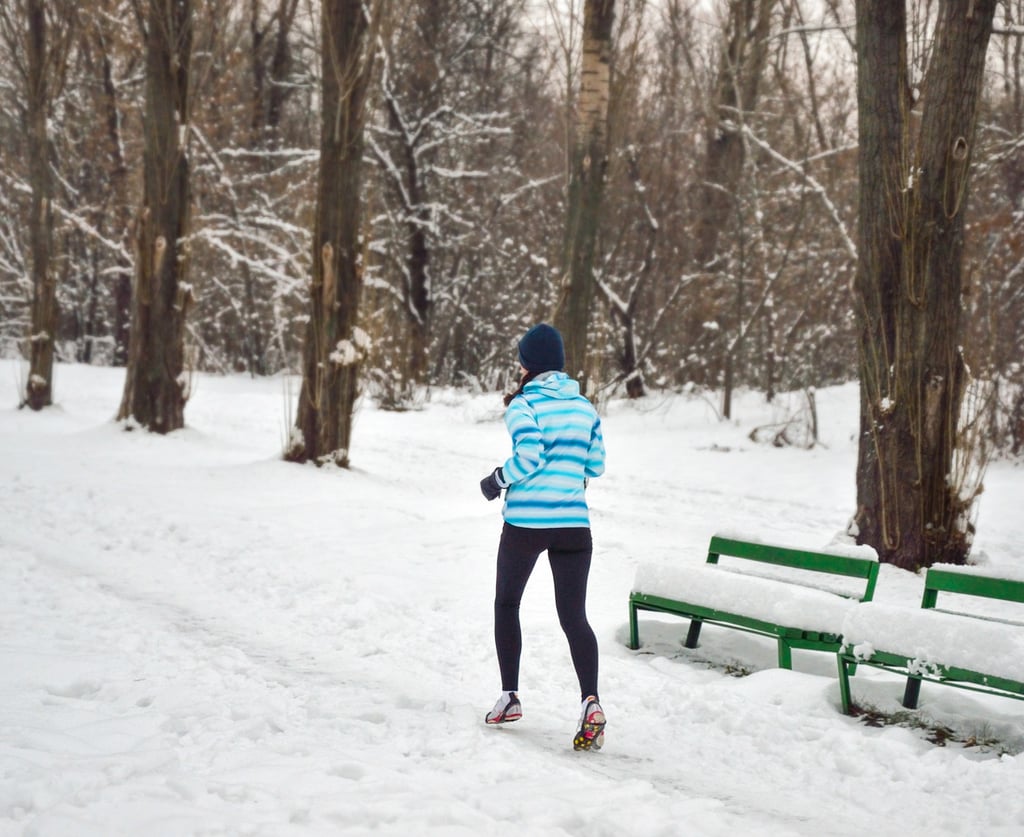 "I'm Going to Slip and Break My Neck!"
Ice and snow definitely make for a slippery surface, but just as you wouldn't wear your sandals in Winter, you shouldn't wear your Summer running shoes either. Invest in a pair of waterproof sneakers that have metal studs or spikes on the soles like the Salomon Spikecross CS ($170) or Icebug DTS-L Bugrip Outdry ($180). They offer unbeatable grip and make you feel 100 percent confident running on whatever old man Winter throws your way, from slushy snow to slick, wet, melting ice. And since the outer layer is waterproof, your feet will stay dry and warm.
"My Lungs Will Burn"
If the temps drop below 20 where you live, huffing and puffing that frigid air can certainly burn your throat and lungs. There's an easy solution: wear a moisture-wicking neck warmer, like this Smartwool Neck Gaiter ($30) or a lighter-weight Wool Buff ($29-$32), over your mouth. It'll not only keep cool air off your neck, but the gaiter also traps the natural water vapor you exhale, making the air you inhale moist and a bit warmer, which is easier on your lungs. Another benefit is that a neck warmer can be lowered below your chin or easily slipped off, bunched up, and stored in your pocket after you warm up.
"I'll Be Too Cold"
Running when it's 25°F out is certainly different than 75°F, but as long as you wear the right layers, you'll feel as comfortable as you would on a warm day. Instinct might tell you to grab a full-length down coat and ski pants, but wearing too much will cause you to overheat and the sweat will end up making you feel colder. A good rule of thumb is to wear just enough that you feel a little chilly when you start, and within 10 minutes, you'll be warmed up and feeling perfect. Moisture-wicking fabric is also essential, especially on the clothes that are closest to your skin.
On a 25°F day, you'll need a wicking sports bra, a tank with a shelf bra, a long-sleeved midweight baselayer, and either another long-sleeved layer with pockets over that or a lightweight wind- and waterproof jacket if you're running in flurries. On the bottom, slip on some lightweight wool ski socks, regular running tights, and your waterproof sneaks. Add a lightweight merino wool or fleece hat and some soft-shell running mittens, and you're ready to go. If it's a little colder, you'll want to wear thicker running tights and socks; if it's a little warmer, sport shorter wool socks, a headband instead of a hat, and leave the mittens at home.
You also need to be realistic and skip the days when it's so frigid that your dog won't even go out. Check the weather, and be flexible with the times you run — it may mean waiting until 2 p.m. or until three days from now when the weather is above 10°F out.
"The Hard Ground Is Brutal on My Knees"
Cold temps definitely make for harder surfaces, so instead of running on pavement, seek out snow-covered trails. The white stuff not only offers a softer, more forgiving running surface similar to sand that your joints will appreciate, but snow also offers more resistance, making your legs work harder, which translates to a better workout in less time. If there's no snow where you live, choose trails over the road.