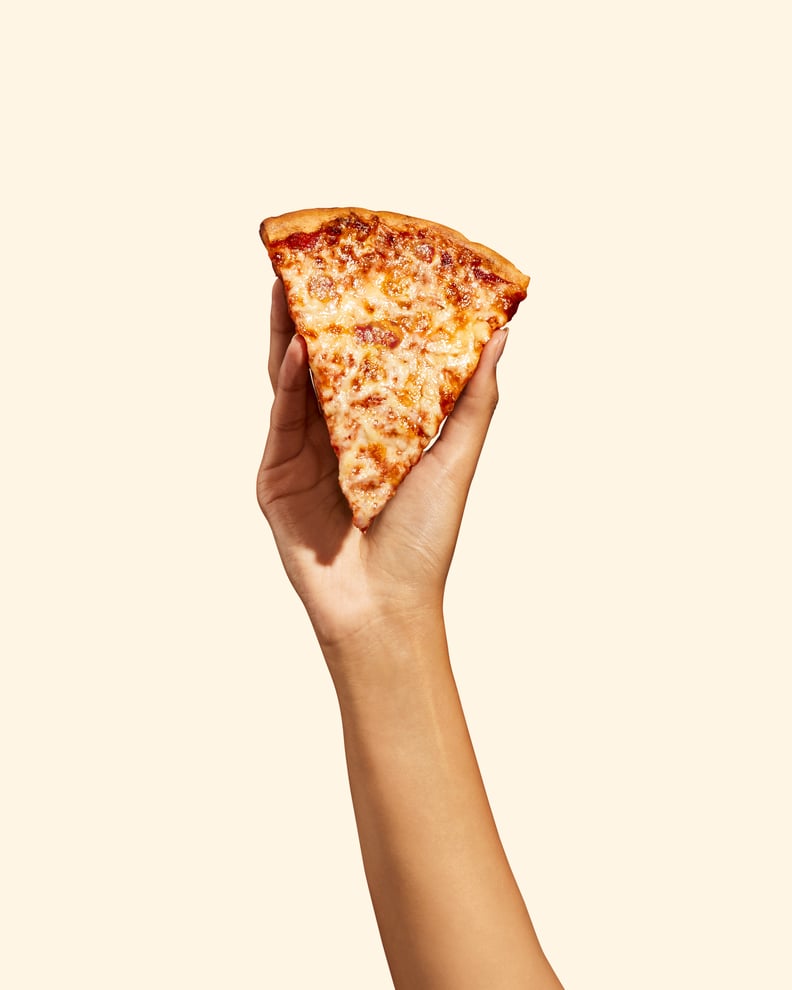 Banza
Banza
As POPSUGAR editors, we independently select and write about stuff we love and think you'll like too. If you buy a product we have recommended, we may receive affiliate commission, which in turn supports our work.
In terms of freezer staples, frozen pizza is a reigning champ. Whether you're wrapping up a long day of work, aren't in the mood to cook (who has the time?), or feeling nostalgic, the ready-made meal is a go-to — it's quick, easy, and always satisfying.
The only downside? The selection from our childhood wasn't exactly good for you, with sketchy ingredients and a high calorie and saturated fat count. Fortunately, things have changed. Thanks to our collective gravitation toward a healthier lifestyle, there is a bevy of better-for-you frozen pizzas that are low-calorie, low-carb, and/or vegan. The frozen pizzas with dairy-free and plant-based ingredients even mimic the real deal. Bonus: They actually taste good, too.
01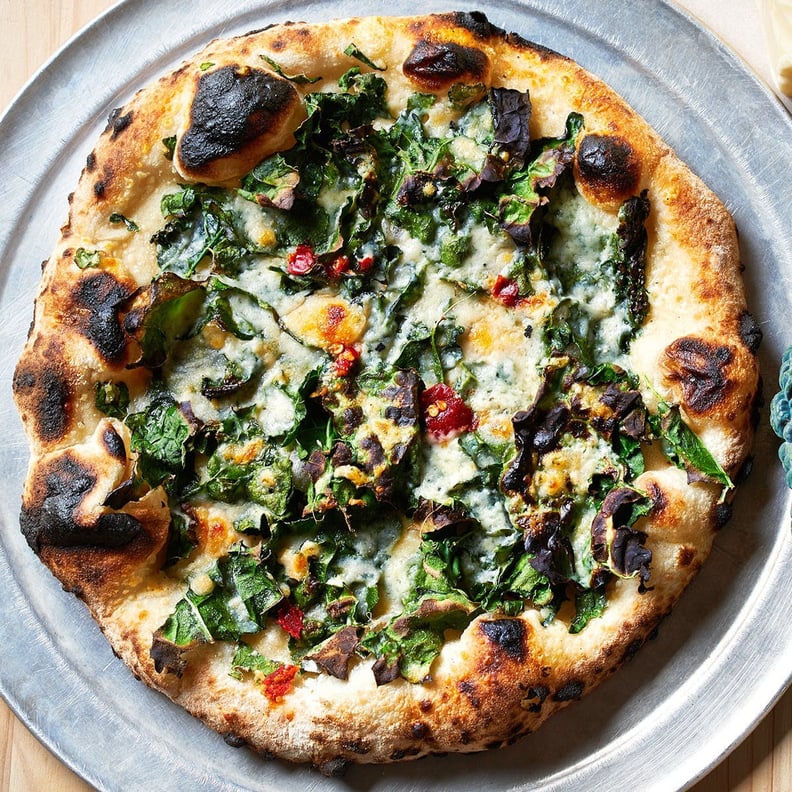 Roberta's
If you're a pizza-lover, chances are you've heard of Roberta's. The cult-favorite Brooklyn pizzeria is known just as much for its wood-fired pies as its lengthy wait times. Fortunately, you can bypass the latter with its frozen iterations — like this Roberta's Wood Fired Baby Sinclair Pizza ($8).
Nutrition Info for Roberta's Baby Sinclair (1/2 Pizza)
Calories: 360
Fat: 14 grams
Saturated Fat: 6 grams
Carbohydrates: 46 grams
Protein: 14 grams
Cholesterol: 30 milligrams
Sodium: 820 milligrams
02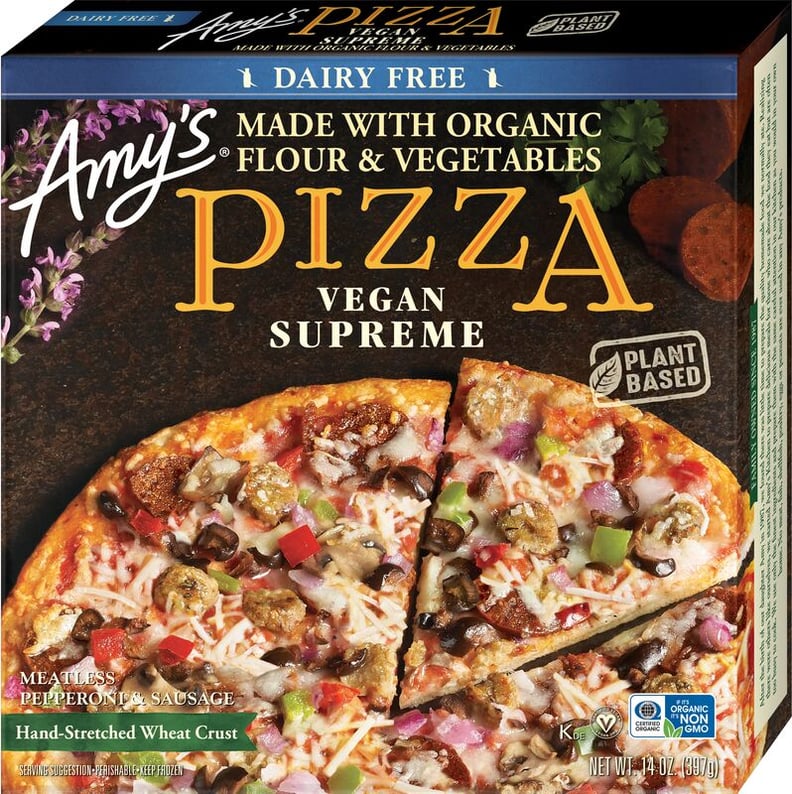 Amy's
Amy's is the mainstay of the frozen food aisle, and it turns out that the family-owned brand just may boast one of the healthiest options. Made with a hand-stretched wheat crust and layered with homemade tomato sauce, this Amy's Vegan Supreme Pizza ($10) also has delicious toppings: meatless pepperoni, veggie sausage, dairy-free mozzarella, and organic vegetables.
Nutrition Info for Amy's Vegan Supreme (1/3 Pizza)
Calories: 290
Fat: 12 grams
Saturated Fat: 3.5 grams
Carbohydrates: 37 grams
Protein: 8 grams
Cholesterol: 0 milligrams
Sodium: 670 milligrams
03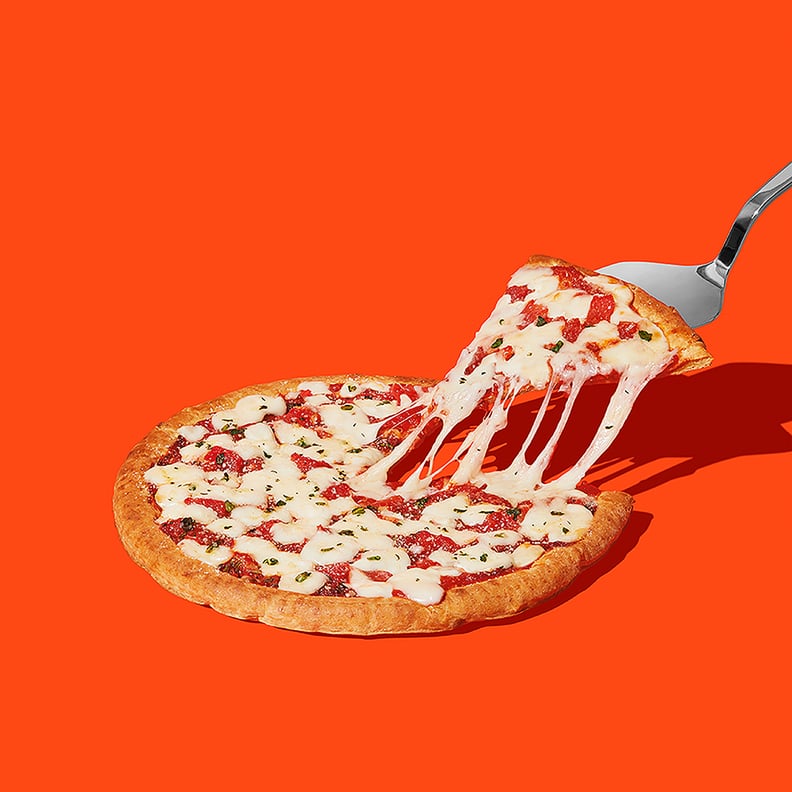 Banza
Fans of Banza's chickpea pasta were likely elated to learn that the startup has expanded its offerings to include frozen pies and crusts. And we're happy to report that these gluten-free versions taste just like traditional pizza, while delivering protein and fiber. Feast your eyes on this Banza Margherita Pizza ($50 for four).
Nutrition Info for Banza's Margherita (1/2 Pizza)
Calories: 390
Fat: 19 grams
Saturated Fat: 9 grams
Carbohydrates: 49 grams
Protein: 16 grams
Cholesterol: 25 milligrams
Sodium: 710 milligrams
04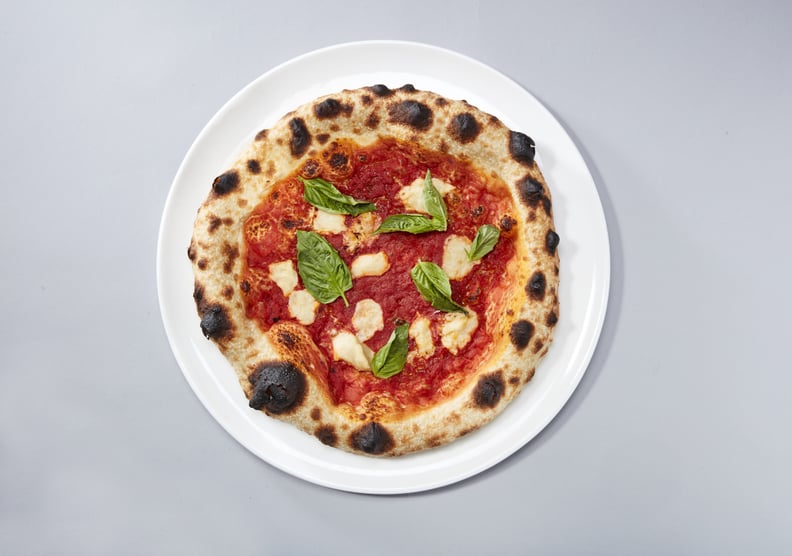 Planta
With restaurateur and nightclub owner David Grutman as a key investor, Planta makes plant-based dining cool. Case in point: These Planta Margherita Pizzas ($60 for four), which can be delivered to your door. Although often higher in fat and calories, vegan food is a healthier alternative for those who don't eat meat or dairy. "We use organic, animal-free ingredients in everything we do," executive chef David Lee told POPSUGAR.
Nutrition Info for Planta's Margherita (1/4 Pizza)
Calories: 360
Fat: 12 grams
Carbohydrates: 52 grams
Protein: 8 gram
Cholesterol: 0 milligrams
Sodium: 480 milligrams
05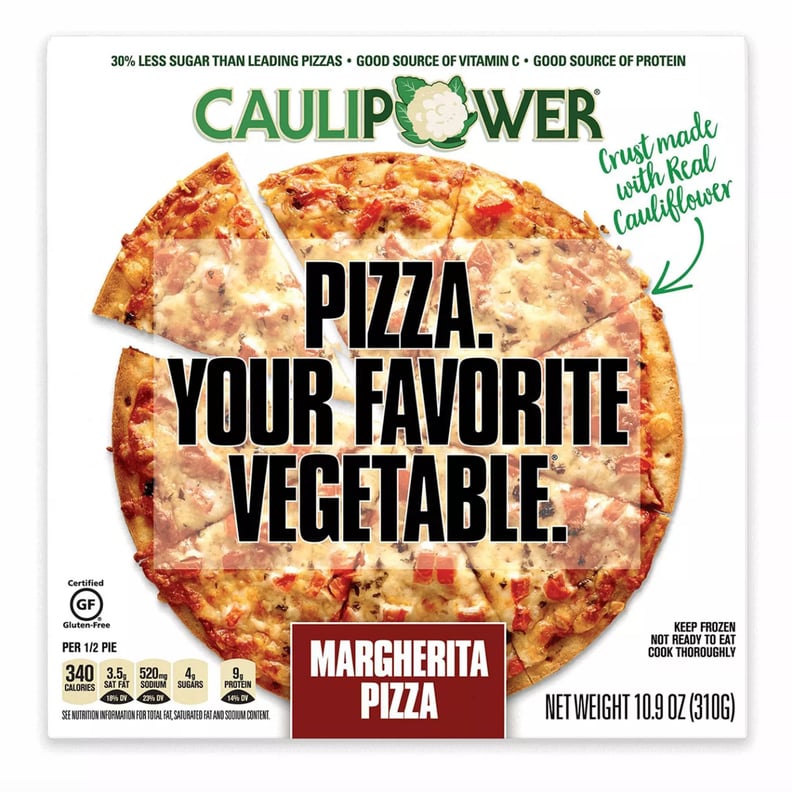 Caulipower
Another healthy alternative to frozen pizza? Cauliflower crust. The buzzy ingredient is always a great choice if you're trying to cut down on carbs and are looking for a gluten-free option. Thinner and flatter than regular crust with the slightest hint of the cruciferous vegetable, each bite of this Caulipower Margherita Cauliflower Crust Frozen Pizza ($7) tastes nice and crispy once out of the oven.
Nutrition Info for Caulipower's Margherita (1/2 Pizza)
Calories: 340
Fat: 12 grams
Saturated Fat: 3.5 grams
Carbohydrates: 49 grams
Protein: 9 grams
Cholesterol: 40 milligrams
Sodium: 520 milligrams