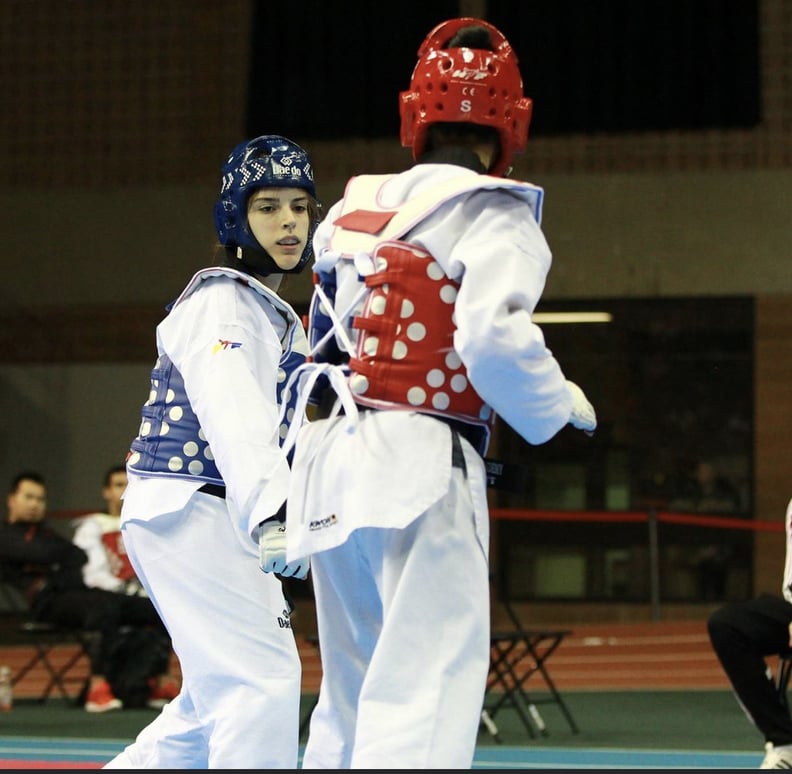 Courtesy of Brianna Salinaro
Courtesy of Brianna Salinaro
Taekwondo has been in the Olympic Games since 2000, but this Summer, the sport will make its debut at the 2020 Paralympics in Tokyo. One of the two athletes from the US who have qualified to compete is Brianna Salinaro, the league's first Taekwondo athlete with Cerebral Palsy (CP) and, accordingly, the first athlete with CP to fight on the world stage. The 21-year-old from Massapequa, NY, was also USA Para Taekwondo's first woman athlete, period. She's accomplished a list of milestones so far, and she spoke with POPSUGAR about her journey.
Growing Up With CP
Brianna was diagnosed with CP, specifically spastic diplegia, at a young age. This is a form of Cerebral Palsy that causes stiffness and tightness in the lower extremities and results in decreased coordination, flexibility, and muscle control. For Brianna, it affects her back and legs.
Brianna doesn't remember much of her early diagnosis, but she told POPSUGAR that she got surgery at around 2 years old on both Achilles tendons. She wore leg braces post-surgery every day, after which they were only required at night (though she admitted she hasn't worn them since she was at least 17). Growing up, she underwent physical, occupational, and speech therapy, and PT is still a part of Brianna's training routine today.
How Brianna Found Para Taekwondo
As a kid, Brianna always had an interest in martial arts. She competed in Taekwondo with kids who could kick higher than her — she didn't know Para Taekwondo was an option at the time — and this, she said, would get discouraging especially as she progressed through the color belt rankings. (She's currently a second-degree black belt in Taekwondo.) This caused her to fade in and out of the sport until she was in her early teens, at which point she said she made many friends and stuck with it. Her passion for the sport grew, she said, "and I just started to develop this mindset of like, 'Yeah, training may be really hard, but I'm going to do it anyway.'"
"Some days I wake up and I feel great and ready to go. Other days I can't get out of bed because I'm in too much pain."
Given that Taekwondo is a kick-dominant sport, competing with Cerebral Palsy is difficult both mentally and physically, Brianna told POPSUGAR. "I think I experience a lot more pain and fatigue than my competitors do, for sure," she said. But it's also a hit or miss depending on the day and how far away a tournament is. "Some days I wake up and I feel great and ready to go," she explained. "Other days I can't get out of bed because I'm in too much pain."
Brianna continued, "I can prepare for a year straight for something as big as a world championship, and then get on a plane for 12 hours, and all that work I did over that year is thrown out the window. CP definitely does give me a big burden when I step into the ring." She's never had to stop during a tournament, but there have been times when she felt like there were 50-pound weights added to her legs, she said.
Before Brianna found Para Taekwondo in 2016, she would compete against able-bodied opponents through her home club team Ultimate Champions Taekwondo, and in that league, "I did experience a lot more challenges than I do fighting Para simply because in able-body, you can kick to the head." This is something she can't physically do with her CP. She also may be slower to block kicks, and balance is difficult at times as well. But, finding Taekwondo actually has helped Brianna with her CP because it keeps her active. That's something she hopes others going through similar situations can take from her story — though CP affects everyone differently, putting fear behind you, finding a sport that you love, and being willing to try is key to living with your diagnosis.
Brianna started officially competing on the Para Taekwondo national team in 2017. At first, she was classified in her own category, K42, because she was the league's first Cerebral Palsy athlete. Brianna now competes under the K44 classification, which, according to the Para Taekwondo website, includes athletes with amputation on one arm "or equivalent loss of function, or loss of toes which impact the ability to lift the heel properly."
Brianna's greatest accomplishment to date, she said, besides qualifying for the 2020 Paralympics, was winning a bronze at the 2017 Worlds in London. It was the first world championship competition she went to. The fight after the quarter finals was against the reining world champion at the time, and, despite the fact that she broke her foot in the second round, Brianna claimed her bronze medal and said it was one of the best days of her life.
College and Olympic Training: The Balance
Brianna attends Sacred Heart and studies Health Science. When she's at school, she does Taekwondo about four to five days per week, a minimum of two hours a day. She said she's incorporated a lot more athletic training — working with a personal trainer on balance, coordination, and strength — and physical therapy into her training regimen, and she'll do both about two to three days a week as well. Back in New York, Brianna trains with her home club team led by coach Andrew Oh, but at school, she'll go to Styles United Transformative Martial Arts near Sacred Heart.
Juggling school work and training, Brianna admitted, can be tough — she notices that she'll put work on the back burner to focus on Tokyo. But, she communicates with her professors if she has tournaments with the national team to make up the assignments she's missed.
Looking Ahead to 2020 Paralympics
Brianna said the national team has a few smaller competitions in 2020 leading up to the Paralympics. Para Taekwondo in Tokyo will reportedly run like a standard single elimination tournament, and Brianna said she's most excited to redeem herself for her performances in 2019, which she said were some of the hardest she's had in a while given that they were back-to-back. She still received silver at the 2019 U.S. Open Para Taekwondo Championships and bronze in three other competitions, but she didn't place on the podium at Worlds that time around.
"I really just want to put on the best performance I can to show the world that I'm here to stay."
According to a USA Taekwondo spokesperson, Brianna and teammate Evan Medell are the only two athletes who have qualified for Para Taekwondo based on their top four world ranking finishes. USA can, the spokesperson said, now choose one more male and female athlete to send to the Pan American Qualification Tournament, "where they'll attempt to earn more Paralympic quotas by winning a gold medal." But, Brianna is still locked in to be one of USA's first (if not, the first) female Paralympian in Taekwondo.
Brianna hopes, of course, to bring home a medal from Tokyo. "People don't realize the major disadvantage that I'm at," she explained. "They look at me and they're like, 'What? You have a disability? I wouldn't even know.' But I get in the ring and you see it." For her and for the sport, it would be historic to mount the Paralympic podium. "In 2016, this was all just a faraway goal, a faraway idea, that we didn't even know would come to life," Brianna said. "I really just want to put on the best performance I can to show the world that I'm here to stay."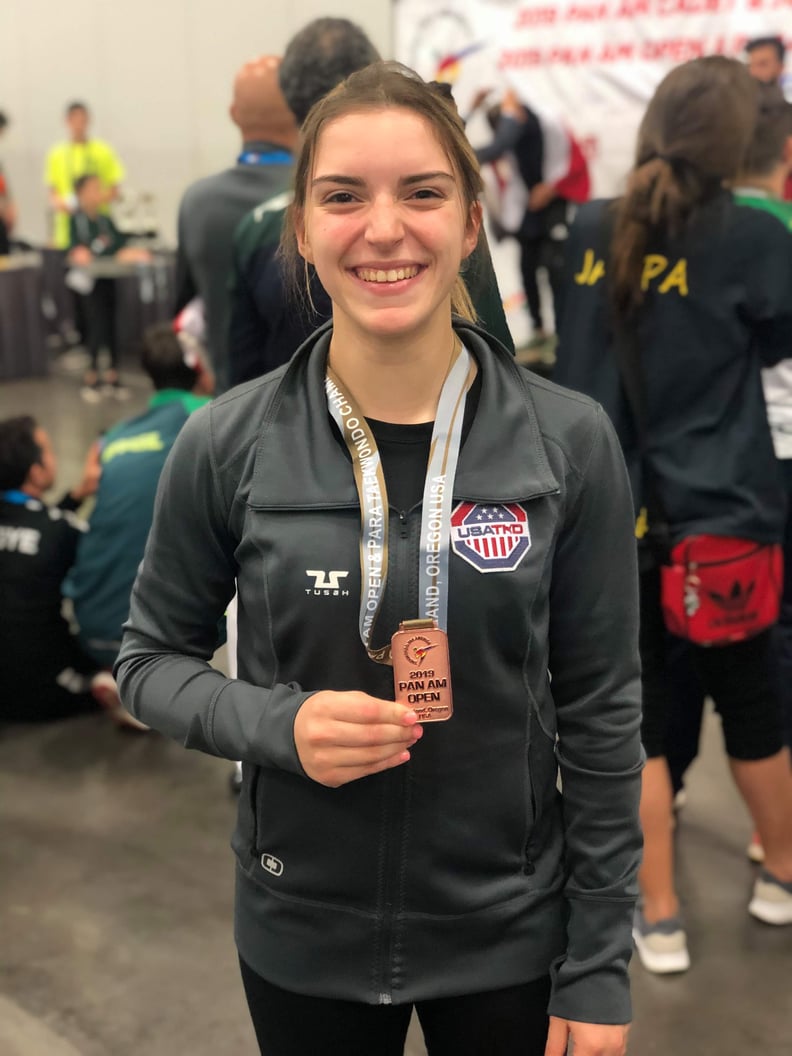 To learn more about all the Olympic and Paralympic hopefuls, visit teamusa.org. The Tokyo Olympics begin July 24 on NBC, and the Tokyo Paralympics begin August 23 on NBC.