Chrissy Teigen Celebrates One Year of Sobriety
Chrissy Teigen Celebrates 1 Year of Sobriety: "I Feel Really Good"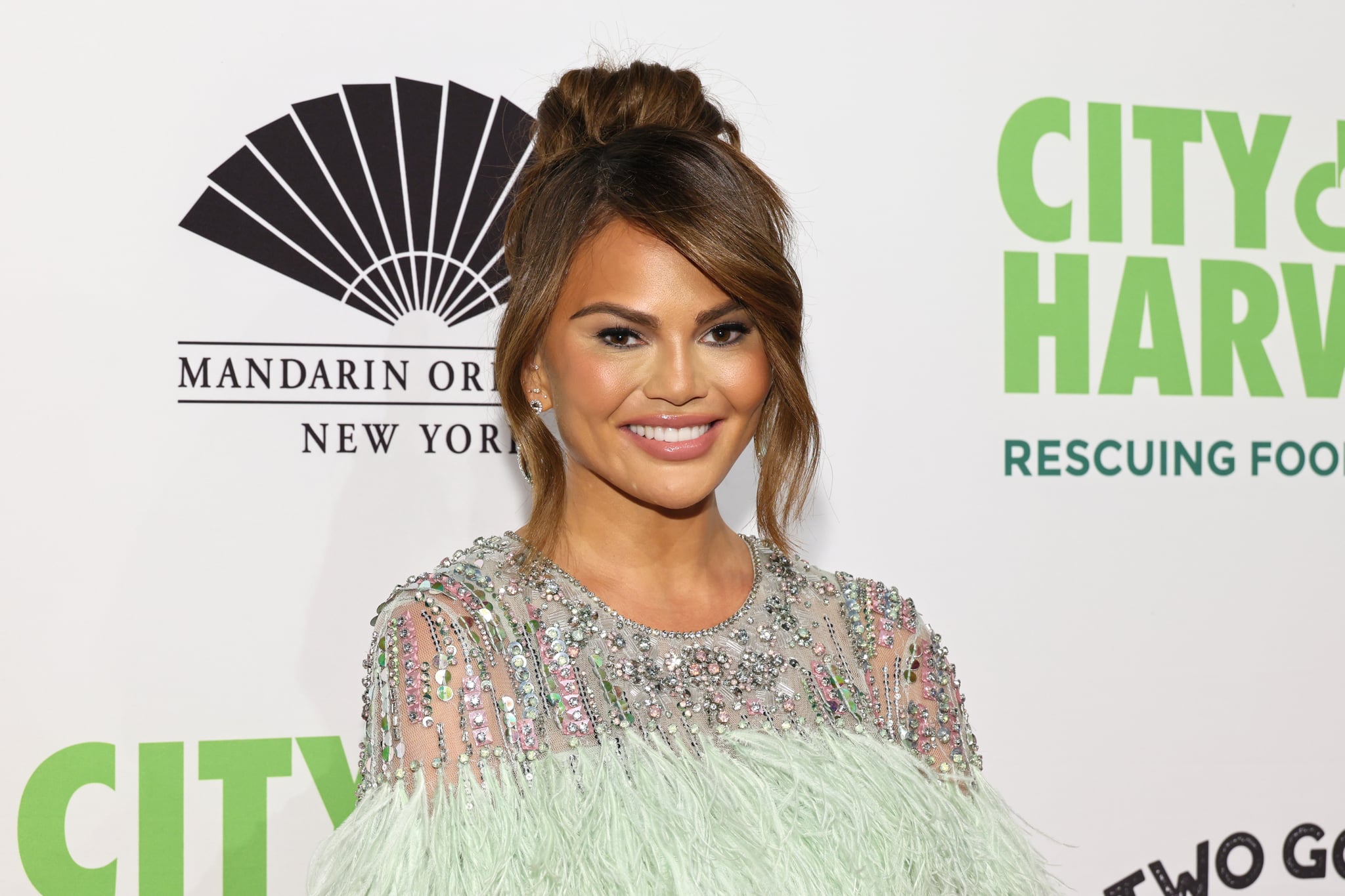 Image Source: Getty / Dia Dipasupil
Chrissy Teigen is celebrating one year of sobriety. She posted the news on Instagram with a video of her family on vacation in Carcassonne, France, writing in the caption that she hasn't had "a drop of alcohol in 365 days" and that she feels "really good" at this point in her journey.
The video shows Teigen smiling and exploring Carcassonne with her husband, John Legend, and their two kids, Miles and Luna, but the caption is all about her relationship with drinking and the decision to give it up. The "Lip Sync Battle" icon says that sometimes she "gets really frustrated looking back on days I should remember way better than I do because of alcohol." For example, when "I drank cafe patron and fell asleep while an Outback Steakhouse chef taught me (my friends) how to make a bloomin onion at my house. I wish I was awake for that. . . . There are pictures from huge moments in life where my eyes just look . . . gone." She says some of these moments are from "real work shoots, some of just beach days with the family."
Teigen first shared an update on her sobriety journey in 2017, telling Cosmopolitan that, at the time, she was "point blank, just drinking too much," so she decided to take a break from alcohol. Then in December 2020, Teigen took to her Instagram Stories to share her recommitment to being sober after receiving the book "Quit Like a Woman" by Holly Whitaker from her doctor for her 35th birthday, according to US Magazine.
And about a year ago, Teigen used a summer trip to Italy as an opportunity to take another break from drinking, calling it her "first sober Italian getaway" in an Instagram post. "I hate the word sober by the way, it's so rehab/medical," she wrote in the caption. "Anyhow, honestly it was so so trippy being sober at something you typically would have been wasted at. . . . I'm glad I'll get to remember it all!!"
Since then, Teigen has announced 50-day, 100-day, and six-month sobriety streaks. In a September 2021 Instagram post celebrating a 50-day streak, she wrote, "It should be nearly a year but I had a few (wine) hiccups in the road. This is my longest streak yet!"
Does Teigen miss sipping wine with her hubby (especially from his very own wine label)? In her most recent post, she admits that sometimes she misses "feeling looping and carefree," but toward the end, "it didn't give that fun feeling anymore anyhow."
She goes on to acknowledge how drinking became a coping mechanism as a way to "end crazy anxiety." The irony, Teigen says, is that the anxiety "later mostly went away when I — get this — quit drinking! Sigh." And she's not wrong; there's a very real connection between drinking and anxiety. "In the short term, alcohol acts as a sedative and allows for anxiety to be diminished," Sheila Shilati, PsyD, COO of Seasons Recovery in Malibu, CA, previously told POPSUGAR. "However, in the long term, you see greater rates of increased anxiety and depression."
"While I honesty still don't know know if I'll never have a drink again, I do know I never want to be that way again," Teigen writes. "And for now, none is best. I'll let the bad dreams come up and try to sort them out in therapy, without booze."
Teigen ended her post with a shoutout to the chain steakhouse, "Prayers for a blooming onion redo, Outback??" We'd love an invite to that.