As POPSUGAR editors, we independently select and write about stuff we love and think you'll like too. If you buy a product we have recommended, we may receive affiliate commission, which in turn supports our work.
Between the squat snatch, ring muscle-up, pistol single-leg squat, and clean and jerk, there's no shortage of hard-to-learn movements in CrossFit training. But in my experience as a CrossFit athlete, coach, and reporter, even more difficult than mastering the various movements is figuring out which shoes to wear to class.
Why is finding a CrossFit shoe so difficult, exactly? Well, unlike a running shoe that only needs to excel at one modality (running), a CrossFit shoe needs to work well for running as well as the many other movements that make an appearance in the sport. "A great CrossFit shoe is versatile enough in that it can support you when you're running short and long distances, jumping, doing gymnastics, rowing, lifting heavy, climbing, and more," explains CrossFit Games Athlete Fee Saghafi, a coach at CrossFit Mentality in Mentor, OH.
Typically, that means a CrossFit shoe provides some cushion for your midsole, as well as a slight heel for lifting and enhanced toe box, she says. Another feature that's extremely important in a CrossFit shoe — especially for individuals competing locally or globally — is a resilient midsole. "The material needs to be able to sustain the stress and friction from things like rope climbs, as well as outdoor elements you might see in competition," Saghafi explains.
So which CrossFit shoes have all of these elements? Ahead, CrossFit athletes and coaches (like me!) share our favorite CrossFit training shoes to train, toe-to-bar, and touch-and-go in.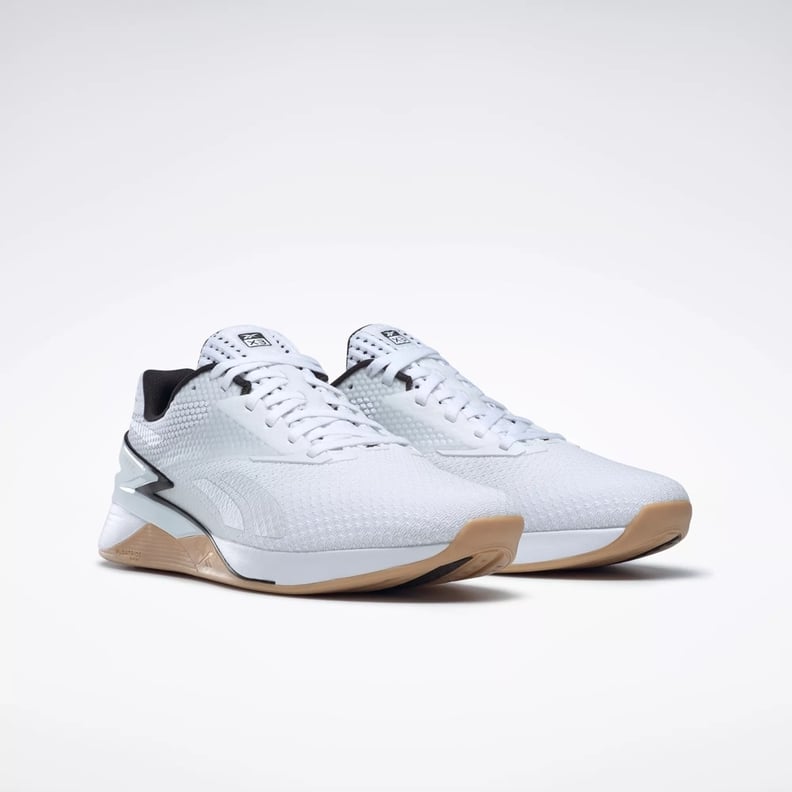 Best Overall CrossFit Shoe
Reebok Nano X3 Training Shoe ($140)
Reebok shoes have been synonymous with CrossFit shoes more or less since the sport's inception. As it goes, Reebok's Nano line has been Saghafi's go-to pick since she fell in love with the sport in 2013. These days, however, it's the current generation of the Nano, the Nano X3 Training Shoe, that she trains in, day in and day out.
The upper of the Nano X3 is made out of Reebok's signature FlexWeave texture. "This material allows the shoe to move with you through different movements like running and lifting without sacrificing comfort," Saghafi explains. "The shoe also features a wider toe box and platform that allows my feet to grip the ground, so that I can get into a strong mechanical position while I lift."
There's also added detailing along both the midsole and heel that support you while you swing, pull, push, and climb. The detailing along the side of the trainer keeps it from fraying in response to the friction it endures during a rope-climb descent, she says, and the special heel "also allows me to glide along any wall or plexiglass during handstand push-ups, so that I don't feel stuck in the movement."
Additional details: Sizes: W 6.5-15.5 | Colorways: 14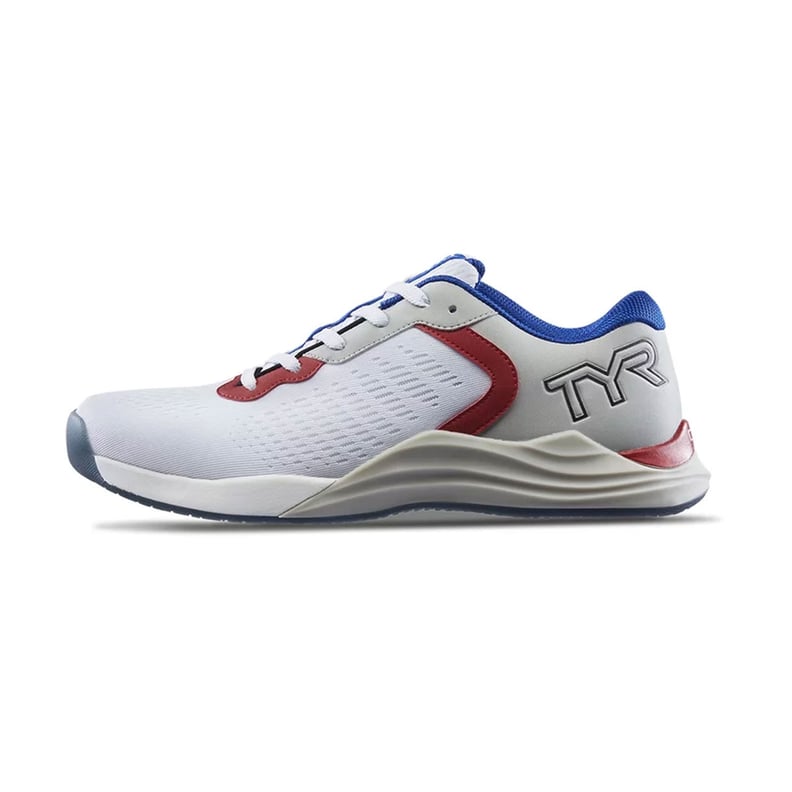 Best New CrossFit Shoe
TYR CXT-1 Trainer ($130)
Anyone who ever got put in swim lessons or joined a swim team growing up will recognize the brand TYR Sport, which is more commonly known for its swim and triathlon apparel. The water-sport brand made waves (ha) earlier this year when it dropped its first pair of CrossFit trainers: the CXT-1 Trainer.
Indestructible, stable, and comfortable, they're now the go-to shoe for many CrossFit coaches and athletes alike. "The CXT-1 Trainer is one of the most versatile CrossFit shoes I've ever tried," says Giulia DiSanto CF-L1, a trainer with CrossFit Aggregate in Columbia, MO. Thanks to the 9 mm heel drop and built-in patent-pending stability platform, "they are stable and solid enough to [lift] heavy in, but due to flexible forefoot, they are light and springy for everything else," she explains.
This shoe also has so many CrossFit-specific built-in features — a reinforced toe box! grippy midsole! breathable upper! — that it's suitable for advanced athletes in the sport, too. Available in a range of colors from basic to balayage, this trainer also has you looking fly.
Additional details: Sizes: W 6.5-15.5 | Colorways: 8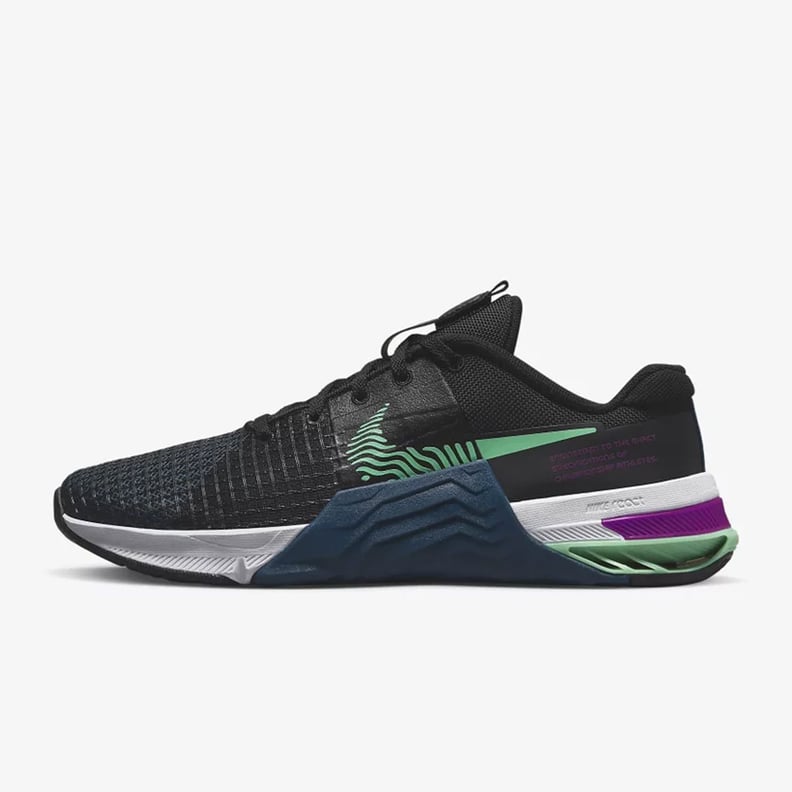 The Best Nike CrossFit Shoe
Nike Metcon 8 ($130)
It should come as no surprise that the brand responsible for the internet's favorite soccer cleats, football shoes, and basketball boots also makes a beloved CrossFit shoe.
A more substantial shoe than most other CrossFit trainers, the Nike Metcon 8 is as sturdy as you can get without buying a weightlifting-specific shoe. "I'm doing a lot of strength work at the moment, in particular a lot of squatting, and I love the amount of stability the shoe provides via a wide heel and inner plate, which helps distribute the weight of your feet," says Lucy Campbell, CrossFit Games athlete and the 2022 Fittest Woman in the UK. The shoe, however, doesn't sacrifice springiness for support. "Despite being stable, the shoe is not too rigid — it has a cushioned base, which is great for plyometrics and running," she says.
The Nike Metcon 8s also have a rubber wrap on the inside of the shoe to help with gripping the rope on rope climbs, as well as a clip at the heel to reduce friction when doing handstand push-ups, Campbell says. Oh, and Nike is constantly releasing fun new colorways of these bad boys.
Additional details: Sizes: W 5-15 | Colorways: 12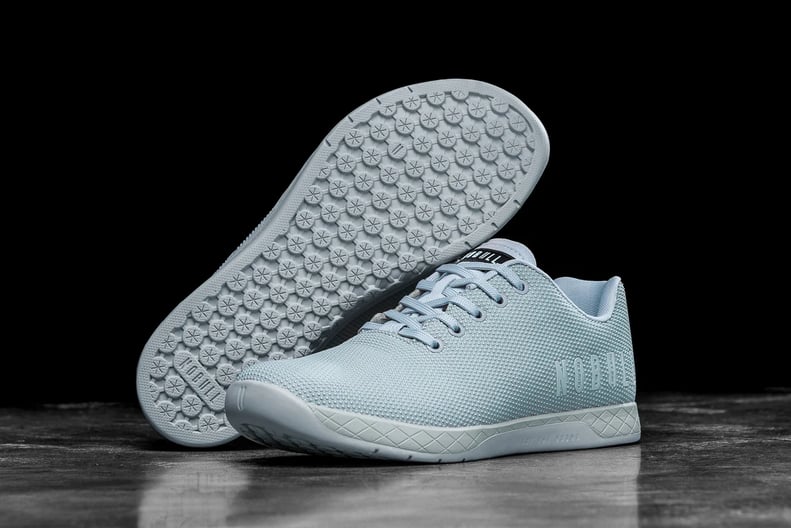 The Best Beginner CrossFit Shoe
Nobull Trainer in Sky ($129)
If you walked into a CrossFit box anytime after 2021, odds are you saw at least a dozen athletes rocking Nobull trainers. In March of that year, Nobull became the official footwear (and apparel) brand of CrossFit, which results in athletes at every stage of competition choosing to don their dogs in the simple shoes.
Due to the partnership, a lot of CrossFit Games athletes compete in Nobull shoes. But actually, the flat, special-feature-free trainers are best for people who are new to functional fitness. As it goes, the Nobull Trainers are like cheese pizza — while good for someone wanting something simple, they don't have the extra pepperoni many people crave.
These puppies feature a 4 mm heel drop that's nice for Olympic Lifting, as well as a lightweight construction that makes them ideal for both plyometrics. Missing from these shoes are fancy features that higher-level athletes want but beginner CrossFitters simply don't need. For instance: an encased toe bed for toe-to-bar, heel glide for handstand push-ups, and extra protection for rope climbs.
All this is to say, if you want a simple, sleek CrossFit shoe and don't need all the bells and whistles, this could be your ideal pick — and you'll still look damn good. With high-top styles and a whopping 365 colorways, you have plenty of aesthetics to choose from.
Additional details: Sizes: W 5-11 | Colorways: 365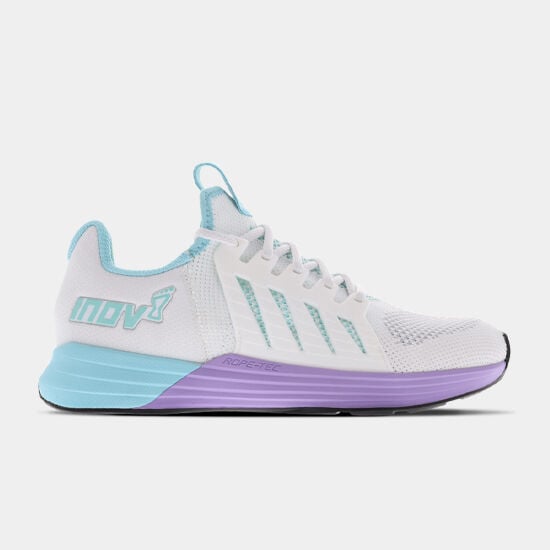 The Best Versatile CrossFit Shoe
Inov F-LITE G 300 ($155)
The Inov F-LIT G 300 is more versatile than a jean jacket, but unlike denim that needs to be broken in, this CrossFit training shoe does not. "The moment you put them on for the first time, they fit like a glove," two-time CrossFit Semifinal athlete Danielle Oliveri says. Considering there is nothing worse than being forced to alter your training due to a blister, this is ideal.
The shoe's immediate comfort is due, in part, to its unique Meta-Flex technology, which allows your foot to move naturally within its sheath. "The wider toe box also allows you to be able to spread your toes out without them ever feeling cramped and for optimal foot movement," Oliveri adds.
Thanks to its 6 mm heel drop — which is especially useful for individuals with poor ankle mobility — the Inov F-LIT G 300 is also a great option for strength sessions.
"Truly, this is the only shoe that I can wear for literally everything," Oliveri says. "Rope climbs, running, lifting, you name it, and this shoe is absolutely perfect for it." To that point, unlike other shoes on this list that are pretty CrossFit-specific, you could likely wear this pair for other functional-fitness workouts without a second thought.
Additional details: Sizes: W 6.5-11 | Colorways: 9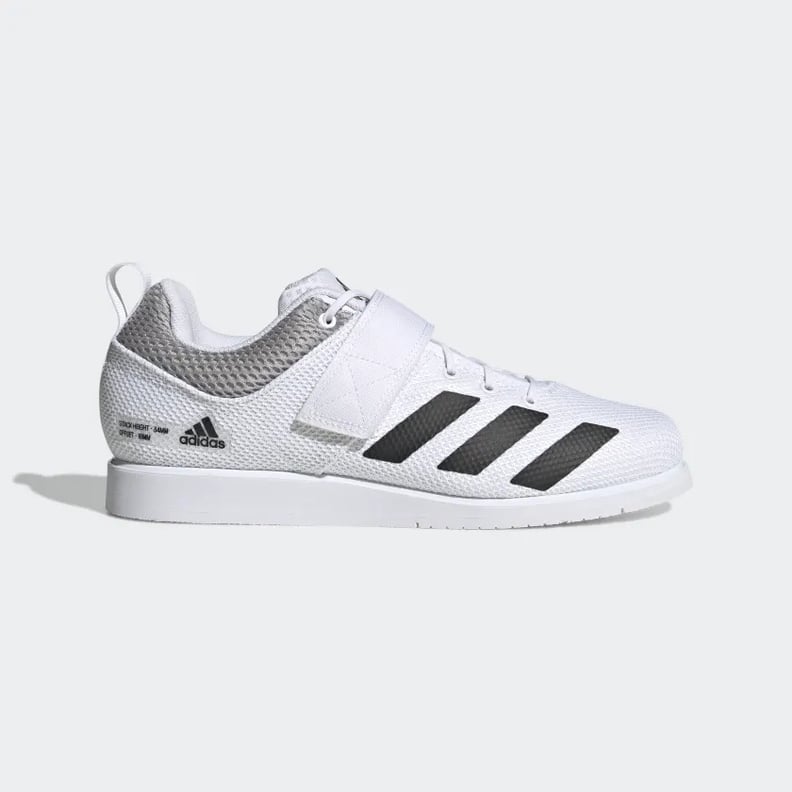 The Best CrossFit Shoe For Lifting
Adidas Powerlift 5 Weightlifting Shoe ($130)
Sure, there's a lot of jumping, running, and acrobatics in CrossFit. But there's also a heck of a lot of heavy lifting. Actually, the first half of most CrossFit classes is spent with a heavy barbell! For those lift-only sessions, many CrossFit athletes choose to slide into a pair of weightlifting shoes.
ICYDK: Weightlifting shoes, also known simply as lifters, are shoes that typically feature a wide toe box so your toes can spread out as needed, a 15 mm+ heel drop to encourage squat depth, and rigid construction for increased stability under load. Overall, they're pretty stiff, which makes them great for stability, but not so much for any plyometric or more dynamic movements.
One of the best pairs of lifters on the market is the Adidas Powerlift 5 Weightlifting Shoe. With an upper constructed from durable canvas and mesh, this shoe is far more breathable than other lifters. Given that lifting sessions tend to be long, thanks to all the built-in rest, this keeps your feet from overheating between sets. Also noteworthy is the grippy sole that helps keep your heel glued to the ground.
Additional details: Sizes: W 5-17 | Colorways: 4