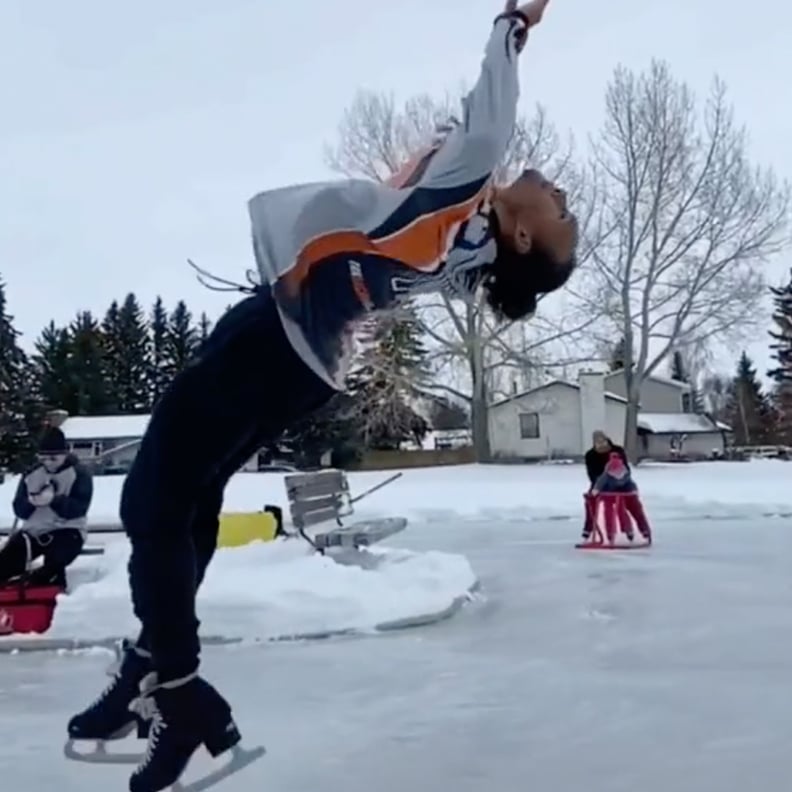 Megan Thee Stallion's "Body" dance challenge, the Futsal Shuffle, the classic knee wobble: Canadian figure skater Elladj Baldé can do them all in zero-degree weather with razor-sharp blades tied to his feet. In addition to his impressive axels and elegant spins, the professional skater knows how to bring the party to the ice with his modern dance moves on TikTok, including backflips and cartwheels that add a unique twist to the typically old-fashioned world of figure skating.
"One of my main missions in the last few years has been to really change the way people perceive skating, that it's not one direction," he told POPSUGAR, noting that he's primarily inspired by dancers, including Anze Skrube, Stephen "tWitch" Boss, Devin Jamieson, and his fiancée, Michelle Dawley. "It's not this one mold that we have to fit in. You can actually be different, look different, do different things, and be extremely successful at it, and that's kind of where my purpose lies in everything that I do."
"I believe that we're all different and we all have a gift. Part of our purpose here as humans is to share our gift with the world."
When competing at an international level, Baldé said he felt "restricted with being able to express myself truly and authentically as an artist." After some introspection, he shifted his skating style to reflect the "authenticity and truth" behind what brings him joy as an artist, a performer, and a human being. This includes pushing past the limited song selection in the professional sphere and only skating to songs with which he feels an emotional connection. "I've always kept the promise to myself that I was never going to skate to something that I didn't connect with, because then you're not skating from a place of truth anymore or authenticity," he said.
As for those incredible backflips, Baldé said he's been doing them on the ice since he was 15, but it only took him about 20 minutes to perfect the move after practicing with some friends and a makeshift harness. "Ever since, it's been one of my favorite things to do and kind of my trademark in a way," he said before adding that the move is definitely not recommended for anyone to try at home. "I would definitely recommend learning how to do it off the ice first . . . and then try it on the ice, because it's something that is definitely dangerous," he said, noting a few falls in the past. Now, he's trying to incorporate more acrobatics into his routines by mastering everything from a one-legged backflip and consecutive backflips to breakdancing on the ice.
When asked what advice he has for his fans, Baldé said, "Continue to try and figure out what's unique about you and how you can share that to the world. I believe that we're all different and we all have a gift. Part of our purpose here as humans is to share our gift with the world." Through a winning combination of technique, skill, and charisma, Baldé is able to pull off everything from the latest TikTok dance to the most beautifully choreographed routines. Enjoy a mini marathon of his most mind-blowing TikTok videos ahead.
Elladj Baldé Skates to "Icon" by Jaden Smith
Elladj Baldé Skates to A$AP Ferg's "Work (Remix)"
Elladj Baldé Skates to "(No One Knows Me) Like the Piano" by Sampha
Elladj Baldé Skates to "Human Nature" by Sevdaliza
Elladj Baldé Skates to "Lonely" by Justin Bieber
Elladj Baldé Skates to "Intro" by The XX
Elladj Baldé Skates to "I Feel Good" by James Brown
Elladj Baldé Skates to "This Is America" by Childish Gambino
Elladj Baldé Skating Reel
Elladj Baldé Skates to "Lemon" by N.E.R.D. and Rihanna