While my love for fall-adjacent flavors remains strong year-round, I can't help but put a pumpkin-spice spin on nearly every dish that comes out of my kitchen as soon as the first leaf starts to change colors. Needless to say, I'm beyond excited that the (real) most wonderful time of the year is upon us yet again. This year, however, my doctors and I have set various nutritional goals that, unfortunately, cannot be met by enjoying a slice of pumpkin pie every day, so I've had to find different ways of enjoying my favorite fall flavors.
One way to enjoy these classics while staying in line with my nutrition plan, I realized, is by incorporating seasonal protein shakes into my daily routine. As someone who loves breakfast just as much as she loves fall, finding five expertly crafted protein shake recipes that are each jam-packed with all of my favorite flavors has been the answer to my autumnal prayers. Now, I get to enjoy the tastes of the season first thing in the morning or as a protein-packed pumpkin pick-me-up throughout the day. That's considered a win-win in my recipe book. Keep scrolling for my picks.
01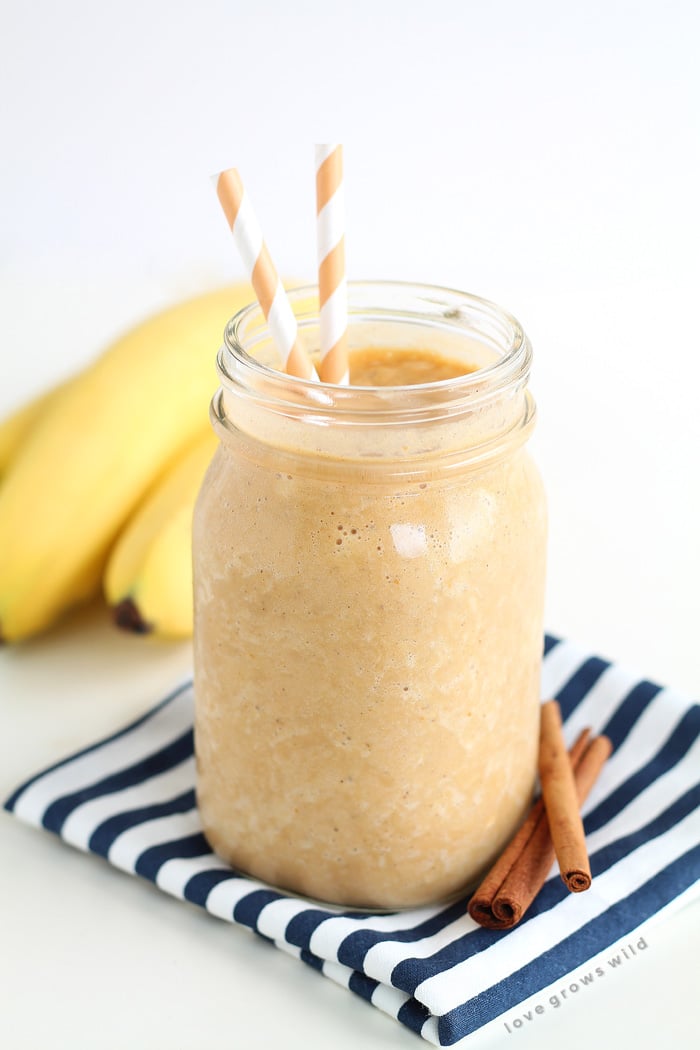 Pumpkin Protein Shake
Nothing screams fall more than the flavors of a classic pumpkin pie, and this pumpkin protein shake recipe delivers in every way. With a combination of pumpkin puree, pumpkin pie spice, vanilla protein powder, and a banana, this shake kicks up the nutritional value of a typical slice of pumpkin pie for a delicious pseudo-dessert on-the-go.
Get the recipe: pumpkin protein shake
02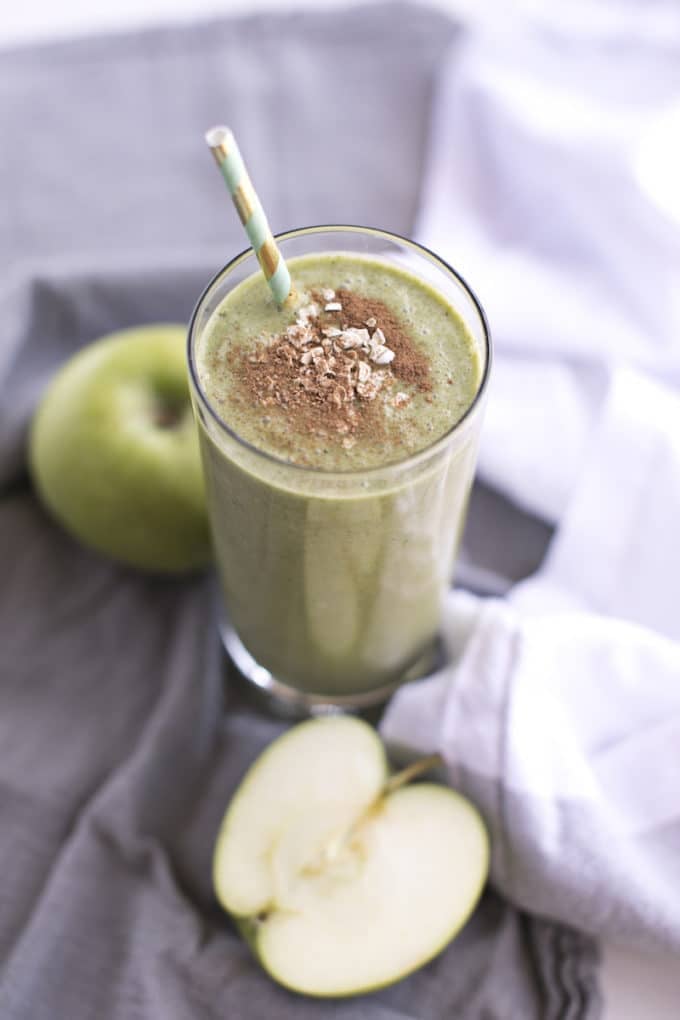 Vegan Apple Pie Green Protein Smoothie
My mom once told me that I couldn't eat pie for breakfast because it lacked the proper nutrients, and I wish I could have shown her this recipe then. This protein shake combines apples, raw oats, vegan protein powder, apple pie spices, and spinach to create a nutrient-packed, plant-based smoothie that tastes just like your favorite holiday dessert.
Get the recipe: vegan apple pie green protein smoothie
03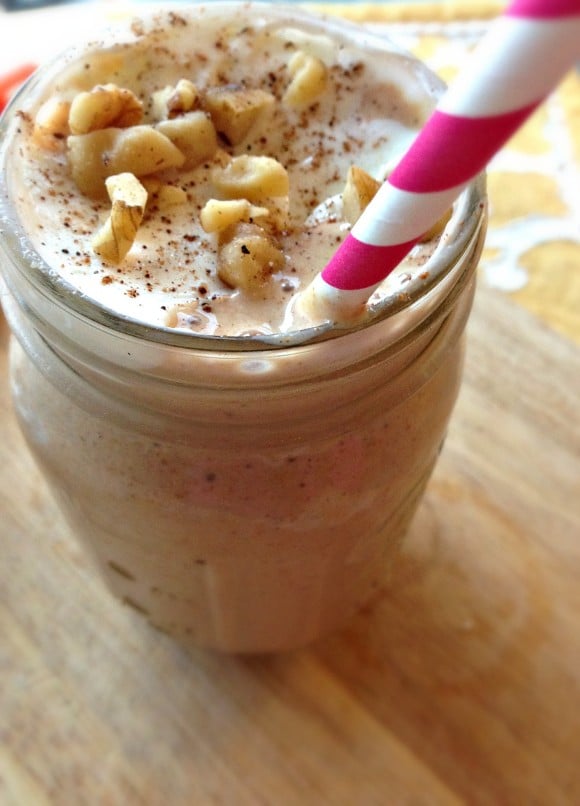 Spiced Carrot Cake Protein Smoothie
Baby carrots, cottage cheese, and vanilla protein powder make up this delicious spiced carrot cake protein smoothie perfect for a chilly morning. Blended together with cinnamon and nutmeg, this recipe brings all the elements of fall into one delicious protein-packed shake.
Get the recipe: spiced carrot cake protein smoothie
04
Mexican Chocolate Protein Shake
The name of the fall game is spice, and this Mexican chocolate protein shake delivers just that. Raw almonds are the protein source in this recipe, blended with cocoa powder, almond milk, chia seeds, ½ a banana, and cinnamon. A plant-based recipe of few ingredients that truly hits all the bases.
Get the recipe: Mexican chocolate protein shake
05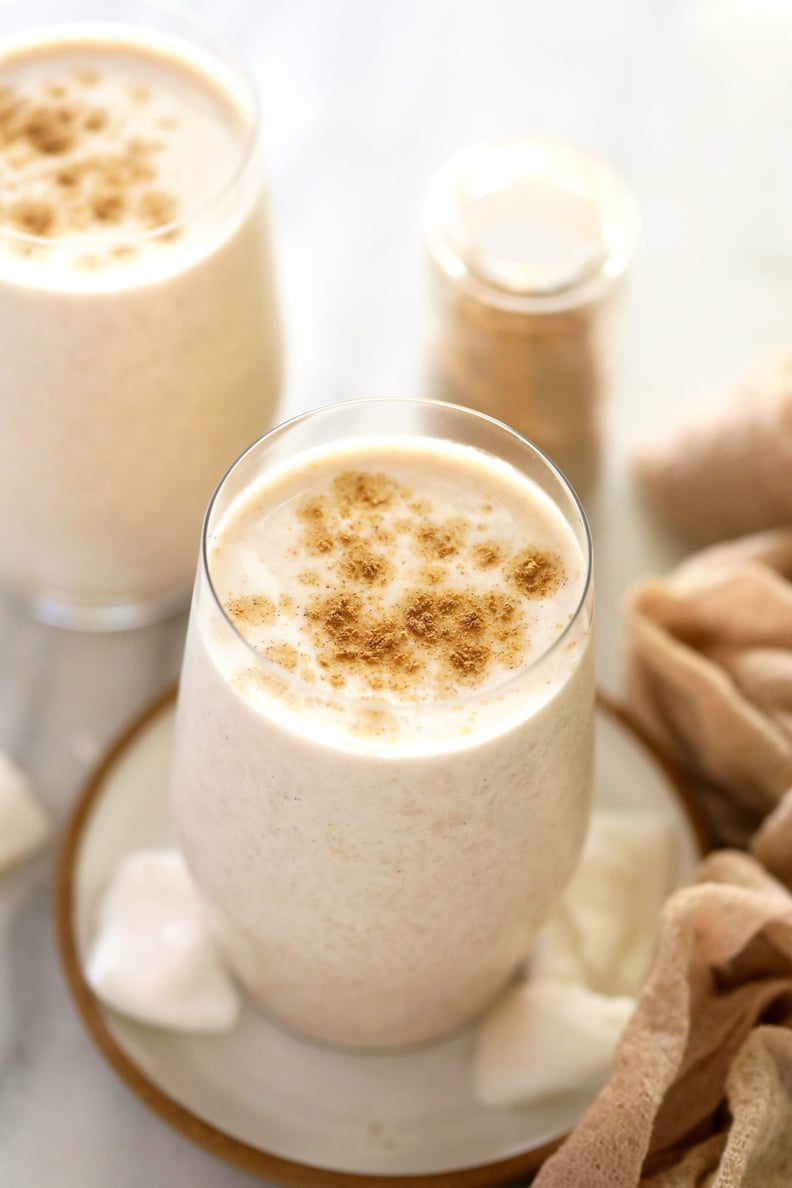 Coconut Chai Protein Shake
If a warm mug of chai tea is your go-to beverage on a chilly day, this coconut chai protein shake is for you. Using fresh coconut meat, this recipe combines vanilla protein powder, a banana, almond milk, and chai spice for a nutrition-packed remix of your favorite spiced beverage.
Get the recipe: coconut chai protein shake