Growing up in the early 2000s, some kids had their Saturday morning ritual of watching cartoons over a bowl of Froot Loops. My brothers and I, on the other hand, preferred scarfing down our Froot Loops before playing one of Tony Hawk's Pro Skater video games for hours on end. Almost every weekend, like clockwork, we'd race to snag the PlayStation controller first and watch each other kickflip, nosegrind, and Indy 900 our way to the highest score, all while head-bobbing to the game's iconic hip-hop and punk soundtrack. It was the perfect way for us to bond over a little old-fashioned sibling rivalry, all while growing an appreciation for the sport of skateboarding.
To this day, Tony Hawk's video game franchise holds a big, bucket hat-shaped place in my heart. My younger brother and I still routinely jam out to the soundtracks for nostalgia's sake (a pro tip for fellow fans: there are tons of fan-made playlists on Spotify!), and I recently repurchased one of the games on eBay because we misplaced the CD a few years ago. So imagine my excitement when Activision released a newly remastered edition on Sept. 4. Titled Tony Hawk's Pro Skater 1 + 2, the game blends original skateboarders, levels, tricks, and songs from older versions with brand-new choices for players, so yeah, I'm more than ready to see if it lives up to the hype.
Ahead of the game's debut, I caught up with three of the badass female skateboarders featured as playable characters — Aori Nishimura, Elissa Steamer, and Lizzie Armanto — to chat about what first inspired them to pick up a board, their personal experiences with sexism in the sport, and more. Learn a bit more about each talented athlete below before diving into our conversations ahead.
Aori Nishimura: A brand-new addition to the Tony Hawk's Pro Skater franchise, Aori is expected to represent her home country of Japan in the rescheduled Summer Olympics Games next year. At just 19 years old, she's already got five X Games medals under her belt and was named the women's world skateboarding champion at a Street League event last January.
Elissa Steamer: The only woman featured on Tony Hawk's first two video games, Elissa is a four-time X Games gold medalist who's been crushing it at the sport since the '90s. She launched a skate brand called Gnarhunters and was featured in a Nike ad alongside other female athletes last year, to name just a few recent notable accomplishments from her legendary career.
Lizzie Armanto: A 27-year-old skateboarder with more than 30 awards to her name, Lizzie first became a playable character on THPS 5 back in 2015. She'll be representing Finland while competing in the women's park skateboarding competition at the Olympics next year, and fun fact: she's the only gal in the world to successfully complete Tony Hawk's 360 loop, a ramp constructed into a perfect circle.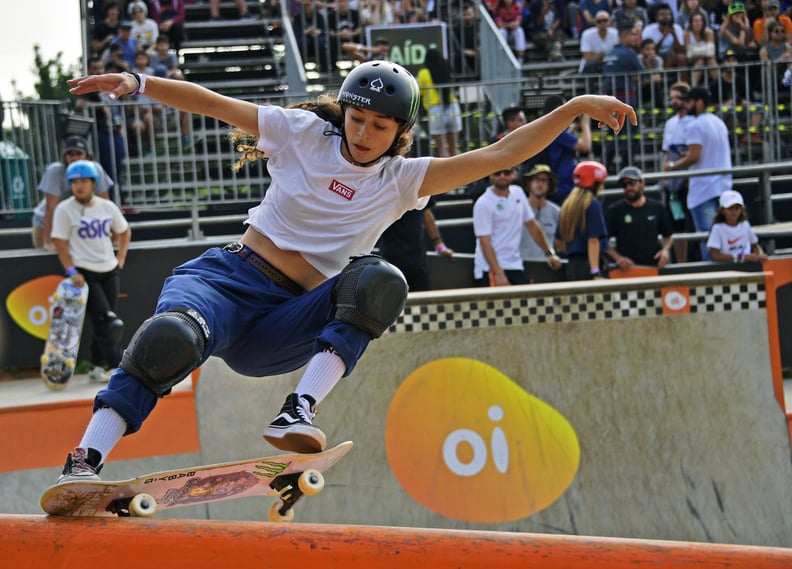 On Why They First Got Into Skateboarding
Above: Armanto competes in the finals of the World Park Skateboarding Championship in Sao Paulo in September 2019
POPSUGAR: When did you first start skateboarding and what inspired you to do so?
Armanto: I first started skating when I was 14 and my younger brother just wanted to try it. My mom ended up taking us both to the skate park. We had had skateboards at the time, but had never learned how to ride them. Once we got signed up, pretty much it was just a brother and sister competition of who was going to go down the bank first . . . I wasn't going to just let my younger brother show me up.
Steamer: I remember having a skateboard in my carport, a little plastic one when I was a tiny child — like, 4 or 5. But I think around 1984, I was 9 years old, and skateboarding was pretty big. And that's why I got into it, because it was all over the television, and everybody was doing it. And what got me amped on it was just how anti-everything it was. Rebellions and punk rock, if you will, is what drew me into it.
Nishimura: The first time I started skateboarding was when I was 8 years old. My father used to skate when he was younger, so there was a skateboard at our house and one day I just felt like I wanted to give it a try. I've been skating ever since.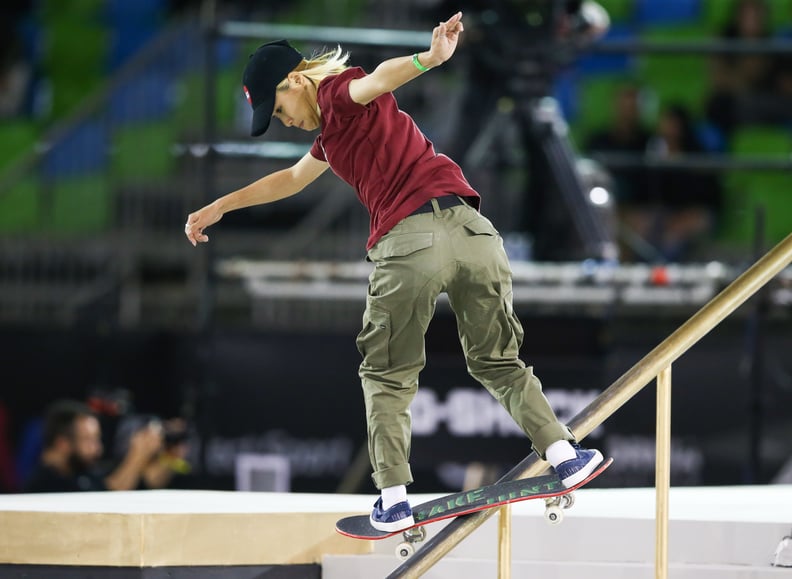 On Experiencing Sexism as a Female Skateboarder
Above: Nishimura competes in the finals of the Street League Skateboarding World Championship in 2019
POPSUGAR: What's it like to be crushing it at a sport that statistically more men participate in? Have you ever experienced any sort of sexism during your career?
"I think our society is changing slowly and starting to realize that we're doing this, but there's always the occasional person who's a kook."
Armanto: I had moved around a lot growing up, so when I found the skate park, I felt like I found my place and I didn't really think much of it that I was female and then [it was] mostly guys. Most of the time at the skate park, everyone's really cool. And even online, they're mostly positive comments, but every so often there's someone who wants to bash or they sometimes will say things that they don't realize are backhanded compliments. I think our society is changing slowly and starting to realize that we're doing this, but there's always the occasional person who's a kook.
When I was going to the skate park every day, there was the occasional person that would say, "You are pretty good for a girl," but most of the time I would just take it as like, I know what they're trying to say, but they don't even realize that they're being insulting. You can't police everyone. If it's the right situation to maybe say something about it, then I would do it. But in general, you can't fix everything all at once. You just can take one thing at a time.
Steamer: I can't put a name to the feeling. It just feels good to be involved and have an impact and a reach on people. It feels good to achieve what I've achieved in skateboarding, but it also just feels good to be able to achieve what I've achieved as [someone who's] not the norm.
I've definitely experienced discrimination on social media, I've experienced discrimination in our industry, I've experienced unequal pay in our industry, I've experience many hate crimes in our industry, in the world, all sorts of stuff. I mean, I've lived a long life already . . . People should just do them and not spend time worrying about what other people are doing. But at the same time, I understand how people's hate and negativity can fuel people in a positive way.
Nishimura: Yes, skateboarding does have a male-dominant image, but I'd like for people to know that you don't have to be a guy to enjoy skateboarding. Even girls can enjoy it. Skateboarding is for everyone, whether you're a guy or girl. So hopefully I can get that message out. If you put enough effort into it, you can compete in these big contests. You can be successful as long as you can commit to it and put your mind into it. Hopefully I can change that image [and teach others that] skateboarding is for everyone in the future.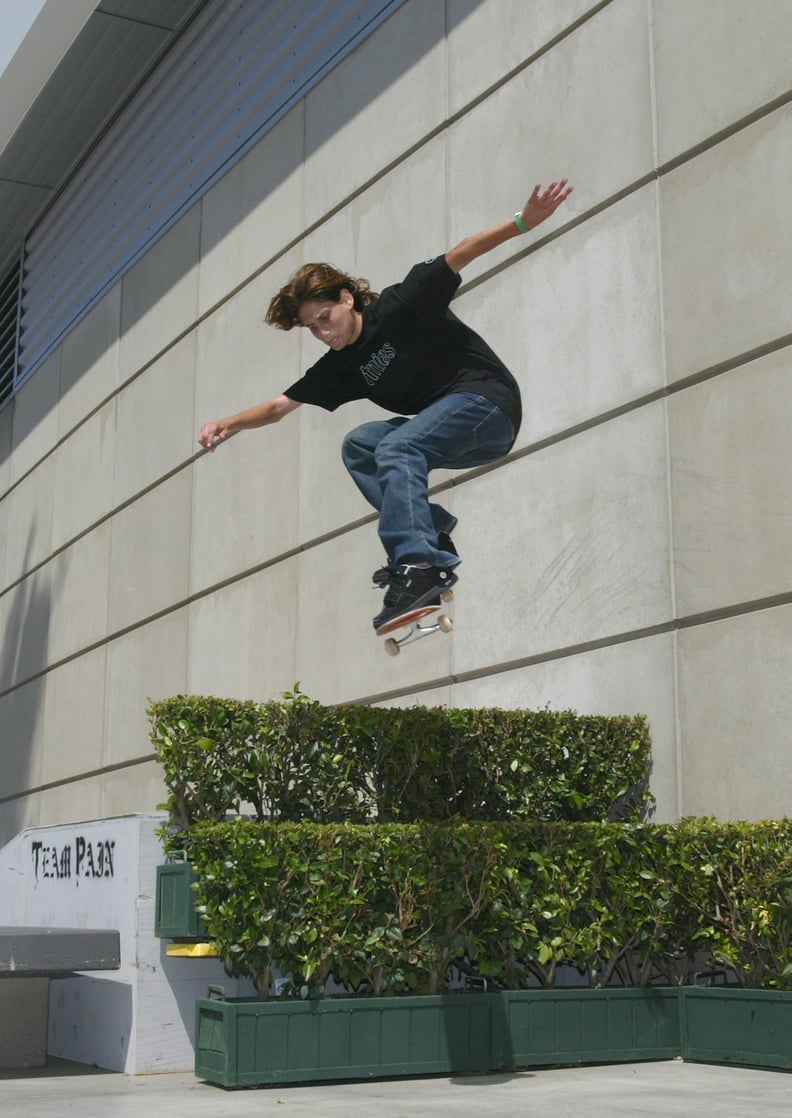 On Being an Inspiration for Others
Above: Steamer skates in the women's street competition at the 2005 X Games in Los Angeles
POPSUGAR: On the flip side, I'm sure you get tons of positive comments from fans who look up to you. How does it feel to be an inspiration to those people?
Nishimura: These positive comments, I love reading them. It just makes me feel accomplished, and that I put my effort into skateboarding and that's been paid off. These comments definitely inspire me to be better at skateboarding and as a person. Sometimes I read them when I'm feeling low, but these words kind of push me back up and get me back on my skateboard.
"It makes me feel like I'm in the right place in life and that I still want to push myself harder."
Armanto: I think it's so cool whenever I get messages from people telling me that they started skating or they finally learned a new trick because they were inspired. I guess it makes me feel like I'm in the right place in life and that I still want to push myself harder. The world is changing so much. I think a lot of stigmas are set up to be broken, but as with everything, it's always a work in progress. There's still barriers to break and distance to go, and I think that's the positive thing.
Steamer: It gives me a good feeling to know that I've impacted people's lives. It's a sense of purpose for myself and a sense of achievement. I'm glad that if I help some people realize their dreams, or start skateboarding and that helps them live a fruitful life, I'm stoked on that. So, it's a good feeling to inspire people.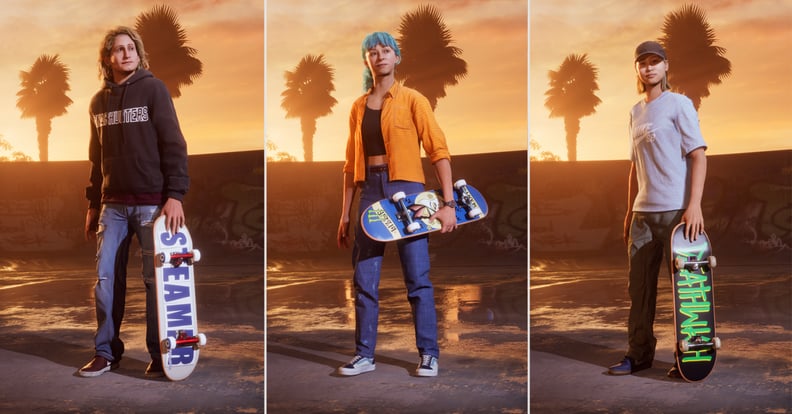 On Their Inclusion in the New Tony Hawk Video Game
Above: From left to right, Steamer, Armanto, and Nishimura's character avatars in Tony Hawk's Pro Skater 1+2
POPSUGAR: How does it feel to be featured as a character on Tony Hawk's Pro Skater 1+2?
Armanto: It just feels surreal because I knew about the video game [franchise] growing up. Also, all the people that are on those [older games], all the OG skaters, it's so cool to be in the lineup with them. I feel like that's such a huge honor. Like I said, it just feels surreal.
Steamer: It feels great. I'm super honored and excited. I mean, I love Tony Hawk, I love Activision, I love the video games. The first time around, it gave skateboarding great exposure. I just hope that it has that same effect, even though skateboarding is pretty exposed right now anyways, but I'm just stoked on it.
Nishimura: I think it's a great opportunity and it's a really cool thing for me to be part of such a legendary video skate game. Hopefully a lot more people will know who I am through playing this video game.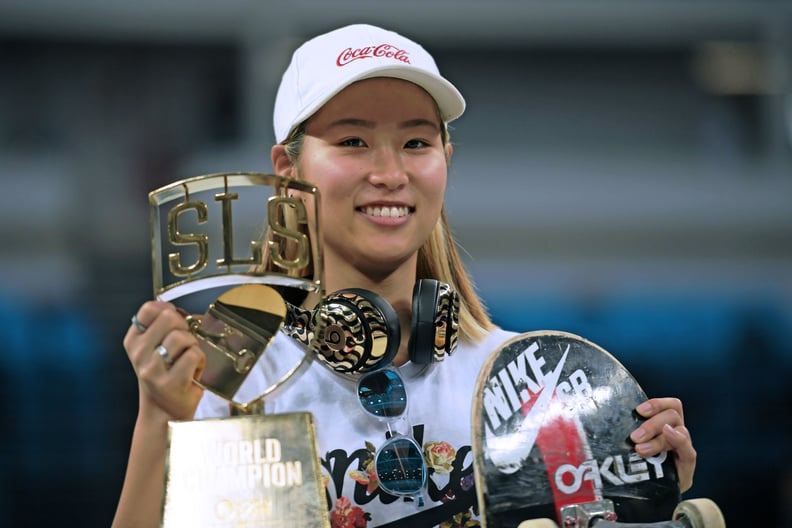 On Their Proudest Career Moments
Above: Nishimura after winning the Street League Skateboarding World Championship in January 2019
POPSUGAR: What's the proudest moment of your skateboarding career thus far?
Nishimura: For me, it was winning the World Championship in Brazil.
Steamer: One time, probably in 2004, I was this girl's Make-A-Wish. Her dying wish was to meet me. I met her, her friend, and her mom [at the x Games], and I think they expected just to say hi and me sign a couple autographs and then be on their way, but I was actually with my sister, who has since passed away of a terminal illness. At the time, we were all hanging out, and they were like, "OK, nice to meet you." And I was like, "Whoa, whoa, whoa. Where are you going?" And I got their phone number and I hung out with them all weekend, and we got them passes to the athlete lounge . . . We actually were pen pals. I pen palled with her for a couple years after that, and then my sister actually pen palled with her longer than I did.
Armanto: I would say my proudest moment was when I turned pro and I also at the same time got the cover of Thrasher [magazine]. I just felt like growing up, I always thought it'd be cool to skateboard as a living. But at the time, there weren't other women or females doing that and making a living just off skating. A lot of other women in skateboarding, they had jobs on the side. When that day happened, it was like the idea that you can just skateboard for a living, it felt solidified for me. And it kind of felt like a dream come true. It was validation for me — just getting my name on a board and also getting the cover Thrasher. In skateboarding, those are two monumental moments, and I just happened to have them at the same time.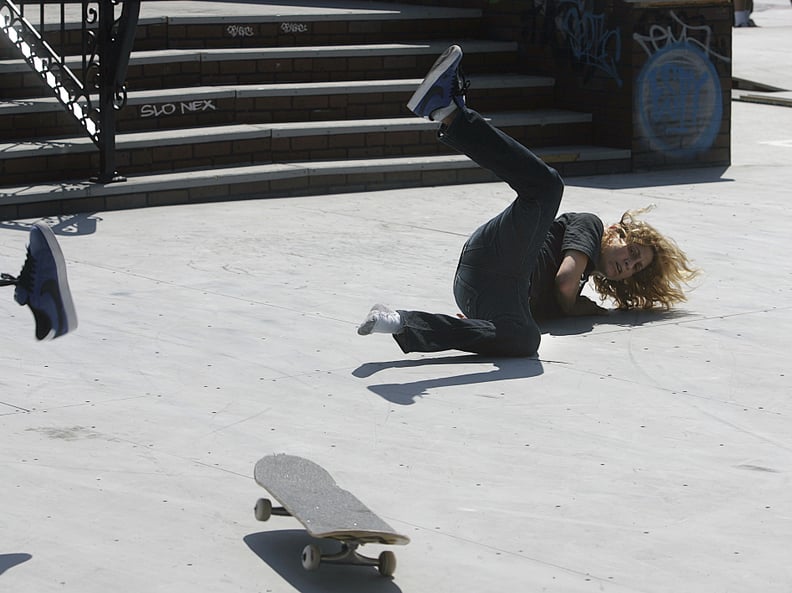 On Life Lessons They've Learned From Skateboarding
Above: Steamer competes in the women's street skate finals at the 2008 X Games in Los Angeles
POPSUGAR: What sort of life lessons has skateboarding taught you?
"You spend a lot of time failing in skateboarding, and just a little bit of time succeeding. That little success is enough to get you through all the failures."
Steamer: Skateboarding's a great tool. It teaches you how to navigate the world, it teaches you how to navigate your surroundings, how to take a line and jump and have cat-like reflexes. But the most important thing is how to get back up after you fall — perseverance. You spend a lot of time failing in skateboarding, and just a little bit of time succeeding. That little success is enough to get you through all the failures.
Armanto: I feel like there's so many life lessons I've learned. One of the most basic ones is when you fall, you get back up. Skateboarding teaches you persistence because it's so rare that you learn a new trick the first try. Sometimes you get hurt learning a new trick and then it builds — it makes it that much more mentally hard to break through that fear and then get the gratification of figuring it out and learning a new trick.
On another note, skateboarding is one of the few things where you can have someone who can barely walk and they're learning how to skate. And then you'd have someone who could be in their sixties and learning the same trick. Those two people relate and talk to each other about learning a new trick together. It doesn't really matter your background or your age for skating. It teaches you how to get along with anyone, really.
Nishimura: I have learned not to give up because skateboarding has a lot of hurdles. It's hard to learn a trick sometimes. Once you hit that wall, a lot of beginners kind of stop there and then their progression ends there. But as long as you put your mind to it and don't give up, you can go to the next step and improve. I think that's the biggest life lesson I've ever learned.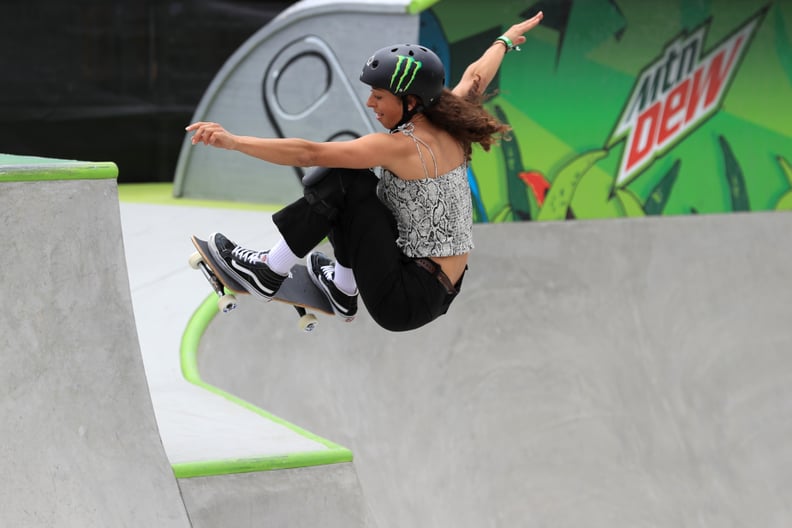 On Staying Fit
Above: Armanto competes during the 2019 Dew Tour in Long Beach, CA
POPSUGAR: Do you have any sort of routine for staying fit and healthy?
Armanto: Depending on what time of year it is, if I'm not going to contests, I try to make sure I'm eating fresh food. I don't go and get fast food and things like that. I also work out to supplement skating because skateboarding only works out a certain part of your body. Skateboarding is mostly squats. I try to go work out all the other muscles that skateboarding doesn't touch so that when I'm skating and if I take a fall, my other muscles are tender and I'm kind of ready for it. I basically just like going to the gym and working out the other muscles. It makes it so that I can be stronger and have less injuries.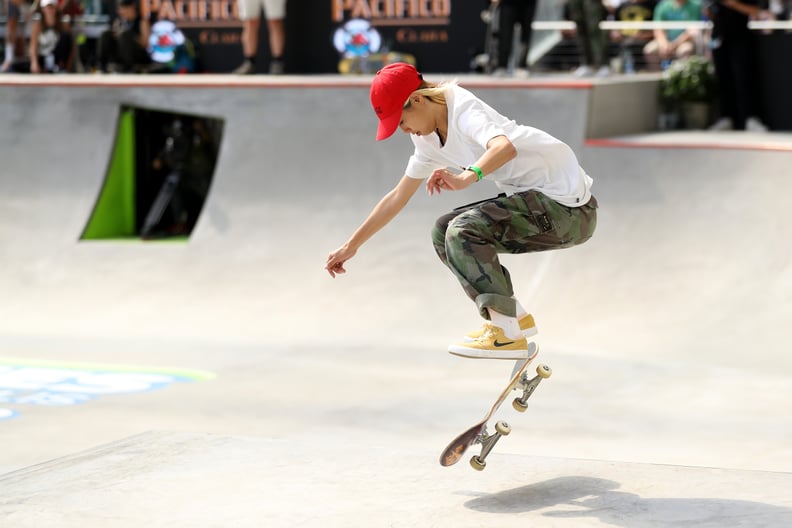 On Their Advice For Getting Into Skateboarding
Above: Aori Nishimura competes in the 2019 X Games in Minneapolis
POPSUGAR: Do you have any tips or advice for other girls looking to start skateboarding?
"If you want to do it, you've just got to try. There's no secrets."
Lizzie: For anyone looking to get into skateboarding, I would say don't be afraid to try, and if you learn how to fall, that's the key to not getting injured. If you want to do it, you've just got to try. There's no secrets. You will get injured to some level. If you're just cruising down the street, there's going to be a rock and you're going to hit it at some point. It doesn't matter who you are; the best skateboarders in the world, they will slam because a rock will stop their board.
Aori: I'm not going to lie: skateboarding is tough at the beginning, but I just don't want them to give up. Of course there's a fear of getting hurt. It's scary, but I just want people to realize the joy you get from not just skating by yourself, but also with friends. Enjoying it with your friends and the feeling of landing a new trick, it's incomparable to anything that I've felt and that feeling overcomes the fear of falling. I just hope that everyone realizes that and doesn't give up halfway through.
Elissa: I think the only advice that I'd give is that it's going to hurt, you're going to fall down, but it's something that you can do by yourself. You don't really have to rely on anybody else to do it, so if you want to do it, you have to want to start learning.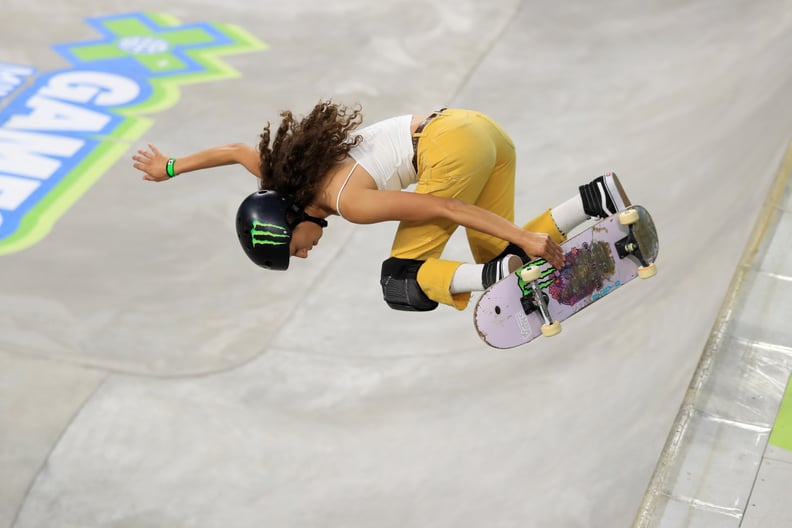 On the Future of Women's Skateboarding
Lizzie Armanto competes at the Vans Park Series in Huntington Beach, CA, in 2017
POPSUGAR: What do you think the future of women's skateboarding looks like?
Lizzie: There's definitely going to be more girls in skateboarding, and I think we're just going to watch the level of skating continue to increase.
Aori: I think the girls' skate community is going to grow. I mean, there's already, so much growth right now as we speak. So hopefully there'll be more contests for girls in the future.
"When I started skating, there was no such thing as women's skateboarding. But now, it has its own category."
Elissa: When I started skating, there was no such thing as women's skateboarding. But now, it has its own category. I've watched the number of women and female and gender nonconforming and trans skaters just start bubbling. I've watched it multiply probably a thousand times.
For the future? I think just more progression, more people being involved, more inclusivity. I think it's spread like wildfire. If somebody's friend gets that feeling and tells them about it like, "Oh my god, I did something on my skateboard the other day and it felt so good. I tried for two hours by myself, under a bridge or in my carport, and then finally did it, and it lasted for half a second," and they tell their friend how good that half a second felt, and then their friend wants to do it, and then easily, it'll spread throughout their group, and then another group, and [so on].