As POPSUGAR editors, we independently select and write about stuff we love and think you'll like too. If you buy a product we have recommended, we may receive affiliate commission, which in turn supports our work.
Maybe you stash an empty grocery bag in your duffel so you can put your sneakers in there after a workout, or perhaps you tie the laces to the outside of your backpack so your shoes don't have to go in your bag at all. Whatever your solution, chances are you don't like having your germy, dirty sneakers kicking around in your gym bag alongside your clean clothes. But if you want to keep your workout gear clean and organized, all you really need is a proper gym bag. Whether you need to carry cycling shoes to a local studio or store a pair of sneakers you can change into after work, a gym bag with a shoe compartment is a game changer.
Shopping for the perfect gym bag is challenging enough as it is, and finding one that also has a shoe compartment can be even harder. A duffel that has a waterproof lined shoe compartment may be exactly what you need, but one that's big enough to fit more than one pair of shoes might serve you better instead.
If you're not sure where to start, you've come to the right place. After scouring the web, reading customer reviews, and seeking out recommendations from the experts, we've narrowed it down to the best 10 options for gym bags with built-in shoe compartments. Now, it's just up to you to decide which one fits your needs the best — and then to find the motivation to get to the gym. Shop them all ahead.
01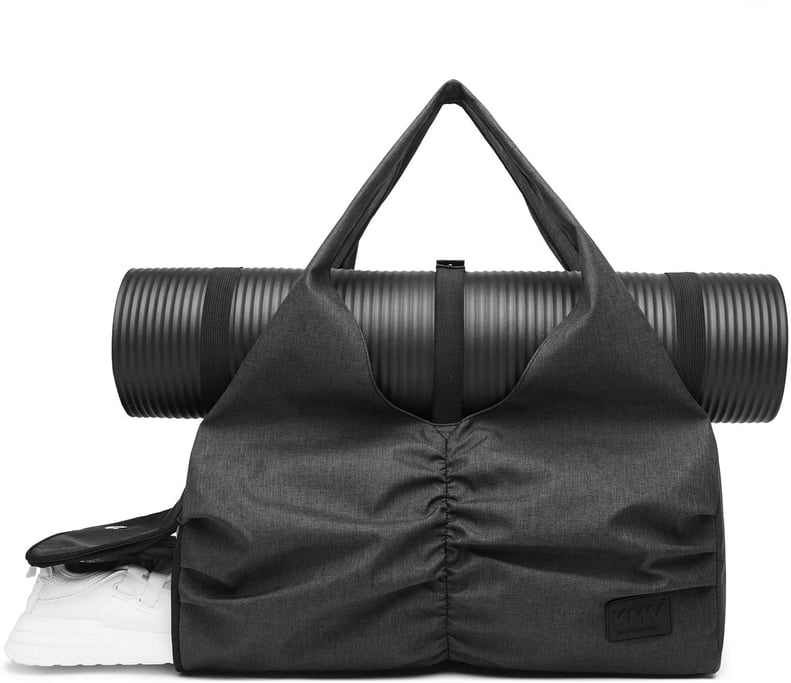 Best Gym Bag With Shoe Compartment For Yoga
YUMC Travel Yoga Gym Bag ($27-$30)

Whether your workout brings you to the gym or the yoga studio, if you like to BYO yoga mat, you'll want to have this bag to transport your shoes and gear. In addition to a shoe pocket and space for all your gym or studio essentials, it also has a strap designed specifically for holding a full-size yoga mat or foam roller.
What reviewers say: "I use this as my everyday gym bag, and I love it! On the days I don't need my yoga mat, I use the strap to hold my foam roller instead. I love the separate zipper area for your shoes since I'll go to yoga in my crocs & change into my gym shoes after."
Why we love it: This gym bag is made of waterproof Oxford — the kind of fabric normally used for diaper bags — making it the perfect material to carry all your gear.
What's worth noting: If you do hot yoga and use a mat plus a yoga towel, or have a thick, Pilates-style mat, you'll have to roll it pretty tight in order for the built-in strap to fit around it.
Additional details: Dimensions: 17" x 9" x 8" (medium) and 18.75" x 10.25" x 8" (large) Colorways: 6
02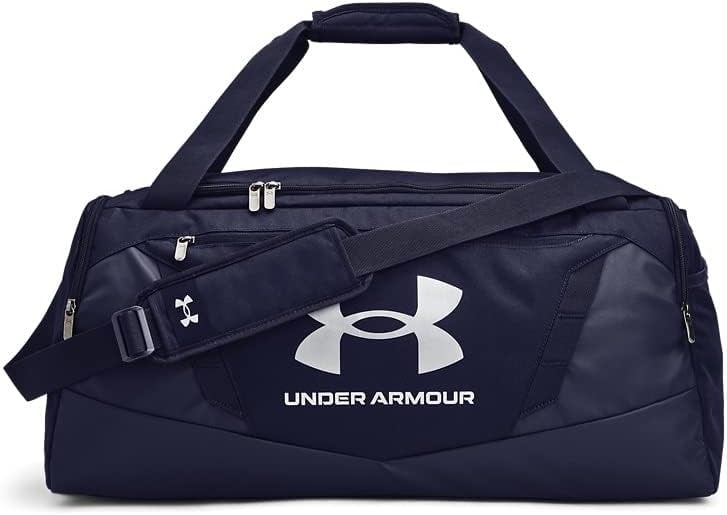 Best Durable Gym Bag With Shoe Compartment
Under Armour Undeniable 5.0 Duffel Bag ($40-$45)
For a gym bag that's as tough as you, look no further than this Under Armour duffel. It's coated with TPU so it's built to withstand abrasion and weathering, and all the panels are reinforced with foam padding. It also features a shoe compartment that zips open from the side.
What reviewers say: "Went through some cheaper bags before stepping up to this one. Had it awhile and no rips yet. I stuff it in tiny lockers a few times a week and generally abuse bags, so happy with this one so far."
Why we love it: Since the inside of the shoe compartment is waterproof, it doubles as a place to store a wet towel, swimsuit, or sweaty clothes.
What's worth noting: It comes in 26 (!!) colors and three sizes. Customers suggest opting for the small size if you want to be able to fit it in a gym locker.
Additional details: Dimensions: 0.6" x 10.1" x 21.7" (Small), 12.1" x 11.4" x 24.6" (Medium), 14.5" x 14.1" x 29.5" (Large) Colorways: 26
03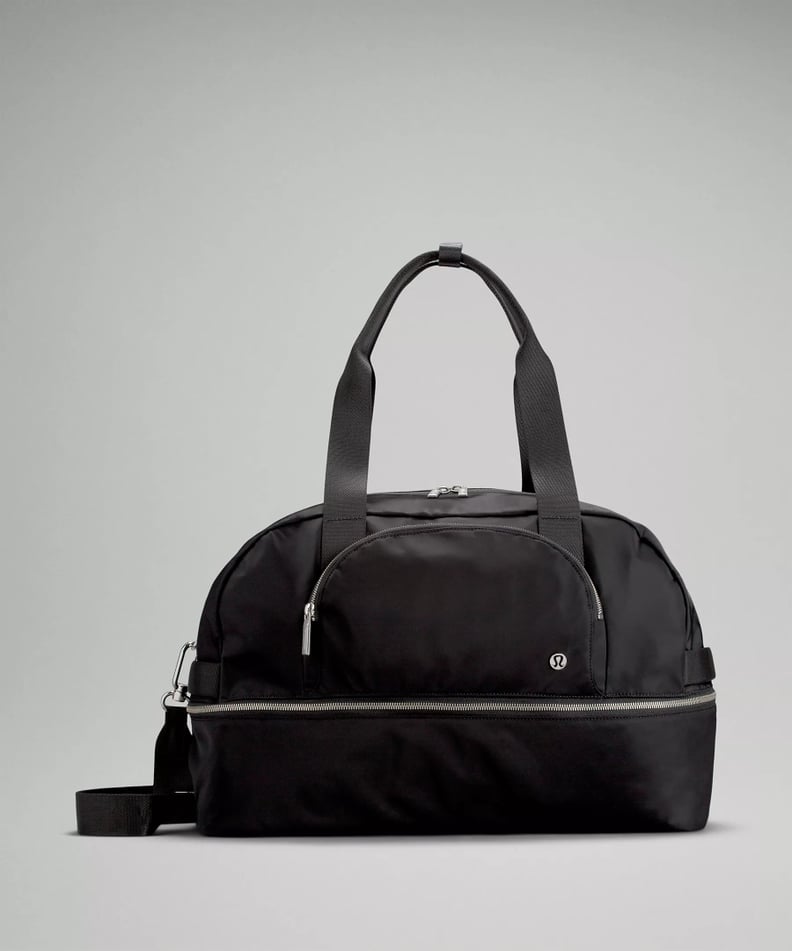 Best Travel-Friendly Gym Bag With Shoe Compartment
Lululemon City Adventurer Duffel Bag ($168)

Though this Lululemon duffel is technically a weekender bag, Izzi Lynn, a fitness instructor at Barry's NY, says the durable material and the separate compartment for shoes (or sweaty clothes) makes it an ideal choice for the gym. "My duffel has been going strong for seven years despite wear and tear," Lynn tells POPSUGAR. "Just the right amount of compartments inside make it just as perfect for your commute from a sweat session to the office as it is for a weekend getaway."
What reviewers say: "I've had it for over a year and used it for the gym, travel and quick trips and it has shown no sign of wear or tear. There are so many little compartments you can keep your stuff safe in, and the storage on the bottom is amazing for clothes/shoes. Oftentimes I put a basketball/shoes in the main part of the bag, and still have plenty of room for keys, wallet, phone, etc. so the size is perfect."
Why we love it: This duffel comes with a detachable shoulder strap for easy carrying, and it also has an extra band that slips over your suitcase handles if need be.
What's worth noting: Since it isn't a gym bag, there's no designated water bottle pocket.
Additional details: Dimensions: 18.1" x 9.3" x 11.6" Colorways: 2
04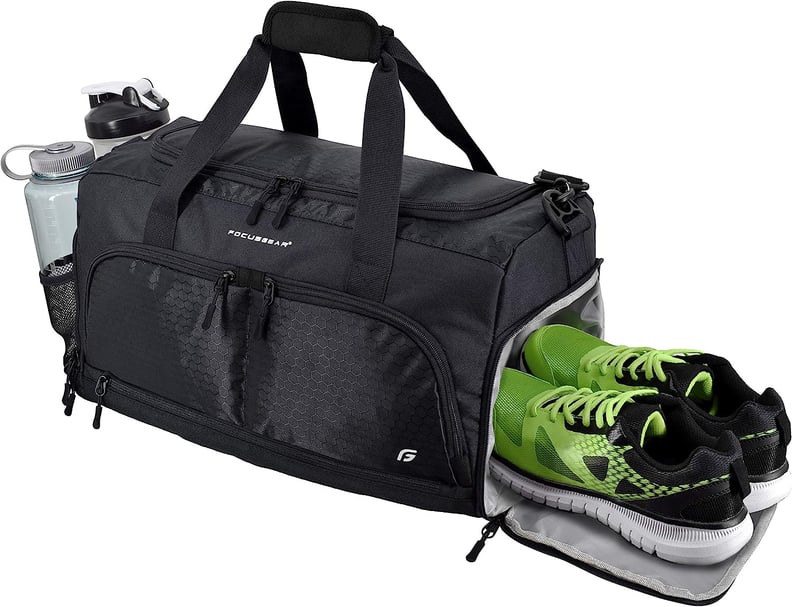 Best Gym Bag With Biggest Shoe Compartment
FocusGear Ultimate Gym Bag 2.0 ($28-$30)

If you hate having to decide between bringing either your cycling or running shoes to the gym, this FocusGear gym bag is worth investing in. The shoe compartment is extra large (big enough for two pairs!), and there's even another waterproof lined pocket at the bottom for flip-flops or swim gear.
What reviewers say: "The shoe pocket is great, and even though your shoes technically take up some room on the inside of the bag, there is plenty of room left inside. Yesterday we also managed to squeeze my boyfriend's squat shoes in the shoe pocket with mine when we walked to the gym, and we didn't even have to take my boxing gloves or barbell pad out to do it."
Why we love it: In addition to being spacious enough to fit two pairs of shoes, this gym bag also has pockets for both a water bottle and protein shaker.
What's worth noting: Customers have complained that the zippers can give out if you overstuff your bag.
Additional details: Dimensions: 15" x 10" x 9.5" (small) and 20" x 11" x 10.5" (medium) Colorways: 7
05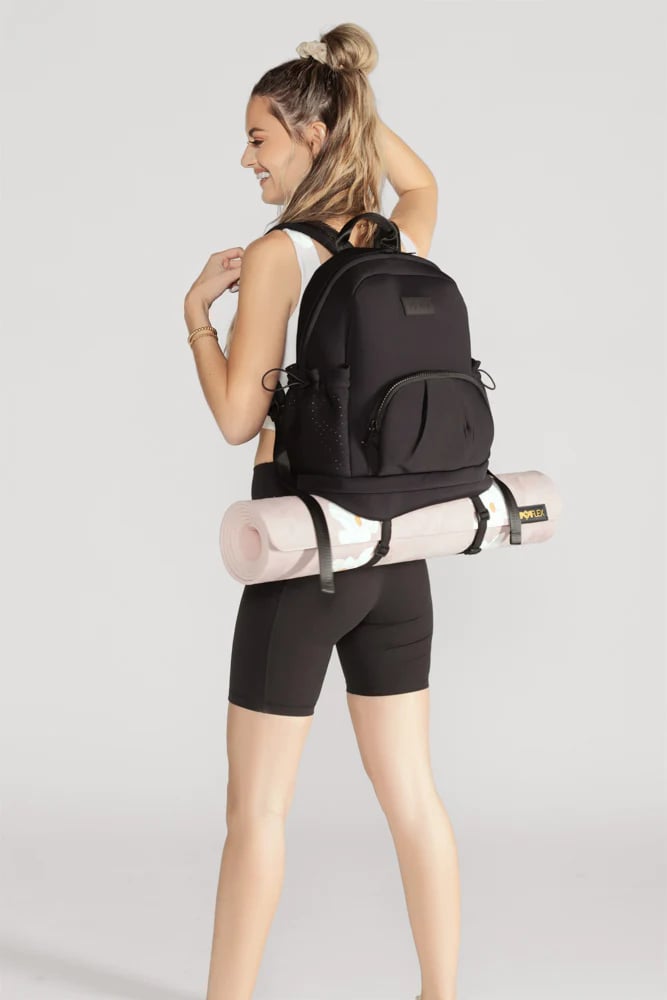 Most Versatile Gym Bag With Shoe Compartment
Popflex Cora Backpack ($165)

If you're often on the go and don't always like to lug around a gym bag, this Popflex backpack may be a good fit for your lifestyle. Like a regular backpack, it has room for all your essentials, including water bottle pockets on both the inside and outside, plus a laptop sleeve. And any time you need to change your shoes, you can fit an extra pair in the waterproof compartment at the bottom of the bag.
What reviewers say: "I bought this bag to use as a school backpack and gym bag as well! It did not disappoint. It fit all my books, school supplies, laptop, workout clothes, hygiene products, and the pocket for the shoes is very big!"
Why we love it: You can go completely hands-free when you go to the yoga studio too, because there's an optional strap for a yoga mat.
What's worth noting: If you wear size 10 sneakers or larger, you may struggle zipping up the shoe compartment.
Additional details: Dimensions: 12.75" x 16" x 7.5" Colorways: 6
06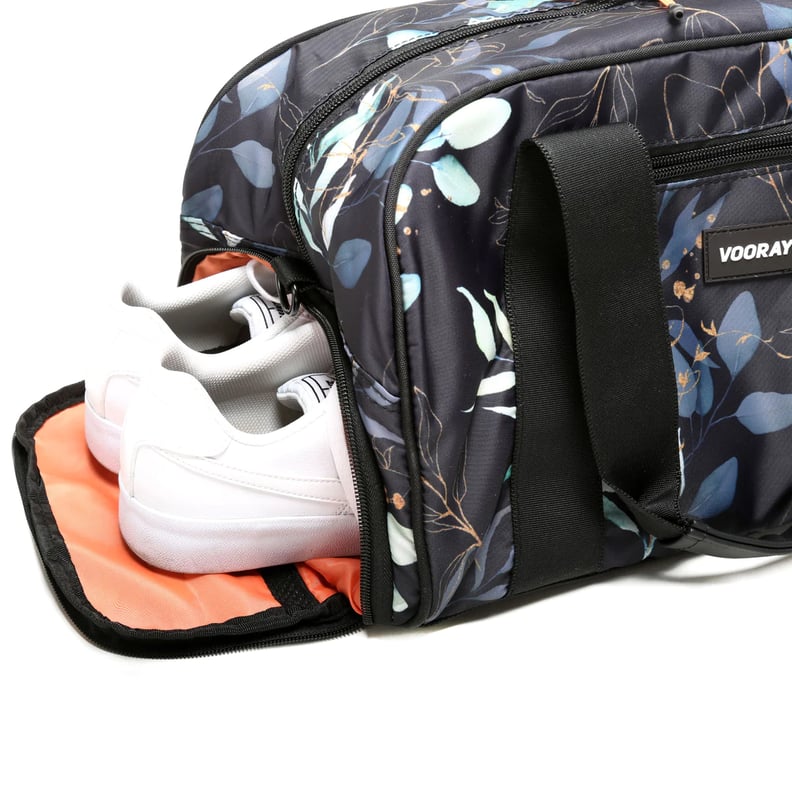 Most Breathable Gym Bag With Shoe Compartment
Vooray Burner Gym Duffel ($65)

Not only does this gym bag have a shoe compartment on the side, it's also ventilated to ensure odors won't fester. Certified personal trainer and fitness coach Kim Burns says she loves this duffel because she can bring slides to change into after her leg day workouts.
What reviewers say: "I love the shoe section. It's isolated and ventilated for those blessed with extra fragrant feet like me. It's deceptively big, which is good."
Why we love it: Though it looks unassuming, this gym bag is made with military-grade hardware and the outside is protected by a water-resistant finish.
What's worth noting: It runs smaller than a typical gym duffel, so be sure to check the dimensions before you buy.
Additional details: Dimensions: 15.5" x 9.5" x 9.5" Colorways: 9
07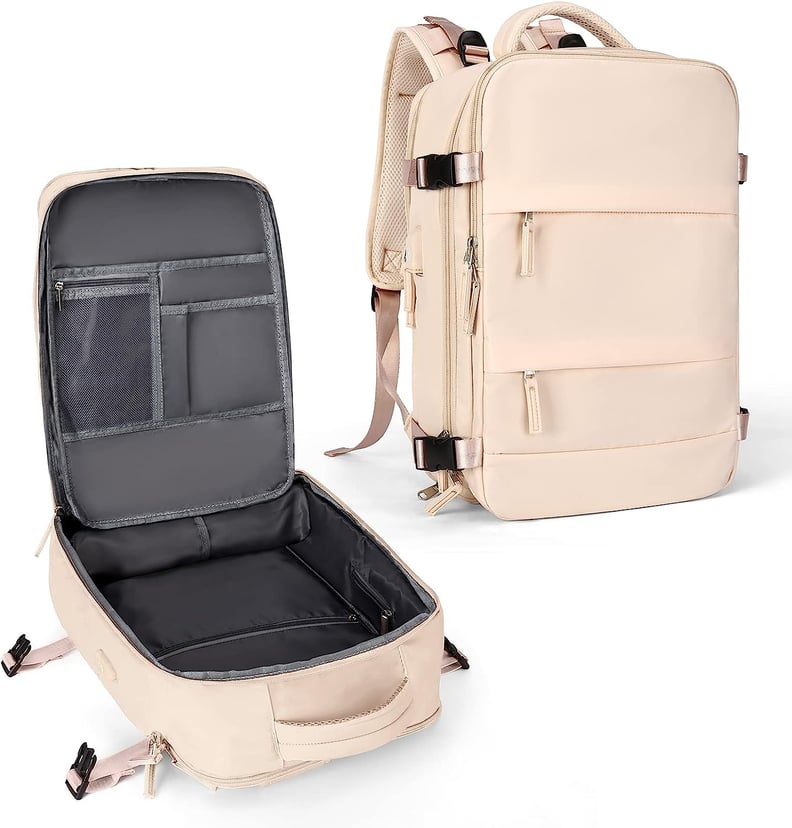 Best Gym Backpack With Shoe Compartment
Coowoz Travel Backpack ($40-$60)
Fitness coach and personal trainer Andrea of Body by Dreaa shares that she uses this backpack as her gym bag because it can fit everything from her headphones to a whole tub of pre-workout, not to mention it has a removable shoe compartment. If you bring a lot to the gym but want to make sure your whole bag can still fit in a gym locker, you may want to consider replacing your current one with this backpack instead.
What reviewers say: "Saw somebody use this as a gym bag on TikTok so I bought it for myself. Absolutely love it! I'm able to carry my barbell pad on the sides and all of my gym equipment stays organized. Highly recommend."
Why we love it: It comes in two larger sizes in case you need to fit a bit more in your bag.
What's worth noting: The water bottle pocket is relatively small, which isn't exactly ideal if you usually take a big Hydroflask or Yeti water bottle to the gym.
Additional details: Dimensions: 12.6" x 7.87" x 16.53" (Large), 12.99" x 7.87" x 18.5" (Large-L), and 12.59" x 11.81" x 18.50" (Large-Expanded) Colorways: 18
08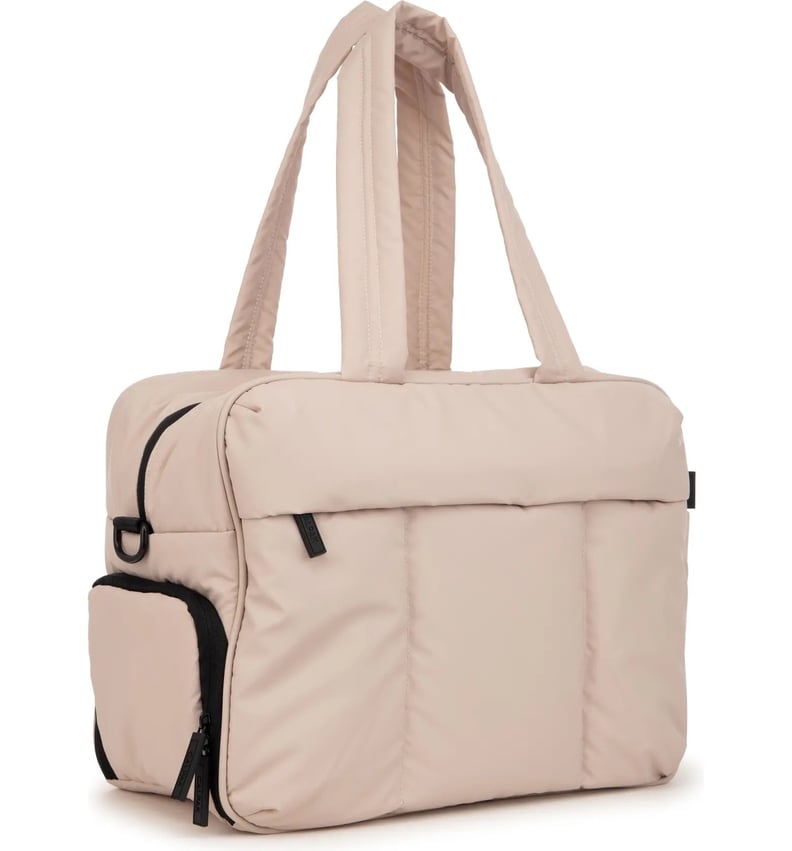 Best Stylish Gym Bag With Shoe Compartment
Calpak Luka Duffel ($128)

If the design of your gym bag forces you to keep your dirty shoes and clean gym towel in the same place, this Calpak duffel will be a game changer for you. Fitness influencer Julie Lawton and Barry's instructor Lynn both vouch for this bag, and it's easy to see why. It's made up of nine compartments to organize everything you need to bring to the gym, including a fully enclosed one to keep your shoes separate from everything else.
What reviewers say: "This duffel (in black) is so sleek looking and I am here for all of the pockets. This girl loves good organization in a bag! It's actually a bit smaller than I anticipated which is a good thing since I think it'll become more versatile for me!"
Why we love it: Even though the material looks and feels lightweight, it's deceptively durable and scratch-resistant, too.
What's worth noting: Customers have noted that if you don't use the crossbody strap, it can slip off your shoulders while you're carrying it.
Additional details: Dimensions: 12" x 16" x 7" Colorways: 12
09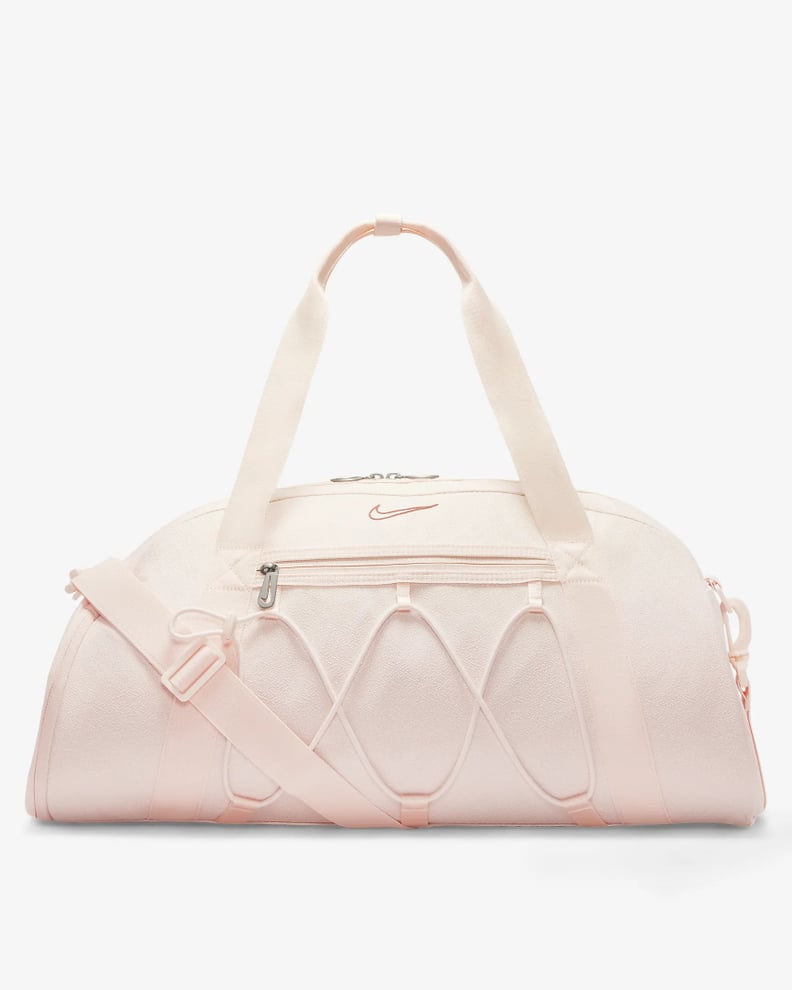 Best Gym Bag With Ventilated Shoe Compartment
Nike One Club Training Duffel Bag ($67)

For a gym duffel that's stylish yet sporty and fully functional, Natalia Cordero, a certified yoga instructor and the creative director of Ballet Flow Fitness swears by this Nike one. Though it's hard to tell because of the design, it has a ventilated compartment for your shoes and plenty of pockets for headphones, socks, and whatever else you might need at the gym.

What reviewers say: Cute gym bags sometimes lack function, but customers have plenty of good things to say about this duffel besides its color and style. One reviewer describes it as a "Mary Poppins bag," while another raves, "So roomy and has plenty of pockets to store separate things in! I love it. The best gym bag I've ever had! Highly recommend if you train in different areas of the gym because it has a separate compartment for a pair of shoes."

Why we love it: The elastic laces in the front can also be used to carry a foam roller, barbell pad, or other bulky equipment.
What's worth noting: The removable shoulder strap doesn't support much weight as it attaches to the bag with weak plastic clips.
Additional details: Dimensions: 13" x 20" x 9" Colorways: 2
10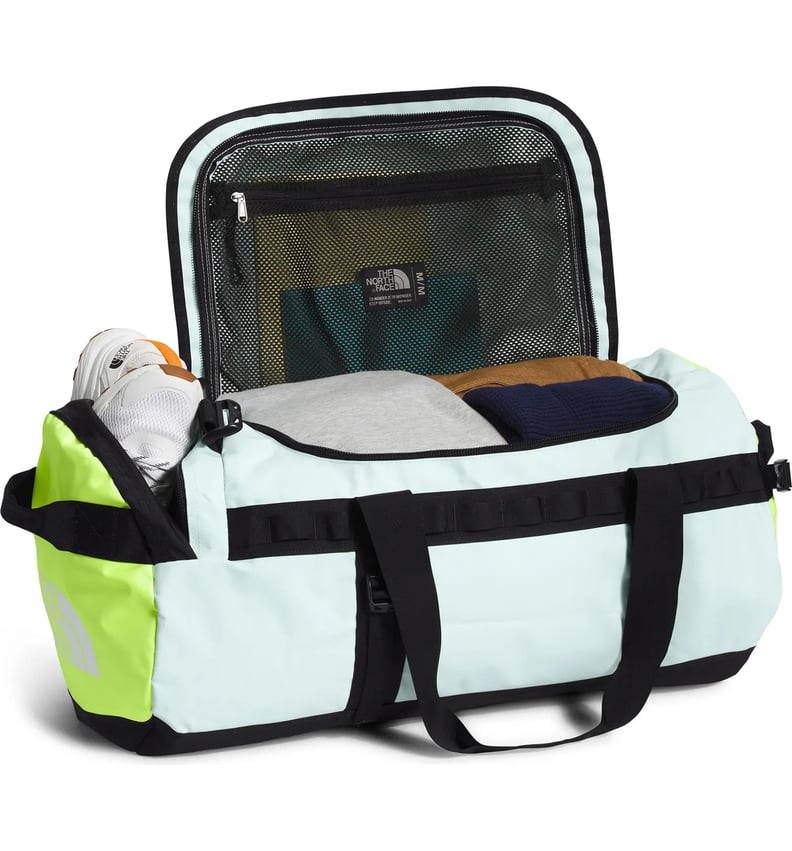 Best Waterproof Gym Bag With Shoe Compartment
North Face Base Camp Water Resistant Medium Duffle ($149)
If you spend a lot of time at your gym's pool or hate having to set your bag down on the wet locker room floor, you'll definitely want to upgrade to a water-resistant gym bag. This North Face duffel is complete with a roomy side pocket that will separate your shoes from the rest of your belongings, and keep them safe from any rainy commutes or puddles of pool water.
What reviewers say: "I carried it in Boston snowstorms several times through the winter, definitely tested its water[proof] ability, unbeatable," one reviewer states. Another adds, "I can even slip a yoga mat into the compression straps and I clip a water bottle to the daisy chain and my morning latte onto the shoulder strap. My hands are free to grab a set of dumbbells and off I go."
Why we love it: For convenient transportation, this gym duffel can also be worn as a backpack.
What's worth noting: While it has an impressive 4.8 out of 5 star rating, a handful of customers did complain that there aren't many pockets or storage compartments other than the one for the shoes.
Additional details: Dimensions: 14'' x 25'' x 14'' Colorways: 3