How My Mom Got Me Started Running
When My Mom Got Sick, She Started Running — and It Changed the Course of My Life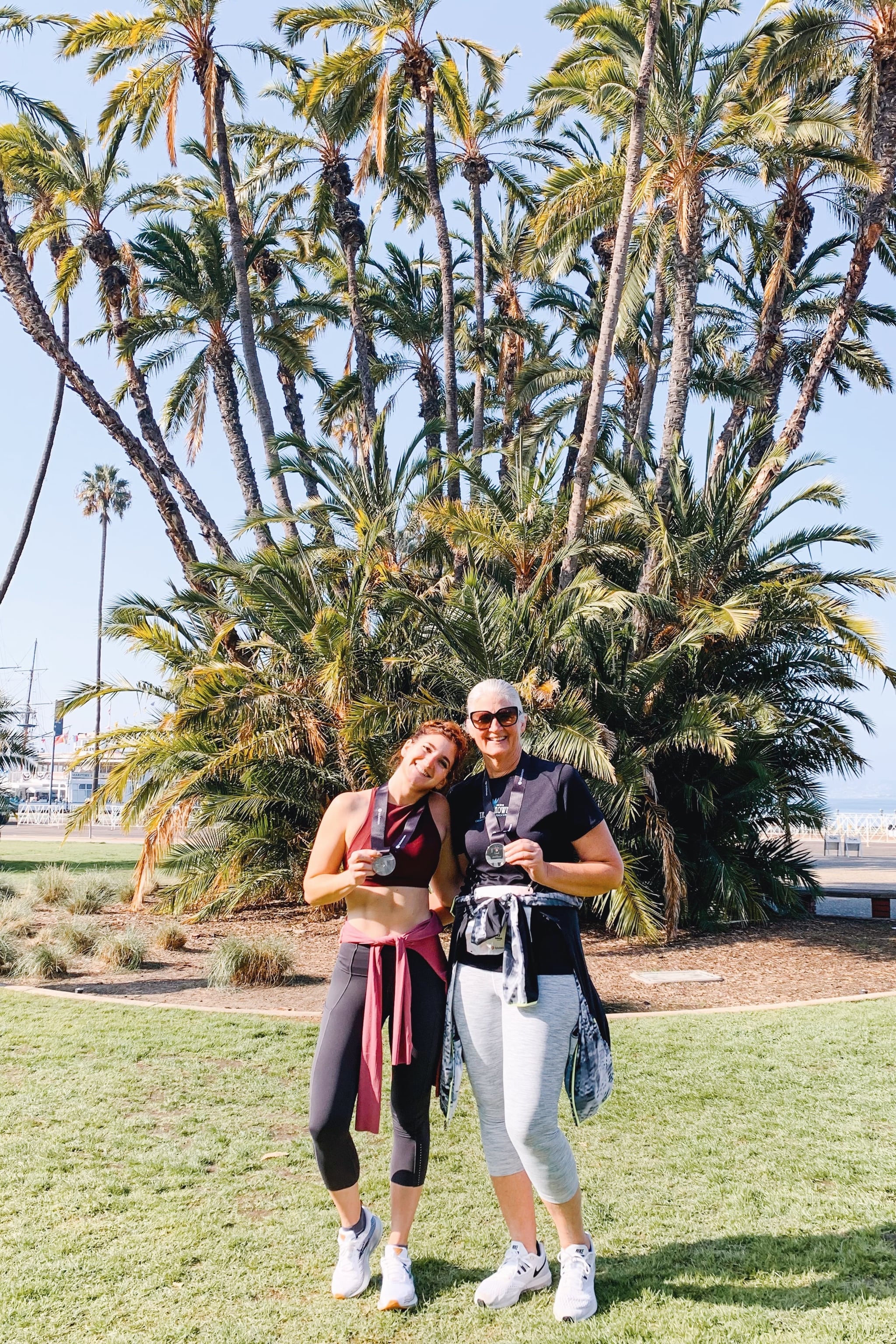 A few weeks ago I ran the lululemon 10K in San Diego, one of the most fun and joyful races of my career. The seaside course was headed up by incredibly inspiring athletes, like marathoner and Run Dem Crew founder Charlie Dark and professional distance runner Rob Watson. But to me, the most inspiring person was several corrals back, right at my side: my mom.
We have to rewind about six years to fully grasp the magnitude of this story. In 2013, my mom got some news from her doctor that would change the course of her life. And in turn, it would change the course of mine. Without airing too much of my mother's medical history to the entirety of the internet, here's the gist: she got a life-threatening diagnosis, but instead of letting this information defeat her, she decided to take her health into her own hands. She was going to start kicking ass and taking names.
She started simply by walking, which wasn't a small undertaking for her. After a decade or so of sedentary living, this was a monumental change in her exercise regimen and lifestyle, and probably something many people can relate to — sometimes baby steps are gigantic leaps. She started walking in the neighborhood, walking along the coast, and signing up for half marathons, where she would walk the whole dang thing. I was so proud. Eventually, she started doing the Jeff Galloway walk-run method with groups in San Diego.
It's funny to think back to this time, because I also did not work out at all. I admired my mom from a distance, thrilled that she was getting herself in shape in her 50s, but I didn't participate. Exercise just wasn't my thing . . . that is, until she asked me to do something with her.
When she asked me if I wanted to do a 15K with her, my initial response was, "What's that?" I genuinely had no idea what she was talking about. I'd consider myself a pretty bright person, but all things athletic have escaped me from an early age. "It's this walking thing . . .," she mumbled (on purpose). I assumed that it was a power walk with a bunch of older ladies raising money for breast cancer awareness or something, and figured it'd take 30 minutes. That sounded fine!
She was getting her body and mind to a better place and wanted me to experience it with her — and in turn, she gave me the greatest gift I could ever imagine.
Imagine my surprise when we arrived at the Hot Chocolate 15K in downtown San Diego, surrounded by a hoard of people in lululemon shorts, Brooks sneakers, Carlsbad Marathon shirts, and other items I had categorized as "serious runner gear." There was a start line. People were stretching. "Um, mom? How long is this walk thing?" I stammered. She replied, "Oh, um, like nine miles, maybe?" I was stunned, but it served me right for not doing my research.
I'll save you the long-winded (albeit hilarious) details of how that first run went, but it was an absolutely pivotal day. My first race. My first run. The day I decided to sign up for a half marathon, despite being purple in the face and so sore I couldn't walk at the finish line. My mom brought me to an event with her, to walk and run alongside her on her healing journey. She was getting her body and mind to a better place and wanted me to experience it with her — and in turn, she gave me the greatest gift I could ever imagine.
That race changed my life. It was excruciating, embarrassing, and hilarious, but pivotal. I started working out, mixing my half marathon workouts with yoga and other kinds of training for the first time. I started writing about it. I became a health and fitness editor. Not only did I get into the best shape of my life (way better than college!), but I also recovered from a bout of severe depression, found a new passion in life, and fell into a new career that has shaped my twenties.
A couple years ago my mom called me from the finish line of a half marathon to inform me that, not only did she make it through all 13.1 miles in one piece, but she also had a clean bill of health. Even typing this memory now has tears streaming down my face. She never gave up on herself, and she didn't accept that she couldn't get healthy again. And somehow, she was thanking me! By that point, I had become a runner, SoulCycle addict, Barry's Bootcamper, Pilates regular, and yin yoga devotee, and in the process, I apparently became my mom's coach. I started bringing her to classes, sharing new healthy recipes, and gifting her some silky new yoga pants now and then just for the heck of it. But it was all because she first sparked the fire in me.
So, this 10K in San Diego just happened. After running seven or eight half marathons and several 5Ks, 10Ks, and 15Ks, this race was far from my personal best, but it was also the best time I've ever had. With the sun shining, the cool breeze blowing, smiles all around, and positive energy palpable, I walked and jogged alongside my mom, in the city where it all began, in the place where she healed us both. Every step was a celebration of her health, the gift of life, and the gifts she gave me.