Last year I moved from Los Angeles to Michigan. Even though I was born and raised in the Great Lakes State, I found the transition to be harder than I anticipated. The weather was in stark contrast to the balmy 70-degree days I had grown accustomed to. I missed frequenting my favorite coffee shops and taking leisurely hikes around the sun-lit canyons that surround the city. The hardest part, however, had to be the change in my sleep schedule.
Blame it on the short, dark days of the Midwest winter, but I began to feel tired and sluggish all day. Then, when I would go to bed, I would lie awake for hours, metaphorically counting sheep into the wee hours of the morning. I thought this was just a "me" problem, until I spoke with friends and colleagues who were experiencing something similar. I began to wonder whether or not this was a seasonal issue, and more importantly, if there was something I could do to fix it. To find out, I reached out to two experts.
"When we talk about wintertime, I always think about circadian rhythm problems, because what really controls our circadian rhythm is light. Light is what makes us jump out of bed in the morning. It helps to reset our clock," explained Raj Dasgupta, MD, a professor and pulmonary, critical care, and sleep specialist at the University of Southern California. "In certain parts of the States, they don't have that luxury of being outdoors and exercising and having that bright light. Our circadian rhythm sometimes gets easily thrown off track."
Luckily, there are a number of healthy sleep habits I, as well as others, can instill in order to regulate our winter sleep schedules. Keep reading for some expert tips.
01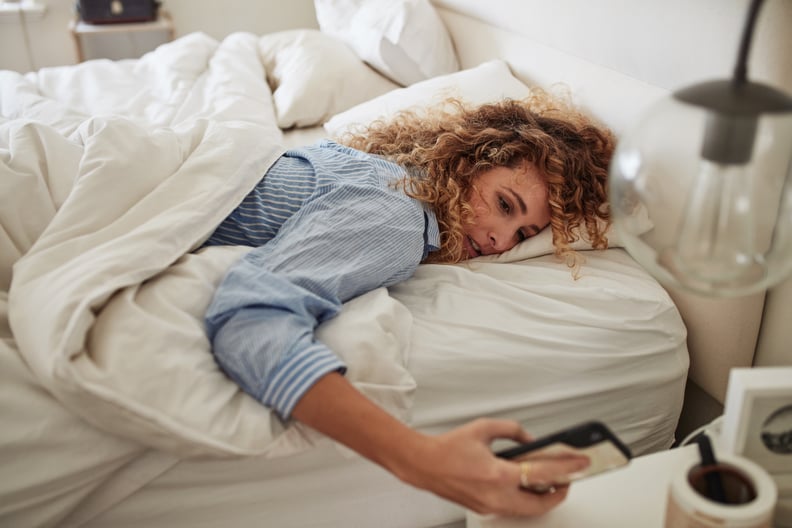 Don't Hit the Snooze Button
This is something I'm guilty of doing almost every day, so I needed this wake-up call. "You want to wake up in the lighter stages of sleep," Dr. Dasgupta told POPSUGAR. "If you hit the snooze button, which is very tempting, you can go into a deeper stage, and when you wake up from a deeper stage of sleep, or from REM sleep, you could get something called sleep inertia. Sleep inertia means it's really hard to get the day started." He likens it to getting a boulder rolling from a complete standstill. In other words, it's not an ideal state to be in, especially when you have a busy workday ahead of you.
02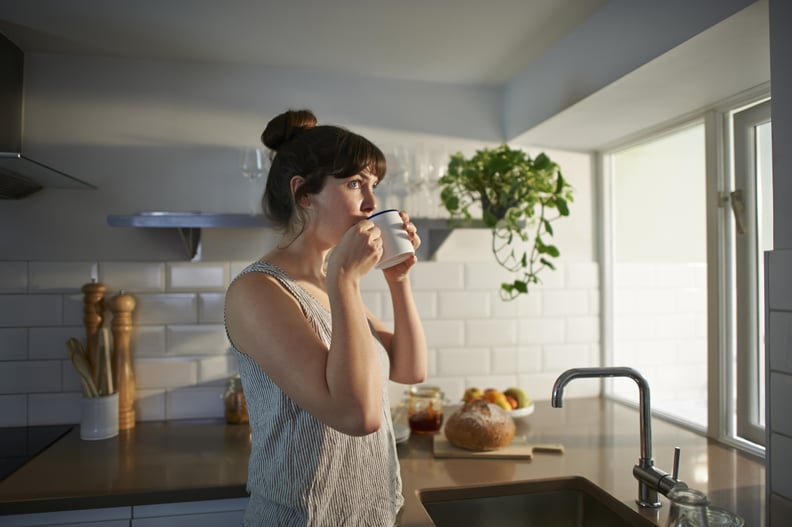 Expose Yourself to Bright Light
"If you had a rough night, you want to reset that clock," Dr. Dasgupta explained. "What does sunlight do? It suppresses the release of that hormone called melatonin." The sooner you get outside and exposed to some sunlight, the sooner you'll begin to feel energized and ready to start your day.
Now, if you're like me, and you live in a wintery hellscape (I say that lovingly), getting outside may not be an option. In that case, or if you find you need more than a quick stroll to avoid feeling sluggish throughout the day, "keep the lights on, blinds up, or curtains pulled to stimulate your senses," Benjamin Emanuel, DO, associate professor of neurology at USC's Keck School of Medicine, told POPSUGAR. "Your brain's circadian rhythm is closely tied to light, so providing as much light as possible during the daytime will help prevent the desire to nap."
If you still feel like you're not getting enough light, and especially if you're experiencing seasonal affective disorder, Dr. Dasgupta said you might consider light box therapy. A light box mimics natural sunlight and can act as a supplement for those living in darker climates.
03
Get Active
It doesn't have to be outside, and it doesn't have to be a long, arduous workout, either. Dr. Dasgupta recommends doing something as simple as jogging in place, walking your dog, or shoveling snow. Bottom line: "Doing something in the morning is important," Dr. Dasgupta explained. "Don't hit the alarm. Get outside. Try to combine it with an exercise."
04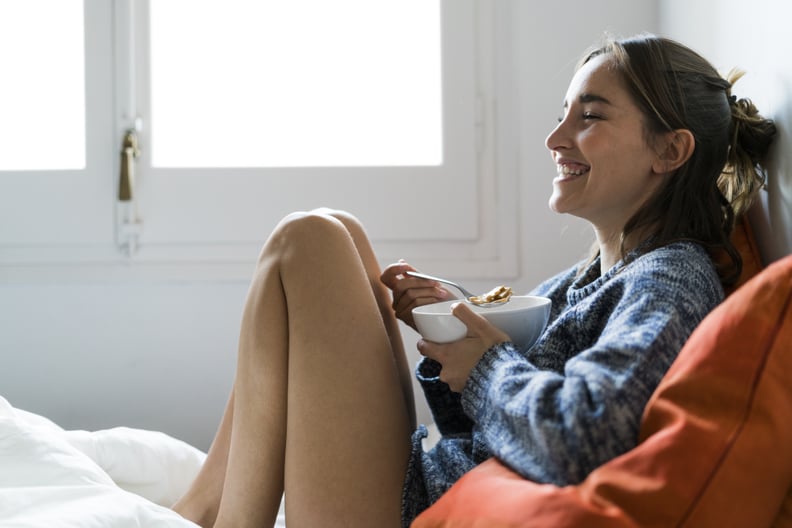 Eat a Healthy Breakfast
Remember, this is all about regulating your circadian rhythm and thus your sleep schedule, so sticking to a consistent routine is of utmost importance — and that includes your meals. Each morning, take the time to eat a healthy (not heavy) breakfast. "You could take that tip from a healthy breakfast to all the meals during the day, because the heavier the meals, the more it's going to make you feel sluggish," Dr. Dasgupta said.
05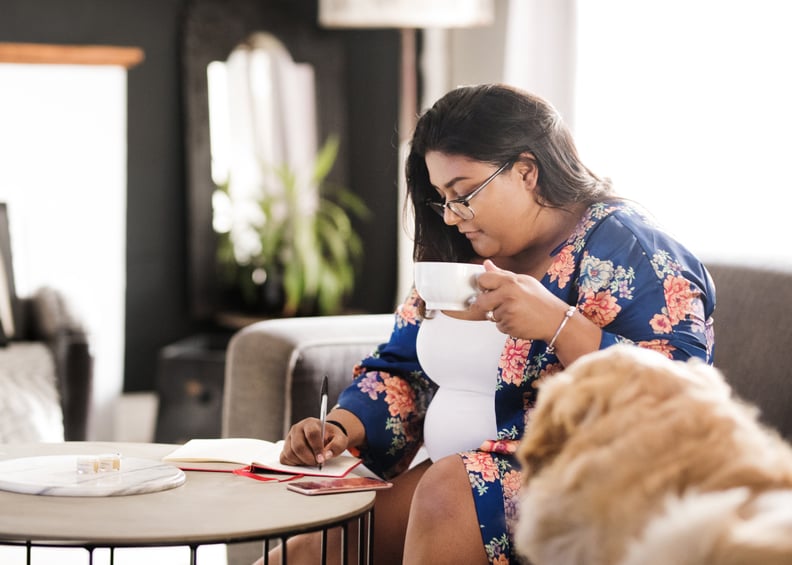 Make a To-Do List
A to-do list will help keep you motivated and active throughout the day, which will hopefully help you sleep better at night. "I know that when you start the day, it gets a little overwhelming when you don't know what to do, or maybe you have nothing to do and there's no motivation to get out of bed," Dr. Dasgupta told POPSUGAR. He explained that having a to-do list, no matter what's involved, can help structure your day, and "that's one of the most important things."
06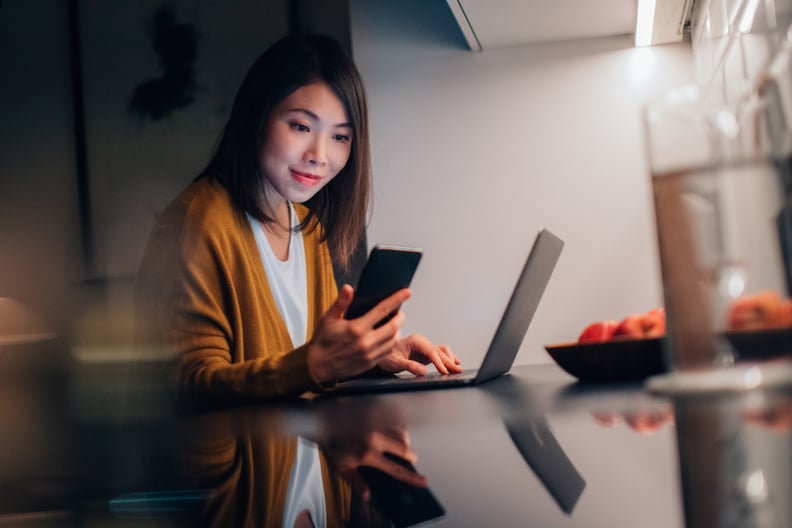 Keep Up a Social Life
This may seem counterintuitive in the midst of a pandemic, but it doesn't have to be. Call a friend. FaceTime your mom. Just make sure you always have something on the books. "You definitely want to keep on interacting through these months, so you won't feel alone," Dr. Dasgupta said. This will not only add structure to your day, but it will make you feel better, and thus sleep better.
07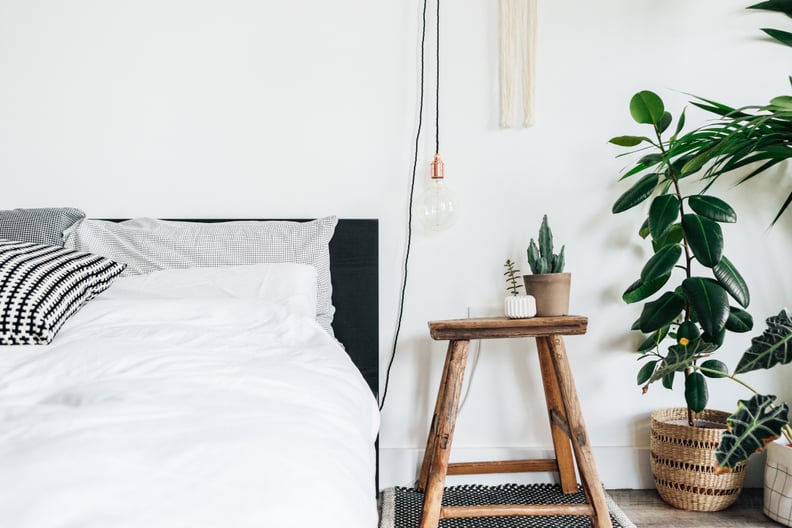 Keep Your Bedroom at 68 Degrees
This is easy and actionable — simply adjust the thermostat before you hit the hay. "Your body drops its temperature at night," Dr. Emanuel explained. "If your room is either too cold or too hot, your body can't maintain that ideal temperature and you'll wake up." When you're not getting restful sleep at night, you're more likely to feel drowsy the next day, kicking off a vicious cycle.
08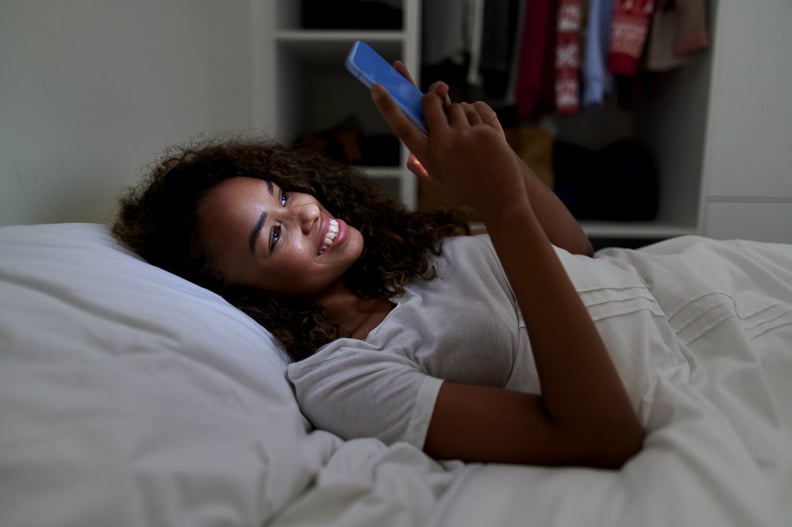 Avoid Using Your Phone in Bed
Don't scroll through Instagram before bed. It will only hurt the quality and quantity of your sleep (believe me, I speak from experience). "Phones emit blue light, which will suppress the release of melatonin and reduce the quality of sleep," Dr. Emanuel told POPSUGAR. Instead, try reading a book, journaling, or meditating. If you must use electronics, consider investing in blue light-blocking glasses.
09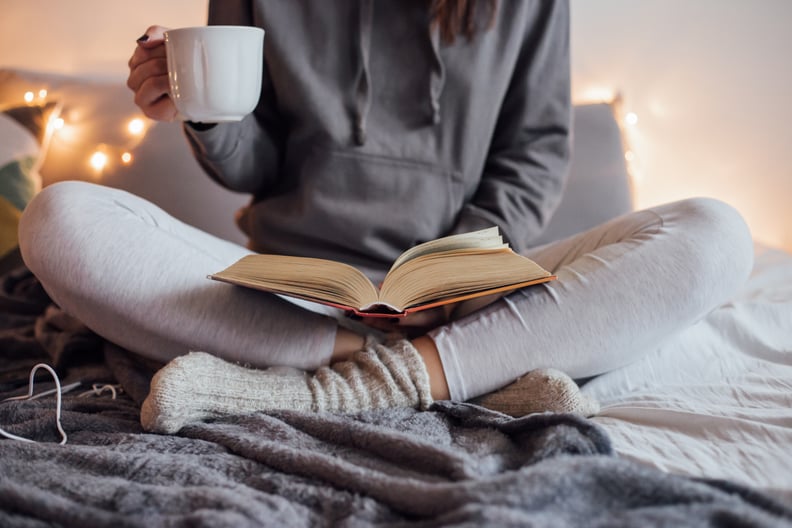 Practice Good Sleep Hygiene
There are a few different elements that comprise the overarching idea of "sleep hygiene." The first is called sleep restriction. "Sleep restriction means having a set bedtime and set wake time, even on weekends, even on holidays, even when people visit you," Dr. Dasgupta explained.
The second element is stimulus control. "That means the bed is only meant for sleeping," he said — not answering emails, scrolling through social media, or conducting any kind of work. You should only be in bed when you're ready to sleep.
The third element of good sleep hygiene is focusing on when and what you eat before bed. Dr. Dasgupta recommends avoiding eating too close to bedtime, as well as avoiding caffeine, high levels of sugar, and the overconsumption of alcohol, as all of these things can affect the quality and quantity of your sleep.
10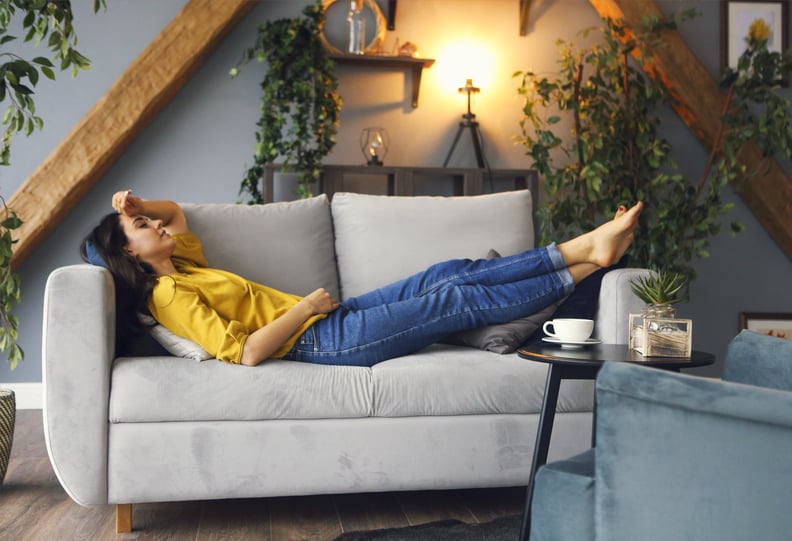 Don't Nap For Longer Than 20 Minutes
That brings us to our final piece of advice, which is all about napping. Here's the thing: if you're not getting enough sleep (or you're not sleeping soundly), it's OK to take a nap. But you have to do it the right way. "A nap should only last around 20 minutes," Dr. Dasgupta said. Why, you ask? Well, sleeping and napping aren't one and the same.
You want to fall into the deeper stages of sleep during the night, but when you're napping, you need to remain in the lighter stages to ensure you wake up feeling refreshed instead of tired and sluggish. "If you nap for an hour, that's not a nap, that's sleep," Dr. Dasgupta explained. "That's why many people don't feel refreshed after a nap. Twenty minutes guarantees you'll be in those lighter stages of sleep, but it will still be refreshing."