I Underestimated How Mentally Relaxing a Socially Distanced Outdoor Workout Could Be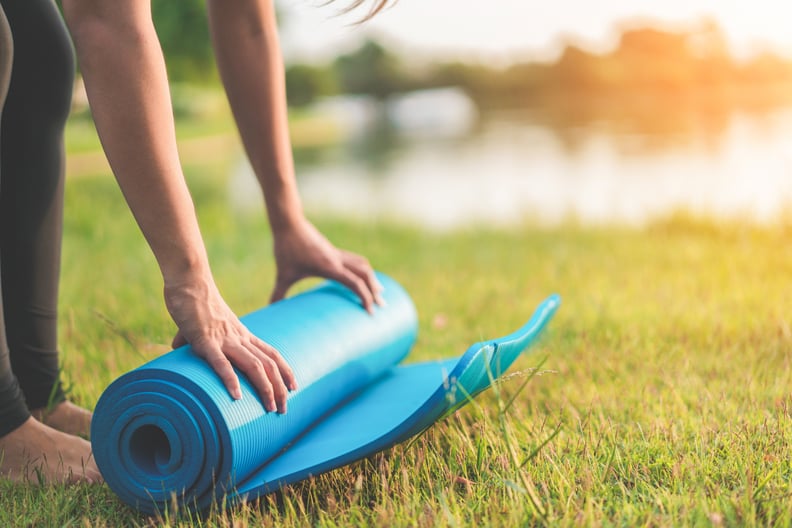 Getty Images | Chanintorn Vanichsawangphan / EyeEm
Getty Images | Chanintorn Vanichsawangphan / EyeEm
For the past six months, my group workout classes have consisted of pretending I'm in the cast of an on-demand workout class or logging into a Zoom event and waving at my friend's little square in the corner. Save from solo outdoor runs and some yoga sessions of my rooftop, most of these activities have taken place in my living room.
While working out at home has helped me gain more perspective on my relationship with fitness — and has even taught me to truly listen to my body — I definitely miss the energy, encouragement, and instruction of in-person group fitness classes.
After weeks of longingly watching social-distanced group fitness classes take part in my neighborhood, I decided it was time to try one myself. I was nervous about safety, so after reading up on protocol and best practices, I agreed to an outdoor Pure Barre workout at a nearby park, thinking it was also a good option for my ever-aching knees.
As I walked over, admittedly very nervous, my instructor, Sarah Wingo, was setting up cones that ensured everyone's mats were properly spaced out and met social-distancing requirements — all equipment was "bring your own," too. Masks were required before and after class, but were optional while on your own mat. I chose to keep mine (a breathable version great for exercise) on the entire time.
I fully expected to sweat a lot, work muscles I didn't even know I had (such is the case with barre!), and wake up very sore the next day — given that a fitness expert would be there to curate the workout and correct my mistakes. All of that, indeed, happened. What I totally underestimated, though, was the mental relaxation that came along with exercising outside in a group.
All that energy of a normal group fitness class was there — the motivation you'd get from the person on the mat nearby (in this instance, over six feet away) and the boost of confidence you receive from the simple smile of an instructor. But the "new normal" of taking classes outside for a safer experience also brought along unexpected stress relief. Being surrounded by nature, but also the sounds of the city, and in the eye-sight of an ever-flowing river delivered a type of calm of which my tiny Brooklyn apartment just can't compete.
As I was pushing myself physically, the environment helped ground me, the fresh air helped me breathe deeper, and the breeze cooled me off when those tiny pulses got me overheated. I was energized by simply watching others getting in exercise in my own class and around the class, too — people running, on bike rides, and leisurely strolling around with loved ones.
I was worried that without mirrors my form would be lacking, but fully concentrating on how my body was moving in an almost meditative state, rather that staring at my appearance, was actually beneficial for my performance. Sure, I was corrected, but no more so than if I was inside a traditional barre studio. I love the innovation of doing barre outside, too. Since the park obviously didn't have a traditional and proper barre, we headed over to the railing next to the running path on the river for our barre work.
While I'm not yet personally comfortable heading back into an indoor space for exercise, I've learned that the great outdoors isn't necessarily a compromise. In fact, when it comes to working out, it might just be my first choice.
Click here for more health and wellness stories, tips, and news.