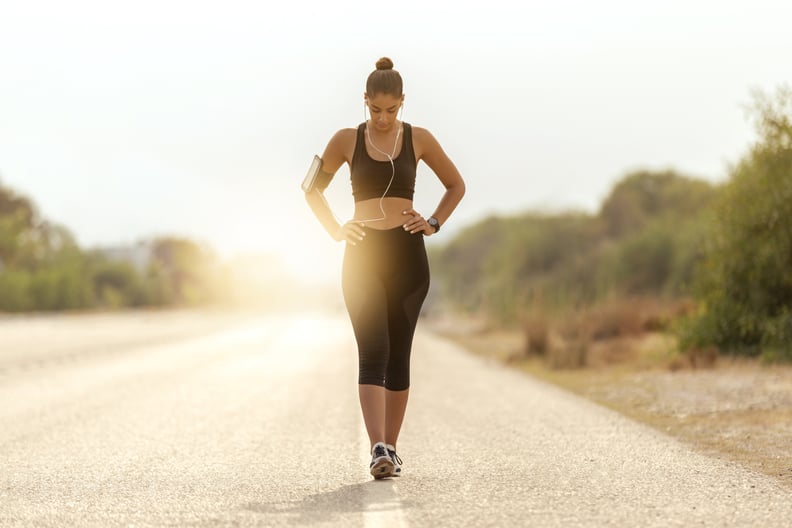 Getty Images | bymuratdeniz
Getty Images | bymuratdeniz
I'll be honest: the main thing getting me up that last hill on my morning run is visualizing the air conditioner — and the glorious 68-degree air being pushed out of its vents — in the corner of my bedroom.
But instead of running up my apartment steps to a hard stop and relishing in that chilled breeze, I've formed the good habit of cooling down with a little walk around my neighborhood.
After four miles of hills and direct sunlight, all I want to do is sprawl out and unwind on the hardwood floor, but keeping my step count going has its very real benefits for my recovery process.
"A cooldown walk can help regulate blood flow and allow for a gradual slow down of heart rate, and a gradual reduction of blood pressure," Danny Mackey, Head Coach for the Brooks Beasts Elite Pro Track Team, says. "It also can help trigger the parasympathetic nervous system so you can relax and transition into what is next in your day."
Running in and of itself helps me burn off frustration and lingering stress, but after taking a little stroll around the block while catching my breath, I do always walk in the door a much calmer, happier Victoria. A post-run isn't a necessity in your workout routine, but Corinne Fitzgerald, Head Coach at Mile High Run Club, says the practice can actually help you recover faster for the next time you hit the pavement.
"Walking for 5-to-10 minutes after your run or gradually slowing down your pace will help healthy blood flush the lactate from your legs and keep your muscles limber!" Fitzgerald says.
I never think my cooldown efforts are long enough, and then end up guilting myself for not adding another loop onto my route. But according to Mackey, 5-to-10 minutes of easy jogging is often just enough. But how long you cool down is also associated with how far you ran.
"The harder your run is, the more important the cooldown! If you're doing sprints, intervals, or any anaerobic run, the lactate levels in your blood will increase in your legs. If you stop abruptly after the run, the extra lactic acid will become stagnant and cause your legs to be more sore in the next 24-48 hours," Fitzgerald says.
Since persuading myself to wait an extra few minutes for my AC, I've noticed that my knees and hamstrings, in particular, are less tight the next morning. On top of my cooldown walks, adding some gentle post-run stretches to my routine has also helped keep me limber and reduced the aches I feel in the arches of my feet.
And in a surprise bonus of wandering through my neighborhood, I've discovered a new coffee shop and a hidden outdoor dining destination, too.
Click here for more health and wellness stories, tips, and news.