Disability Advocate Vilissa Thompson: How to Check Ableism
A Disability-Rights Consultant and Social Worker Explains How to Check Your Ableism Every Day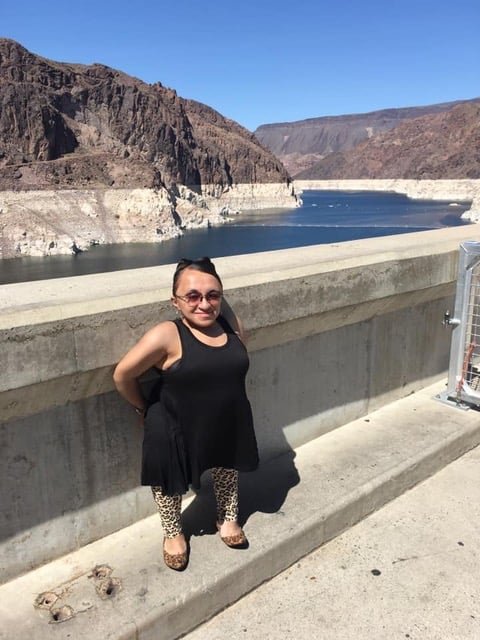 Image Source: Courtesy of Vilissa Thompson
Licensed social worker and disability consultant Vilissa Thompson, LMSW, was born with osteogenesis imperfecta (OI), a rare group of disorders better known as brittle bone disease. Those with brittle bone disease have a defect in the production of collagen, causing bone deformities, broken bones, bowed limbs, abnormal curvature of the spine, and other symptoms.
Thompson's case is Type 4, which she describes as moderate. "Two people can have the same type, but OI functions differently in them," she told POPSUGAR. "It's about how tall a person becomes, how easy their bones can break, and how many fractures they may have over time."
Thompson started Ramp Your Voice! in 2013 as a blog that later morphed into an organization and larger movement where she talks about the intersectionality of being a Black person with a disability in America and highlights experiences with — and the experiences of others confronted by — ableism and racism. Her rise in advocacy came to be after she started the #DisabilityTooWhite hashtag in 2016, which she created after seeing a conversation on Twitter around an article that discussed disability in beauty but only featured the stories and images of white women with disabilities.
The hashtag — still used today — brings to light the lack of diversity in disability storytelling, the racism that exists in the disability community itself, and, as Thompson described, outside of the community, how that racism "impacts the life experiences that disabled people of color endure, and what the effects of whitewashing, erasure, exclusion do to disabled people of color."
Through Thompson's advocacy and activism, she helped with Elizabeth Warren's "Protecting the Rights and Equality of People with Disabilities" plan presented earlier this year when Warren was running for office. And Thompson said she started working with Movement For Black Lives (M4BL) this summer as an accessibility consultant for events it plans to host. She wants to get organizations like M4BL to start conversations on disability justice because "you have to talk about disability if you're dealing with any sociopolitical issues," she said.
In this decade, Thompson aims to continue to assist Black organizations in particular in addressing ableism. This goes, she said, for talking about disability issues and "how to really bring that disability focus and identity into their work so that when they talk about education, when they talk about health care, they have that lens and it's not an afterthought."
How to Check Ableism in Your Own Life
There are many ways you can check your own ableism, which is intentional or unintentional discrimination against those with a disability and in favor of able-bodied people. Start with the below steps.
Check your language. "There are a lot of words that we use every day that are rooted in ableism," Thompson said. These include words like "crazy," "dumb," or "stupid," which she said are used in ways that are derogatory to people with certain disabilities. Instead, use substitutions for those words — there's a good example of this on the Instagram of women's lifestyle website Preen.ph, embedded below.
You can also check out this comprehensive list of ableist words and alternatives from disability-justice advocate, attorney, and educator Lydia X. Z. Brown. The glossary was created on Brown's earlier website in 2012 but was updated in June 2020. "Your words matter so much in how people perceive you as a safe space, perceive you as somebody who can be a good accomplice," Thompson said.
Get educated. Thompson suggests reading up on work by disability activist Alice Wong and looking into the community platform Wong founded in 2014, Disability Visibility Project, dedicated to creating and amplifying disability media and culture. Thompson also suggests looking into Crip The Vote and its hashtag, started in part by Wong, as well as HEARD, an organization focused on supporting deaf people going through the criminal justice system.
Some other important organizations include The Arc, which does advocacy for individuals with intellectual and developmental disabilities, and the American Association of People with Disabilities (AAPD), which advocates for the legal rights of those with disabilities. Additionally, check out the Autistic Women and Nonbinary Network (AWN), Disability Connect, and the Black Disability Collective. You can also purchase Disability Visibility, a collection of first-person stories edited by Wong, and look up information about the Americans with Disabilities Act (ADA) on the ADA National Network website.
See what your school or workplace is doing. According to the US Bureau of Labor Statistics, 19.3 percent of people with a disability were employed in 2019 compared to 66.3 percent of those reporting to not have a disability — though it's unclear how "disability" was defined here. Thompson said to look into who your company is hiring and who on your staff are visibly disabled. And for those who are visibly disabled and for those who are not visibly disabled, "what is the culture around people needing support, needing reasonable accommodation? If you do certain activities, what activities may unintentionally ostracize people?" Thompson gave the example of standing desks. While companies adopt those "in good faith" to improve health, not everyone is able to physically use standing desks or stand for hours at a time due to certain conditions, she said.
Another example that Thompson gave is speaking with your workplace in particular about being more open to having a work-from-home policy. With the onset of COVID-19 and closure of nonessential businesses, companies are realizing that working from home can actually be implemented into their policies. However, Thompson said prior to the pandemic, some people in the disability community have shared stories of being denied this accommodation.
The frustration they are voicing is valid, Thompson said. "Everybody is on board with online learning and working online, and it's like, 'I needed this before and was denied it because of my disability, but now, it's the new wave and people understand.'" Because of shortcomings with online learning and working, people with disabilities can be limited in the jobs and schools they go to, she said, concluding, "There are so many ways in which disability exists that discriminates, that ostracizes, that societies don't really think about unless it's pointed out."