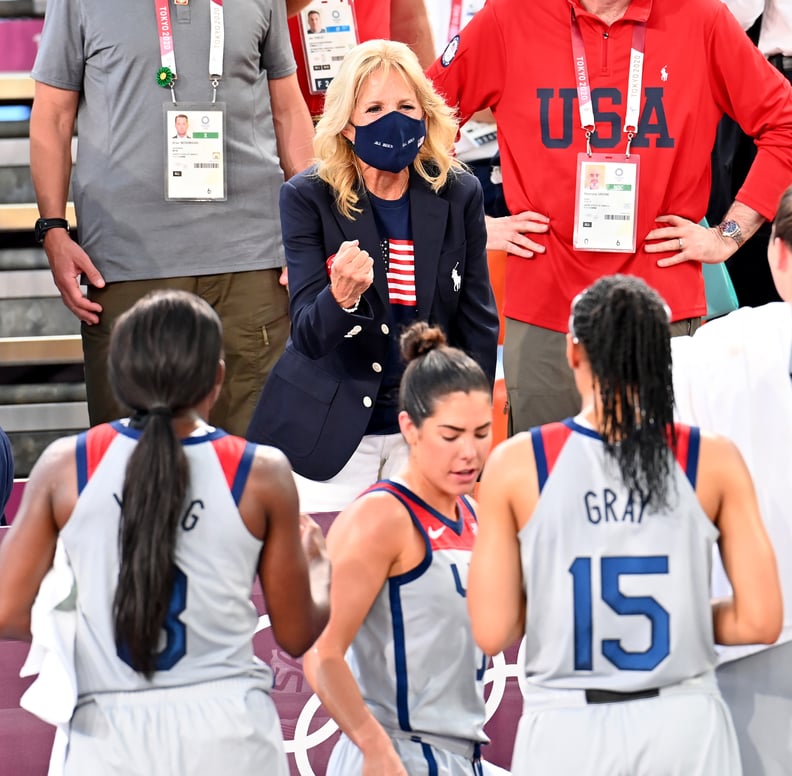 Jill Biden has been showing her support for Team USA. The first lady visited Tokyo for the 2021 Olympics during a three-day trip, and after attending the opening ceremony on Friday, cheered on Team USA during events on day one of the Games. Dr. Biden attended women's 3x3 basketball with French President Emmanuel Macron (Team USA won against France 17-10), swimming prelims, and the USWNT game against New Zealand, where the US won 6-0. While she was at the Tokyo Aquatics Centre, USA swimmers chanted "Dr. Biden," to which the first lady responded thank you with a wave.
Dr. Biden wore an official Team USA outfit and navy blazer designed by Ralph Lauren, according to People, complete with a USA face mask to keep in compliance with the Olympics rules. In addition to watching events in person, she also hosted a watch party at the embassy for Team USA softball, who beat Mexico 3-0.
Scroll through to see photos of Dr. Biden cheering on Team USA, including the heartwarming moment where US swimmers cheered back for Dr. Biden.