Simone Biles Thinks Jordan Chiles's Vault Deserved a 10
Simone Biles Thinks Jordan Chiles Should've Gotten a 10 on This Vault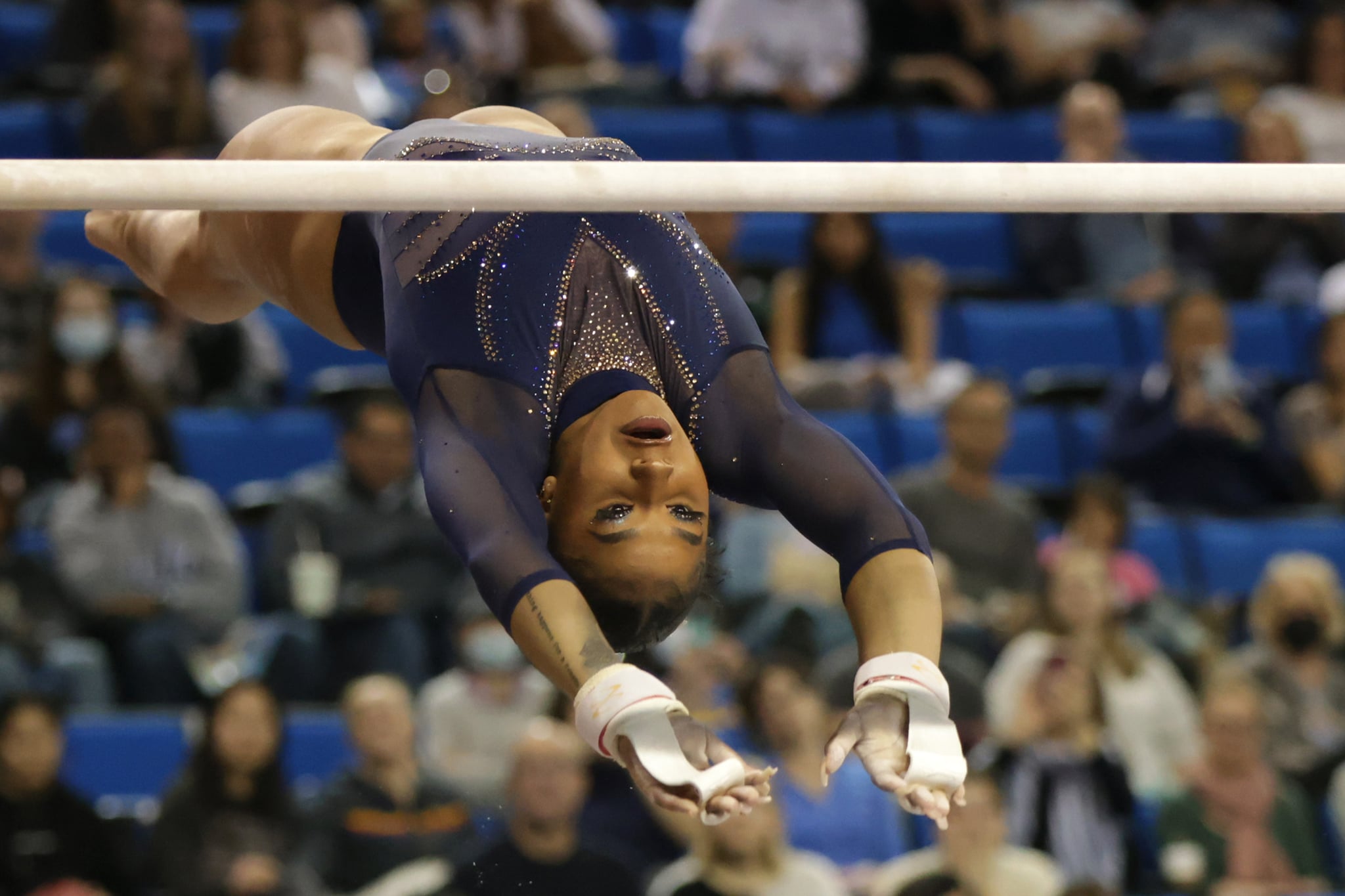 Jordan Chiles already has a pretty padded resume, between her Olympic, World, and National champ medals, history-making podium sweeps, and multiple break-the-internet floor routines. But she just added another accomplishment to the list: the UCLA sophomore and Olympic silver medalist set a new top all-around score in the country for this season of college gymnastics.
The score, 39.900, just narrowly beat Chiles's own score of 39.875 from a week prior. She's the first NCAA gymnast to snag a 39.900 since Florida's Trinity Thomas did so last year, according to UCLA's Daily Bruin. The score wrapped up the regular season of college gymnastics and puts UCLA in fourth overall heading down the road to nationals, which takes place in mid-April.
Her 39.900 was thanks in part to a perfect-10 bar routine — her second 10 on that apparatus in a row — during the final regular-season meet with Iowa State on March 11. During the routine, you can see UCLA coach Janelle McDonald going absolutely bananas cheering on Chiles. The excitement from McDonald, the rest of the UCLA team, and the crowd steadily builds as Chiles executes each move. By the time she sticks the landing and the judges hold up a 10.000, the place is going wild. It'll give you chills, to say the least.
Chiles earned a 9.9750 on vault, 9.9500 on balance beam, and 9.9750 on floor, amounting to her record-setting 39.9000 — but commenters were quick to say she should have scored even higher. "She should have received a 10 on vault and floor as well," wrote one fan on Instagram. Simone Biles came to Chiles's defense as well, responding to a video of Chiles's vault performance, writing on Twitter: "this was definitely a 10 but aight
"
And TBH, her vault looks pretty flawless to us. Even the Pac 12 Network commentator is saying, "The hottest gymnast in the country right now, you can expect perfection," just as she makes an exceptional landing.

this was definitely a 10 but aight 🫶🏾 https://t.co/qlKvcm6kxO

— Simone Biles (@Simone_Biles) March 12, 2023
Earlier this season, Chiles also scored a perfect 10 on floor exercise with a retro hip-hop floor routine that the internet has since become obsessed with.

Chiles has already announced that she'll be taking a break from college gymnastics to train for the Paris 2024 Olympics, so this was her last routine in UCLA's Pauley Pavilion until after that, according to College Gym News. Fellow Olympic medalist and perfect 10-scorer Jade Carey hopes to do the same.
If this year's NCAA season is any indication, Team USA will really be showing up in Paris 2024 — and we can't wait.
Image Source: Getty Images / Katharine Lotze