Jordan Chiles Talks 2022 Nationals and Her UCLA Future
Jordan Chiles Is Bringing Joy Back to Gymnastics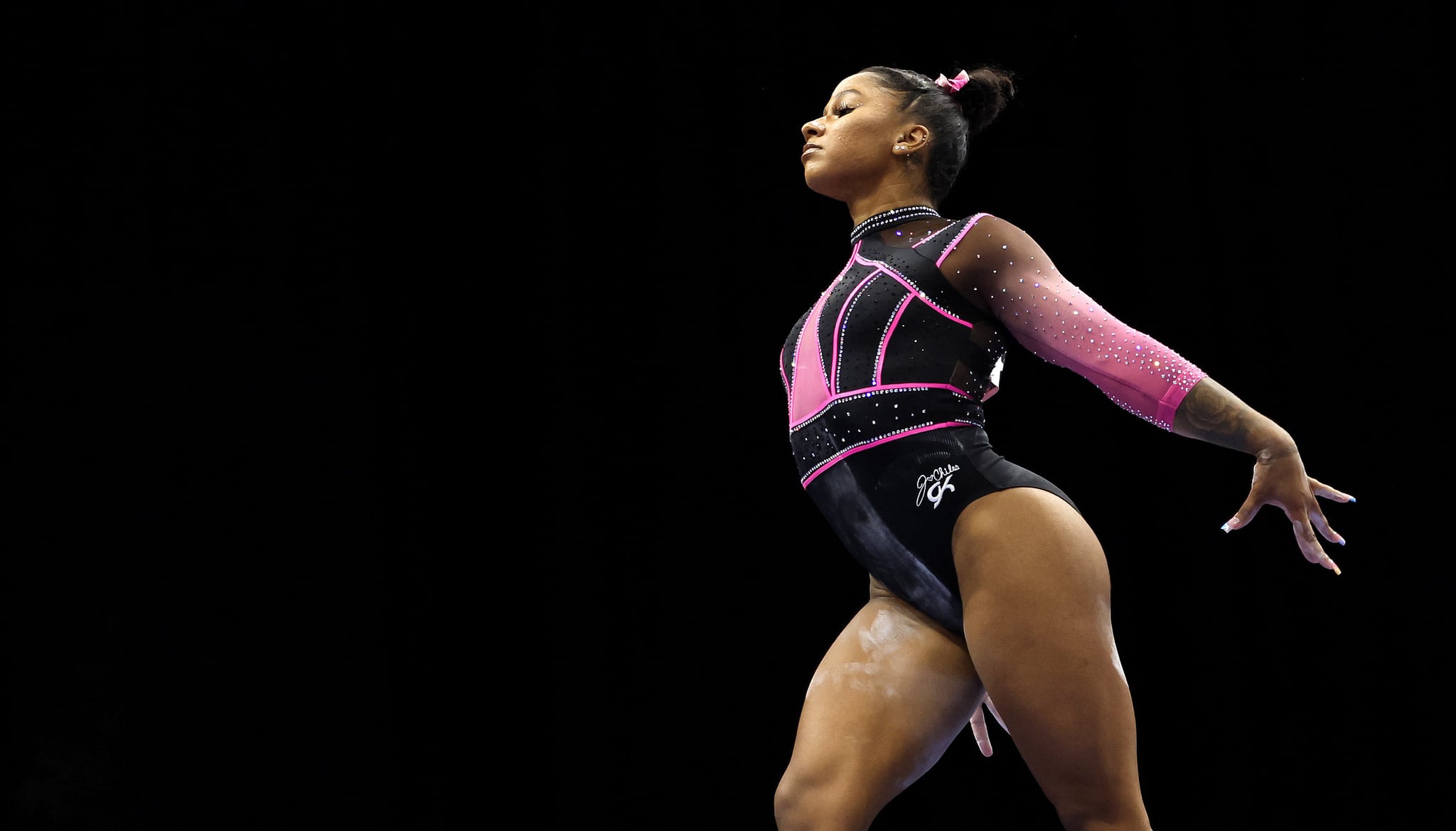 Image Source: Getty / Mike Ehrmann
Jordan Chiles doesn't get a ton of time to relax. It comes with the territory when you compete at the highest levels of both elite and collegiate gymnastics: an Olympian on the elite circuit, a member of the storied UCLA team in the NCAA. Even when she's on vacation, Chiles tells POPSUGAR, "I think about gymnastics all the time."
That doesn't mean Chiles doesn't take breaks. She knows, more than most, why prioritizing her mental and emotional health is just as important as staying physically strong. "I make sure every day that I take time to myself, that I talk to my friends, that I have time with my family, so I'm not constantly going and going and going," she says. "Because that's going to drain you." Her support system — family, coaches, and friends — is huge for Chiles. So is retail therapy, her favorite form of relaxation. "I am a huge shoe person," she says.
Only a few weeks after competing (and making history) at US Nationals, Chiles spoke to POPSUGAR from a national team training camp in Nashville, where she was training for the FIG World Challenge Cup in Paris on Sept. 24 (she snagged gold in floor exercise and silver in vault). Staying focused, motivated, and mentally healthy in a nonstop elite and collegiate season can't be easy, but Chiles doesn't seem to mind. "I like challenges," she says.
"Comeback Season"
Her can-do attitude doesn't come as a surprise. Chiles became an overnight hero at the 2021 Olympics in Tokyo, famously stepping in to compete on bars and balance beam when her teammate and close friend Simone Biles withdrew from the team event. The first-time Olympian, who was already scheduled to compete on vault and floor, put on a show on all four apparatuses and helped the US secure a team silver medal.
A year later, at the 2022 US Gymnastics Championships, Chiles made history as one of only two US Olympic women gymnasts to compete in an elite competition after a season of college gymnastics. (Jade Carey, who competes for Oregon State, also did so this year.) "I felt like I had more to give," Chiles says of her return to the elite circuit, a comeback she says she'd been contemplating ever since Olympic prelims, months before her first collegiate competition. "I feel like this was the starting point of something that can become even bigger," she remembers thinking. The US Championships, she says, represent her "comeback season."
"I'm going to go out there and be that soldier I need to be, and fight till I can't fight no more."
She went into nationals with a very intentional mindset. "I was just like, 'Let's come back [to elite] and see what happens,'" she says. "This is a test for me. I've never done this before." That doesn't mean Chiles was immune to the expectation on her shoulders. "What people see is Jordan Chiles, the Olympian, the girl who stepped in and helped [at the Olympics]," she says. But as she reflected on that, she realized that while she is that Olympic hero, "I'm also the same girl that never left," Chiles says. "That same girl who's going to bring the joy and the fun to the sport."
The result? What Chiles calls the "most calm" attitude she's ever had during a competition, plus an all-around medal, and — oh, yeah — a spot on the first-ever all-Black podium at the US Gymnastics Championships. Konnor McClain won gold, Shilese Jones the silver, and Chiles took home the bronze.
For Chiles, that achievement is deeply meaningful. "Looking at that picture and knowing that I was part of something so beautiful makes me feel so much more confident," she says. "Yes, we represent USA and our country, but we are also representing our people and being able to say that we were the first to represent our people on a whole different platform, that's an amazing thing. I'm very honored to say that, yes, I was part of the first [all-Black podium], and [it] definitely won't be the last." Chiles went on to win bronze on floor and uneven bars as well.
Three new championship medals and two entries in the history books isn't too shabby for a self-proclaimed "granny" who, at 21, is already a veteran in elite gymnastics. "I was like, 'Wow, can we go home yet? I'm tired over here,'" Chiles jokes. "'Is it done? Is the meet over?'" The younger gymnasts Chiles is competing against, she adds, are "out of this world."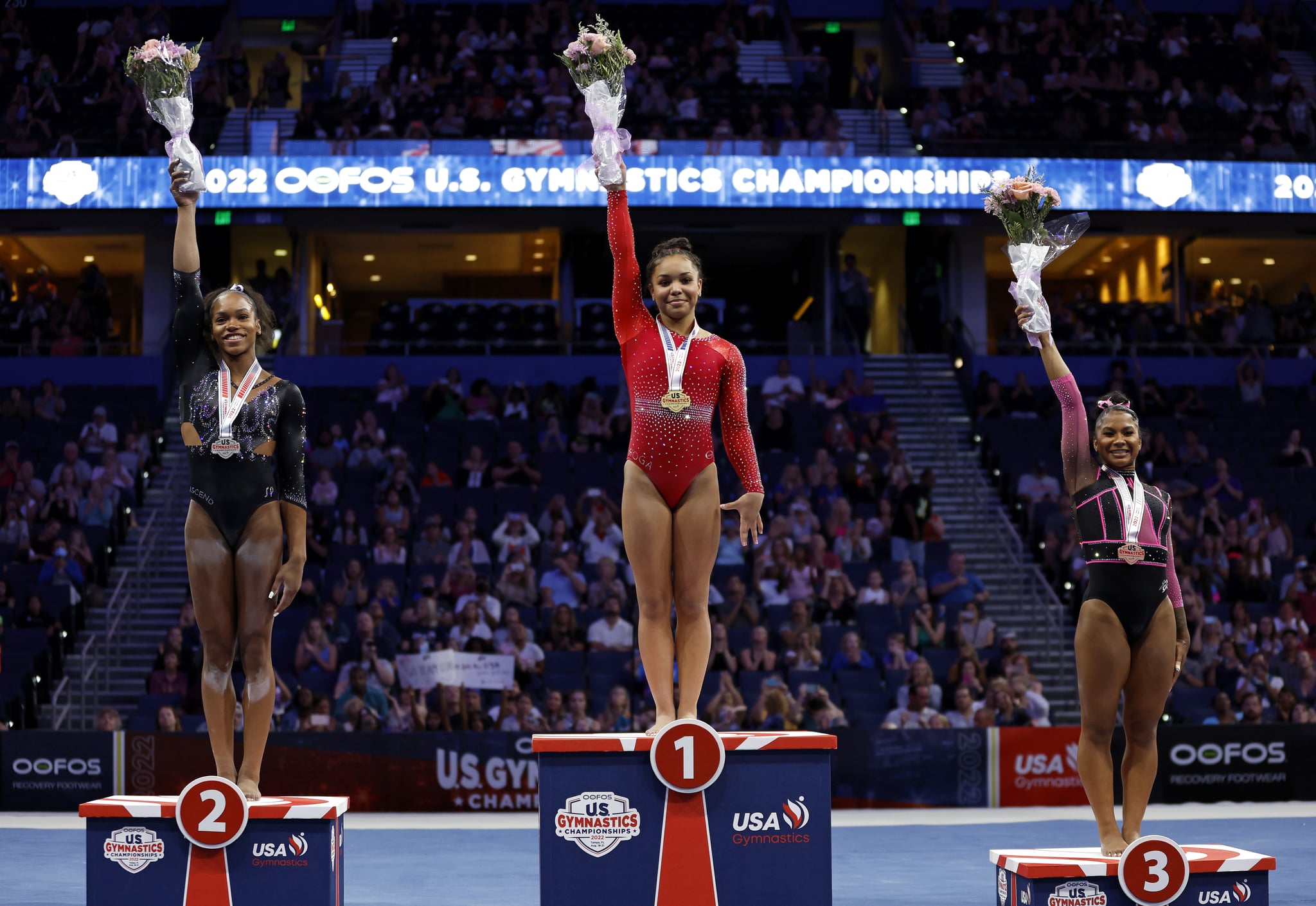 Image Source: Getty / Mike Ehrmann
Back to School (and World Championships)
It's no easy feat to go straight from college gymnastics back into elite, and for Chiles, it wasn't just about the physical toll. Her comeback came after a tumultuous season at UCLA that included allegations of racist language used by a former teammate. Members of the team accused UCLA's coaching staff and administration of failing to address the issue, and head coach Chris Waller resigned at the end of the season.
Against that backdrop, it's perhaps not surprising that UCLA had a disappointing season, at least by its standards, as the team failed to qualify for the NCAA Championships for the first time since 2006. There were undeniable highs, including Chiles earning her first 10 with an exuberant floor routine set to Lizzo, Normani, and Doja Cat, but she says the season overall "wasn't my best experience."
Chiles recalls talking to her close friend and teammate ("my ride or die") Sekai Wright before competitions and, at times, crying out of confusion and frustration. "Why isn't anything just working out?" she remembers asking. Wright's response, Chiles says, was to remind her how strong she is: "Don't worry about anything else. Be you." Stepping onto the competition floor afterward, Chiles says she felt like a warrior. "I'm not going to let [this situation] hinder me," she told herself. "I'm going to go out there and be that soldier I need to be, and fight till I can't fight no more."
Chiles is proud that she and her teammates gave their best effort and supported each other even when the scores weren't there. She views the season as a lesson, "to really show [that] I'm strong enough to continue to do what I love, no matter what's thrown at me."
Chiles plans to compete for UCLA again this year, although she'll be taking classes online in the fall semester while training for the world championships, which kick off in late October. When she returns to campus, she'll be working under a new head coach, Janelle McDonald, whom Chiles describes as "the best person I've ever met." Chiles already has her new floor routine and music in mind, but she'll only reveal that the routine will be upbeat and feature all women artists. "I like everyone to be surprised," she says.
After the dizzying ride of the past two years, the Olympian is looking toward the future with optimism. "Going into this next season with new coaching and new understanding, I think these next three years . . . are going to be an amazing, amazing time," Chiles says. "New beginnings, new chapter. It's going to be written very well, and it's going to have an amazing ending."