Kakana: Workouts For People With and Without Disabilities
Meet Kakana: a Fitness Platform Featuring Workouts Tailored For People With Disabilities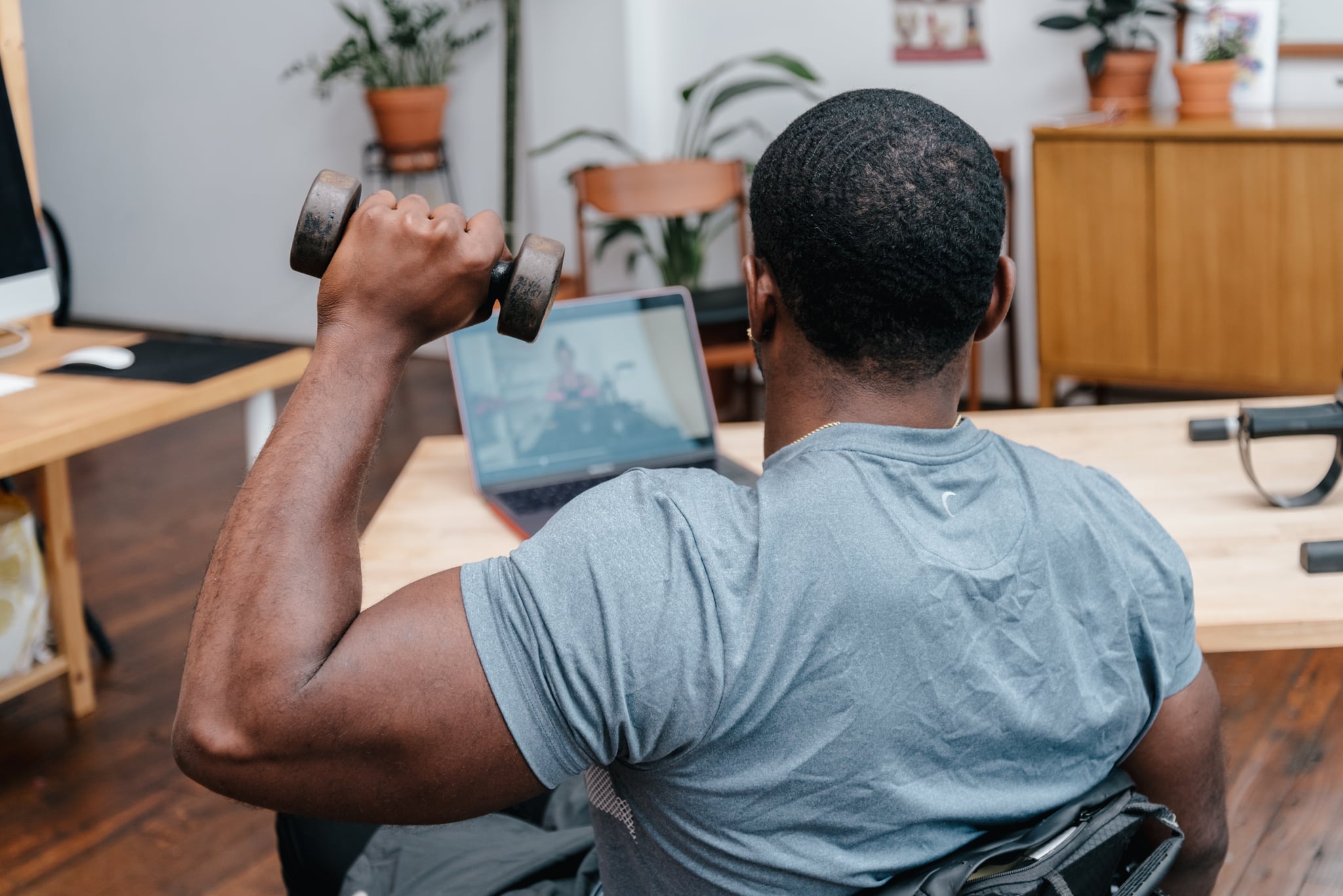 You don't have to do much searching through popular fitness platforms to find that they are not made with the disability community in mind. That's where Kakana comes in. Launched on Oct. 27, it has live and on-demand classes in strength, meditation, yoga, stretching, cardio, and cross-cycling led by both able-bodied and disabled athletes and trainers.
Kakana founder Matthew Ney told POPSUGAR that he learned how important accessibility was through creating his company Fitbound out of college, which concentrated on short bursts of exercise kids could do during school. "That led me to start asking questions about what was out there," he said, adding that he shifted away from education and wanted to focus on making exercise accessible and more inclusive for the rest of the population.
In June, Kakana launched a beta class with a handful of participants who took cross-cycling. It's similar to any cycling class except you utilize a hand cycle or hand ergometer. The goal, Ney said, is having cycling be fully accessible to people all abilities because you can put it on the ground and use it with your legs, too. Then, Ney expanded into other ability-inclusive workout sessions before Kakana's launch at the end of October. As of now, most of the classes are 20 to 30 minutes long.
A monthly subscription costs $15, but you can try out a seven-day free trial or select the two-month-free offer on the Kakana website. So far, there are 10 live Zoom classes per week, which are transferred on demand permanently within seven days via the Kakana website. (Ney noted you can turn your video off during the live sessions if you want to.) There are also virtual "locker rooms" 10 minutes before each live class for participants to sign on early and get to know each other. Ney said there's time to additionally stay on after the class to give feedback and ask questions.
Team USA para-lifter Blaze Foster is a cross-cycling and strength instructor for Kakana, and he told POPSUGAR that, as someone with a physical disability, he's well aware of how easily you can feel alone when it comes to bettering yourself. A platform like Kakana is very important, he stated, especially for those with disabilities. "I'm a big, firm believer in health is wealth, and you really want to keep yourself healthy both physically and mentally," he said. "Being a part of group fitness is a great way to help you with that aspect of life."
Ney noted that despite the fact that athletes and fitness professionals are on the Kakana roster thus far — yoga instructor Marsha Danzig and trainer Sunny Miller, for example — he aims to expand the Kakana instructor lineup soon, and anyone with or without disabilities can apply since the training regimen is intensive. "I looked to find instructors that would engage and draw me in and be a leader for accessible fitness," he explained.
"When you talk about fitness alone, it is something that pushes you forward and helps your mind, your body, your soul," Ney concluded. "Let's make something that represents that and represents individuals with disabilities and without disabilities. I think you can do that by creating something people want to be a part of."
Image Source: Jinnifer Douglass / Kakana