Olympic Triathlete Katie Zaferes on Becoming Strong Mentally
Olympic Triathlete Katie Zaferes Won a World Title 2 Weeks After Breaking Her Nose in Crash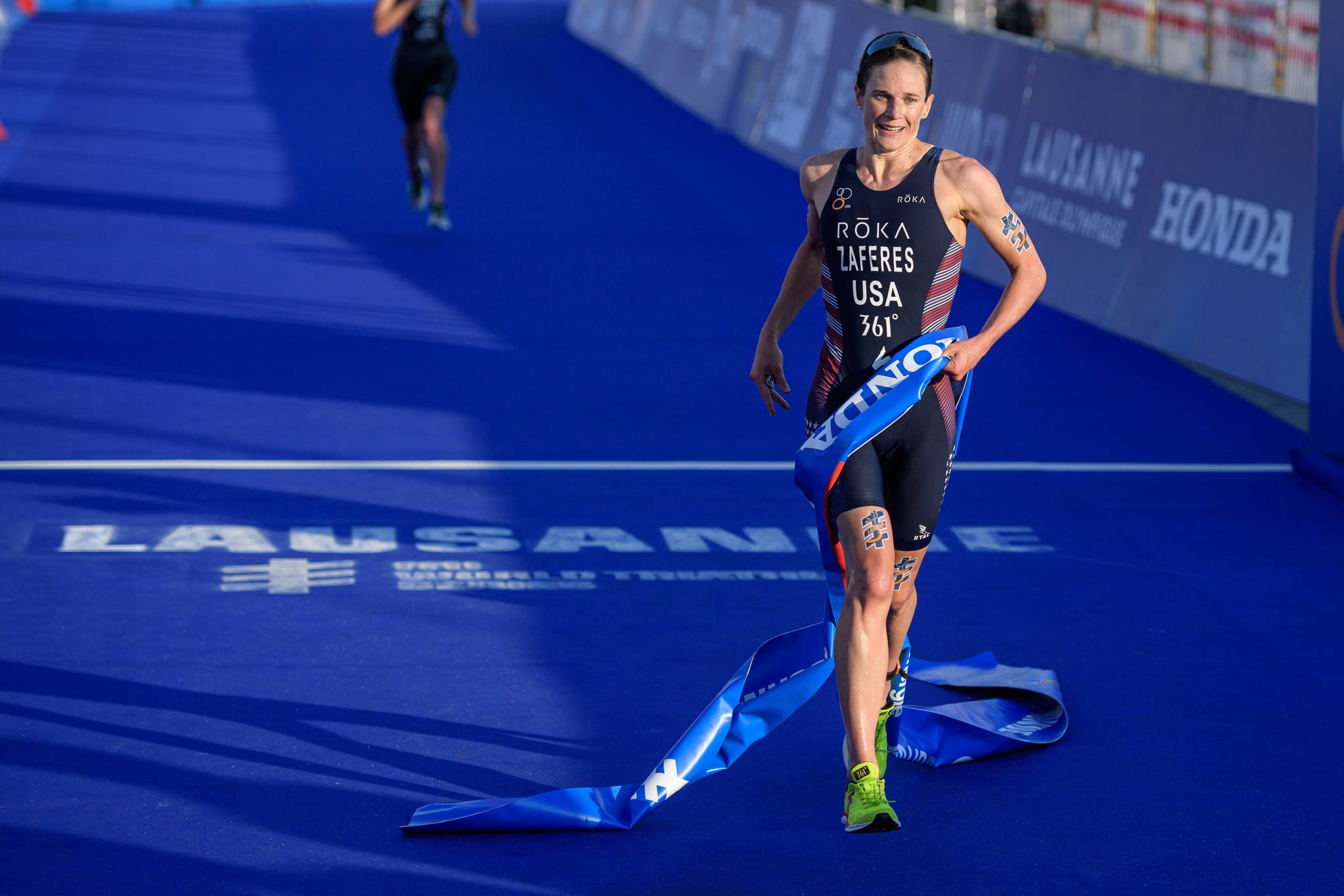 Katie Zaferes wasn't so happy with her performance at the Rio Olympic Games in 2016. Though she achieved her goal of qualifying — and calls that her "best accomplishment" — she finished 18th in the triathlon and says it was "pretty disappointing." But the "best worst" part was being able to learn from the experience. "It was one of the things that probably had the biggest influence on my career," Katie told POPSUGAR, adding that it helped her understand her need to take care of herself mentally as an athlete, not just physically.
Katie explained, "I would just wait until I was feeling overwhelmed, or if I was scared, and then all of a sudden I'd really want to talk to someone, versus since then, I've created a relationship with a sports psychologist and I really committed a lot of time to figuring out the mental side of things so that I can feel prepared no matter what situation I'm in or what the course is like or how big the event is."
Katie now speaks to a sports psychologist at least once or twice a month, especially leading up to a race, and her greatest mental challenge to date was in mid-August when she crashed on her bike during a test event in Tokyo, broke her nose, and got 23 mouth stitches. "Well in all my visualization and preparation, this is not what saw. I went down sometime during the race when I made a mistake looked back and hit a barrier," she wrote on Instagram shortly after.
Katie said she called her sports psych right away to talk on the phone. A lot of what they talked about, she reflected, she found comforting. They worked through the specifics of the Tokyo crash and came to the conclusion together that it's preventable in the future; it won't necessarily happen again. "I think a lot of it was just knowing that it's OK to be uncomfortable, and knowing that, that doesn't necessarily reflect my skills or reflect my confidence."
And, two weeks after her fall, Katie went on to win gold in the ITU World Triathlon Grand Final and become the 2019 ITU World Triathlon Series overall champion (she reportedly needed to come in at least 13th place to win overall). Competing in that Grand Final two weeks postcrash, she said, was "definitely uncomfortable," and she was a bit more conservative in different parts of the course "with the confidence that my strengths would overpower my weaknesses." This is something that Katie has learned to focus on during her career: her athletic ability despite tough races.
"I may not feel strong, but I am strong."
When Katie was a student at Syracuse University, where she ran track and specialized in steeplechase, she was recruited by USA Triathlon Collegiate Recruitment Program — she'd grown up running and swimming, but she'd only ever done local triathlons with her dad on Father's Day for fun. It wasn't until she was recruited that she started viewing it as an actual profession and something she could excel in. She's finished in the top five on the world stage for five consecutive years and considers her biking, swimming, and running to be equal in strength; with experience, she's become more of a "complete triathlete," she explained. Her main mantras prior to a race are "do you" and "I'm ready." If something bad happens while competing, like in that Tokyo test event, she tells herself, "I may not feel strong, but I am strong."
Katie's also found solace in journaling consistently. She has a planner to keep track of her agenda throughout the week, but she also has a separate notebook in which she'll, usually at night, write 10 things she's most grateful for and three intentions for the next day. Her 10 bits of gratitude can be as small as finding a lost earring packing (she admitted, laughing, that she wrote this down around the time that we spoke) or as meaningful as giving thanks to the people in her life such as her husband, Tommy, who's a photographer and also has competed as a triathlete.
Katie just ended her season by winning the Super League Triathlon Malta. Her next goal is making it to the Olympics — withdrawing from the Tokyo test race after her fall disqualified her from getting a spot, so her next chance will be in May 2020 during the World Triathlon Series race in Yokohama, Japan. Qualifying for the 2020 Summer Olympics was one of Katie's main goals of 2019, but now it'll be her biggest focus the coming year.
For her, she loves triathlons in part because of the three different aspects of the sport, which means, she said, there's always a chance to improve your race. She also loves the supportive community of athletes. "It's just nice to go from a pretty high-intensity race back to smiles and laughs and support," she said. After that Tokyo test event crash, Katie said that many of the women who competed had crossed the finish line and, instead of celebrating their success, asked about her condition. One of the Japanese triathletes actually gave her a good-luck charm to keep her safe, which she now carries in her bag on race day. "It's just a really neat community to be a part of," Katie concluded. "Even during the times where it's felt hard, I've always thought 'I'll come out of it,' and I did. I would say it's been a really good, really good adventure."