I Tried Kin Euphorics' Nightcap, and It's a Wonderful Way to Drift Off to Sleep
Every editorial product is independently selected by our editors. If you buy something through our links, we may earn commission.
One of POPSUGAR's writers swears by the elated effects of High Rhode. It's a nonalcoholic drink from Kin Euphorics meant for socializing that supposedly reduces stress, nourishes your mind after a long day, and leaves you feeling good. Our writer described it as experiencing a "wave of stress wash away," having a burst of energy, and, after multiple drinks, being "alcohol-fuzzy."
"Kin exists to bring more pleasure to the human experience starting with daily little moments of social recreation and self-restoration after dark," founder and CEO Jen Batchelor told POPSUGAR. Basically, the products — High Rhode now comes in Spritz cans, too — are about giving adults a better-for-you alcohol alternative that promotes a feel-good attitude and "conscious connection." It all sounds appealing and also somewhat mystical.
That's why I was interested in Kin Euphorics's new nightcap beverage Dream Light. It has the same whimsical vibe but doesn't contain caffeine like High Rhode does. Jen described it as a "wind-down ritual" that leaves you well-rested, while High Rhode helps "restore the endocrine system and elevate the state naturally without the crash or hangover." Ahead, check out more details on Dream Light and how it went giving it a try before bed.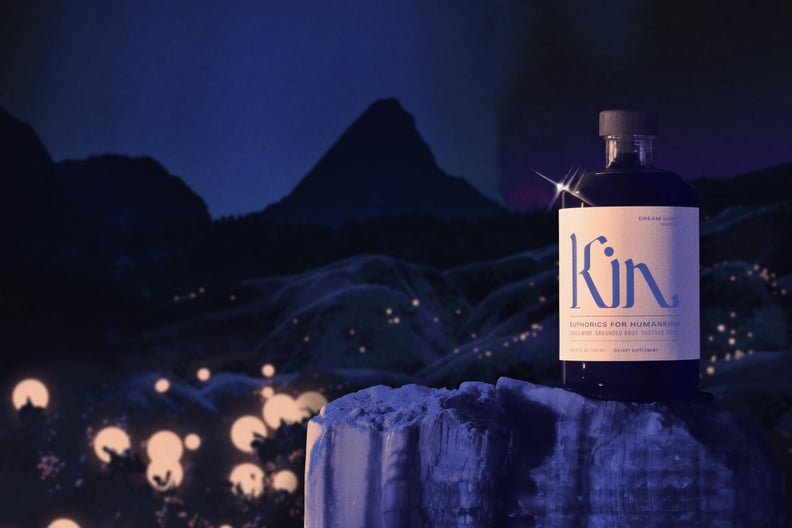 What Is Dream Light From Kin Euphorics?
Dream Light promises to ease your mind, ground your body, and leave you feeling rested and restored in the morning. Behind the sexy imagery and shiny allure is one simple fact: this product is designed to aid in sleep because, in today's go-getter society, we need more of it.
Ingredients include reishi mushroom extract, an adaptogen touted for its stress-relieving properties, and magnesium glycinate, which reportedly can have a calming affect on the brain, reduce anxiety, promote better sleep, and a slew of other benefits. There's melatonin as well, the natural sleep-regulating hormone in humans.
There's also the amino acid L-Theanine, which, according to Kin Euphorics, increases levels of another amino acid called GABA that acts as a neurotransmitter in the brain to relax and calm your mind. And, L-tryptophan also relaxes the body by increasing serotonin levels (serotonin, among many things, stabilizes your mood, digestion, and sleep).
Jen said that they developed the recipe for Dream Light with a "team of herbalists, sleep and melatonin scientists, as well as neuropharmacologists on our medical advisory board." (Neuropharmacologists study how drugs affect the nervous system.) They also, she said, worked closely with clinical sleep researcher Daniel Gartenberg, who has a cognitive psychology PhD and is the founder of the app Sonic Sleep.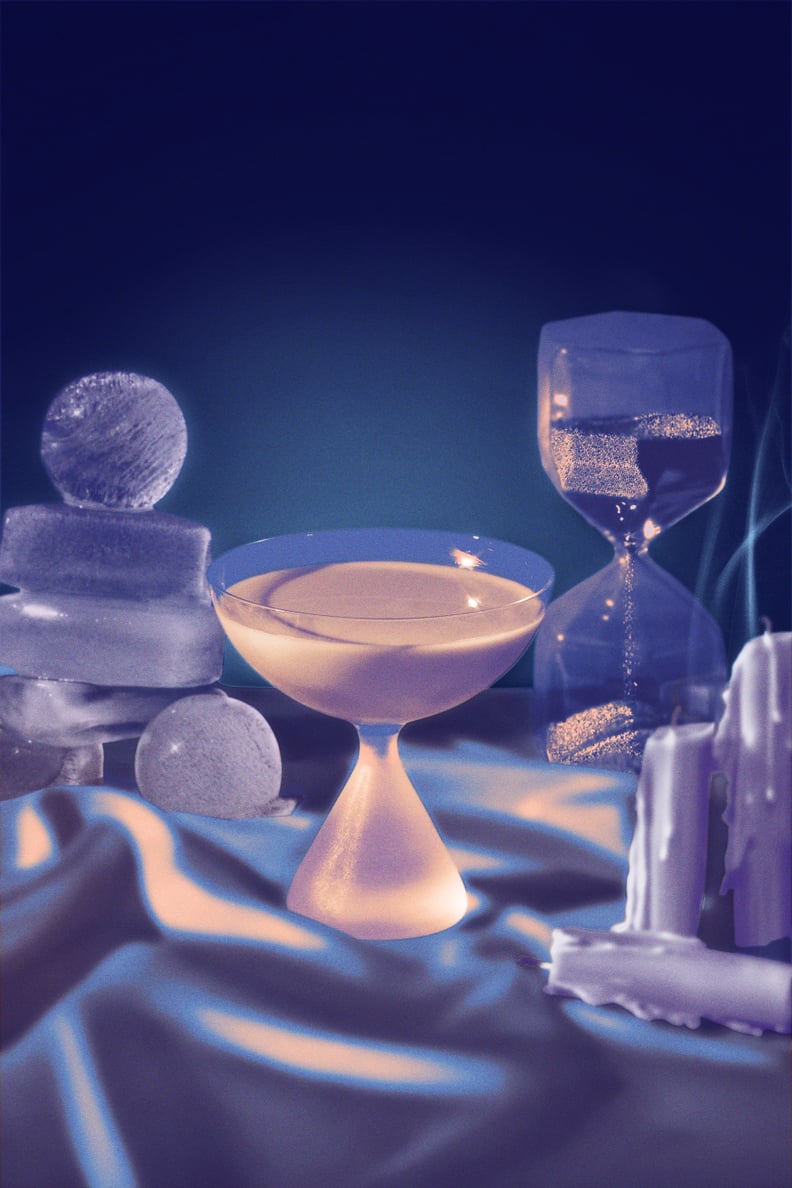 How Did Dream Light From Kin Euphorics Taste?
No, my mug didn't look like this other-worldly picture, but I was surprised by how much I enjoyed the taste. One serving size is about a shot or 1.5 ounces — a shot has five calories and one gram of sugar — and you're advised to mix it with warm oat milk (or it can also be served cold). There are notes of clove, ginger, chili (yes, chili!), and cinnamon. There's also "smokey fig" and bourbon vanilla extract, though, to my palate, all of these melded into a spiced flavor with the tiniest wisp of sweetness.
Dream Light was very different from the Som Sleep drink I tested out in the Summer. It had similar sleep-promoting ingredients, but Som was a Red Bull-esque fizzy drink. Dream Light, when mixed with milk, brought me back to the feeling you get during childhood when your parents tuck you in at night. I felt, for lack of a better word, toasty. Under the covers with a mug of this, I felt safe.
I tried a shot of Dream Light with a few different types of warm milk over the four nights that I had it: regular milk, vanilla almond milk, and vanilla oat milk. (Note: I just heated up the milk in the microwave, but you can use a stovetop.) My favorite, hands down, was the oat milk because Dream Light mixed in smoother, in my opinion. Overall, it tasted like a gingerbread cookie without the sugar, plus added spice. There was a kick to it, but the flavor wasn't overpowering to the point where my tastebuds were angry before bed.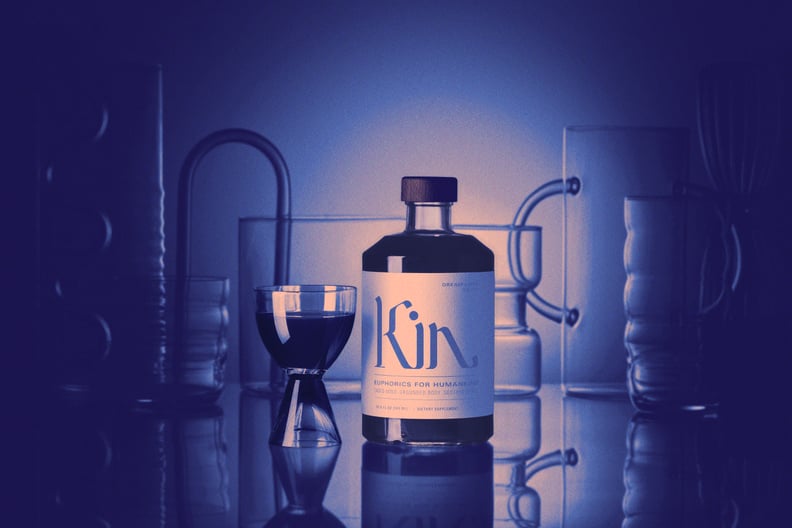 My Experience Using Kin Euphorics Dream Light Nightcap
Was I skeptical? Absolutely. Plus, I typically go to bed after midnight due to my commute home, evening workouts, and late-night prep for the following day. Because the earliest time I had Dream Light was 10:40 p.m., I didn't think I'd really feel any different going to bed — at that point, I'm exhausted anyway and fall asleep without too much trouble (even though I have a habit of staying on my phone). But, I did feel at ease, and my body was relaxed.
Night one, for example, I drank Dream Light right before calling my boyfriend. As we spoke, my eyes grew heavy and a wave of ease washed over me. (Sure, I could say he has that effect on me, too, but we're not going to go there.) Something spectacular also happened night two: I slept through the night and didn't get up at all. Nights three and four gave me similar results. I slept deeply, drifted off into my slumber more easily, and experienced a sense of calm.
It's recommended to take one to two servings, but one serving seemed to be enough for me. Night three was a Friday, so I can't say that going into the weekend didn't also have a calming effect on me, though there's no denying that the whole four-day trial went great. I can't say, either, that it'll have the exact same impact on you, but I can assure you that I enjoyed drinking a comforting mug of spiced milk (since that's essentially what it was) prior to bed and melting into sleep. My eyelids, if they could, would be smiling.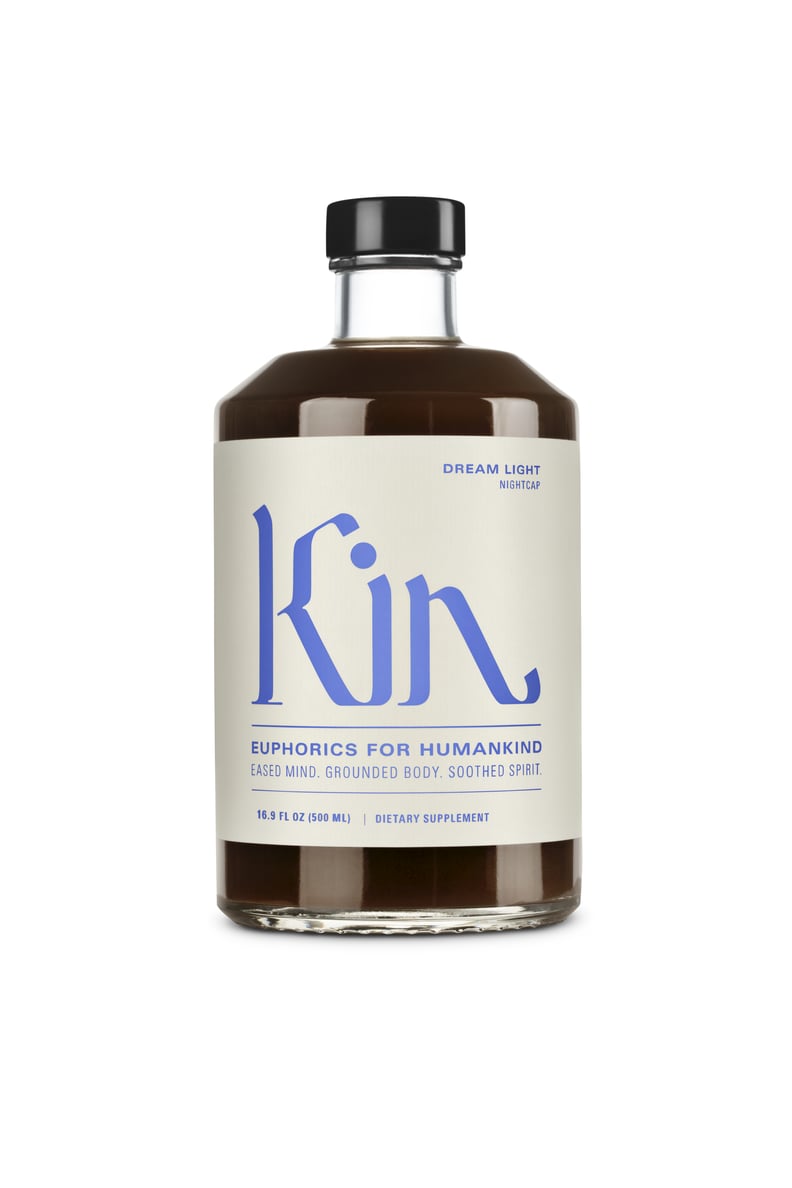 Buy Kin Euphorics' Dream Light Nightcap
If you're interested in this nightcap, you can go ahead and order Dream Light ($39) on the Kin Euphorics website.