Watch Leanne Wong's Bronze-Medal Floor Routine at This Year's World Gymnastics Championships
Team USA's Leanne Wong finished third on floor at the 2021 World Artistic Gymnastics Championships to receive a bronze medal. It's her second accolade of the competition after earning silver in this week's all-around final. The Florida Gators freshman got a floor score of 13.833 at the Oct. 24 final compared to Japan's gold medalist Mai Murakami's 14.066 and a 14 from 2021 world all-around champion Angelina Melnikova. (Note: Murakami was originally in second place, but she won back a tenth after submitting an inquiry about her difficulty score, and her total ultimately bested Melnikova's.)
This was Wong's first World Championships, and she shared with GymCastic following the competition that if she could tell herself a month ago how Worlds would go, she would have said that "competing is really fun, but there's lots of surprises everywhere, so you just gotta handle anything." Those surprises came in the form of falls for many gymnasts two rotations before the floor final on beam. Wong placed fourth there.
Ahead, check out photos and a video of Wong's bronze-medal-winning performance. It executes artistry, power, and poise. She told International Gymnast Online earlier in the year that she's a fan of this "ballerina-type" routine choreographed by one of her coaches, Armine Barutyan. Wong opens with a massive double-twisting double backflip and ends with a high-flying double pike. Though her landings are not 100 percent clean and she scored higher in the all-around competition (14.033) as well as the qualifying round (14), this performance on Oct. 24 is still stunning.
Watch Leanne Wong Claim Bronze on Floor at the 2021 World Gymnastics Championships
You'll see Melnikova and Murakami's routines as well.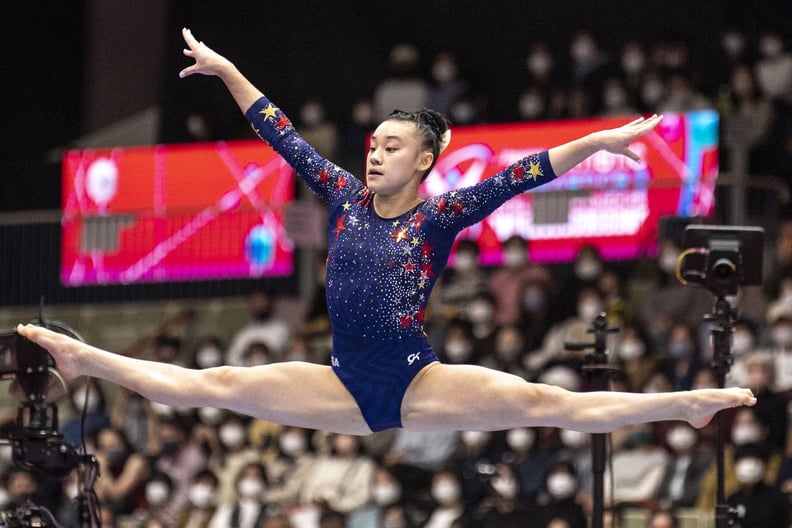 Photos: Leanne Wong Competes in the 2021 World Gymnastics Championships Floor Final