The women's all-around final at the 2021 World Artistic Gymnastics Championships took place on Oct. 21 in Kitakyushu, Japan, and Angelina Melnikova claimed gold (56.632) over second place's Leanne Wong (56.340) and third place's Kayla DiCello (54.566), both from Team USA and both alternates from the Tokyo Olympics. Melnikova, representing the Russian Gymnastics Federation, qualified through to the finals in the top spot (those scores don't transfer over), and she's the defending world all-around bronze medalist from 2019. The 21-year-old is also coming off a three-medal win at the Tokyo Games, including team gold.
In their debut world championships on the senior elite level, the two American teens qualified through to the all-around final neck and neck — they were in the second and third spots. Wong and DiCello showcased great routines overall in the finals, though DiCello, who was on the 2019 junior world championships team, battled for bronze after falling on bars.
DiCello led over 24 competitors after the opening rotation with a solid 14.6 on vault, followed by Melnikova and Wong; they all competed Yurchenko doubles (Yurchenko into a layout with two twists). Melnikova took the lead after the second rotation with a 14.533 on bars, and she and Wong solidified their first- and second-place rankings for the remainder of the competition. Despite DiCello's fall on a release move (a Tkatchev, if we're being specific), she was still able to hold onto a podium spot due to strong performances on beam (13.4) and floor (13.8). Wong finished her meet with a 13.9 on beam and high 14.033 on floor.
"It feels amazing," Wong said post-competition, according to Inside Gymnastics. "To be at the World Championships and win a medal, it feels great. I'm really happy with this experience. I feel like we did a really good job for the next generation and setting the stage."
American gymnasts have won 10 out of the last 12 world all-around titles on the women's side. At the previous World Artistic Gymnastics Championships held in 2019, Simone Biles earned her fifth world all-around medal and Team USA won their seventh world team title of all time. (Biles and most of her teammates from this past Olympics are currently on her Gold Over America Tour.) There was no team competition this time around — just the individual all-around and event finals — because of the fact that the championships were supposed to take place a year following the Tokyo 2020 Games before the Olympics were postponed.
These world championships were historic for Ireland with Emma Slevin being the first gymnast representing that country in the all-around. She ended up in 19th. Another notable moment from the women's all-around final included a Queen-inspired rock floor routine from South Korea's Shin Solyi, who finished in 11th.
According to USA Gymnastics, this is the third time in the past five world championships that Team USA have had multiple all-around medalists in the women's competition. Ahead, check out photos of the all-around medalists at the 2021 World Artistic Gymnastics Championships.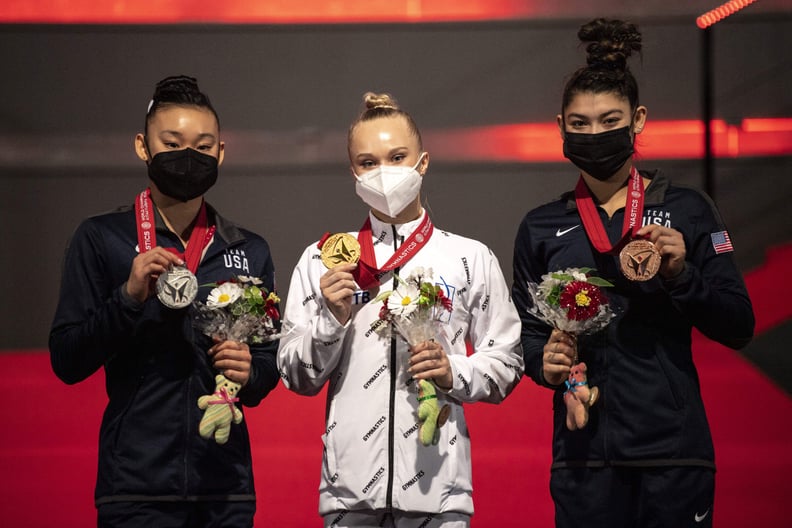 And Congrats to All 3 World Artistic Gymnastics Women's All-Around Medalists For 2021!