Try Olympian Madison Chock's Favorite Ab Move
Olympian Madison Chock Makes This Simple Ab Move Way More Challenging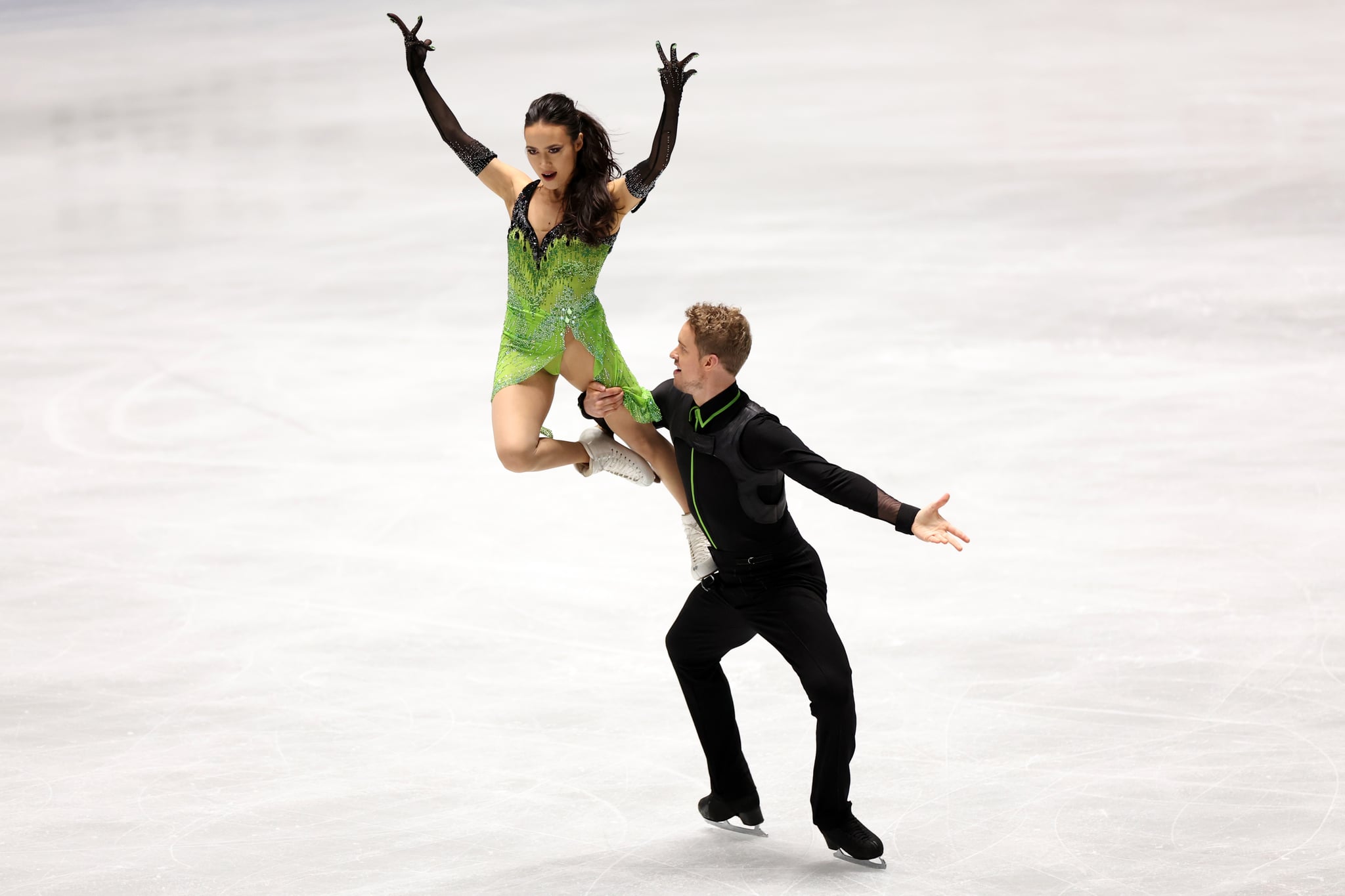 Days away from her third Olympics, Madison Chock says she's currently "taking it easy as possible." The ice dancer, who just won her third national championship with partner Evan Bates, says that right now — so close to the Olympics and, after that, the world championships — the pair's training is all about maintaining their fitness level and pouring even more heart into their programs. "This is honestly the most fun, the most exciting, the most anxiety-inducing part of the season, as the competition nears," Chock tells POPSUGAR in a recent interview.
Unlike pairs or singles figure skating, there are
no jumps in ice dancing, but that doesn't mean it's any less demanding on the body. While performing, Chock's every move is scrutinized, the tiniest details double-checked. Her body needs to stay precisely in sync with her partner's. There are twizzle sequences that move too fast to see and gravity-defying lifts (Chock's favorite part of her routines), all requiring a combination of strength, cardio fitness, and agility worthy of its own Olympic medal. Chock gave us a peek into her pre-Olympic training routine, including her favorite ab moves and why she says mental health is just as important to her success.
Madison Chock's In-Season Training Program
At this point in the season, Chock and Bates's training program is fairly balanced: they do three days of strength training and three days of cardio. "Generally we're in the gym Monday, Wednesday, and Friday," Chock explains, "and we'll do a recovery workout on the weekends, maybe some light yoga or breathing." Monday through Friday, they also train on the ice for three-and-a-half-hour sessions, perfecting their rhythm dance and free dance routines.
What goes into those gym workouts? Chock describes her strength training as "full-body, kind of functional movement." Based on the demands of her sport, she doesn't lift a lot of weight or do a ton of upper-body training, but core and legs are always a big focus. "Just mainly functional movement to make sure everything's working as efficiently as it can," she explains.
Madison Chock's Favorite Ab Move
Core strength is key to ice dancing, and Chock says her favorite ab move is the dead bug because of how versatile it is. "You can play with it. You can add weights to it," she explains. "Sometimes I hold five pounds in each hand." She's also done variations using a weighted bar or an exercise ball. "It's a really good core activator, and it stems from Pilates," Chock says. "I just love the dead bug."
It's always encouraging to hear that an Olympian's favorite exercise is so accessible, though if you're planning on ramping it up with some weights, we'd recommend starting a little lighter than five. In this prone-position ab move, you'll see how quickly just a couple of pounds can work up a burn.
Madison Chock on Taking Care of Mental Health
Chock says she takes mental health just as seriously as her physical fitness. "Training your mind is just as important, if not more important, than training your body," she says. "If your mind's in the right place, the body will follow." Both Chock and Bates work with sports psychologists to keep their mental health in a good place, especially as the pressures of competition ramp up in an Olympic season.
Because when it comes time to take the ice in Beijing, Chock says that's when she turns her thoughts off. "At that point, all of the work has been done," she says. She doesn't talk with Bates, review a difficult move, or try to run through her routine one more time. Instead, Chock says she tries to stay present, focused on the moment and nothing else. "We want to just trust our training and trust ourselves, trust each other, [trust that] our bodies know what to do," she says. Yes, it's a competition, but "we kind of look at it as a celebration."
To learn more about all the Olympic hopefuls, visit TeamUSA.org. Watch the Winter Olympics, beginning Feb. 3 on NBC.