Mama Cax on Handcycling the 2019 New York City Marathon
Model Mama Cax Lost Her Leg to Cancer and, Years Later, Handcycled the NYC Marathon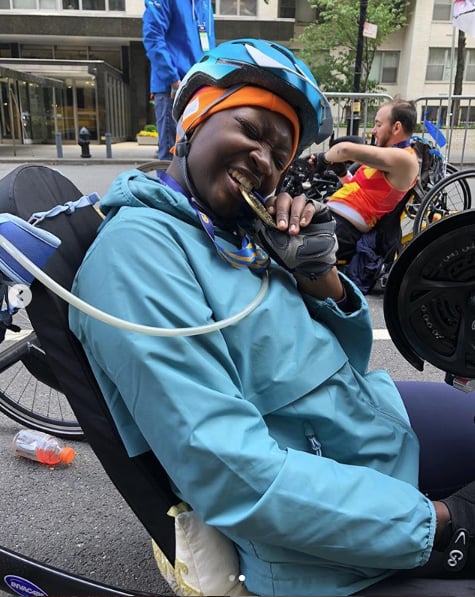 Image Source: Courtesy of Mama Cax
At age 14, blogger and model Mama Cax, born Cacsmy Brutus and who refers to herself as Cax, was diagnosed with osteosarcoma, an aggressive bone cancer. It spread to her lungs, and after chemo and an unsuccessful hip replacement, she received a hemipelvectomy, an amputation that removed her right leg and part of her hip bone. It required her to use crutches and a prosthetic leg.
The Haitian-American, now 29, has a flourishing lifestyle brand and career as a model. She's graced the runway at the 2016 White House #DesignForAll Fashion Show, been in campaigns for Olay and Tommy Hilfiger, walked in New York Fashion Week, and been named one of Glamour's Women of the Year All Year 2019. Cax's next feat, though, involved a handcycle and 26.2 miles: the 2019 New York City Marathon.
Through the Challenged Athletes Foundation (CAF), Cax, who openly campaigns for disability awareness, was able to get a grant for a handcycle and used that to train. "They're basically an organization that provide equipment for anyone who's interested in joining sports and wants to find adaptive ways to do it," she told POPSUGAR. "What I really like about them is that you don't have to participate in sports competitively to be able to get a grant for equipment." Six months before the race, she hired a trainer and worked on her upper-body strength at the gym by weightlifting and rowing.
It wasn't Cax's first time with a handcycle — she joined wheelchair basketball in college and then transitioned over to handcycles later on — but closer to race day, she said, it was about getting more practice with the handcycle going uphill and downhill and seeing what the terrain would be like on Nov. 3. She explained, "Going uphill, that's where the battle is. You have to put some grease on the shoulders."
The NYC Marathon had been in the back of Cax's mind for a while before she actually decided to set her sights on the race. Her goal was to finish in two to two-and-a-half hours, though she ended up clocking in at 3:31:37. "I'm obviously proud that I was able to finish it, but if I were to do it again, my goal would be to do it in a shorter amount of time," she said.
What fueled her during the tough parts of the race was all of the energy from the cheering spectators. "Sometimes they were the only indicators that you were halfway through," Cax said. "They would tell you, 'This is the last bridge you're crossing,' or 'You're almost at the finish line,' and that kind of gets you going." Areas where the crowds were particularly encouraging included Brooklyn and Harlem (the drumming in Harlem really got her in the mood to push through, she noted). Some of the other handcyclists shared encouragement as well (she was one of 69 people who finished the handcycle division). "Several of them were saying encouraging words like 'Keep going,' and 'You can do it.'" One even assisted her when, before the halfway mark, her chain broke.
The last thing that kept up Cax's determination was the fact that her family and friends were waiting for her at the finish line. "Exhausted. Body hurts. Resting for the next 24hrs," she wrote on Instagram that day. As for advice she'd give people handcycling the NYC Marathon in the future, "two major things are knowing your equipment and also, even more so, knowing your body." Cax said you might need to make some adjustments to your handcycle to be more comfortable, whether that's putting a pillow on the seat or buying equipment to lengthen the handle — she noted that she wouldn't have been able to complete the race if she hadn't made prior adjustments.
The biggest advice that Cax was given leading up to the marathon was to control her pace and not go too fast in the beginning. "It's about saving energy for the last 13 miles," she explained. "The first 13 miles you'll have energy, and if you're in beast mode, towards the end, you're completely burned out. So, I had that in mind the whole time: 'Take your time, take your time.'" A lot of cyclists also advised her to have fun despite feeling competitive and aiming for a set goal.
"I'm not sure if I'm going to be in another marathon, but it's not out of the question," Cax said. "I'm definitely going to keep up my workout regimen." She enjoys rock climbing, swimming, and yoga. Yoga especially soothes her chronic pain, she added. Fitness in general has played a huge part in helping Cax deal with depression, she said. "It's knowing that it might be something that you have to deal with for a long time," she noted, "but what's important is how you cope with it."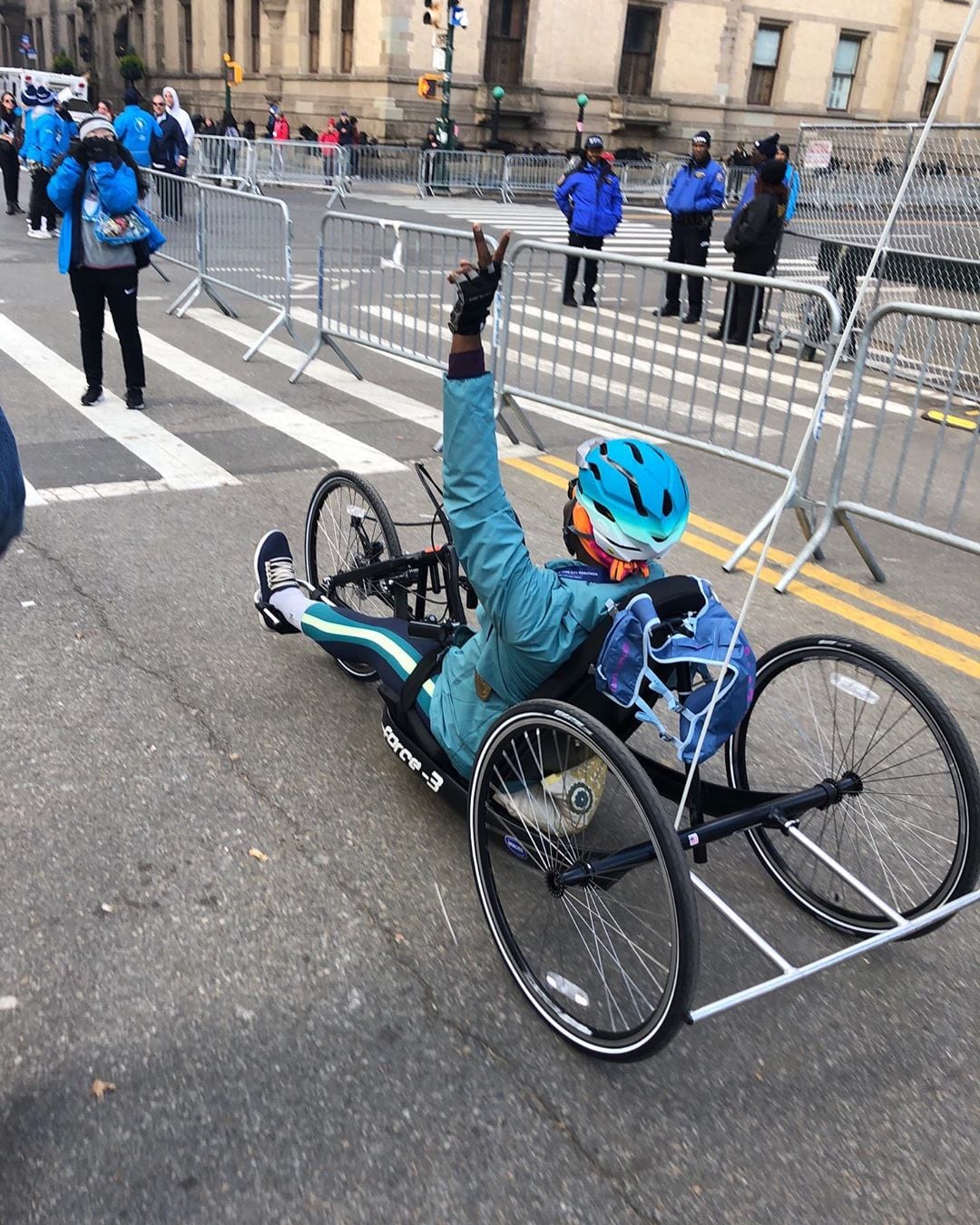 Image Source: Courtesy of Mama Cax