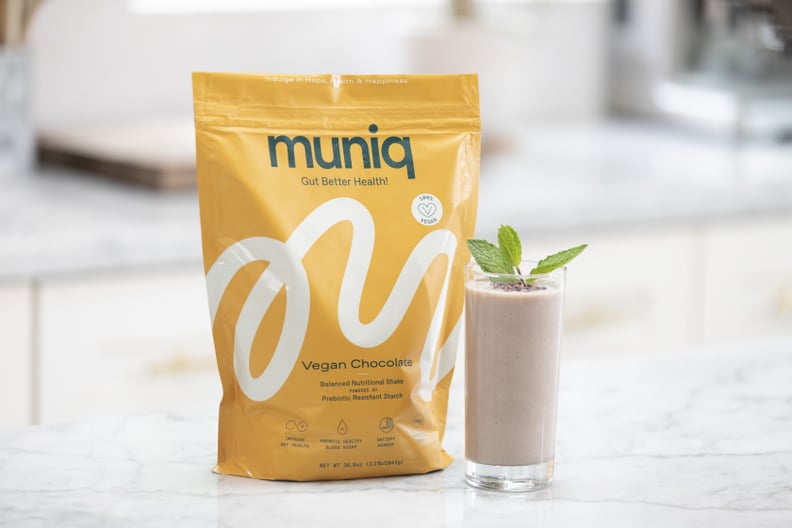 Muniq
Muniq
As POPSUGAR editors, we independently select and write about stuff we love and think you'll like too. If you buy a product we have recommended, we may receive affiliate commission, which in turn supports our work.
I always preface conversations about supplements and protein powder with: "I'm not a fan of protein powder, and I don't really do supplements." I've gotten a little less strict about my "rules," but for the most part, I'm not religious about consuming either. I was sent a few on-the-go packets of Muniq Protein Powder ($126 for 24 servings, originally $150), and I thought it was interesting enough to try since it's made with prebiotics (which feed the live, healthy bacteria called probiotics in your gut) and promote health benefits such as balancing your blood sugar and strengthening your gut microbiome.

When it comes to the taste, I was surprised that I liked it because I'm not a fan of chocolate-flavored anything. I tried the powder mixed with both water and oat milk and definitely recommend using water as it mixed easier and didn't leave any chunks like when I mixed it with oat milk.
Each on-the-go packet contains 15 grams of protein, 15 grams of prebiotic dietary fibers, 26 vitamins and minerals, and 4.5 grams of healthy fat. Because of the prebiotics, it's recommended to start by consuming half a packet "to gently introduce this goodness to your gut." That made me slightly nervous, because the last thing I wanted was a stomachache or bubble gut. I'm happy to report I got neither when I used half a packet and when I began to use the full packet.

I don't obsess over labels, but I do like that this protein powder is plant-based; is full of vitamins, minerals, and healthy fats; and has prebiotics, as I more than likely wouldn't take them on my own. I obviously can't say if my blood sugar is balanced or if my gut microbiome is healthier, as the brand claims, but it's promising that there have been over 300 clinical studies done on this protein powder.

I don't drink it after every workout, but it's nice to have on the days when I don't want to make a meal or just need to quickly get something in my system to replenish my body. If you're big on protein powder, I think Muniq is worth checking out.