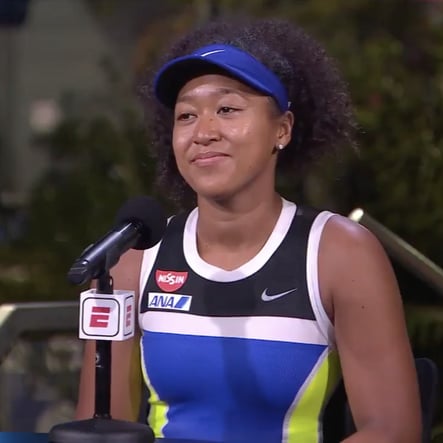 Naomi Osaka is doing more than just soaring to the top at the US Open — she's doing so while standing for social and racial justice. Osaka has been representing Japan during the Open, and she's made a statement in each round by wearing a different mask with the name of a Black person killed. So far, she's worn a mask for Breonna Taylor, Elijah McClain, Ahmaud Arbery, Trayvon Martin, and George Floyd, and following her win over American Shelby Rogers in the quarterfinals on Sept. 8, the 22-year-old superstar was shared a heartfelt video.
Sybrina Fulton, the mother of Trayvon Martin, and Marcus Arbery, father of Ahmaud Arbery, thanked Osaka for representing their children at the global event. "It means a lot," Osaka said after watching the video clips. "They're so strong I'm not sure what I'd be able to do if I was in their position. I feel like I'm a vessel at this point in order to spread awareness. It's not going to dull the pain, but hopefully I can help with anything that they need."
In a later press conference, Osaka said she was trying her best to hold back her tears, and it was "extremely touching" to see the messages from the parents. "I often wonder if what I'm doing is resonating and reaching as many people as I hope," Osaka tweeted. "That being said, I tried to hold it in on set but after watching these back I cried so much. The strength and character both of these parents have is beyond me. Love you both, thank you."
When professional sports leagues across the country were on hold following the police shooting of Jacob Blake on Aug. 23, Osaka was the first tennis player to announce she'd be sitting out her next scheduled match. She stated that, as a Black woman, there were much more important issues that deserved our attention "rather than watching me play tennis."
Watch the Video of Ahmaud Arbery and Trayvon Martin's Parents Thanking Naomi Osaka