Salads Won't Help You Lose Weight Unless You Follow These 10 Expert Tips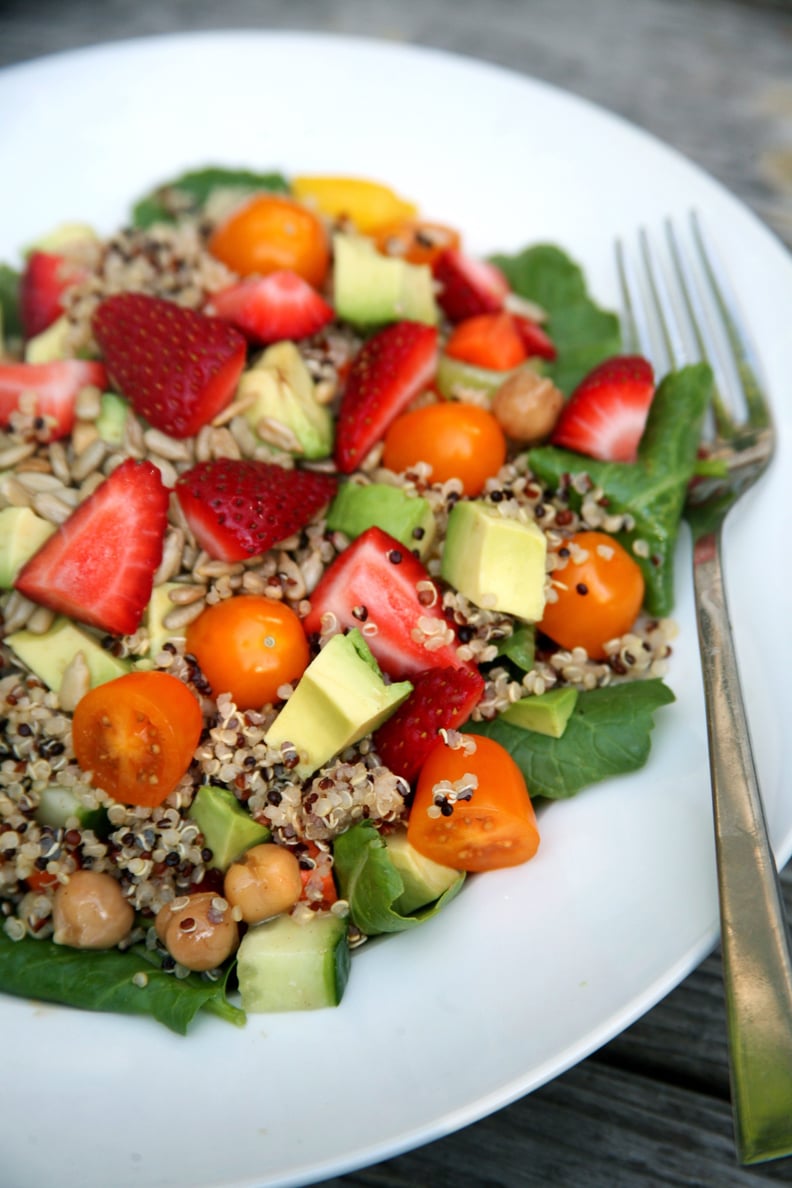 POPSUGAR Photography | Jenny Sugar
POPSUGAR Photography | Jenny Sugar
When we asked registered dietitian Sheri Kasper, RDN, LDN, of Fresh Communications for one thing people can do right now to start losing weight, she told POPSUGAR, "Eat more veggies." Since veggies are low in calories and many are low in carbs, you can eat huge portions, feel more satisfied, and still lose weight.
Veggies also take a long time to eat, which prevents you from scarfing down your meal too fast. This gives your brain a chance to get the memo that you're full and helps you recognize your satiety cues. Another plus? Veggies are full of fiber and water, which also contribute to that "I'm full" feeling.
Eating one big salad for one meal a day is a great way to get your fill of vegetables. If losing weight is your goal, there's a right and a wrong way to make a salad, so follow these 10 expert-recommended tips.
01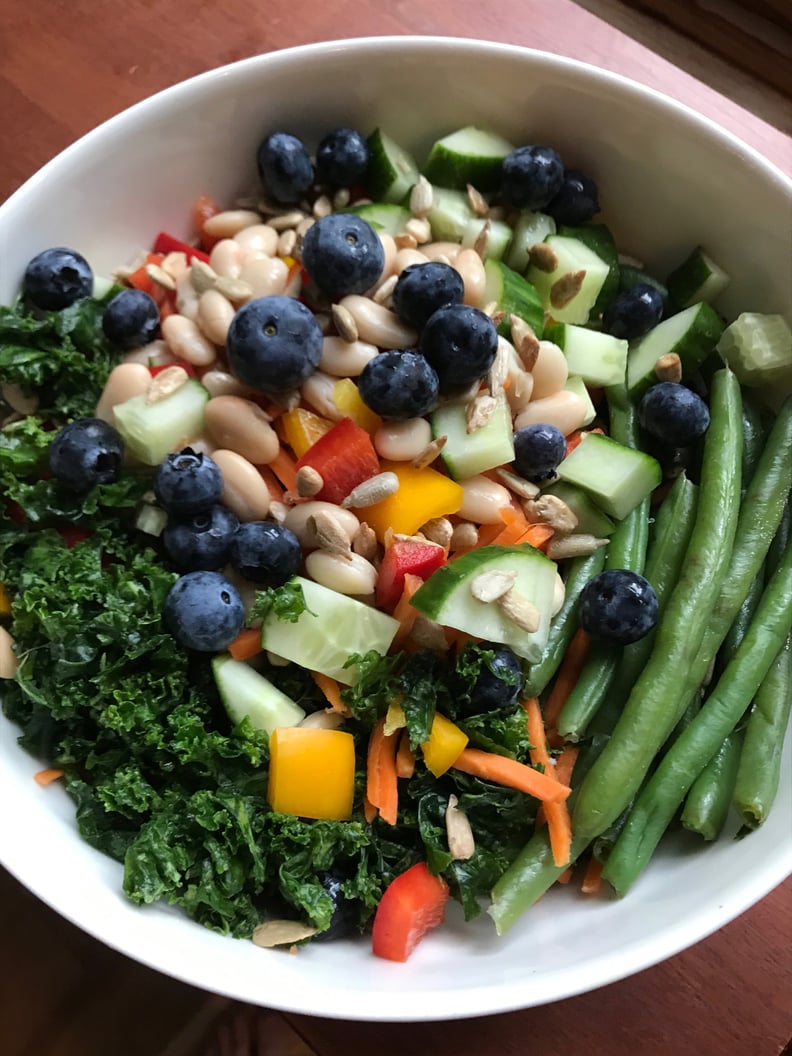 Start With Dark, Leafy Greens
"The darker the green, the more nutrition: kale or spinach, mixed greens, even romaine does have a ton of nutrition vs. iceberg lettuce," certified dietitian Leslie Langevin, MS, RD, CD, of Whole Health Nutrition told POPSUGAR. If you go for the prewashed, ready-to-go packages of mixed greens, you'll get a range of lettuce without a ton of effort. Faster and easier mean you'll actually make a salad!
Leslie also likes to recommend cabbage as a base for a salad, not only to offer fiber and a satisfying crunch, but also as a "mega-detoxifier and cancer preventor (because of its sulphur phytochemical compounds)." Bonus!
02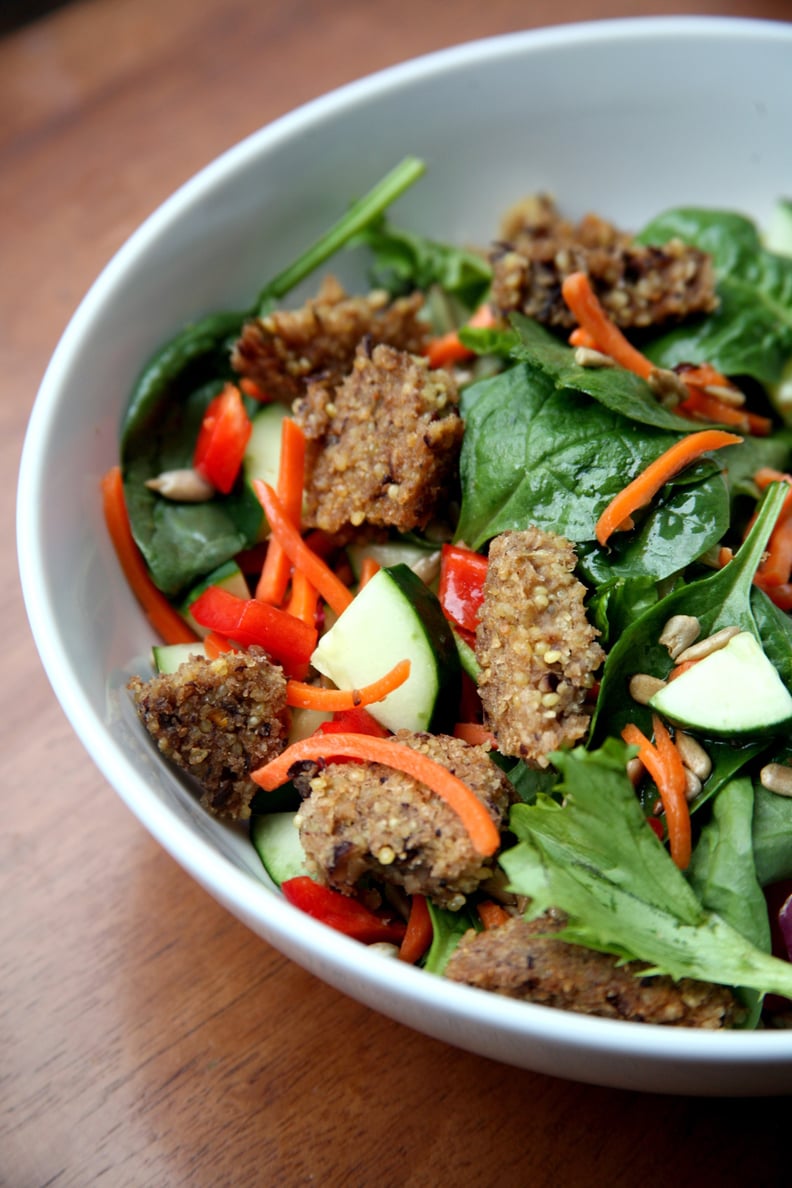 Add Protein
While a bowl full of veggies offers fiber to fill you up, you need protein to sustain your energy. Leslie said that adding three different varieties of protein is a great habit to get into. It adds visual variety but also fills nutritional holes.
Some protein sources include marinated chickpeas, nuts, tofu, baked tempeh, grilled chicken or salmon, cut-up veggie burgers, shelled edamame, cottage cheese, and feta.
03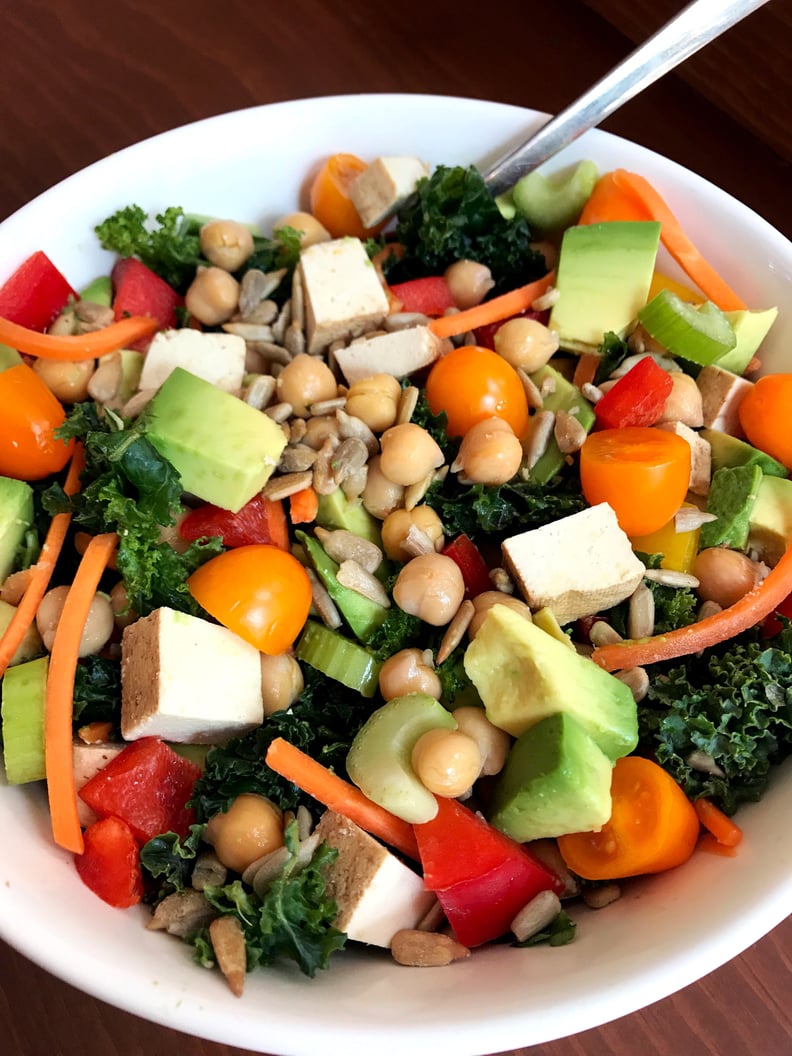 Add Healthy Fats
This is incredibly important for helping your salad feel even more filling to keep you satisfied longer. Claudia T. Felty, PhD, RD (@drclaudiatfelty on Instagram), noted in an Instagram post, "You need the fat to digest the fat soluble vitamins in the salad. So eating all those plain carrots doesn't do you a whole lot of good if you're hoping to absorb all that vitamin A."
Just be mindful of not going overboard with avocado, nuts, seeds, and dressing. Healthy fats tend to be higher in calories, so measure out your toppings.
04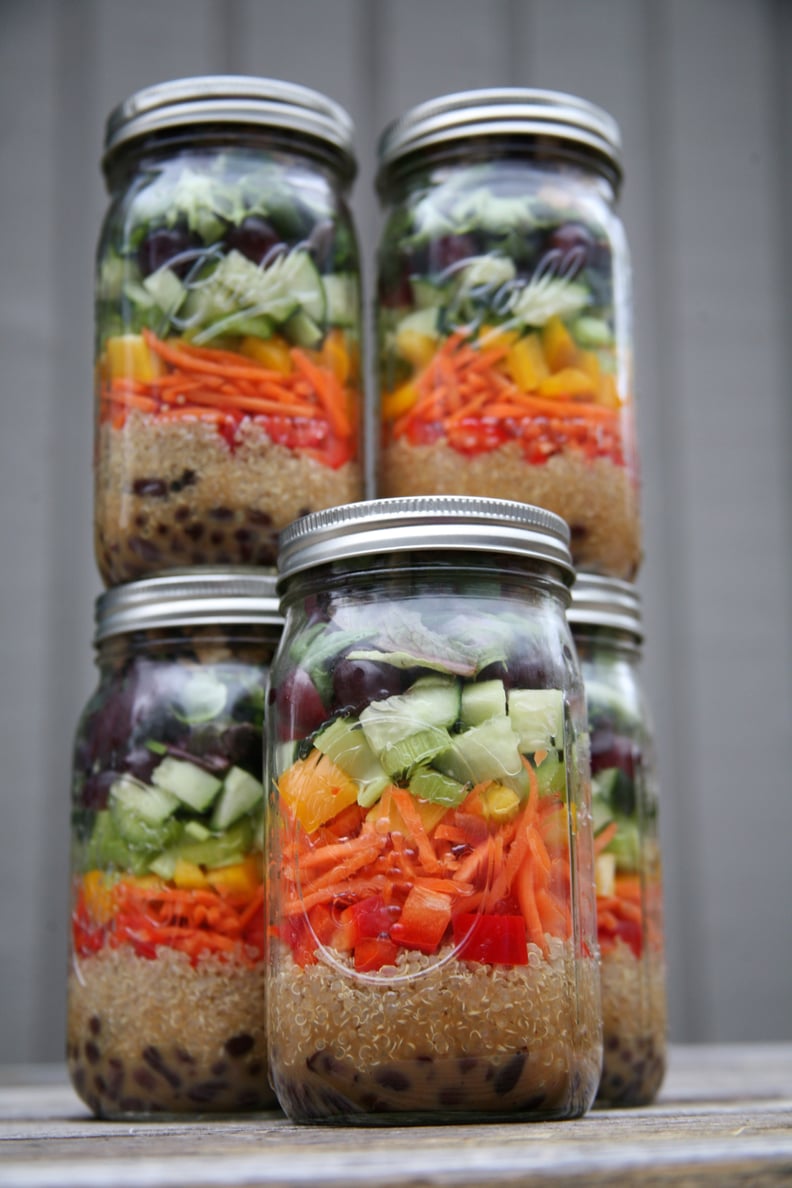 Add Cooked Whole Grains
Add cooked whole grains like quinoa, brown rice, farro, or barley, and it'll offer a satisfying chewy texture, filling fiber, and complex carbs to sustain your energy.
"Warm grain bowls are nutrient-dense and filling," registered dietitian Lisa Eberly Mastela, MPH, RD, told POPSUGAR. If you're basing your diet on traditional Chinese medicine principles, warm foods are also easier to digest, so you'll be doing yourself a service if you layer your veggies on some warm quinoa vs. raw leaves.
05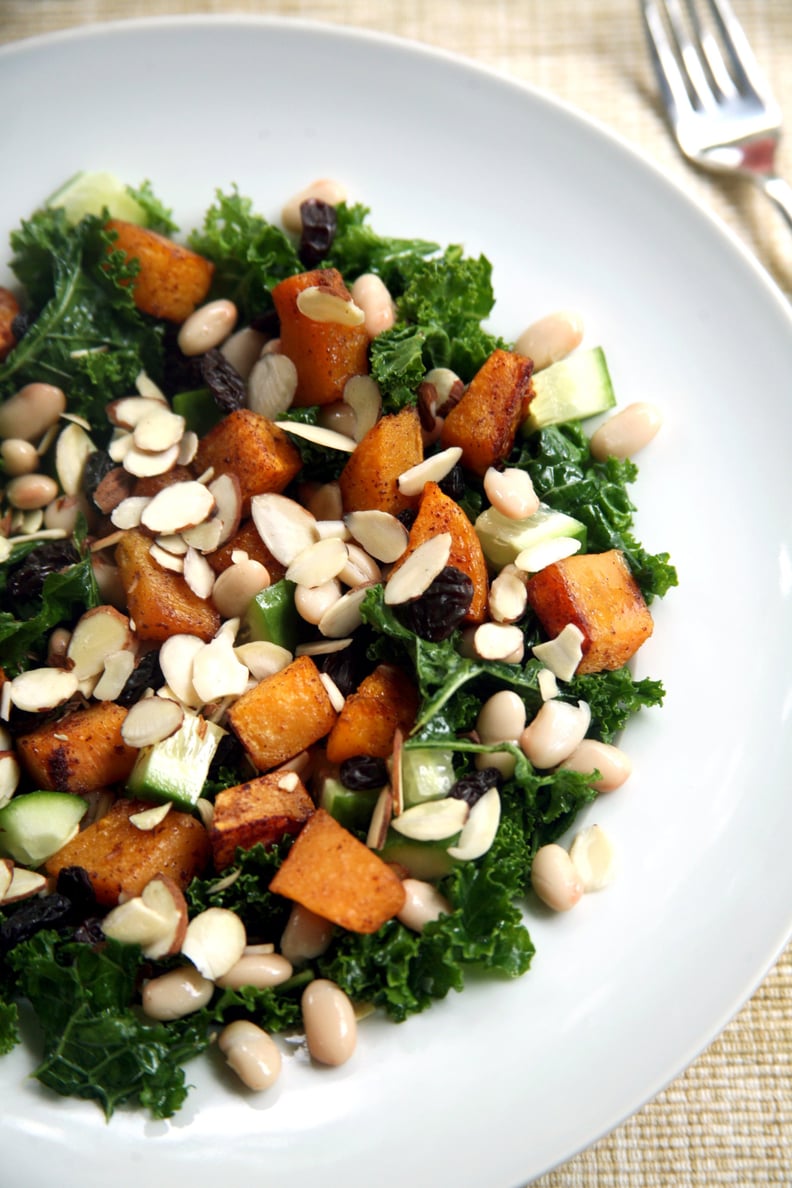 Add Cooked Veggies
Add cooked veggies to make a salad more exciting and feel more substantial. Throw in roasted sweet potatoes, cauliflower, butternut squash, sautéed peppers or mushrooms, grilled corn, or steamed broccoli or green beans.
06
Go For Variety and Color
People tend to feel like salads are boring, which is why they're not as psyched to have them for lunch. Make yours enticing by adding a variety of colorful veggies, fruits, protein, healthy fats, and cooked grains and veggies. If you just sit down to a bowl of lettuce, cucumber, and carrots, you're more likely to reach for more food (pizza?!) soon after.
Also, switch up how you cut your veggies. If you usually slice carrots, grate them. If you usually dice cukes, make ribbons. You want to look forward to this salad so it's emotionally satisfying, so make it exciting!
07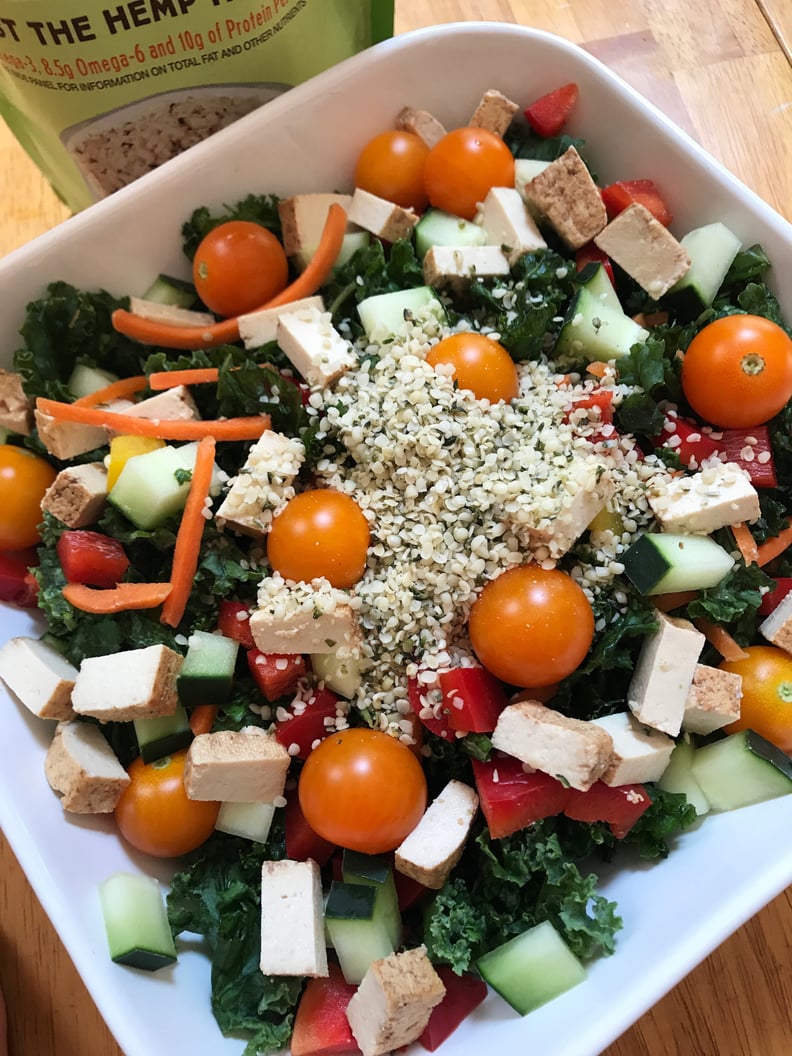 Load Up on Nonstarchy Veggies
Dietitian Rachel Paul, PhD, RD (@collegenutritionist on Instagram), wrote in a post, "LUNCH should be FILLING! It's no good to eat an unsatisfying lunch... only to get hungry soon after & not be able to concentrate on work or school! Fill your salad with good protein and fats - and use those non-starchy veggies to add a lot of VOLUME."
Nonstarchy veggies include greens like kale, spinach, and arugula and veggies such as cucumbers, zucchini, asparagus, broccoli, and cauliflower.
08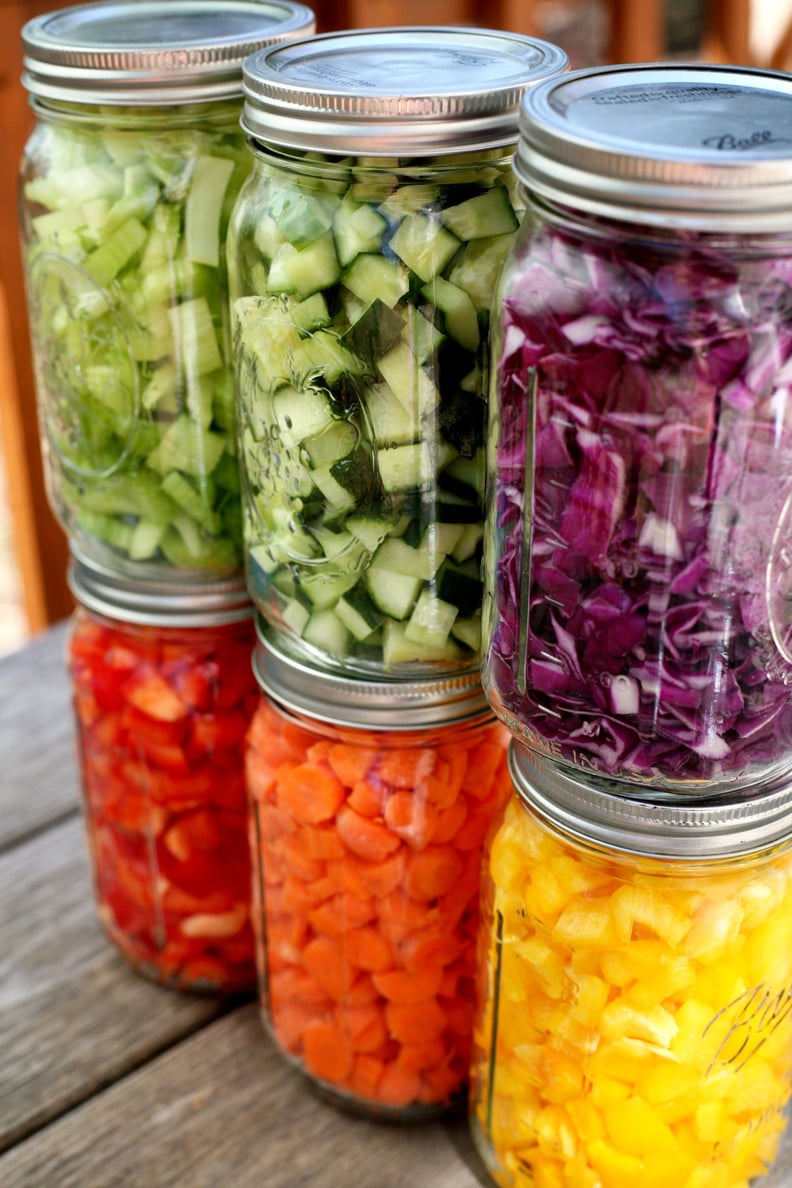 Go Chunky
The bigger the chunks, the more chewing you'll need to do, which sends a message to your brain that you're eating a lot! Leave cherry tomatoes whole and cut large pieces of pepper, carrots, and cucumbers. Because eating a chunky salad will take longer, you'll feel like you ate more than you actually did.
09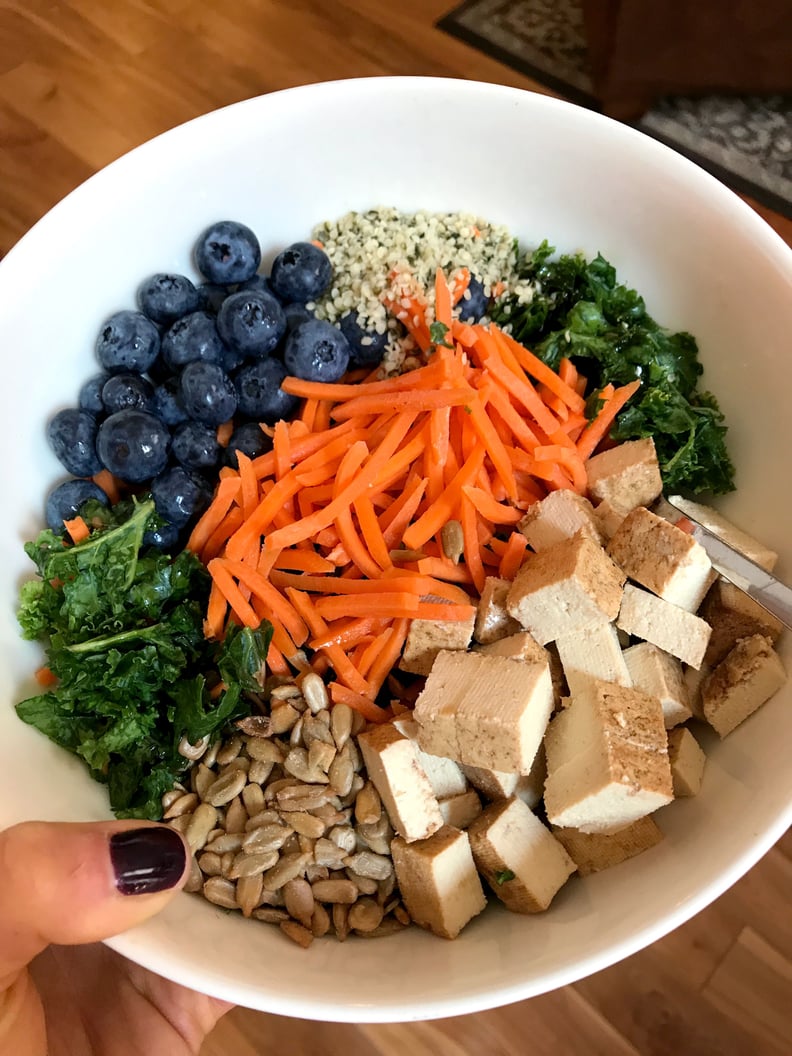 Watch Your Portions
A salad may be filled with low-cal veggies, but as soon as you start adding protein, cooked veggies, nuts, seeds, avocado, and dressing, your salad can quickly turn into a 900-calorie meal! If you're trying to lose weight, registered dietitians Stephanie Clarke, MS, RDN, and Willow Jarosh, MS, RDN, of C&J Nutrition told POPSUGAR your lunchtime salad should be in the 400- to 450-calorie range.
All you need to do is watch your portions of the higher-calorie foods, such as cooked whole grains, cheese, protein like beans, and oils from salad dressing. Then increase the amount of lower-calorie ingredients, like fresh veggies, and use fresh herbs and vinegar for added flavor. Use a food scale to measure out ingredients so you know for sure exactly what the calorie count is.
10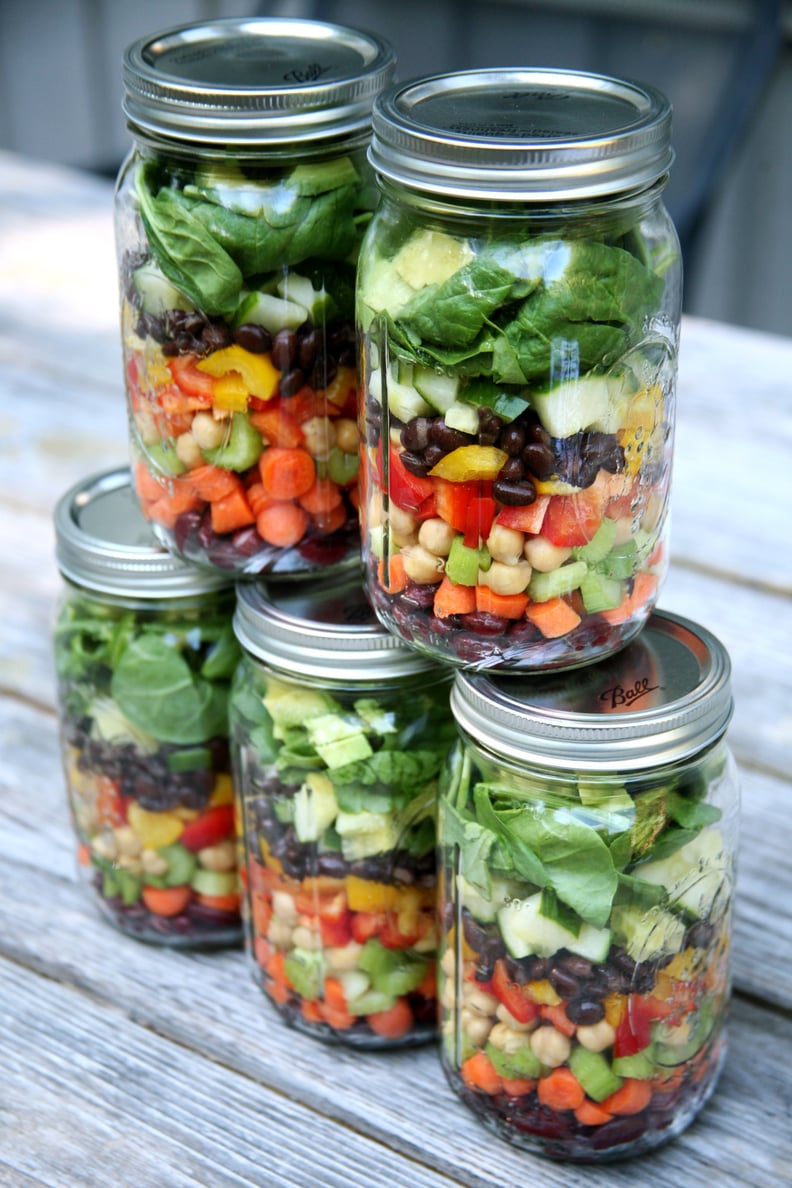 Make It Ahead
To encourage eating a big salad once a day, take an hour on Sunday night to prep salads for the week — you can even make them with beans and quinoa. They'll stay fresh for up to five days!
Or, Leslie is a fan of making a DIY salad bar to keep in the fridge. So instead of skipping on the dinner salad because it takes too much time to get the veggies out and cut them up, you can grab the precut veggies and whip together a fresh salad in minutes.