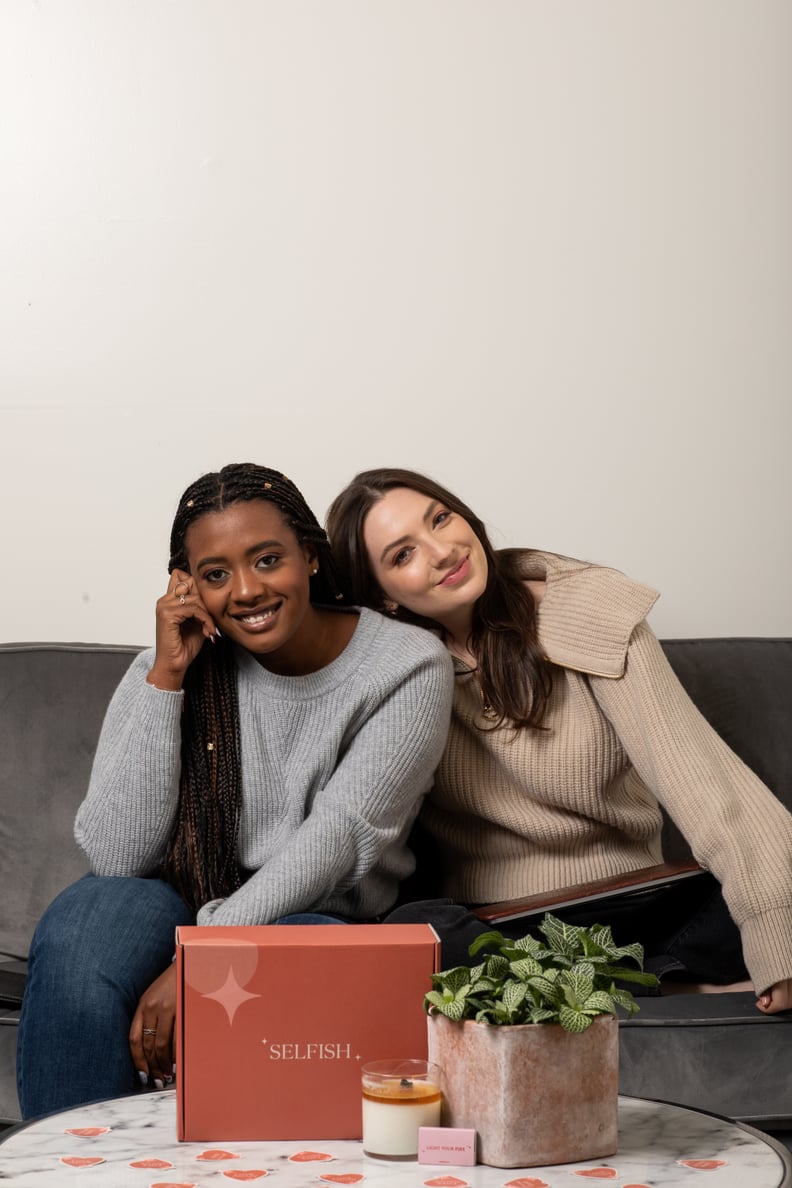 Hanna Yamamoto
Hanna Yamamoto
The new wellness brand Selfish is an innovative, one-stop shop for self-care, offering curated boxes featuring self-care essentials made by small businesses and BIPOC-led brands. It's a bold business model centered on empowerment and cross-racial solidarity — and it couldn't have come at a better time for cofounders Sheridan March and Rebecca Freed, as well as the businesses they support and the consumers they're trying to reach.
March and Freed have been friends since preschool and first toyed with the idea of starting a business together while they were adolescents, but it wasn't until recently that their dreams came to fruition. Before the COVID-19 pandemic, Freed worked in the fashion industry and March in the entertainment industry, and they barely found time to connect with each other in their fast-paced careers. When the two lost their jobs because of company downsizing in the wake of COVID-19, they quickly pivoted and seized the opportunity to launch Selfish. "We spent time in stressful environments where there wasn't a lot of autonomy, so we wanted to create something we could take ownership of while also giving back [and] promoting self-care," March told POPSUGAR.
The pair's passion for wellness, self-care, and entrepreneurship came together at a time when the world needed healing. March and Freed wanted to contribute to a small business landscape that was in crisis, while remaining focused on social justice and the environment. "We wanted to bring awareness and inclusivity into every decision that we made for the brand," Freed explained. March chimed in: "We made conscious choices to be inclusive, including the products we chose. We feel our box is and has something for everyone."
The friendship between March, who is Black, and Freed, who is white, allowed for them to take part in a national conversation on race and racism in their own way. As they watched the country erupt in the call for racial justice, the two had and have continued to have real, candid conversations about how race affects the dynamic of their relationship as friends, business partners, and confidants.
"As a white person, it is important for me to remind Sheridan, as a Black woman, to take care of herself, and as her friend, I felt that was an extra and essential responsibility that I had to her," Freed told POPSUGAR. The conversation of racial justice extended to their business model, where they intentionally partnered with brands owned by women and BIPOC. "Our goal was to amplify brands and businesses that otherwise wouldn't have as many opportunities to grow," March said.
"Our goal was to amplify brands and businesses that otherwise wouldn't have as many opportunities to grow."
One of the cornerstones of Selfish is encouraging friends and loved ones to take better care of themselves and put themselves first. The subscription service offers customized gift boxes that are the perfect pick-me-up for a friend in need. Some of the self-care products that might be included: aromatherapy, candles, skin care, body care, and items that warm the heart, including empathy-invoking card games or handwritten notes. "A Selfish box can bring joy, and sending a gift to remind a friend to take care of themselves is a gift that keeps on giving," March said.
In thinking about the values of their company, the founders wanted to make sure that they were forging connections instead of creating competition between brands. "We hope something that people can take away from Selfish is that we are a supportive voice to other entrepreneurs and small businesses," Freed explained. "This brand is all about collaboration and the uplifting of other women, as there is room for all of us to be seen as leaders and creatives."
Selfish has exciting brand collaborations in the works. "Even when the pandemic goes away, we want our brand to be a part of an extended network of entrepreneurs that share in our same values where we can be a resource to each other," March said. Selfish is all about empowering and supporting women, and that's reflected in every decision March and Freed make. Through their example, the founders want to send a message that there are no winners when women compete against each other — but when we collaborate and lift each other up, we all win.
Most people think that you can't mix business and friendship; however, the Selfish brand is proving that a strong friendship is the key to a successful business partnership. "We celebrate each other's differences, and in our push and pull, that is where the magic happens," Freed said. This dynamic duo is just getting started, and they're enjoying the process of learning and growing their brand, with plenty of bumps and victories along the way. "We run our business like we run our friendship," March said. "We are constantly listening."