If you're a Black person, you've most likely encountered that uncomfortable feeling when you realize you're the only one who looks like you in a room. Gina Onayiga got way too used to this feeling every time she went to a yoga class. While trying to balance her hectic life as a mother of two, she turned to dance and yoga as a form of stress relief and exercise. However, she often felt isolated in a space that was meant to bring her peace. Having had enough, she decided to seek out spaces of wellness specifically for Black women. When she came across Afro Flow Yoga, everything fell into place.
What Is Afro Flow Yoga?
Founded in 2007, Afro Flow Yoga blends yoga and meditation with dance movements from across the African Diaspora. The idea is to help people connect to their roots, as well as to the earth, in an inclusive and diverse environment, free of any judgement. Afro Flow Yoga was born after founders Leslie Salmon Jones and Jeff W. Jones, who had been married for 10 years at the time, traveled through West Africa on a journey of healing and to connect with their ancestry and heritage. For the couple, Afro Flow Yoga was a form of self-expression and a way of combining the things they cared about most.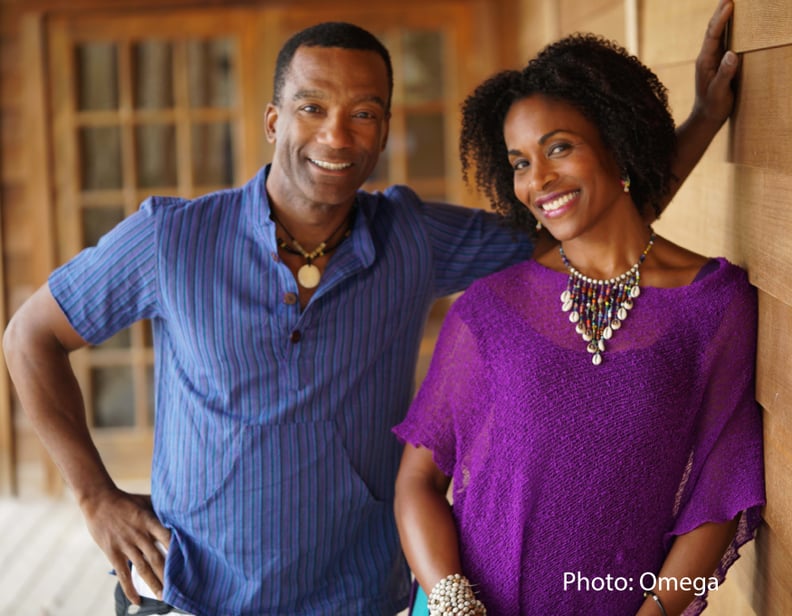 So, Is Afro Flow Yoga Just Dancing and Stretching?
Leslie trained at the Alvin Ailey American Dance Theater for many years before deciding to bridge her passion for dance with her love for yoga. But the decision to create Afro Flow Yoga went deeper than simply merging her favorite things. "My mother being a civil rights activist taught me the power of being a change agent and how important it is to create change in our communities through self-care and care of others," Leslie told POPSUGAR.
Leslie recognized that health and wellness spaces were not always diverse or inclusive of people of different socioeconomic backgrounds. She worked as a wellness coach and personal trainer in New York City, and also volunteered in underserved neighborhoods like Harlem and parts of Brooklyn, and the health disparities she witnessed in these two worlds weighed heavily on her. Leslie sought to make Afro Flow Yoga a place where people could feel empowered regardless of their background.
"We've been in many white spaces and there was always a disconnect," Leslie said. Through her research, she discovered that yoga had been around in Africa for hundreds of years; one of her first yoga teachers was from the Ivory Coast in Africa. "To find a Black yogi is so rare and it shouldn't be," she told POPSUGAR. Black people and other communities of color suffer from generational and ancestral traumas brought on by oppression. For both Leslie and Jeff, starting Afro Flow Yoga was a reclaiming and creation of a space of healing for communities of color.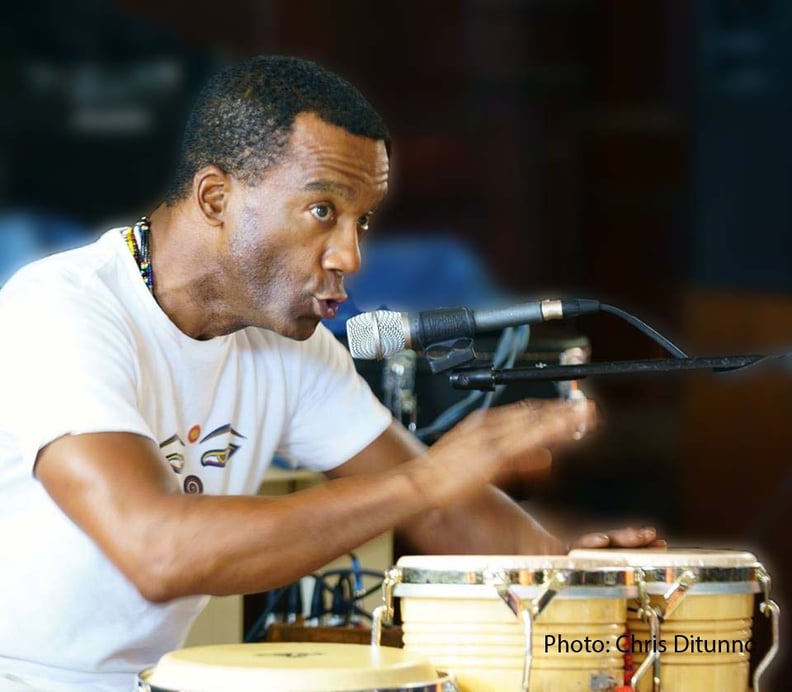 "For some of us, when we hear live drumming, it connects to a deeper part of ourselves," said Onayiga, who after falling in love with Afro Flow Yoga, decided to get certified and become an instructor. Though Onayiga may be in a class doing yoga, she feels and hears her homeland of Haiti, and it brings her a deeper sense of calm. "Everyone shows up to workout classes for exercise, but sometimes there's a deeper reason for each person," she told POPSUGAR. In that way, Afro Flow Yoga is uniquely beneficial to the mental health of people of color and especially Black people.
This is particularly important right now, as the nation is reckoning with a long history of police brutality and racial injustice. Black people are being forced to confront centuries of grief and trauma, and the lack of resources and safe spaces to deal with these things can cause them to take an even greater toll, mentally and emotionally. Now more than ever, Black communities need spaces that are by Black people, for Black people, as a reminder of their collective strength.
"Our people weren't enslaved because they were weak, they were enslaved because they were strong. That is something Black people need to be reminded of and Afro Flow Yoga does that," Leslie said. "We as Black people haven't inherited a lot of material things, but we've inherited a spiritual muscle that can't be colonized."
How Do I Know If Afro Flow Yoga Is For Me?
Afro Flow Yoga is for everyone who feels like they don't belong in mainstream wellness spaces. There aren't different levels of difficulty, so you don't have to worry about being inexperienced. Even though there's a dance component, a background in dance is not required. And don't worry — if you can't even keep a beat, this is still the place for you. While Afro Flow Yoga serves as a safe space of healing for Black people, it's not exclusive to the Black community. "Afro Flow Yoga is for everyone. We invite people to come on the mat as they are. It's for all levels, sizes, ages, colors. It's really about community," Leslie explained.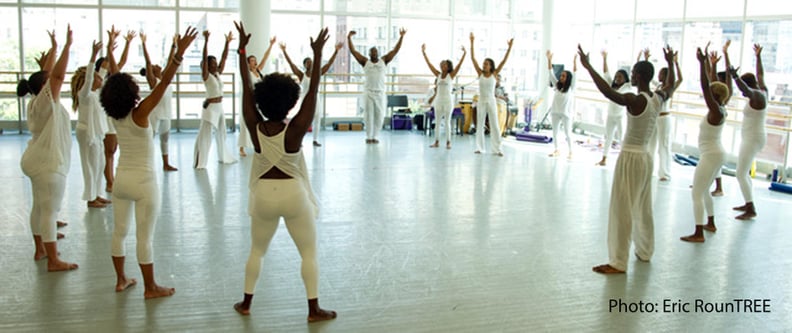 What Can I Expect From an Afro Flow Yoga Class?
When I went into my first Afro Flow Yoga class, I walked into an ambient room with smiling faces and the rhythmic sound of African drums. The class was taught by Onayiga. She begins her classes in Westchester, NY, by welcoming everyone into a space of non-judgement of self and others. Instead of standing in rows, classes are usually set up in a circle. This helps create an atmosphere of community and support. The first few minutes start off with traditional components of yoga, including stretching and meditation. I thought I was in for a standard yoga class, when Onayiga prompted everyone to stand up and start fluidly dancing to the beat of the drum.
The addition of African dance movements sets Afro Flow Yoga apart from other yoga classes. "Dance and music is a part of the Black community, it's what we do. It's a part of our survival," Leslie said. Classes are usually 90 minutes, but as you get lost in the music, it always feels like time goes by quickly.
You should dress as you normally would for any other workout class, because you will definitely break a sweat. The dance component makes Afro Flow Yoga more physically rigorous than other forms of yoga that are primarily focused on stretching and breathing. However, there's never any pressure to do anything you can't do in a class. Instructors cater to the needs of whoever is in the class, allowing you to get a good workout while having the freedom to do it at your own pace. "You don't feel the pressure to perform athletically," Onayiga told POPSUGAR.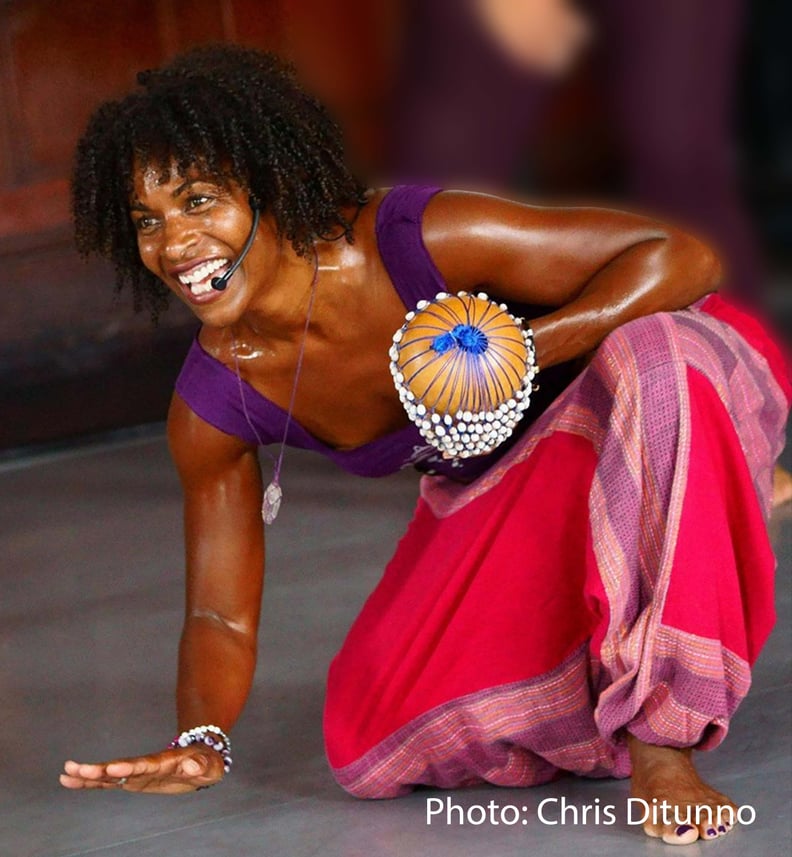 Where Can I Find an Afro Flow Yoga Class?
Afro Flow Yoga has made its way across the globe to countries like Costa Rica and Bali. Here in the states there are certified instructors in Manhattan and Westchester, NY; Washington, DC; and Cambridge, MA. There are also virtual classes available on the Afro Flow Yoga website due to COVID-19. While many yoga classes can be out of reach, financially, it's important to the founders that Afro Flow Yoga be as accessible as possible, especially for communities of color. Because of this, online classes are free, and the organization accepts donations and "love offerings" in lieu of mandatory fees.
How Can I Take Afro Flow Yoga Off the Mat?
Most people want to take the feeling of calm and the physical benefits of a yoga class and incorporate it into their everyday lives. This is easy to do with Afro Flow Yoga, and it's all about your mindset. "It's really all about a connection of mind, body, and spirit," Onayiga said. The affirmations that are said in classes like, "Today I'm releasing . . . ," can easily be incorporated into your daily routine to achieve the same peace and balance you feel while taking a class. Even just putting on drumming music and dancing around the house helps to relieve tension and is a great way to get in a fun workout.