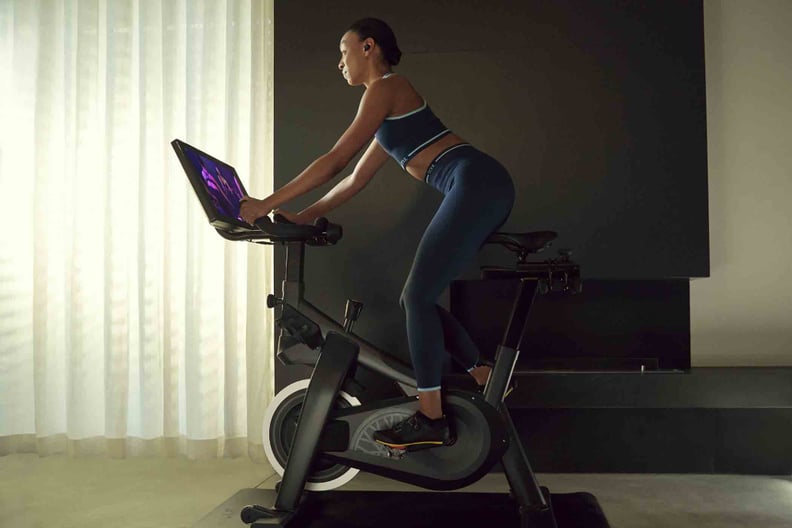 Of all the popular boutique fitness classes, SoulCycle has some of the most devoted followers. The indoor cycling class is known as much for its inspirational messages and feel-good vibes as it is the sweaty, heart-pounding cardio workouts that keep people coming back for more. So when SoulCycle announced it was releasing its own at-home bike, it's no surprise devotees were intrigued.
At $2,500 (before tax), the bike has a steep price tag, but that includes shipping, handling, and five in-studio SoulCycle classes. And it certainly comes with all the bells and whistles. The touchscreen is 21.5 inches and is equipped with Bluetooth to connect your earbuds (or a speaker if you'd rather jam out loud). The bike also rides just as smooth as the ones in studio, and if you know your settings for the in-studio bikes, you can apply them to this bike, too. The pedals are equipped to handle SPD or Delta cleats, so whatever indoor cycling shoes you use at Soul will work for this bike (you just can't wear regular sneakers). Bonus: The bike is sleek in all-black, so it won't stick out in your home.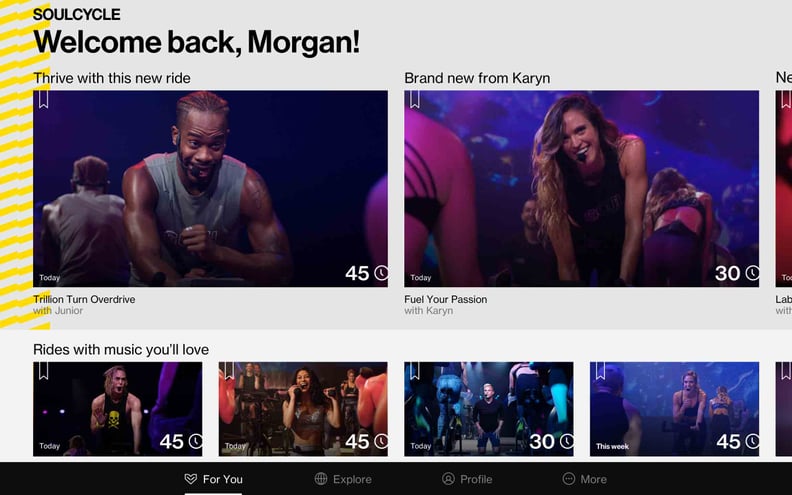 I tested the bike for a five-minute demo class (to a remix of Pink's "Just Like a Pill," no less!), and while it wasn't the same as completing a full 45-minute class, I definitely got the gist of what it's all about. The touchscreen is easy to use and offers a selection of on-demand, pre-recorded classes to choose from (live-streamed classes aren't available yet). Like Soul's studio classes, the on-demand classes are focused more on riding to the rhythm and motivating you with positive messaging than keeping track of stats. Unlike Peloton or Flywheel, the SoulCycle at-home bike doesn't have a leaderboard where you're ranked, but it does show your power output, distance, and calories burned. It's hard to re-create the essence of an in-person Soul class with its dim lighting and candles, but the recorded classes do show other riders who are riding to the beat of the music to help keep you in sync.
In addition to the price of the bike, you have to pay $40 a month for the Variis app to stream the classes. Variis is from SoulCycle's parent company Equinox Group, and it was my favorite part of the whole experience. Not only do you get to stream SoulCycle classes, but you also have unlimited access to other workouts including treadmill classes from Precision Run, HIIT, strength training, yoga, recovery (think: foam rolling), and guided meditation. You can also stream SoulCycle classes through Variis on your phone or tablet, so if you are traveling but have access to a stationary bike, you can bring Soul with you.
The SoulCycle at-home bike will be available for presale starting March 13 in Austin, Dallas, Houston, New York, LA, and Chicago, although the company has plans to roll out bikes in other cities in the future. An early release of the Variis app will be available to Equinox members starting on March 13 via a phased market rollout, and will be more widely accessible to non-members later this year.