If you're interested in gaining flexibility, with goals ranging from just being able to touch your toes to doing full-out splits, it's worth giving the StretchIt app a try. The app is user-friendly and intuitive, guiding you with a wide range of videos to tip-top flexibility. It offers classes for different skill levels and for all kinds of goals, including front splits, back bends, and even general muscle toning. If increasing your flexibility and mobility have always been on your eventual to-do list, StretchIt makes it easy to accomplish your goals and even tracks your progress as you go. At $20 a month for the app, or $160 a year, you receive an array of classes tailored to your needs, plus personalized statistics tracking. Interested in learning more? Here's the full breakdown.
The StretchIt App User Interface and Overall Experience
As a StretchIt user myself, with a primary goal of getting generally more flexible and toned, I can say the app has exceeded my expectations. It features an easy-to-use interface that I didn't have to think twice about, and all the stretching videos are clear, to the point, and easy to follow. When you first open the app, you're greeted by a landing page that requires you to either choose a class directly or get help choosing one after answering a few questions. You can also immediately view the app's other features at the bottom toolbar, including a class list, in-app challenges, your personal schedule, and your statistics and progress thus far.
Users can navigate to the bottom "Classes" tab to view all the stretching videos offered by the app. The classes are initially divided by goal, including "Splits" and "Bendy Back," and then are filtered by duration and skill level so you can easily navigate to the right videos for you.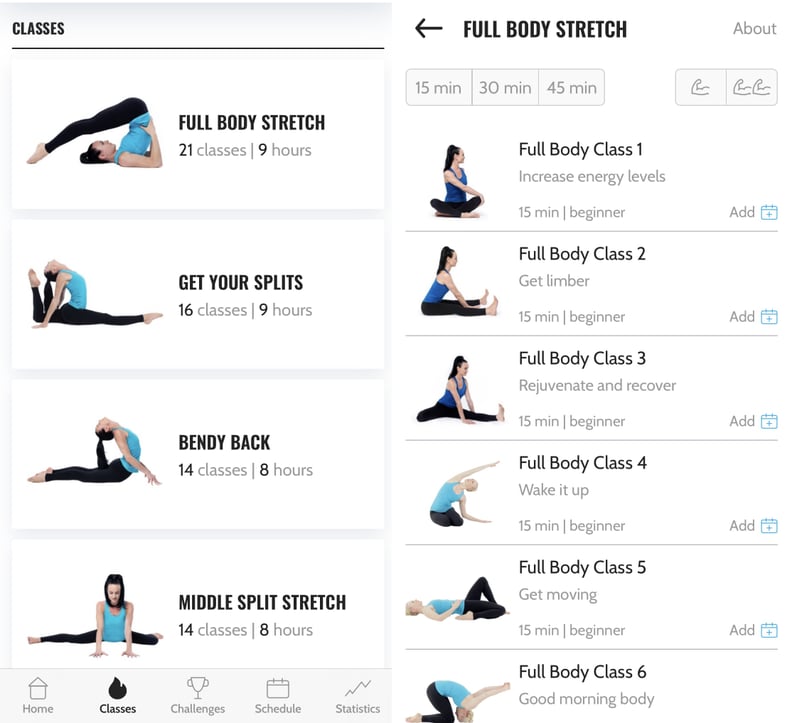 The Workout Classes
If you pick a class yourself straight from the homepage, you're taken directly to the app's roster of all kinds of flexibility training programs. Alternatively, if you choose to have guidance from the app, you must answer a series of questions, including skill level, your main goal, motivation (classes vs. challenges), preferred class duration, and if you would like calorie tracking. All your answers will quickly help you find the classes you need, so you can pencil them into your schedule without too much thought.
Once you complete the quiz, you will immediately be taken to your first class, picked out to suit your goals. I received the "Extra Active Class 1," which blends flexibility training with a full-blown workout. Based on my answers, my given class was made for beginners and lasted 15 minutes. One thing worth noting is that I had to download the video prior to doing the workout, which took about a minute to complete.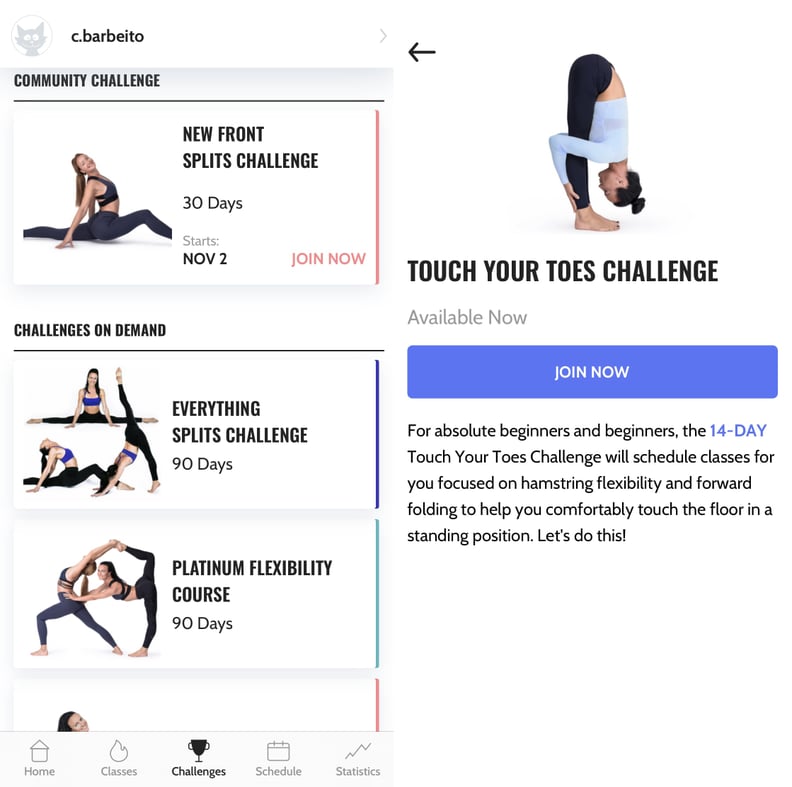 The Challenges
In addition to the individual workouts, StretchIt users also gain access to community challenges and challenges on demand. Challenges are specially curated programs designed to help users achieve their flexibility goals, choosing specific classes that will help you get that split, and last anywhere from 14 to 90 days. You can start any of the Challenges On Demand whenever you want, while The Community Challenge starts on a specific day, combines stretching with recovery sessions, and includes versions for all levels. I joined the Touch Your Toes challenge (gotta start somewhere!) which was just 14 days, and I noticed significant progress after just a few days. By the end of the two-week period, I was touching my toes and nearing my chest towards my knees.
StretchIt Offers Other Features Aside From Stretching Videos
StretchIt's other features include a "Schedule" tab which works as a calendar to set up your month's stretching routine in advance, making it even easier to track your progress and keep yourself disciplined and motivated. I quickly made use of the feature and never looked back. It made my progress more quantifiable, and allowed me to figure out my week's workout schedule ahead of time, which is always a plus.
Apart from the classes, schedule, and challenges features, you also will have personalized tracked statistics which help to motivate you. By clicking on this tab, you can view your hours completed so far using the app and your calories burned. Even more, you can report your achievements and share progress photos, too.
All in all, StretchIt is an app that's effective, easy, and user-friendly. It is to-the-point with few frills, but will definitely help you reach your flexibility goals quickly, with programs tailored specifically to your time constraints, skill level, and primary focus. Best part? The app is challenging enough that you can finally get your splits, but it gently pushes users in a way that is safe and always motivational.