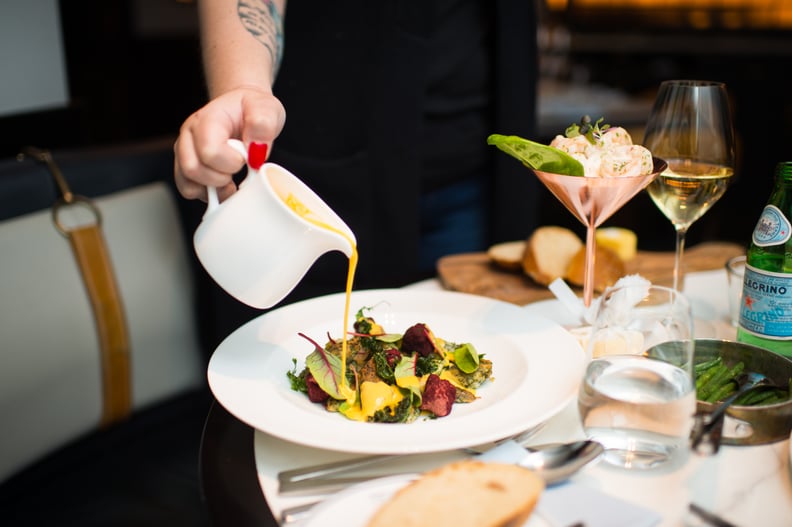 POPSUGAR Photography | Bonnie Burke
POPSUGAR Photography | Bonnie Burke
Not everyone is a natural star in the kitchen and prepping, planning, and cooking can be an exhausting task. Eating healthy if you hate to cook can also be a challenge, but there are plenty of ways to eat lean and clean that don't always involve standing over a stove. Stay on track with your healthy eating habits with these eight tips and tricks that make life a little easier and minimize time in the kitchen.
Do Your Research
You're out at a restaurant and it's your turn to order, but you're unprepared and get the first thing you see. We've all been there, but preparing ahead of time will help prevent making unhealthy menu choices. Take a look at the menu before heading to the restaurant and pick out a couple dishes so you're not caught off guard when it's time to place your order. You can also plan to ask for modifications, like requesting the burger bun-less or getting a side salad in place of fries.
Opt For a Salad
Salads are quick and easy to assemble and great for taking to work for a healthy one-bowl lunch. Prep and chop all your favorite veggies ahead of time and add cooked quinoa for a heartier meal full of protein and fiber. If you're not into leafy greens, try a salad that skips them altogether, like a cucumber caprese salad.
Blend It Up
Smoothies are a great way to consume a lot of nutrients in one fell swoop. Throw in ingredients like spinach for added benefit without affecting the taste. You can chop and prep all your fruits and vegetables ahead of time and freeze until you're ready to pop them in the blender.
Have Your Meals Delivered
We can get pretty much anything delivered to our front doors these days and prepared meals are one of them. Services like Daily Harvest, Thistle, and Methodology deliver healthy, ready-to-eat gourmet meals and snacks on a weekly basis. Dishes are presized and portioned out, can be customized to your dietary needs, and are comparably priced to eating at a restaurant.
Buy Prepped Ingredients
Let the stores do the work by buying produce like diced onions, chopped garlic, and peeled fruit to cut down on prep time in the kitchen. Just be aware that buying prepped ingredients will cost more than getting them whole.
Plan Ahead
Meal prepping helps to plan ahead and get all the cooking done for the week at once. Pick a day early in the week, like Sunday, to cook and portion out your meals for the rest of the week. Store each meal in airtight containers and label them with the day they will be eaten.
Let a Slow Cooker Do the Work
Throw your ingredients in a slow cooker in the morning and come home to a hot, delicious meal in the evening. Opt for healthy slow cooker recipes that call for lean meats and lots of vegetables. Whip up a hot meal without standing over the stove all night. It really is like magic!
Partner Up
Turn cooking into a fun activity and enlist your partner or a friend to join you in the kitchen. Having help with chopping, slicing, and dicing will also cut down on cooking time and get dinner on the table faster. Meal delivery services like Sunbasket and Hello Fresh send easy-to-make, healthy recipes and fresh ingredients straight to your door and help take the stress out of getting dinner on the table.