Trainer and Fitness Personality Jake DuPree on Thriving as a Burlesque Dancer and Coming Out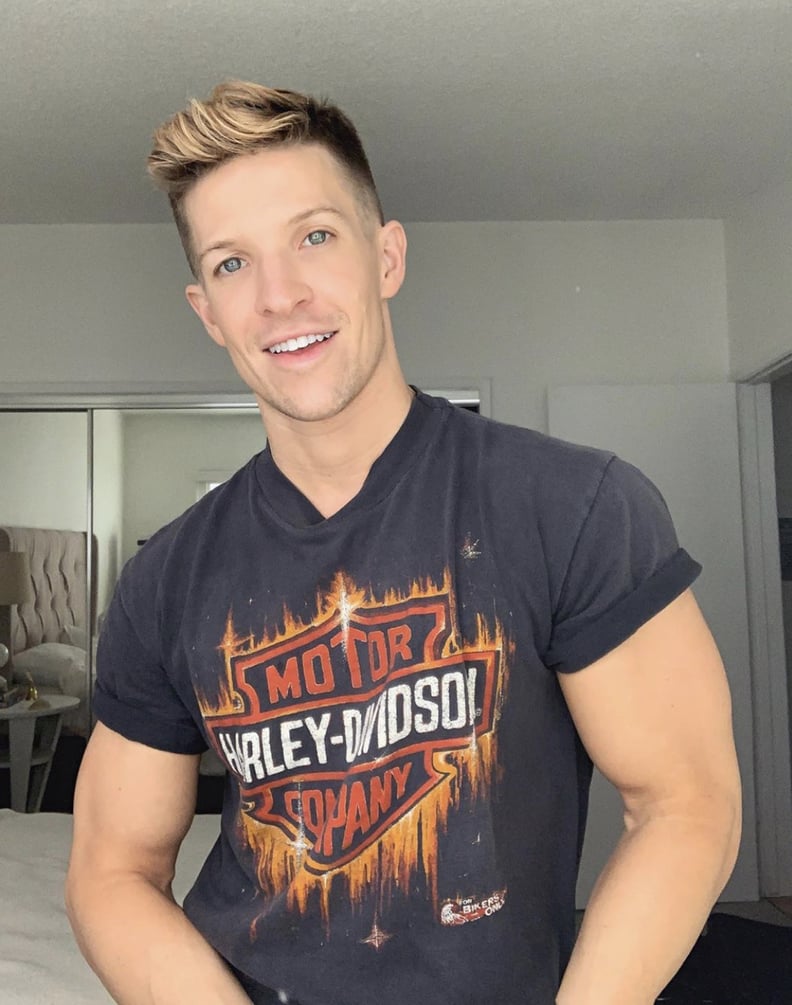 Courtesy of Jake DuPree
Courtesy of Jake DuPree
You probably know Jake DuPree from his energetic and welcoming workout videos on POPSUGAR Fitness — I mean, how could you not? The barre- and Pilates-certified trainer, who grew up doing gymnastics, told POPSUGAR that teaching others is like a performance. "It really helped develop my voice and allowed me to express myself freely and openly." Movement, dance, and putting on a show haven't just given DuPree his career — they were integral, he said, in embracing his identity as gender-fluid and gay.
DuPree, who uses "he" and "they" pronouns, wants to see more LGBTQ+ representation in the fitness industry, especially in mainstream media and brands. "I think they're afraid to go out on a limb and give people a chance, but I just think that that's so disappointing," he told POPSUGAR. And, when it comes down to it, he said, everyone deserves a chance. "I just encourage brands and businesses that promote fitness and promote wellness to really include all kinds of different people."
While teaching fitness in LA, Dupree got into the musical theater scene, which is where he taught himself how to do makeup. However, he first started really exploring his femininity three years back for his recurrent Glitter Fantasy role on Cosmopolitan's website, and he continued to realize that part of himself after a breakup at the end of 2017. DuPree went through what he describes as a "deep depression" and, to get himself out of it, he would paint his face with makeup in the mirror. "It sort of just got me back to myself because my ex was not into me doing that kind of stuff, and I'd always wanted to."
"To really find that androgynous space that I want to inhabit, it honestly has changed my life, and it's empowered me in the coolest way."
DuPree learned to sew and make outfits, saying that he wanted to create his "own lane of this androgynous, fluid space." Soon after, he entered an amateur drag competition at Revolver, a gay bar in West Hollywood. There were themed performances every week during that competition, and DuPree began to develop his defining "burlesque-y, androgynous" style of showmanship. DuPree not only found himself, but he won the whole competition.
Two weeks later, an opportunity came about to audition for Dita Von Teese's Von Follies show in LA. "I went in my lingerie and my boy hair and my makeup face and my heels. And it was like the world truly stopped in that room," DuPree said. He found out that he was cast for a two-night stint as the lead for Von Teese's iconic martini glass act, and he truly felt like he had locked down his niche thanks to one of his idols. That show in September 2018 was the official start of his burlesque career.
To DuPree, burlesque is just another avenue where he can express himself in an invigorating way, and he now has three regular shows that he does every month in California (which he will resume once social distancing guidelines amid the COVID-19 pandemic ease): Tease, If You Please! at Exchange LA; a drag show, Room Service Cabaret, at the Sofitel in Beverly Hills; and Muse Burlesque at the Copper Door in Santa Ana. "To really find that androgynous space that I want to inhabit, it honestly has changed my life, and it's empowered me in the coolest way," he said. "And now that I get to travel all over and people really are starting to take recognition of what I do, I feel like the luckiest person in the world."
DuPree has taught some burlesque dance classes here and there, but he wants to eventually combine his passion for burlesque and fitness in a "sexy and empowering" approach that's enjoyable for everyone. He takes pride in the way that he's able to motivate people through his workouts and bring a signature flare to fitness — "if I'm going to be there, I want to make it memorable," he said. So, combining that with burlesque would be a unique experience we hope to one day see.
DuPree came out to his family when he was 19 or 20 after he started seeing someone in college who didn't live near him, and his parents noticed that he was visibly upset. "I remember I was on holiday break, and my mom came up to my bedroom and she got in bed with me and she's like, 'What's wrong with you? You're not acting like yourself.' And I was like, 'Do you really want to know?' And she said, 'Yeah, tell me.' And then I said, 'I'm gay.'"
Luckily for DuPree, telling his parents and the rest of his family went well — great, even. "My parents both have been so supportive of everything that I do," he explained. It all came full circle when he invited them to watch him perform burlesque for the first time last fall, and they also came to a Kinky Boots performance of his early on in 2020. "I sat at dinner with [my mom] after one of the shows that she saw. She goes to me, 'I fully get it now. I fully see and understand what you are doing,'" DuPree recalled. "And that is the best feeling in the world."