This Woman Created a Meditation Platform For Black Women to Help Them Relax and Destress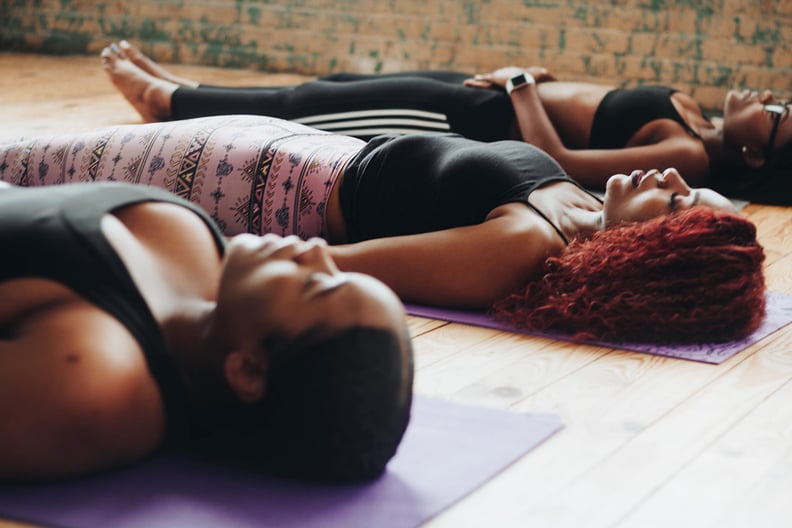 Black Girls Breathing | Neosha Gardner
Black Girls Breathing | Neosha Gardner
It's no secret that health and wellness has an inclusivity problem. But instead of hoping for things to change while feeling uncomfortable and unwelcome in spaces marketed toward white women, Black women are creating platforms as a result — communities where they can feel safe and comfortable as they focus on their physical and mental health, like Black Girls Breathing.

"Black Girls Breathing makes space for Black women to actively take care of their mental health through meditational breathwork," Jasmine Marie, breathworker, mindfulness expert, and founder of Adulting With Ease and Black Girls Breathing, told POPSUGAR. Marie explained that breathwork is on the rise in major wellness hubs like New York City and Los Angeles, and although it's gaining in popularity, "Within that community, there are even less people of color getting trained, and so that equals to less people who are not only teaching but focused and dedicated on our community."
Marie experienced rejection while presenting yoga studios with the concept of a meditation practice catering to the needs of Black women, leading her to taking matters into her own hands. "There are certain levels of stress and stress causes that we specifically deal with within our community that we don't always see addressed within the wellness solutions, so that's my intention with Black Girls Breathing — to be that space for Black women." Marie explained that she didn't want to assimilate or appeal to white wellness in order to have a practice, so instead, she began to host meet-ups and touring throughout major US cities including Los Angeles, Dallas, Houston, and Atlanta.

Along with the desire to create a platform dedicated to Black women, Marie also wanted to expose Black women to the benefits of breathwork and the positive effects it can have on the body like releasing stagnant energy and trauma in the body. Additionally, she said, "I wanted to create a space where the work was also accessible because things like this are expensive — individual sessions can go from $150 to $300."
To ease the financial burden, Marie launched Finding Calm, a bimonthly, sliding scale, virtual breathwork series as an extension to Black Girls Breathing. "I make known that there are options from $5 to $25 and anyone in the world can join. And even if you don't have it, you can shoot us a message and be able to join in," she said. These sessions are great for those who cannot attend a session in-person, for those who are living with a disability, and for those who aren't comfortable being amongst other people but still want to participate in the series.

"The act of taking care of ourselves is very radical and new for a lot of us."
Marie believes this platform is more relevant than ever. "Societally and generationally, it's not been engrained in us to take care of ourselves. We've always been in survival mode," she said. "And speaking particularly to the Black American experience, those descendants of slaves went through Jim Crow and the Civil Rights Movement — we've always been in survival mode, so the act of taking care of ourselves is very radical and new for a lot of us."

It may be new but it's absolutely necessary. "My number one goal is that yes, breathwork is a great tool, but if I can get you to trust your body more and develop a relationship with your body where you listen through this tool, even better," Marie said. In her opinion, becoming more in tune with your body will translate to all aspects of life whether you're focusing on your breath or in the boardroom. Through Black Girls Breathing, Marie wants to help Black women mend the disconnect they may feel when listening to their bodies and strengthen the relationship between the mind, body, and breath. And by doing so, "I will feel like I've reached my goal."