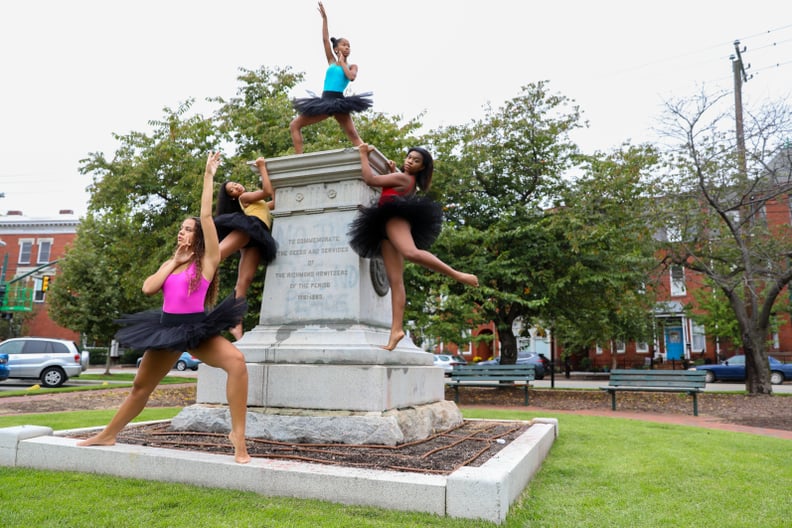 Michel Maulding
Michel Maulding
When Sophia Chambliss, Kennedy George, Shania Gordon, and Ava Holloway learned the Robert E. Lee statue located in Richmond, VA, would be removed, they put on their black leotards and tutus and headed to the statue for a photo shoot. What resulted was a symbolic message of resistance, change, and hope.
They had bonded over their love for dance and ballet at the Central Virginia Dance Academy, and their commitment to the Black Lives Matter movement inspired them to found Brown Ballerinas For Change. "We all are very passionate about this movement, and we all love to dance," Chambliss told POPSUGAR. The mission of Brown Ballerinas For Change is to promote activism and social justice and to increase diversity and representation in the arts with ballet as their medium.
"As a lot of people know, ballet is more of a white art form. You see a lot of white people, white dancers, white directors, just a lot of white people in power, and it relates so much to the regular world that it just goes hand in hand," George said. "We know that people of color are so underrepresented when it comes to ballet and the ballet community, and so just like we're cherishing Black Lives Matter in the world, we want to put that in the dance community as well," she continued.
Gordon explained they're fortunate to be part of a company that is inclusive and supportive of them as individuals and their mission, but they all expressed that there is work to be done within the industry as a whole. For example, most nonwhite dancers don't have tights and pointe shoes that match their skin tone because many dancewear companies do not currently carry clothing or shoes in shades darker than European Pink.
George explained that Black people and people of color have been conditioned to accept barriers such as tights and pointe shoes not matching their complexion as normal and wants people to be open to change, explaining that inclusion — whether it's dancewear, body types, or the types of people in the room — is not a bad thing. "It's taken so long to get to where we are now, and I feel like, yes, these companies are doing great, but we shouldn't be having to fight this hard or praise them this much for doing the bare minimum," Holloway said.
They anticipate the day when they no longer have to pancake their pointe shoes. They anticipate the day when skin-inclusive garments are the norm across the industry. They anticipate the day when people from marginalized backgrounds are supported by organizations that want to diversify ballet. They anticipate the day when people from low-income backgrounds en pointe is normal.
No one could have predicted the impact their images in front of the now-removed statue would have. "We wanted to do something in a way that wasn't just what everybody else was doing," Chambliss explained. The group are just getting started and said they will continue to expand their reach and the social-justice issues they're focusing on with the Brown Ballerinas For Change platform. "I feel like we've made quite a change in ballet so far, and we hope to continue that," Holloway said.