What the Paralympic Games Mean to Me as a Disabled Woman
What It Means to Watch the Paralympics For the First Time as an Openly Disabled Woman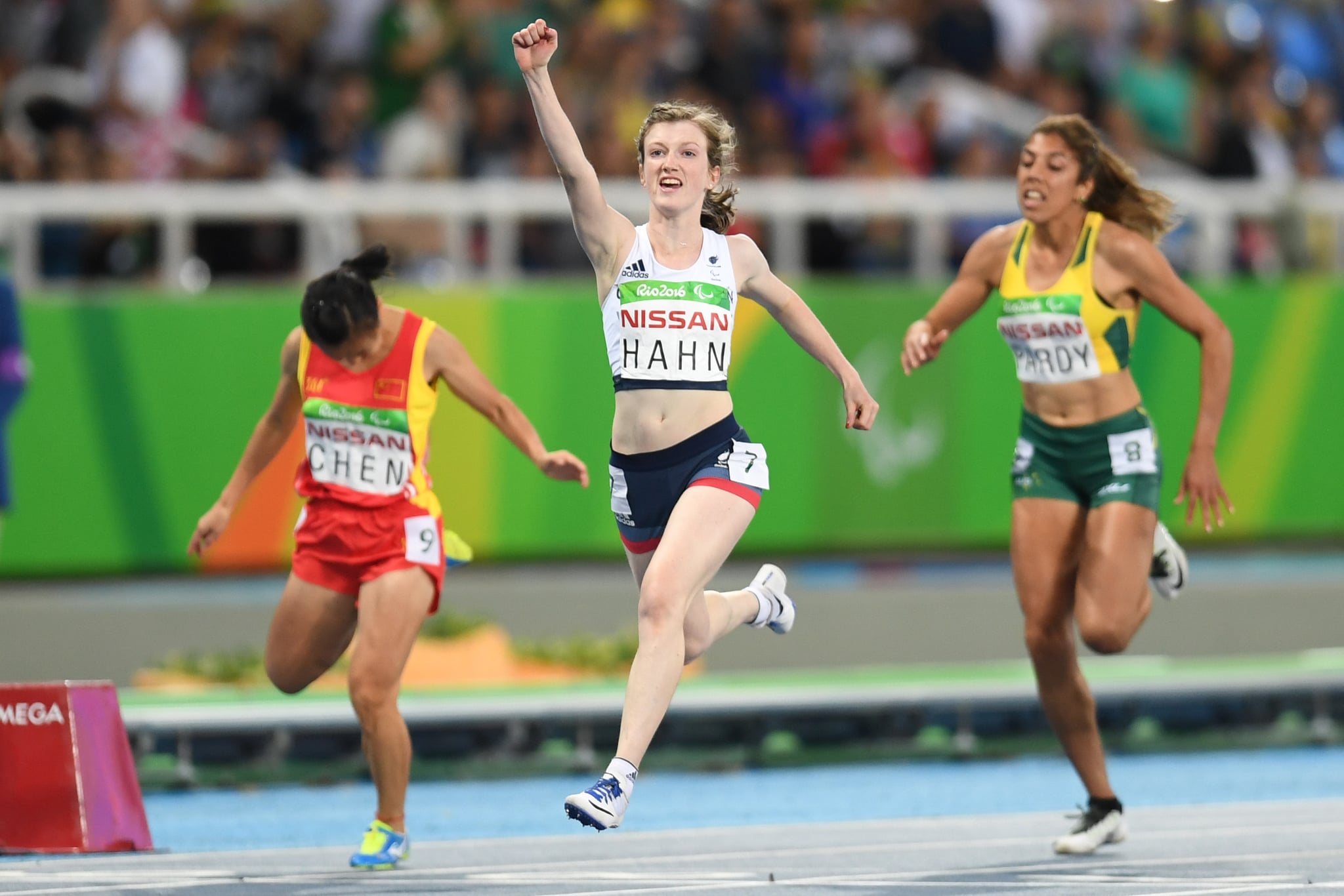 I grew up loving the summer Olympics. I'd cheer on competitors from my couch and watch in awe as they flipped, dove, swam, and ran their way to Olympic medals. But every four years, despite the entertainment value of the Olympians' athletic prowess, I felt a nagging sensation of sadness knowing that my body felt different than those of the chiseled athletes I saw on TV. By contrast, my body was routinely frustrating, constantly stubborn, and permanently disabled.
The Olympics were the only sporting event I watched, and despite my physical disability, for much of my childhood and adolescence, the Paralympics never crossed my mind. Paralympians were rarely included alongside Olympians in commercials, and coverage of the Paralympics was so scant that I couldn't name a single Paralympic event. Furthermore, I internalized so much shame about my disability — and disability as a whole — that I assumed the Paralympics could never compare to the Olympics. I hated how stiff and unforgiving my body was and resented the hours of therapies and procedures I went through for it to become as "functional" as possible. I struggled to understand how Paralympians could embrace their bodies and use them to rise to the top.
It didn't help that years of internalized ableism caused me to convince myself that the only way to survive in a predominantly able-bodied world was to completely conceal any traces of my mild cerebral palsy. For nine years, I omitted, lied about, and sequestered my disability experiences to such an extent that even my closest friends didn't know my diagnosis. Some didn't know I was disabled at all.
During that time, I refused to immerse myself in any type of "disability media" — especially the Paralympics. I became angry when I discovered that the Paralympics typically only receive a few hours of coverage while the Olympics receive hundreds, but I didn't feel comfortable speaking out about the coverage disparities because I was so ashamed of being disabled and afraid of being judged. I somehow believed that discussing or watching the Paralympics would give away the fact that I was disabled — the identity I so fervently feared, shamed, and fought against. In my warped worldview, I "othered" the Paralympics in the same way I believed that the Olympics "othered" me as a disabled woman.
But the 2016 Summer Paralympics would be the last Summer Paralympic Games I refused to watch because I was afraid of coming across as disabled. Just months after the 2016 Games, I made the decision to finally open up about my life with cerebral palsy, and it changed my perspective on disability — including disability athletic competitions. When I shared the story of the years-long ruse I perpetuated to constantly appear able-bodied, my able-bodied friends listened to and supported me — but people with disabilities also took note. In the months that followed, I eagerly embraced everything about the disability community, connecting with people who understood me for the first time in my life. Among them were a few champion athletes: Paralympic hopefuls whose fiercely competitive spirits and raw talent matched any Olympian's. As I watched videos of my new acquaintances training on Instagram, I felt ashamed of myself, not for being disabled, but instead for letting my ableist mindset undermine the talent of these athletes and prevent me from following one of the most highly regarded athletic competitions in the world.
"Finally, I'd have the opportunity to watch the Paralympic Games in full and at peace with my identity."
So when I heard earlier this year that the delayed 2020 Summer Paralympic Games would be coming to primetime for the first time ever and receive more than 200 hours of television coverage, I was elated. Finally, I'd have the opportunity to watch the Paralympic Games in full and at peace with my identity. At last, I'd see bodies like mine represented in a major athletic competition and be able to fully appreciate this year's widely covered Paralympics as both a milestone for the disability community and a reminder of how far I've come.
Out of curiosity, upon hearing the news about the first primetime Paralympics, I immediately looked up a women's Paralympic track race — classification T38, which includes athletes with mild physical disabilities — and watched in awe as they gracefully sped towards the finish line. Among them, including the gold medalist, were several athletes with mild cerebral palsy whose bodies worked just like mine. Never before had I felt so secure in my own skin as a disabled woman.
Watching my first Summer Paralympic Games as an openly disabled woman will be a culmination of years of self-hatred turned to self-acceptance. For the first time in my life, I'll share highlights of the Paralympics with friends and encourage my loved ones to watch events with me because I'm no longer ashamed of my ties to the disability community. Above all else, I'm looking forward to feeling seen — finally embracing the disability representation in sports that I've sought for a lifetime. I may not be a phenomenal athlete or a future Paralympian, but after spending years struggling to accept my disabled body, proudly watching athletes with disabilities shine in the Paralympics will remind me just how far I've come.
To learn more about all the Olympic hopefuls, visit TeamUSA.org. Watch the Tokyo Olympics this summer on NBC.