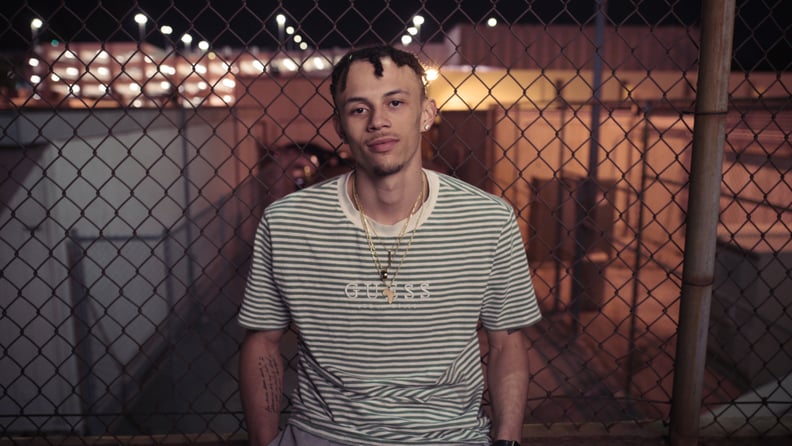 Courtesy of Netflix
Courtesy of Netflix
From turf fields and quarterbacks to hard courts and three-point shots: after five seasons of junior college football content, Last Chance U transitioned into its first-ever iteration focused on junior college basketball (making this season six of the Last Chance U series). Enter the East Los Angeles College (ELAC) Huskies led by Coach John Mosley and staff as well as Deshaun Highler, Huskies captain and shooting guard who spent one year at the University of Texas at El Paso as a walk-on and stood out right away as a fierce leader when he came to ELAC.
After their fight to win the state championship was cut short due to the COVID-19 pandemic, many of the men accepted other opportunities at the next level. Highler moved out of the Riverside home he had shared with his late mom, who died from cancer in 2018, to Sacramento, where he lives with his girlfriend, Kiera (she recently started Kaykurl, an all-natural hair-care product company). Highler now plays at the Division I level for the Sacramento State Hornets.
Sacramento State confirmed that the majority of spring semester classes are still being held virtually. However, the school's basketball team, piloted by head coach Brian Katz, played this season despite 10 canceled games due to COVID-19. Their season just ended on March 10 with a loss at the four-day, single-elimination Big Sky Tournament. Seeded ninth, the Hornets were eliminated after the first round, getting bested by Northern Colorado 90-83. Their season came out to an 8-12 record.
Since Last Chance U: Basketball's Netflix premiere on March 10, Highler has amassed thousands of new followers on Instagram. Despite his social media being pretty sparse, we do know that he's a computer science major and is completing his junior year.