Why Shelah Marie Created the Meditation Mixtape
Shelah Marie Is Creating a Space For Black Women to Heal With Her Meditation Mixtape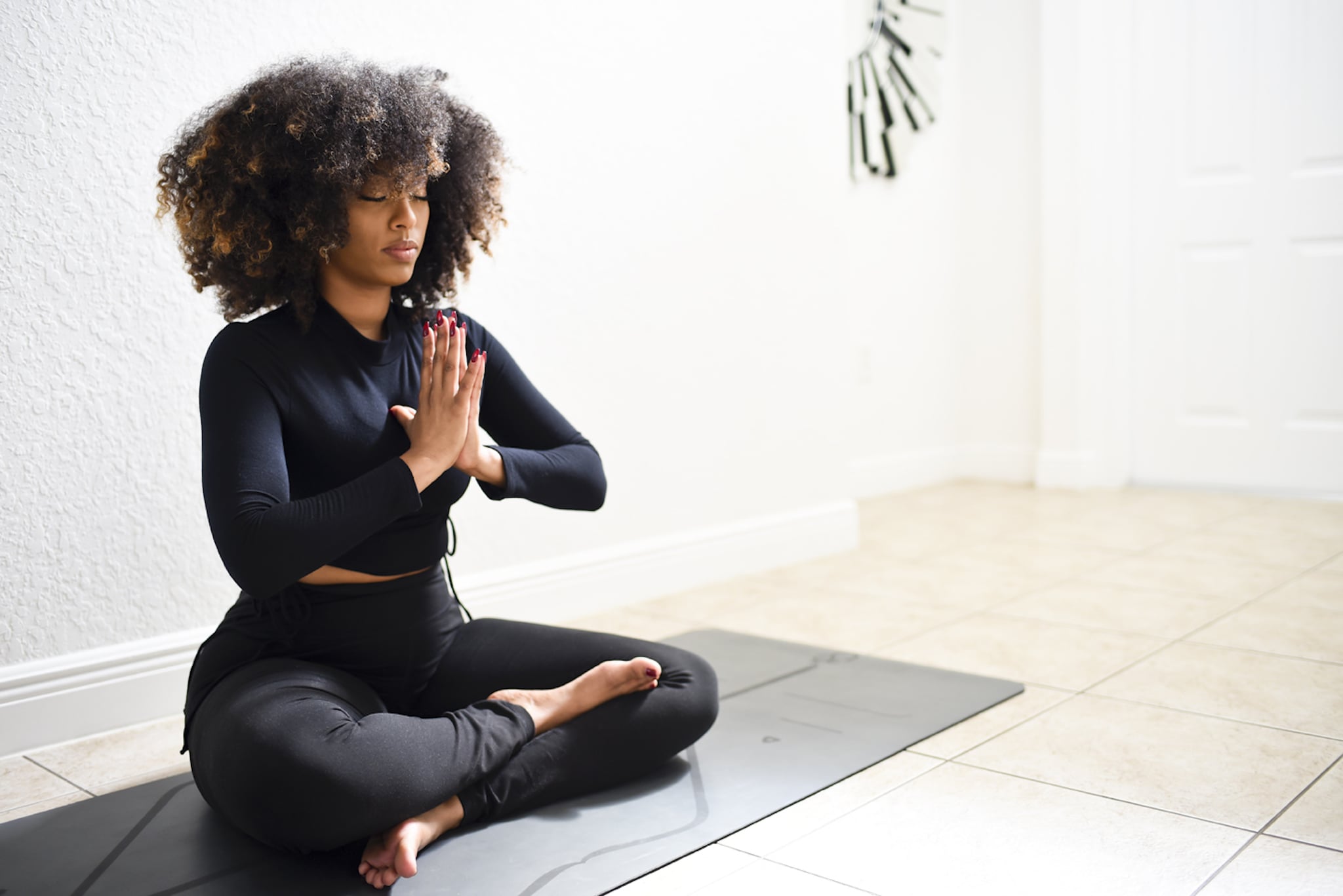 "This mixtape is for me, you, yo mama, and your cousin, too," Shelah Marie says at the intro of her Meditation Mixtape. Her mixtape is for those who find meditation challenging, those who love reality TV and social media, and those who have an equal love for Vinyasa flow and trap music, she continues.
"Meditation is a real blanket term for an entire range of healing modalities and experiences," Shelah Marie told POPSUGAR. She's used it to center herself, to access peace and calmness, to combat anxiety, and to rewire negative self-talk and tackle self-limiting beliefs.
"How I got into meditation is I, like many people, had an upbringing where I felt like my needs weren't met. I didn't feel safe. I was the only Black person in a white environment," Shelah Marie said. Because of this, she grew up having low self-esteem and negative self-talk. In her mid-20s, she experienced a moment in her then-relationship that made her realize she was "reliving the same toxic dynamics that I had developed, that I had learned, and that I agreed to as a child 20-plus years later." If she didn't have a healing intervention, she knew she would continue to live this way, she explained. "I was desperate to change this dynamic and desperate to find a new way of being in this world."
Shortly after, Shelah Marie was introduced to yoga, explaining that she felt the most peace during Savasana. "And I realized that I had accessed a level of peace that I really didn't know that I could. And so that is what developed my love for meditation," she recalled.
Shelah Marie launched Curvy, Curly, Conscious and created the Meditation Mixtape for herself, initially. She wanted to give little Shelah what she'd never had, she said. She didn't grow up around Black women and found herself longing for those interactions and experiences. "So when I started with this meditation journey, I started to realize, 'Oh my god, this is such a site of power. It's a site of healing.'"
When she would go on to platforms like Spotify and YouTube for guided meditations, she always felt a disconnect. She liked the messages and content but didn't feel like she could relate to the white practitioners. "And it felt that in many ways, there were all of these sites of healing that were not accessible. There was no one there that I could relate to. Representation was lacking, and I wanted to be an invitation for other Black women to feel welcomed in these spaces," she said. "And that's why I recorded my Meditation Mixtape. I wanted Black women or women of color to turn this on and to be like, 'Oh, OK, I belong here. I can relate to this,' and not always have to translate themselves outside of their experience in order to heal."

"If we're going to dismantle racism and these systems that uphold it and white supremacy, the wellness industry is not exempt from that."
"We're just now getting to a space where Black women can talk about their pain without being interrupted, without somebody trying to deflect or defend it, or being defensive about it," Shelah Marie said. The wellness industry is notorious for its lack of representation and marketing solely to cisgender, able-bodied, thin white women, but Shelah Marie and other Black and brown people are changing the narrative and making space for Black folk.
"I see a lot of shifts happening, especially right now, of trying to make more space for diversity and inclusion, but it's behind like any other industry. And so, if we're going to dismantle racism and these systems that uphold it and white supremacy, the wellness industry is not exempt from that. Just because you meditate and just because you do some yoga poses does not mean you're exempt from that."
Shelah Marie's goal for the original Meditation Mixtape (and her mixtapes for kids and teens) is to simply normalize hearing Black voices in guided meditations. "I want to normalize being down for a meditation by a Black woman. I just don't want it to be an anomaly. I want it to feel more a part of this whole movement for health and wellness just like anybody else."
Image Source: Latoya Osborne