Chrissy Teigen's Fried Chicken Wings Recipe
Chrissy Teigen's Fried Chicken Wings Recipe Is So Good, We're Already Drooling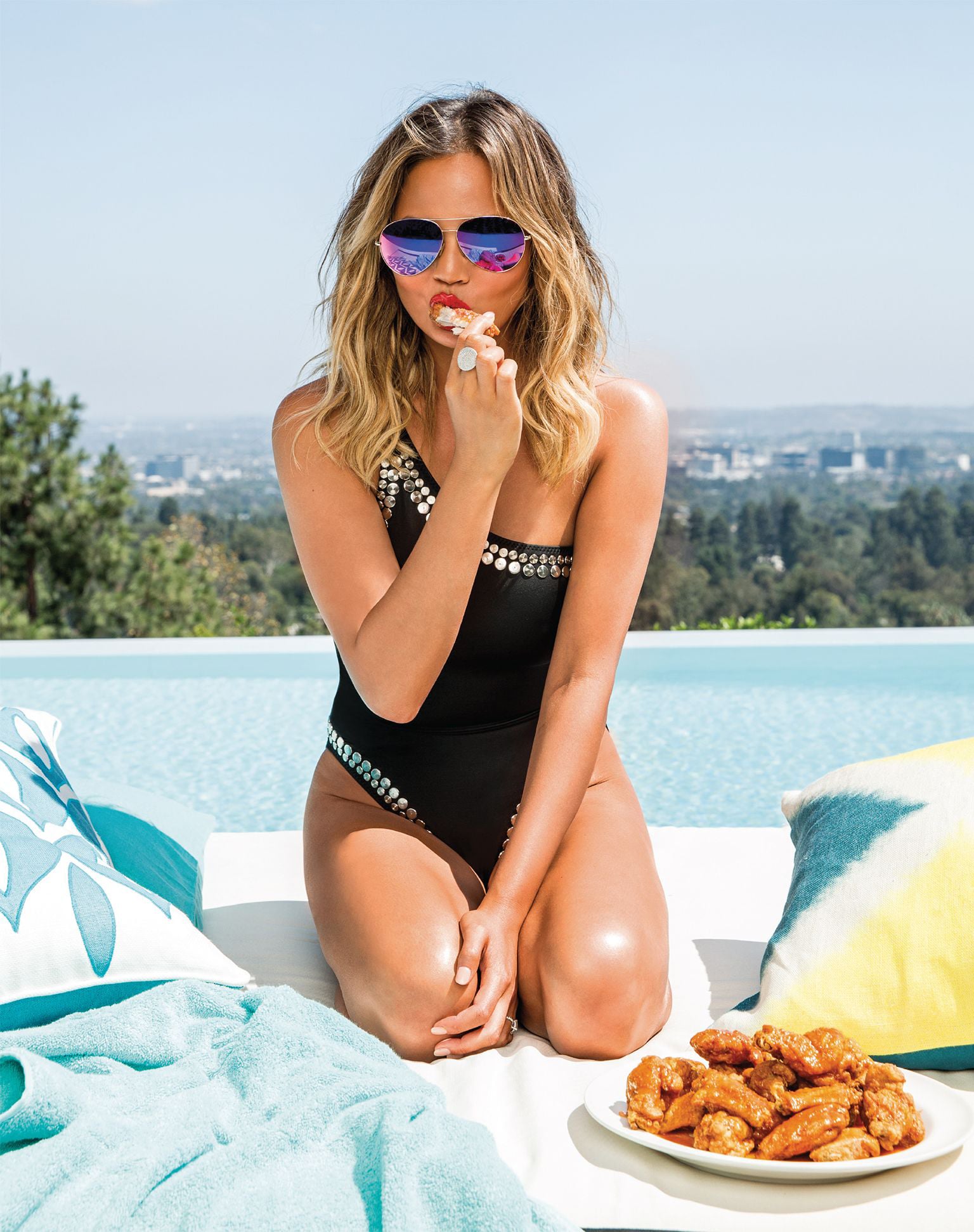 It's hard to forget the time Chrissy Teigen teased John Legend in a swimsuit with a plate of chicken wings balancing on her butt, but what's even harder to forget is just how crisp and juicy the wings looked. Chrissy's collection of recipes is fantastic, but this chicken wings recipe, courtesy of John, is sheer perfection, and here's why. The recipe calls for brining the chicken first, which seasons and tenderizes the meat. We're aiming for fall-off-the-bone, folks, and brining helps do just that.
The brine and the breading call for one of Chrissy's favorite flavor starters: Lawry's Seasoned Salt, a garlicky, oniony, paprika-y salt. But then — there's the spicy honey butter. (In our humble opinion, the best wings are coated in a spicy-sweet syrup.) Chrissy makes one thing clear; you must use Cholula in that butter sauce. The chili pepper sauce with a vinegary tang balances the oiliness of the fried wings. See? It's damn near impossible to resist your cravings for these wings. Now, let's dive in to the nitty-gritty.
— Additional reporting by Lauren Harano
John's Fried Chicken Wings With Spicy Honey Butter
From Cravings by Chrissy Teigen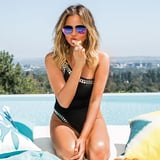 Ingredients
For the chicken and brine:
6 tablespoons Lawry's Seasoned Salt
2 1⁄2 tablespoons garlic powder
2 tablespoons cayenne pepper
5 pounds chicken wings and drumettes
For the breading and frying:
Canola oil, for deep-frying
4 cups all-purpose flour
2 tablespoons Lawry's Seasoning Salt
1 tablespoon cayenne pepper
For the spicy honey butter:
1 stick (4 ounces) unsalted butter, melted and cooled
4 tablespoons Cholula hot sauce (sorry, it has to be Cholula)
2 tablespoons honey
3/4 teaspoon kosher salt, plus more to taste
Special equipment:
Deep-fry or candy thermometer
Directions
Brine the chicken: In a really big pot or a 2-gallon zip-top plastic bag, combine 10 cups cold water, the seasoning salt, garlic powder, and cayenne. Add the chicken, cover, and refrigerate for at least 4 hours and up to 24.
Bread and fry the chicken: Fill a soup pot with 6 inches of oil, making sure there are at least 4 inches of clearance between the oil and the lip of the pot. Heat the oil over medium heat until it reaches 365°F on a deep-fry thermometer, or prepare a deep fryer according to the manufacturer's instructions.
In a big bowl, combine the flour, seasoning salt, and cayenne. A few at a time, remove the wings from the brine and toss them in the flour mixture until coated really well, then place on a baking sheet while you coat the rest.
When the oil is ready, turn the heat up to medium-high and carefully slip in the wings, adding just enough so that there's still plenty of space around each wing. (If it feels safer, use tongs to add the wings; whatever you do, don't just drop them in! Splashing hot oil is bad.) Fry the wings until golden and crispy, about 13 minutes per batch. Drain the wings on plenty of paper towels. Fry the remaining chicken, letting the oil come back to temperature between batches.
Make the spicy honey butter: While the chicken is frying, in a bowl, whisk together the melted butter, Cholula, honey, and salt until incorporated. Taste and add more salt if necessary.
Slather the wings with the spicy honey butter and eat that chaacken!
Reprinted from Cravings: Recipes For All the Food You Want to Eat. Copyright © 2016 by Chrissy Teigen. Published by Clarkson Potter/Publishers, an imprint of Penguin Random House LLC.
Information
Category

Poultry, Appetizers

Cuisine

North American

Yield

Serves 8-10