Cinnamon Roll Layer Cake
A Layer Cake That Is Breakfast Approved
When we saw this cinnamon roll layer cake all over Instagram and Pinterest, we were immediately hooked! What a simple, easy, and awesome way to enjoy one of our favorite breakfast treats, right? Once you watch this video, you'll never want regular old boring cinnamon rolls ever again.

Cinnamon Roll Layer Cake
From POPSUGAR Food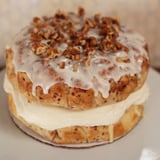 Ingredients
Nonstick cooking spray
3 (12.4-ounce) packages Pillsbury cinnamon rolls
2 (4-ounce) sticks butter, room temperature
8 ounces cream cheese, room temperature
4 cups powdered sugar
1 teaspoon vanilla extract
1/4 cup candied walnuts
Directions
Preheat oven to 400ºF.
Line 2 8-inch cake pans with parchment paper and spray with nonstick cooking spray. Add 1 1/2 packages of cinnamon rolls to each cake pan, tearing extra cinnamon rolls in half to fill in any holes. Bake for 15 minutes or until the cinnamon rolls are golden brown.
In a large mixing bowl, cream together butter and cream cheese until light and fluffy. Slowly add powdered sugar in batches until a stiff frosting consistency is reached. Add vanilla extract and keep mixing.
Place one layer of cinnamon rolls on a cake stand and frost first with the cinnamon roll glaze. Then add a thick layer of cream cheese frosting on top. Top with the second layer of cinnamon rolls, glaze, and garnish with candied walnuts.
Information
Category

Breakfast/Brunch

Yield

10 servings

Total Time

29 minutes, 59 seconds