Confetti Cake in a Jar
Confetti Cake in a Jar? Yes, and Duff Goldman Shows Us How!
It's all of your favorite birthday-cake flavors rolled into one portable dessert to hand out at birthday parties, for gatherings, or as gifts. Pastry genius Duff Goldman found a way to use up leftover cake scraps by creating adorable cakes in mason jars, and he shared his recipe and technique with us. Prepare to be in sprinkle heaven.
Notes
When making the frosting, start with a completely clean and dry bowl. Any fat or liquid will stunt the protein development of the albumen (egg white protein), and a proper meringue will not form.
Buttercream can be kept at room temperature for a few days or in the fridge for a week or two, but always use soft buttercream when icing a cake. To warm up the buttercream, put it back in the mixer using a rubber spatula. Begin remixing the buttercream using the whip attachment on high speed while applying direct heat to the outside of the bowl with a propane torch that can be found at any hardware store.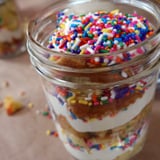 Ingredients
For cake:
1 cup butter, room temperature
2 cups sugar
4 eggs
2 egg yolks
3 cups flour
2 teaspoons baking powder
1/2 teaspoon salt
1 cup whole milk
1 1/2 teaspoons vanilla extract
1/3 cup multicolored sprinkles
For frosting:
10 large egg whites, room temperature
2 cups granulated sugar
2 pounds unsalted butter, room temperature
Directions
To make cake: Preheat oven to 350ºF. Grease and flour 2 9-inch cake pans (or 4 6-inch cake pans). In a medium-sized bowl, sift flour, baking powder, and salt, then whisk ingredients until well-combined. Set aside.
In the bowl of a stand mixer fitted with the paddle attachment, beat butter and cream together on medium-high speed until light and fluffy, about 2 minutes. Add sugar, and continue to cream for about 5 minutes. Add eggs, 1 at a time, until thoroughly mixed, then mix in vanilla extract. Reduce speed to medium, and alternate between beating in milk and flour mixture in 1/3 increments. Mix in sprinkles until evenly incorporated.
Divide batter equally between cake pans. Bake for 25 to 30 minutes or until a toothpick test comes out clean. Let cakes sit for 5 minutes, and then transfer them to a cooling rack.
To make frosting: In a stand-up mixer with a whisk attachment, start whipping egg whites on medium-low speed in the mixer by themselves until the whites are foamy and opaque. They should look like the head of beer. Increase to medium speed, and slowly start adding the sugar until completely incorporated. Increase the speed of the mixer to high, and whip until the mixture is shiny and stiff peeks form. (Test the meringue by pulling out the whisk attachment, holding it horizontal, and checking for a "sparrow's beak" of egg whites at the end of the whisk.) Turn the mixer on medium, and start adding the butter a bit at a time. Once all the butter is incorporated, turn the mixer on medium speed, and let it whip until the butter has completely emulsified into the meringue and turns into a smooth buttercream. Depending on the weather, the buttercream could take anywhere from 5 to 15 minutes to form.
To assemble: When the cake has completely cooled, slice it into 1/2-inch cubes. Fill a pastry bag with buttercream. In mason jars, alternate layers of buttercream, sprinkles, and crumbled cake. Top with buttercream and a handful of rainbow-colored sprinkles before sealing with a cap.
Information
Category

Desserts, Cake

Cuisine

North American

Yield

6 to 8 mason jars of cake