IHOP Secrets Revealed
IHOP's Most Popular Breakfast Order Plus 10 More Insider Secrets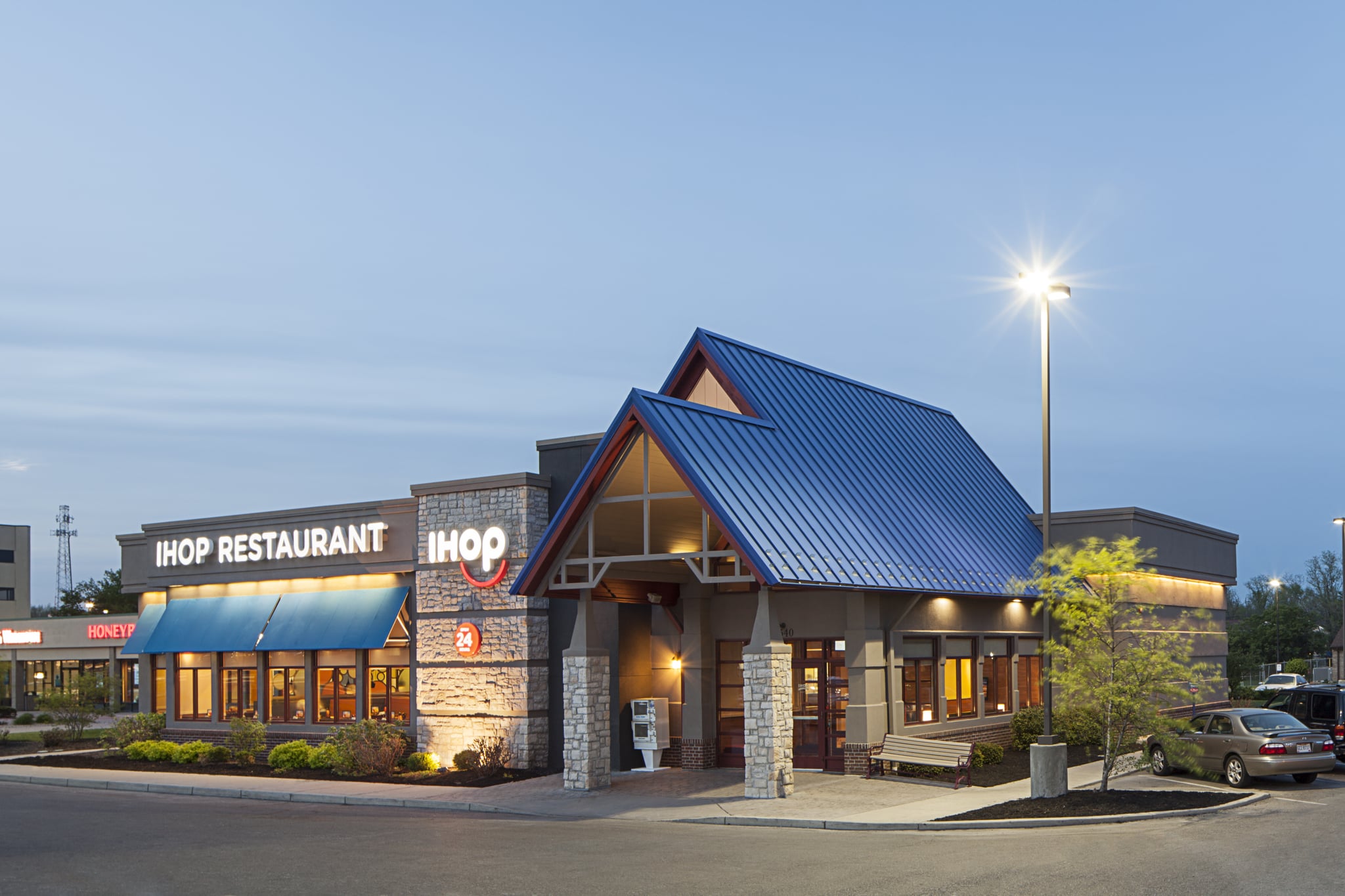 It turns out there's a lot more to IHOP than its hangover-curing all-day breakfast menu. We reached out to an IHOP representative for the inside scoop on everything we wish we knew about the beloved pancake establishment and ended up learning some intriguing tidbits — like how many strips of bacon are served each year. (Spoiler alert: it's in the millions). Read on for IHOP secrets that'll make you crave a heaping stack of pancakes.
There are more than 1,700 IHOP locations throughout the US
IHOP was founded by Al and Jerry Lapin back in 1958 when they opened up a restaurant in the suburbs of Los Angeles. Since then, the business has expanded to house more than 1,700 locations in the US, with at least one location in each of the 50 states. Plus, it is the International House of Pancakes, after all, so there are various locations outside of the States, like the newest addition in India.
And the most iconic breakfast menu item is . . .
The Rooty Tooty Fresh 'N Fruity Pancakes, hands down. This tasty breakfast features fluffy pancakes topped with your fruit of choice (like fresh banana, glazed strawberries, or peaches) and whipped cream. The IHOP employee told us how "guests continue to ask for [it] year after year," proving just how popular the fruit-topped pancakes have become since they were first introduced in 1985. Plus, it's really fun to say out loud, am I right?
On a budget? Don't worry — there are some ways to save money while dining
"Most local restaurants have their own weekly or daily promotion, which can include everything from a Kids Eat Free special to a 55+ menu," the employee explained. Each year, IHOP offers its limited-time All You Can Eat Pancakes deal, which allows you to stuff your face with fluffy pancakes for one fixed (and superlow) price. Plus, let's not forget about National Pancake Day, the glorious day when customers can get a completely free stack of pancakes.
Most guests order their eggs . . .
Scrambled. In a poll about how guests like their eggs, 50 percent answered scrambled while 45 percent opted for fried and just five percent answered poached, the IHOP rep explained.
The restaurant serves a LOT of pancakes each year
Are you ready for your mind to be utterly blown? Every year, IHOP serves a whopping total of 700 million buttermilk pancakes. Wowzers! On top of that, 93 million cups of coffee are poured and 314 million slices of bacon are fried. Another fun fact: "There are over 368 orders customized per minute at IHOP," the employee explained.
Torn between breakfast and dinner? There's a solution for that
Sometimes in those afternoon and evening hours, it can be pretty tough to choose between breakfast and dinner. Luckily, IHOP has a handful of two-in-one type of options that give you the best of both worlds, like the Cheeseburger Omelet and Denver Omelet Burger. "Both menu items are pretty next-level, and our breakfast-for-dinner fans are especially pleased," IHOP told us.
Employees get a VERY important perk for working there
"IHOP employees get to taste new menu items before they become available to the public." *applies to a weekend job at nearest IHOP*
You can support a charitable cause while fueling your pancake addiction
IHOP works with various charity partners, including Children's Miracle Network, Shriners Hospitals, and the Leukemia and Lymphoma Society, on various fundraising efforts throughout the year. Most notably, National Pancake Day pancakes may be free, but customers are encouraged to make a donation to one of the aforementioned charities if possible. Since 2005, IHOP has raised a grand-spankin' total of $24 million for CMN and No Kid Hungry. Inhaling your body weight in carbs is certainly a lot sweeter when you know it's supporting a worthy cause.
The French-Toasted Doughnuts have been getting quite a lot of buzz
Earlier this year, IHOP released limited-edition French-Toasted Doughnuts, and they've not so surprisingly been a huge hit. "Guests are literally flipping over how delicious they are!" the employee admitted. If, for some reason, you needed some motivation to finally go try them, this should do the trick.
You can customize pretty much anything on the menu
Do you like your pancakes with chocolate chips AND banana slices? Order away. "Guests can customize anything from pancake toppings to how they like their eggs to adding cheese to their hash browns," IHOP explained. "No customization or combo is out of the question at IHOP." The possibilities are endless, so get creative.