Make-Ahead Huevos Rancheros Bowl Recipe
Meal Prep Your Way to This Tasty Huevos Rancheros Breakfast Bowl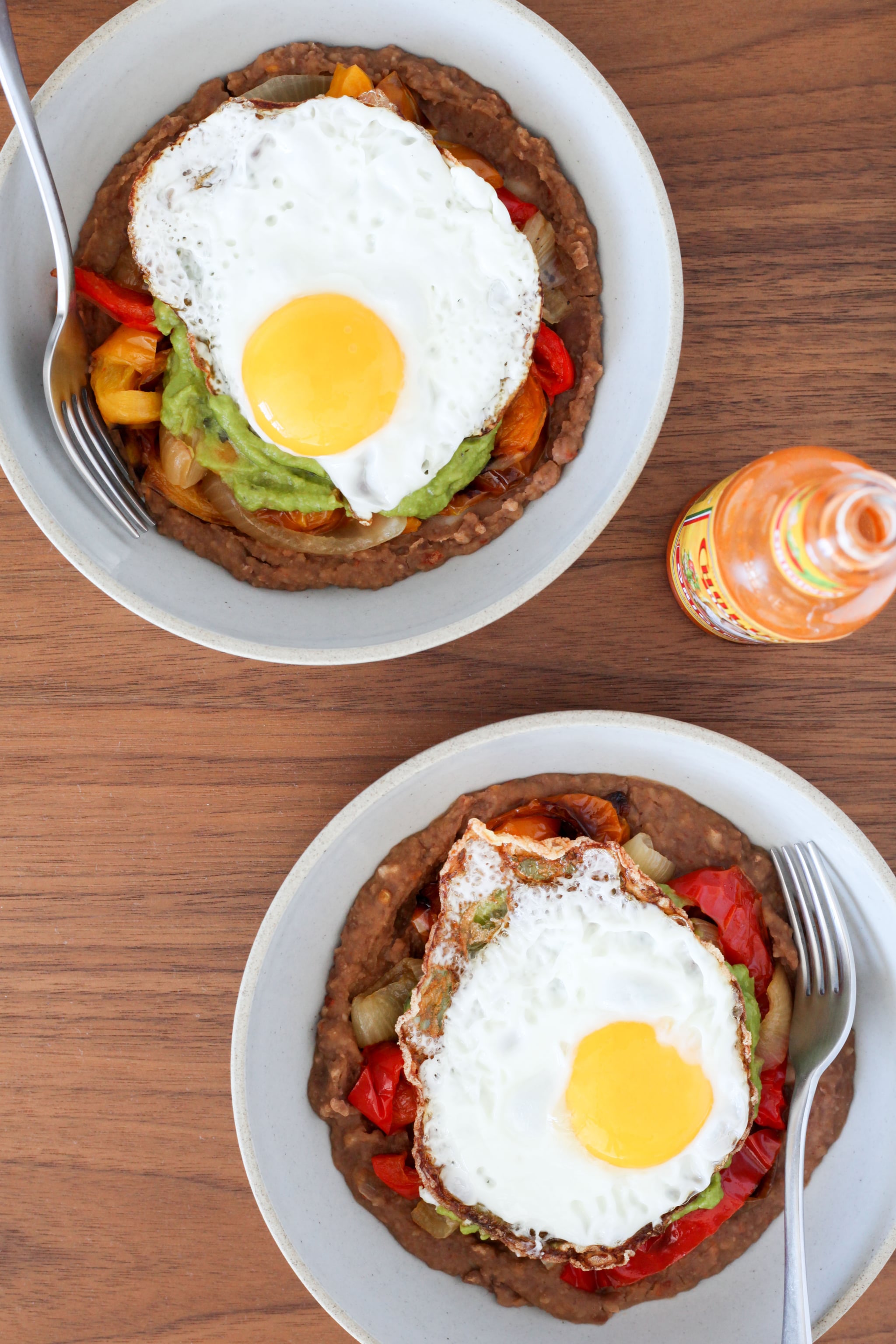 If huevos rancheros are on the menu, there's a high probability that I'm ordering them. This combination of refried beans, runny yolked fried eggs, corn tortilla, salsa, and (if I'm lucky) a bit of buttery, perfectly ripe avocado is pretty darn perfect, especially when paired with a Bloody Maria or two. And yet, I'd never considered making them at home, instead relegating this winning dish to boozy brunches out.
That all changed when I found myself with a comical amount of refried beans on hand leftover from making nachos. Fortuitously, I'd also just made chicken fajitas and had some extra veggies from that. So, though it wasn't huevos rancheros exactly, I went with it, layering refried beans, broiled bell peppers and onions, a fried egg, and some salsa in a bowl, and (no shocker here) it was really, really good. Since this happy accident, I've been on a quasi-huevos-rancheros kick, tweaking things here and there. Though tasty, the marinade for the bell peppers and onions was left behind (too fussy and not worth it in this application), and guac was swapped for the salsa, because, well, guac is amazing.
Not to bury the lede, but this breakfast is an excellent make-ahead option. I like to simmer up a big pot of refried beans, enough for eight bowls (I freeze half for a later week), as they take a while to cook. These and the vegetables are added to weekend meal prep and stay fresh in the fridge for about a week. And, since there's no chance I'm making guac from scratch on a busy morning, I've been taking a shortcut, stocking up on individually portioned cups of guacamole (Sabra and Wholly Guacamole are both decent). Bleary eyed in the morning, all I have to do is layer the beans and vegetables in a bowl, microwave it, scoop out some guac, and fry up an egg.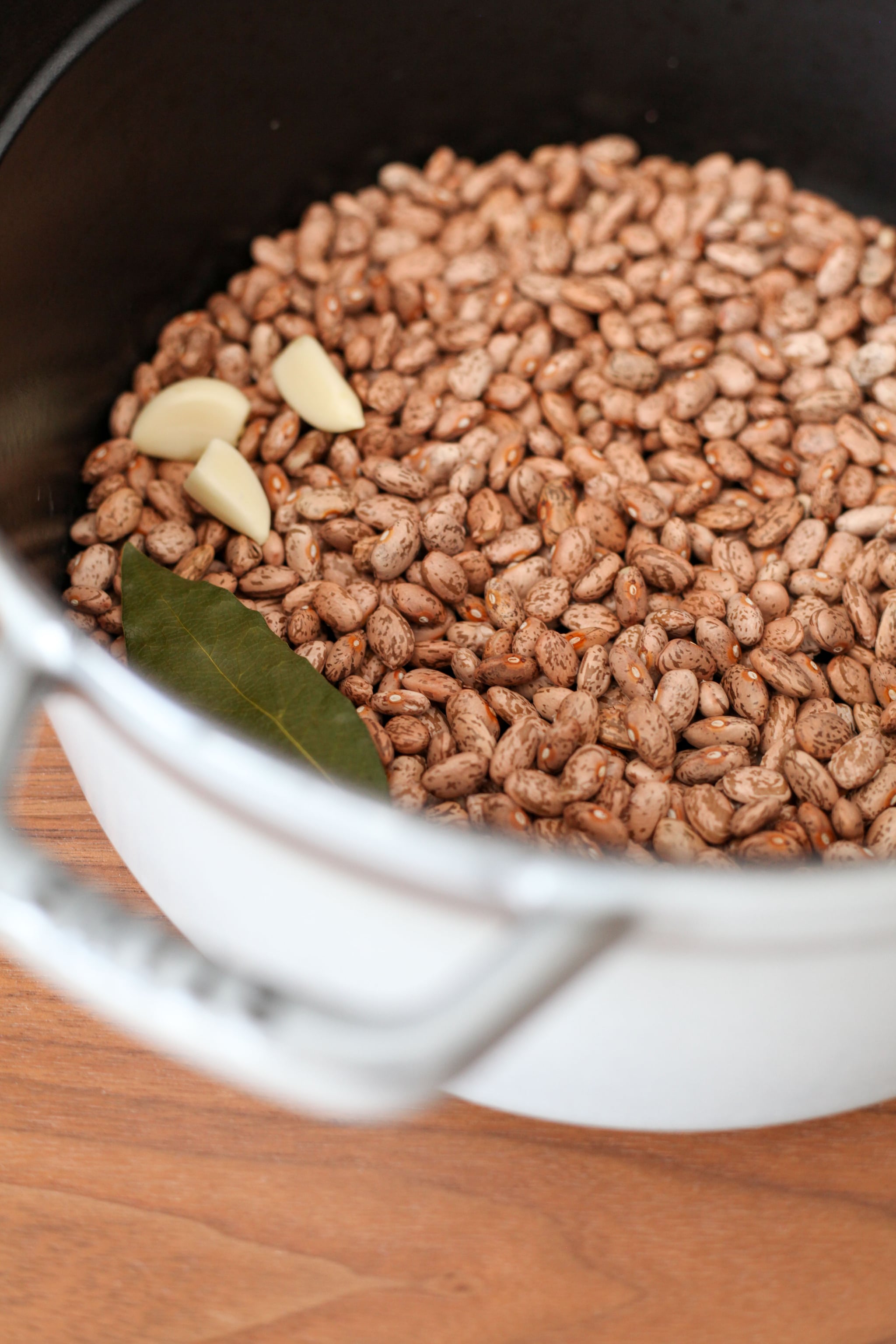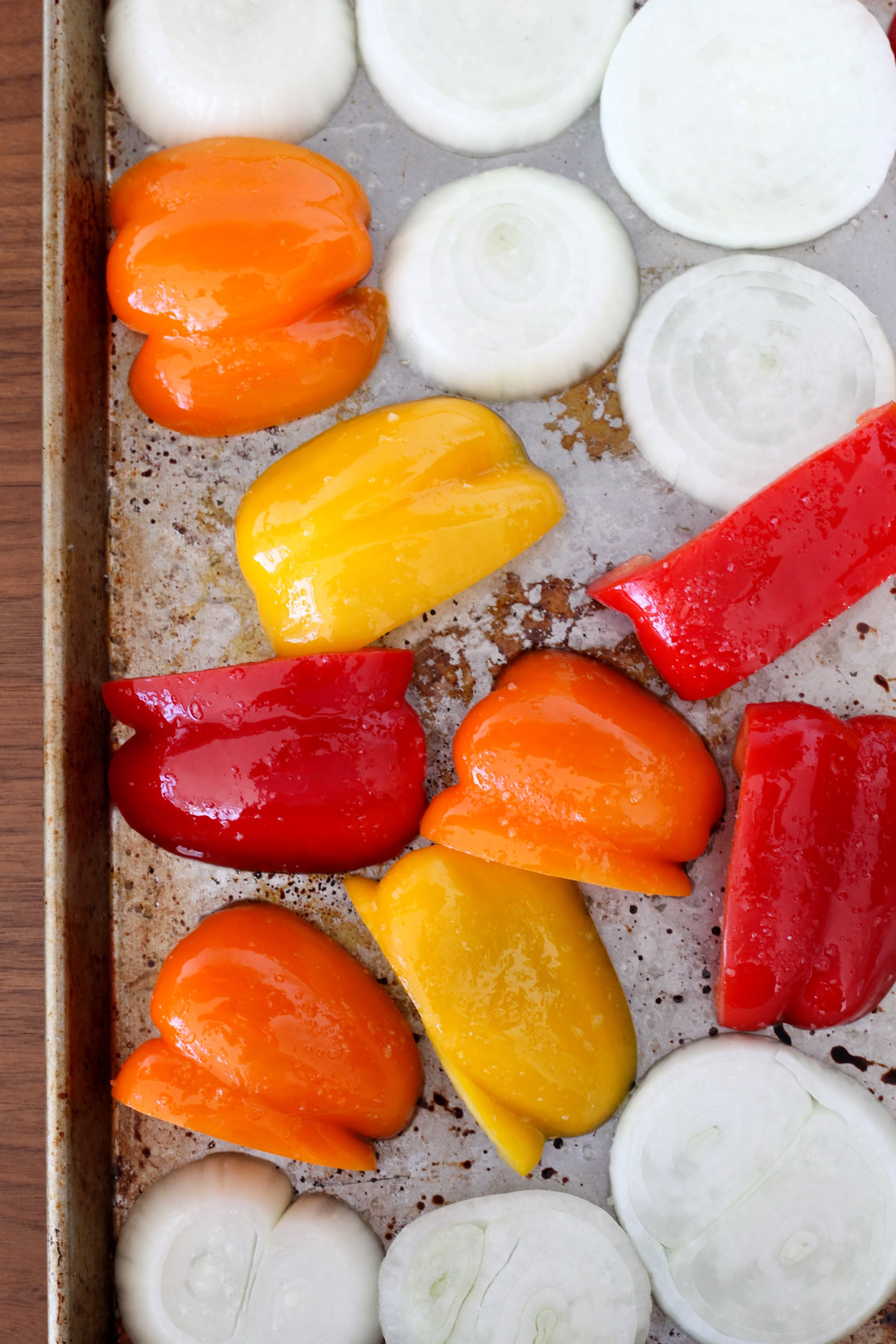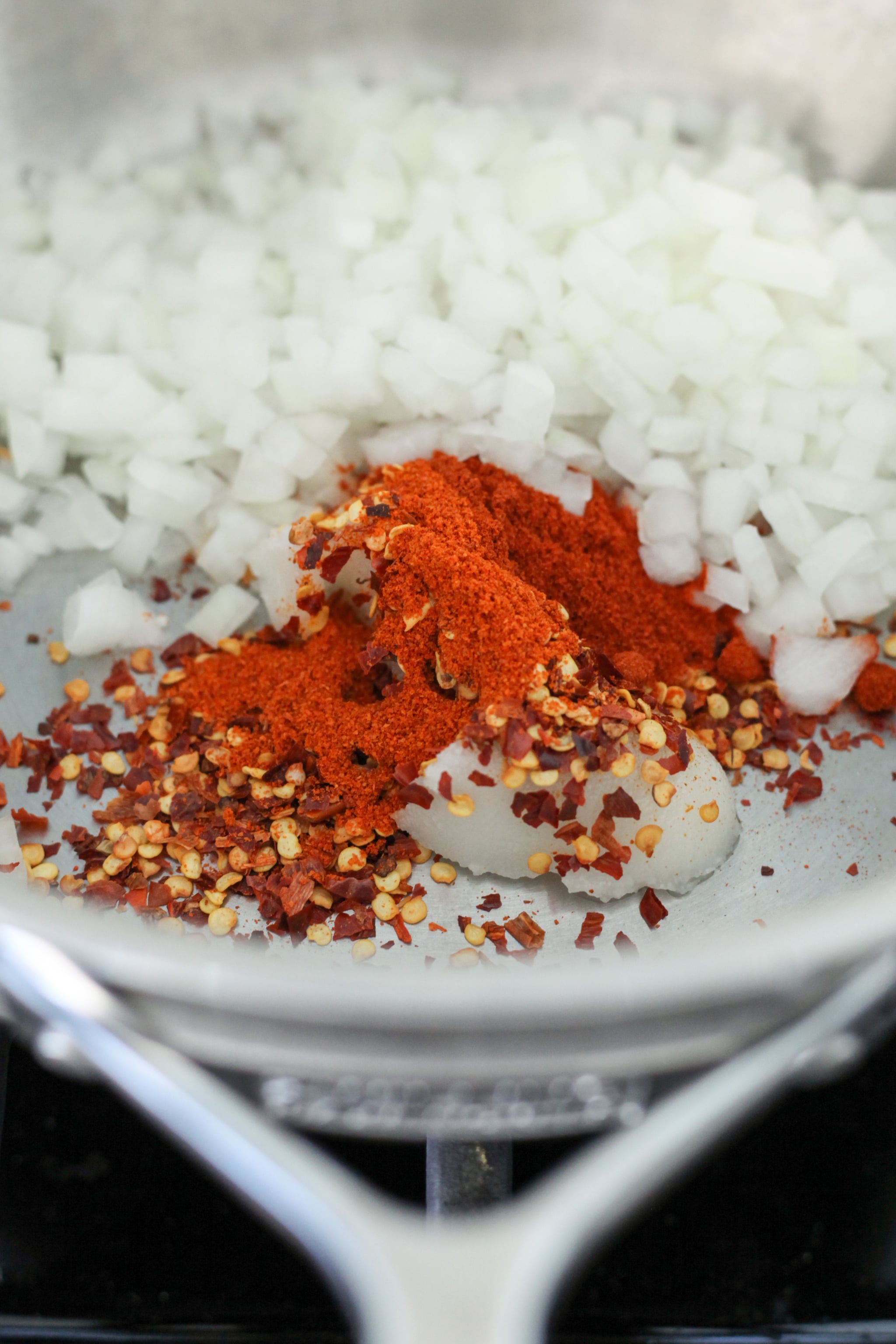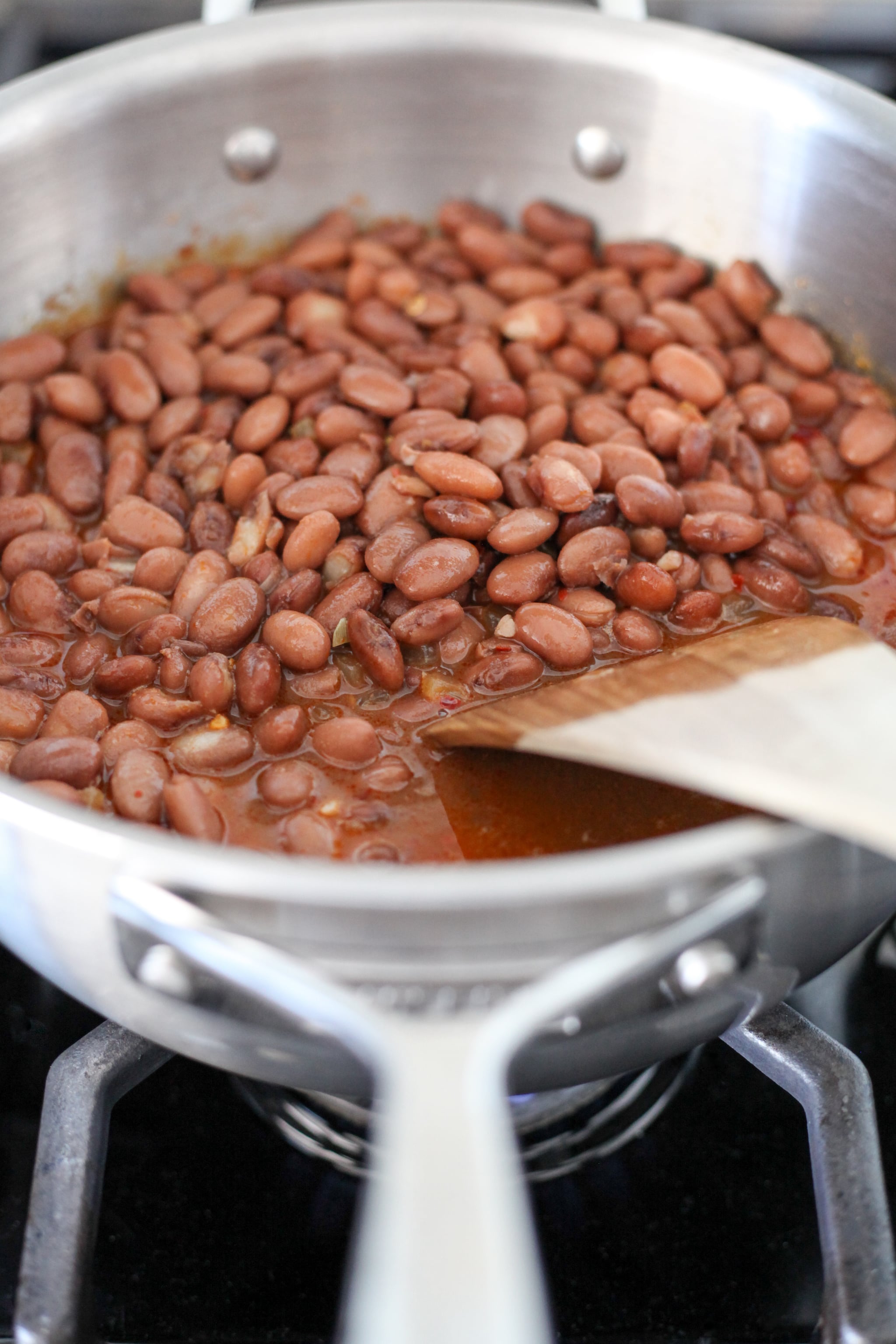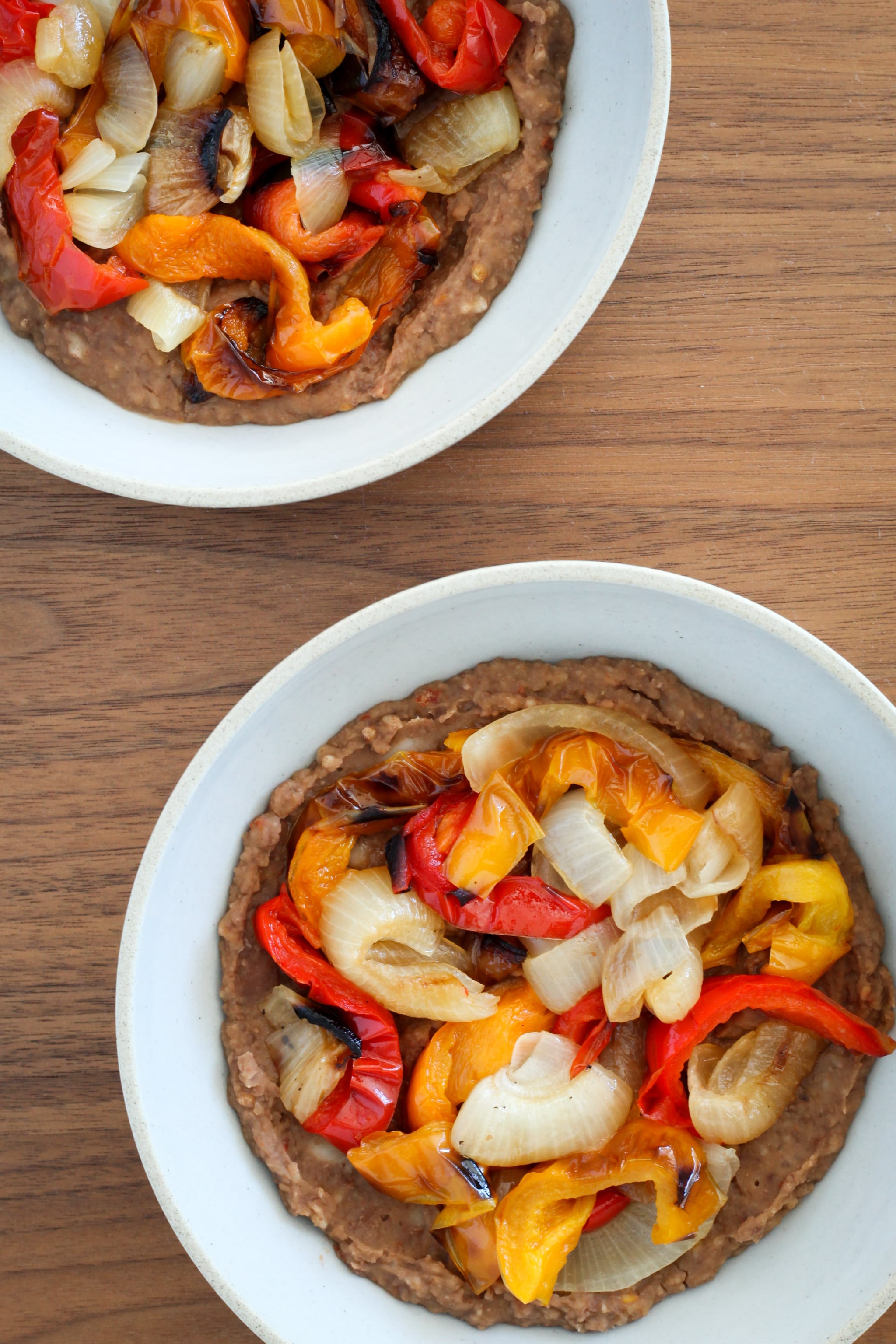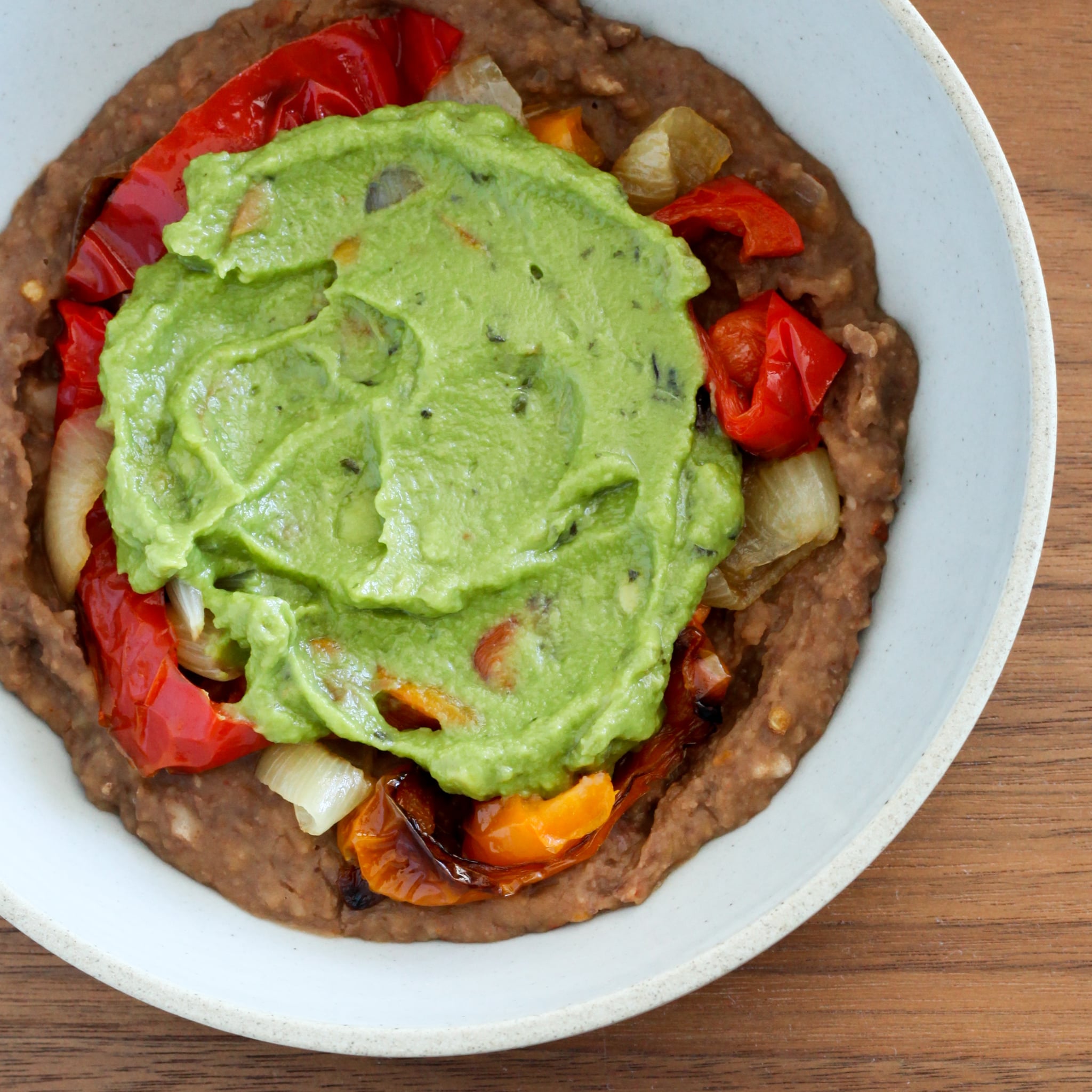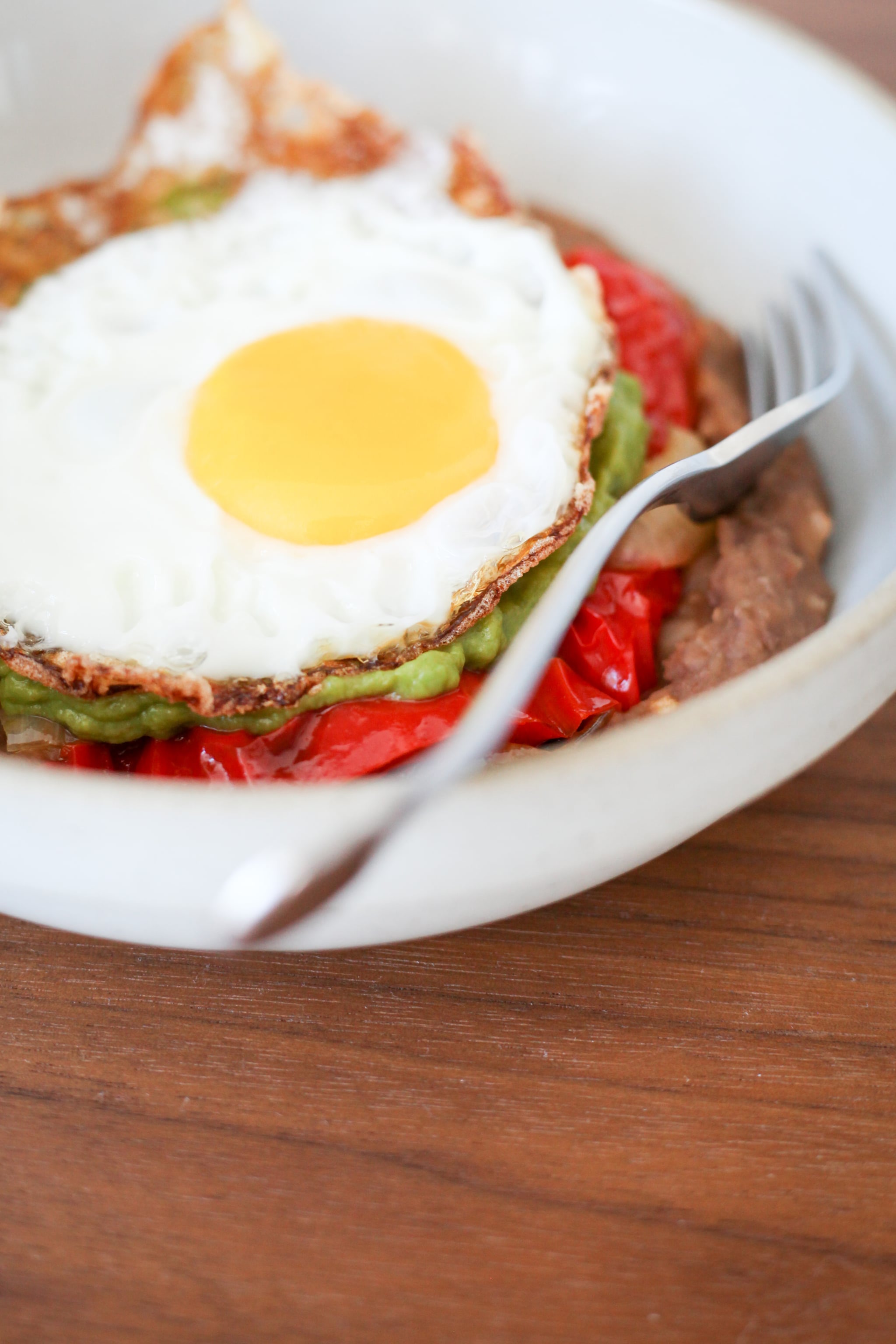 Huevos Rancheros Bowl
From Nicole Perry, POPSUGAR Food; refried beans adapted from What's Gaby Cooking
Notes
If you don't want to cook the beans from scratch, 4 (15-ounce) cans of cooked pinto beans can be substituted for the dried beans (skip steps 1 and 2, omitting the ingredients called for there). The refried beans yield a double batch (freeze half for another week). Both the refried beans and broiled vegetables can be made ahead of time and refrigerated. When ready to eat, layer in a bowl and reheat in the microwave before topping with guacamole and a fried egg. For ease, individually portioned guacamole cups like those from Sabra or Wholly Guacamole are great here, as they yield a just-right amount of guac for each bowl.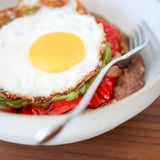 Ingredients
For the refried beans:
1 pound dried pinto beans
3 garlic cloves
1 bay leaf
Kosher salt
2 tablespoons neutral oil
1 cup onion, finely chopped
1 tablespoon red pepper flakes
1 teaspoon hot paprika
1 teaspoon cayenne pepper
For the broiled peppers and onions:
3 medium bell peppers, quartered and seeded
1 large yellow onion, cut into 1/2-inch slices
3 tablespoons neutral oil
Kosher salt
For each bowl:
3/4 cup refried beans
About 1 cup broiled bell peppers and onions
1 (2-ounce) cup of prepared guacamole, such as Sabra or Wholly Guacamole
1 large egg, fried
Hot sauce, to taste
Directions
Cook the beans: Rinse the beans. Discard any shriveled ones.
Add the beans, garlic, and bay leaf to a dutch oven or large pot and cover with enough water to cover the beans by about 4 inches (the beans will absorb a lot of water. Bring to a boil, lower the heat to maintain a simmer, and cook for 2 hours. Add 3 teaspoons kosher salt and cook until tender, another 30 to 45 minutes or so. Season the beans to taste (they may need up to 1 more teaspoon of salt). Drain the beans, reserving their cooking liquid. Add enough water to the cooking liquid to yield 1 cup.
Cook the oil, onion, red pepper flakes, paprika, and cayenne in a large skillet or sauce pot over medium-high heat, stirring occasionally, until the onion has softened, about 5 minutes. Add in the drained beans and the cooking liquid. Bring to a simmer, then turn off the heat. Lightly blend the beans using an immersion blender until mostly puréed but still slightly chunky. Season to taste with salt (they may not need any more).
Cook the vegetables: Heat the broiler on the high setting.
Arrange the quartered peppers and sliced onions on a half-sheet pan. Brush both sides with oil and season generously with salt. Flip the bell peppers skin-side up and broil for 8 to 10 minutes, rotating the pan halfway through (and checking on the progress), or until peppers are deeply browned and charred in spots. Transfer the bell peppers to a cutting board, and then broil the onions for another 3 to 5 minutes or until similarly browned.
Slice the bell peppers into 1/2-inch-wide strips and separate the onions into rings.
Assemble the bowls: In this order, layer the elements: refried beans, broiled vegetables, guacamole, and fried egg. Serve with hot sauce.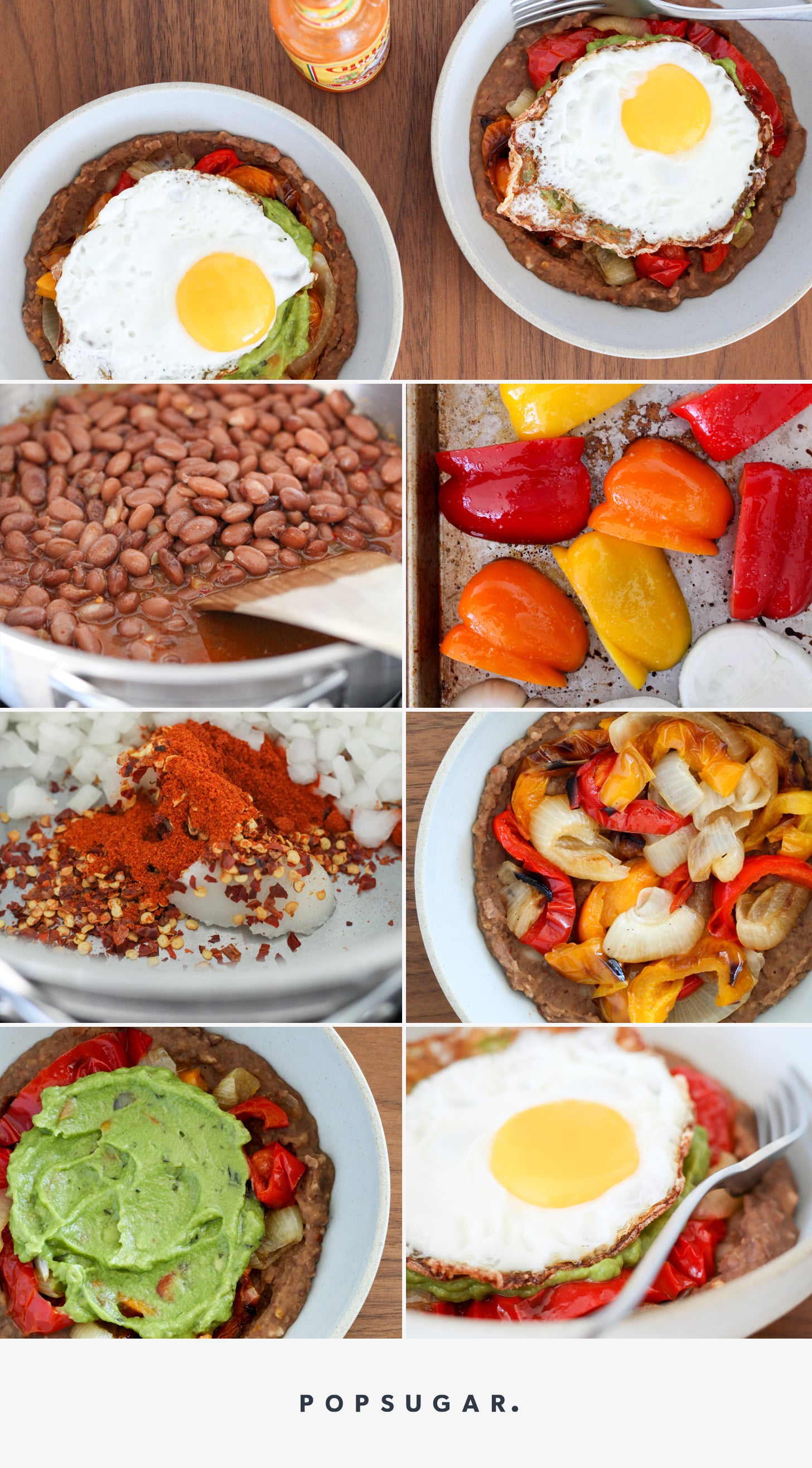 Information
Category

Breakfast/Brunch

Cuisine

Mexican

Yield

8 servings of refried beans (freeze half for later), 4 servings of vegetables
Image Source: POPSUGAR Photography / Nicole Perry